Tips To Take Before Crafting Your Letter
Here are some tips to keep in mind before writing a thank you letter after an interview:
Mention what you liked about the company
A thank you letter after interview is the perfect place to share your thoughts on what you liked about the company and its products or services. Doing this shows that you researched and have an informed opinion of the company. Your potential employer will be impressed that you took the extra time to include details about what you liked about the company. It will show that you genuinely are interested in the company and aren't just looking for any job. If you like the company, you're more likely to be invested in the outcome of the hiring process.
Don't be too long or wordy
If your thank you letter is longer than a page, you're probably too wordy. Remember that interviewers don't have time to read a long letter, and such a lengthy letter will make you look bad. Instead, keep the thank you note brief and to the point: You're grateful for their time, liked their company, and would like to work for them.
Don't talk about compensation or benefits
Mentioning salary or benefits is a big no-no. You don't know if you'll get the job yet, and even if you do, money is not something that we should discuss early on. Your hiring manager will likely be offended if you mention anything about wages or benefits. Instead, you should focus on your excitement about their company, products, or services.
Don't include any awkward apologies
You don't need to apologize for anything, even though you made a few mistakes during the interview, so don't do it. Remember that the thank you letter after interview is not the place to discuss any regrets, misgivings, or apologies.
Emphasize your interest In The Position
After an interview, sending a thank you letter is an excellent opportunity to reiterate your strong interest in the position and the company. Let the recruiters know that you are excited about the opportunity to work for them and that you would be a valuable asset to the team. This is the perfect place to show your enthusiasm and motivation for the role if you are genuine and sincere during the interview. However, avoiding sending a generic or formulaic thank you note is essential. Instead, take the time to personalize your letter and show your unique qualifications and fit for the position.
Send your letter soonest
It's best to send the letter as soon as possible, ideally within 24 hours, while the interview details are still fresh in your mind. This allows you to customize the letter to the specific role and demonstrate your genuine interest in the position. By sending the thank you letter promptly, you can demonstrate your strong enthusiasm and professionalism to the employer and set yourself apart from other candidates.
End on a positive note
Thank them again for their time and consideration when closing your letter. Tell recruiters you're excited and ready to start the next step in the application process. This will leave a good final impression and let them know you're eager and ready to move forward.
Related Post

If you've sent a thank-you note a few weeks ago and haven't received a response yet, consider sending an 🔗interview follow-up letter as a friendly reminder. You deserve to know the results and what you can improve for the next interview.
thank you letter after interview Examples
Let's create a formal thank you letter to show your strong interest and remind your interviewer after your interview. You can use our editable templates following only three simple steps:
Select our template.
Input your information by filling out simple questions.
Review your letter and download it.
Editable thank you letter after interview template
Related Post

Save our customizable templates of 🔗thank you letter to your colleguage in special occasions, it's free.
Thank You letter after an interview For Graduated Student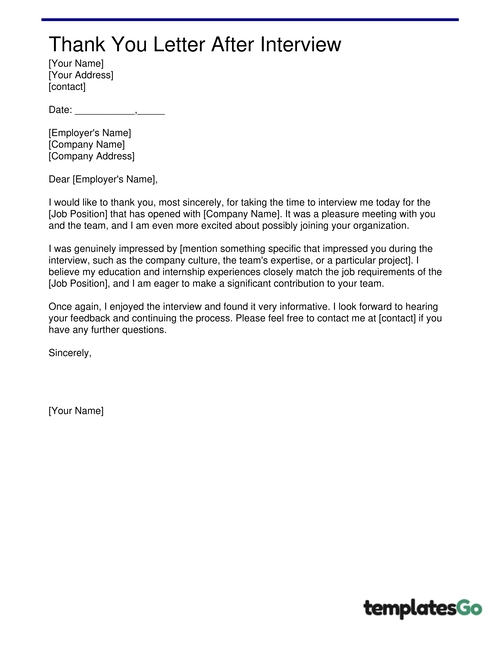 Related Post

Learn 🔗Tips to request a recommendation letter from a professor successfully and create a request letter with our editable templates easily.
How to write a Good thank you letter after an interview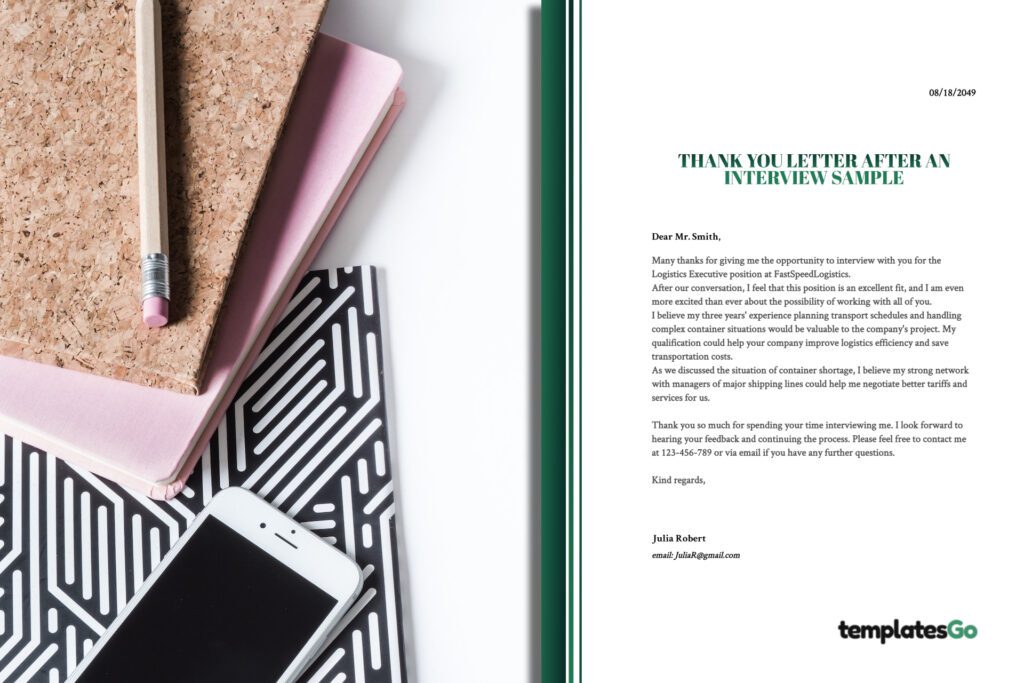 A thank you letter after interview should be short and professional. The following are the standard elements that should be written in a thank you letter after an interview:
Subject topic Thank you [interviewer's name] for your time (email) or add the recruiter's name-title-address following 🔗 business letter format.
The letter's first line expresses your thankfulness for the interviewer's time.
The following lines briefly reinforce your interest in the job and why you'd be a good match. Highlight your best qualifications or skills that will contribute to this role.
Adding something you and the interviewer discussed to make the thank you note more personal.
Suggest a solution with your experience to a company problem that came up during your interview.
Close your email/letter by reiterating your appreciation for the interview. Let recruiters know you expect to hear from them in the next few weeks or ask about the next steps.
Offer to answer any questions they might have.
Add closing salutation and sign off.
Following our eight easy steps, we created a template example for your reference. Therefore, we use this template to create another sample. You can take a look at the end of this article. Now, let's use our structure to tailor your letter faster.
Quick Reminder

Sending a well-written thank you letter after an interview can be a plus factor in the hiring process, especially when multiple candidates have had similar interviews. While it is expected that every candidate will send a thank you email, taking the extra time to craft a thoughtful and personalized letter shows your dedication and enthusiasm for the role.
Conclusion
After an interview, a short and sweet thank you letter is an excellent gesture to show the employer that you're interested in the company and grateful for their time. Also, this gesture can help you stand out from other applicants. Your hiring manager will read and appreciate a well-written thank you letter, even if they're inundated with other applications. Once you get the good news of acceptance, it is time to write 🔗 a resignation letter and 🔗a farewell letter to your current but soon-be old company.