A follow up letter is an essential skill of business communication that is often neglected. This type of letter serves as a way to maintain contact with clients, employees, and associates. But how do you go about writing a genuinely effective follow up letter?
You can now save time by using our document creation tool to obtain this letter immediately and professionally. You only need to take three (3) easy steps as follows:
Select an editable template.
Answer our questionnaires to fill in the information.
Edit/review the text freely before and after downloading your document.
What is a follow up letter?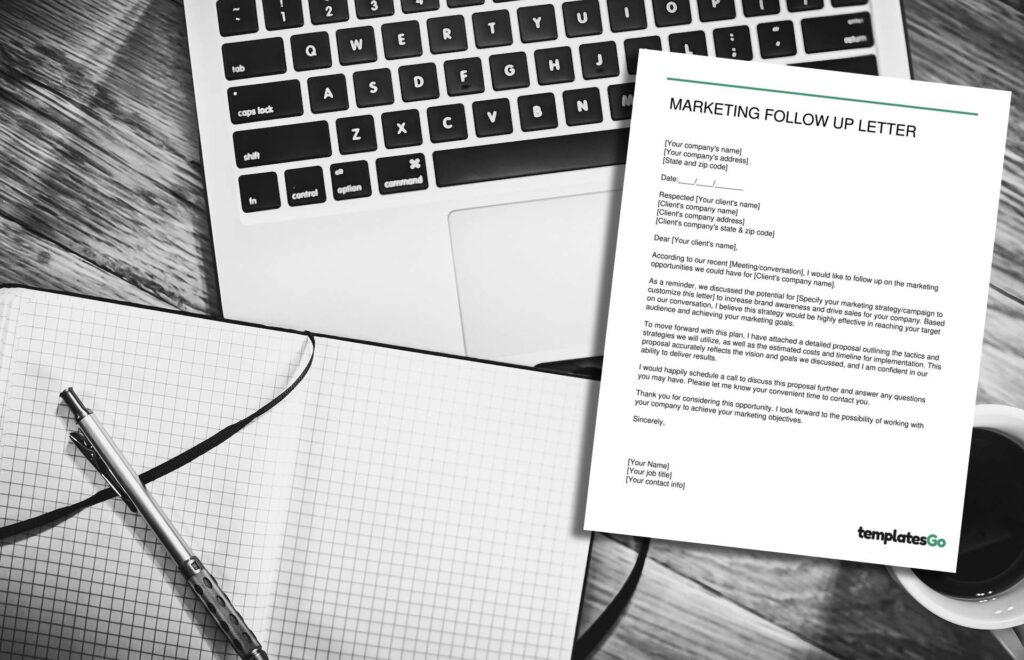 A follow up letter is a written communication sent after an initial action or conversation has occurred. It is typically used to:
Provide new information or updates, offer assistance or solutions, or request further action or discussion.
Maintain communication and ensure progress on a project or initiative in business settings.
They can be sent via email or phone call, either formal or informal, depending on the nature of the original conversation or action. Overall, this letter is a valuable tool for maintaining relationships and ensuring that essential matters are remembered and addressed.
Why is a follow up letter important in business?
Follow up letters are essential in business because they serve as a way to communicate and coordinate with colleagues, clients, and customers. They can help to clarify information, confirm details, and follow up on tasks or projects. By writing this letter professionally, you show that you are organized, reliable, and committed to completing tasks and projects to the best of your ability.

In addition, this letter plays a vital role. Generally, most of candidates send a 🔗 thank you letter after an interview to express gratitude and highlight their relevant skills for that position. However, a recruitment process can take longer to respond to or simply no response due to overload applications.
Then, sending a follow up letter after the interview demonstrates your enthusiasm for the role and dedication to standing out among the other candidates. It can help make a lasting impression on the HR team before making the final decision.
How to write a follow up letter After No Response?
To create a highly effective follow up letter in the business world, you need to consider the following points:
1. Start with a professional heading
Include your name, address, and contact information at the top of the letter . Following is today's date and address the recipient. Then, begin the letter with a formal greeting, such as "Dear [Recipient]" or "To [Recipient]".
2. Mention the original topic
In the opening of your letter, remind the recipient of the original topic of discussion or action that prompted the follow-up. Doing so will help to refresh their memory and ensures they are both on the same page.
3. Provide new information or updates
If there are any new developments or updates since the original conversation or action, include them in your follow up letter. This helps to keep the recipient informed and helps to move the conversation forward.
4. Offer assistance or solutions
If applicable, offer service or answers to any issues or problems that may have arisen. It demonstrates your willingness to help and your expertise in finding solutions.
5. Show appreciation
Thank the recipient for their time and consideration. Gratitude helps build a positive relationship and shows that you value their input.
6. Include a call to action
End your letter with a clear call to action, such as scheduling a follow up call or meeting. Clients or HR are usually busy and may skip your messages. However, resilient follow up will create a chance and appreciation from the recipient for all your efforts put into them. Reinforce action helps to move the conversation forward and ensures that progress is being made.
7. End with a formal closing
Use a proper closing, such as "Sincerely" or "Best regards", followed by your name and contact information. Lastly, proofread your letter for spelling and grammar errors before sending it. It shows attention to detail and professionalism.
KeyNotes

Keep it concise: This letter should be brief and get straight to the point in one page. Long-winded emails or letters can be overwhelming and may only be read partially.
Use a professional tone: Your letter should be respectful and professional. Avoid slang or casual language, and keep the style formal to show respect and professionalism.
follow up letter examples (Customizable templates)
Marketing Follow up Letter
Remember that follow up skills are essential in business because they help to build and maintain relationships. By following up with people, you can show that you value their time and input. Also, this can help to strengthen your business relationships and foster a sense of trust and respect.
interview follow up letter From Applicants
Use our customizable template and document generator to create a professional follow up letter after an interview. This letter is an opportunity to make a lasting impression on the recruiter and reiterate your enthusiasm for the position. Our tool makes it easy to personalize the letter with your own information and stand out as a strong candidate.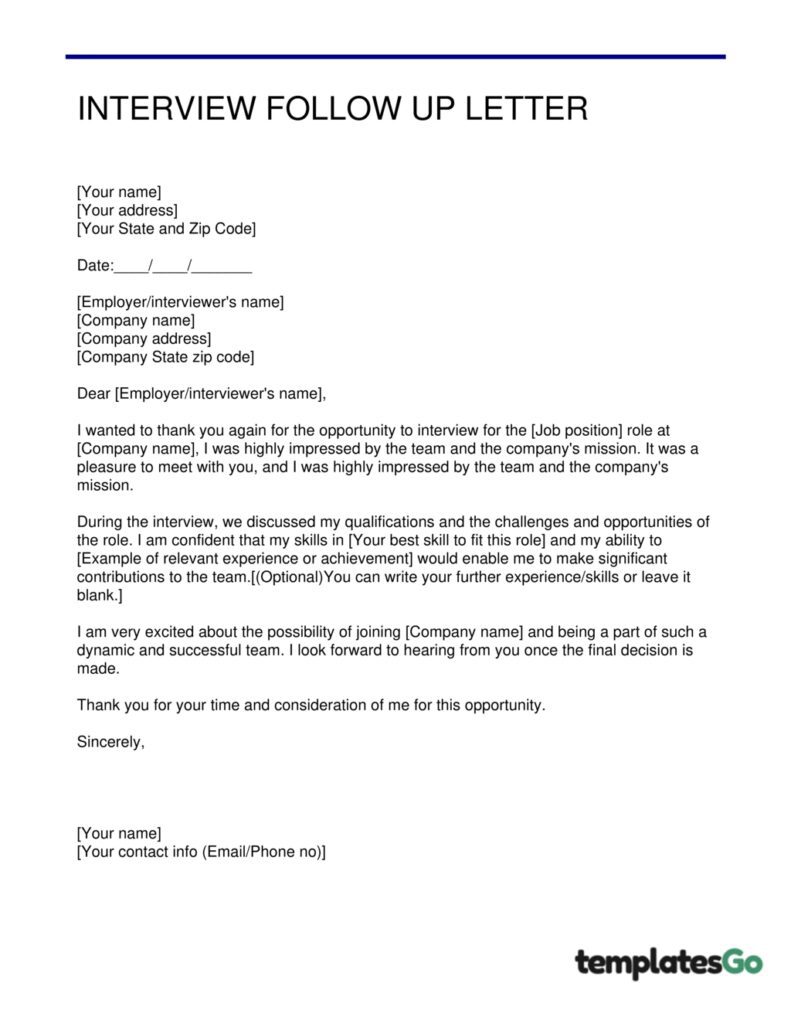 Proposal Follow Up Letter To Client
In today's digital age, it's common to communicate with clients and colleagues via email and social apps. However, with inboxes often overflowing with messages and emails, it can be challenging to get your client's attention. That's where a follow-up letter comes in handy.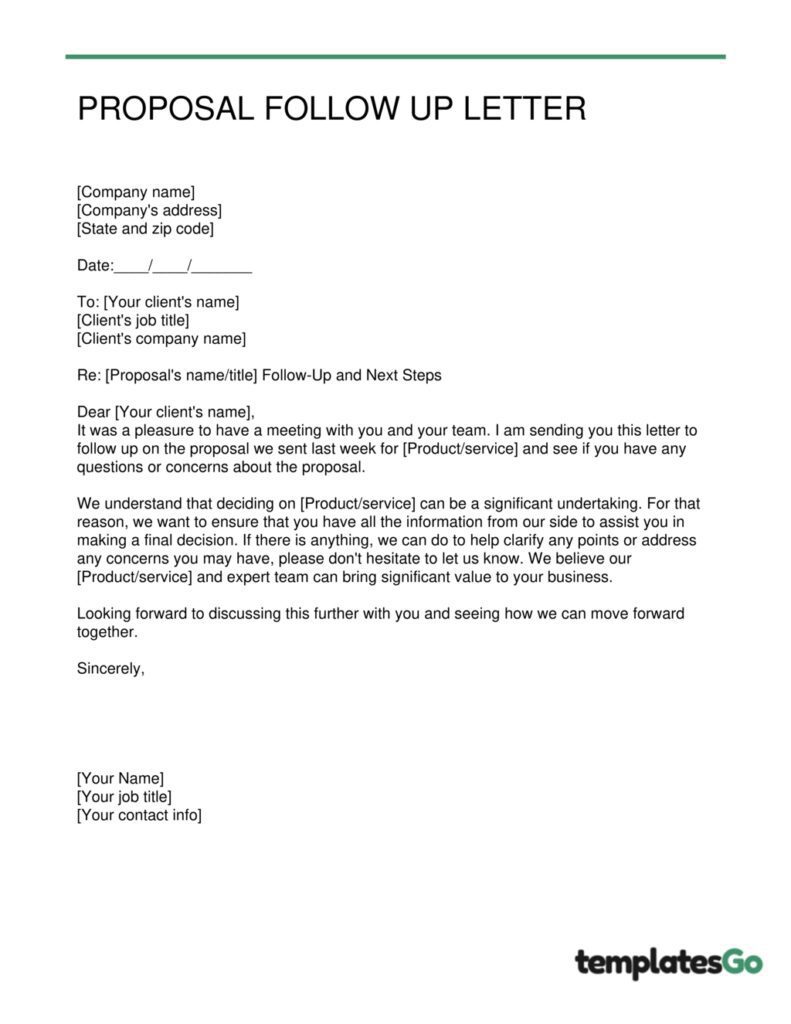 You can approach your client more formally and personally by attaching a letter to your email and any relevant documents. This shows that you have taken the time to consider their needs carefully and are committed to providing excellent customer service. Plus, a physical letter is more likely to be saved and reviewed than an email that may get lost in the shuffle.
Payment Follow Up Letter
This letter serves as a reminder of your outstanding invoice. Sending this reminder initiates a formal way to 🔗 collect the debt from your side. If payment has not been received after a reasonable amount of time, you may need to contact your client by phone or send additional reminders. You can easily tailor this letter with your information using our customizable template.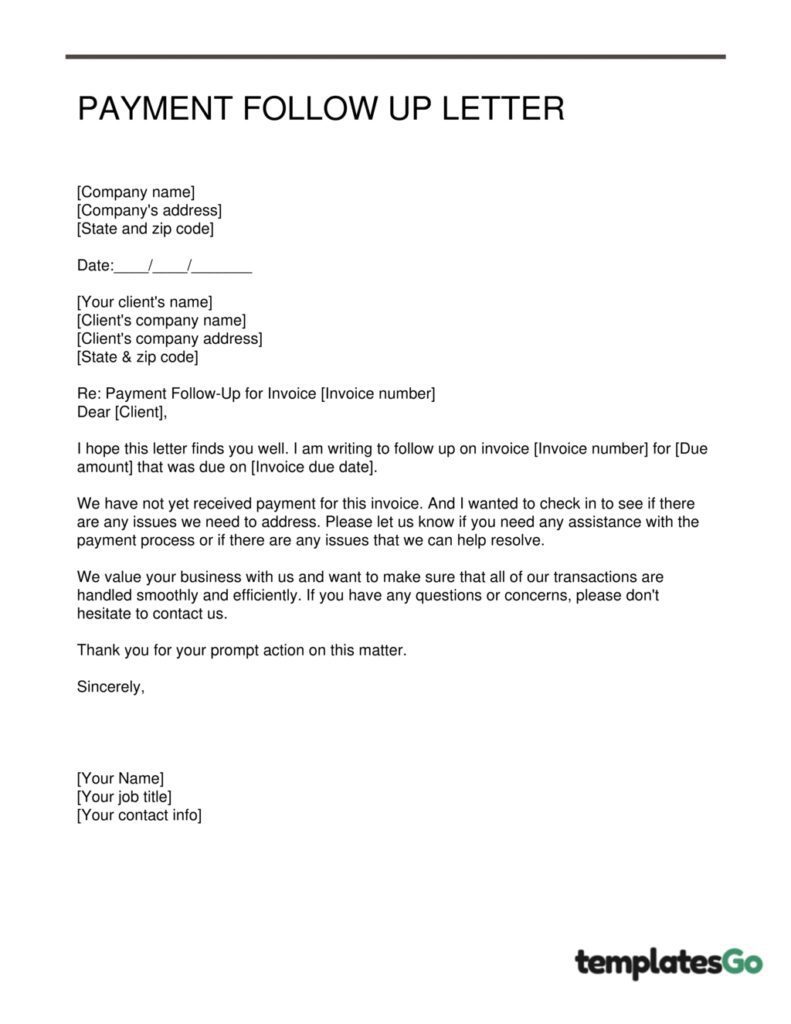 Follow Up Letter After Promotion Request
If you have been waiting for your boss's decision on your 🔗 promotion request for a long time, use this follow up letter to remind your boss professionally.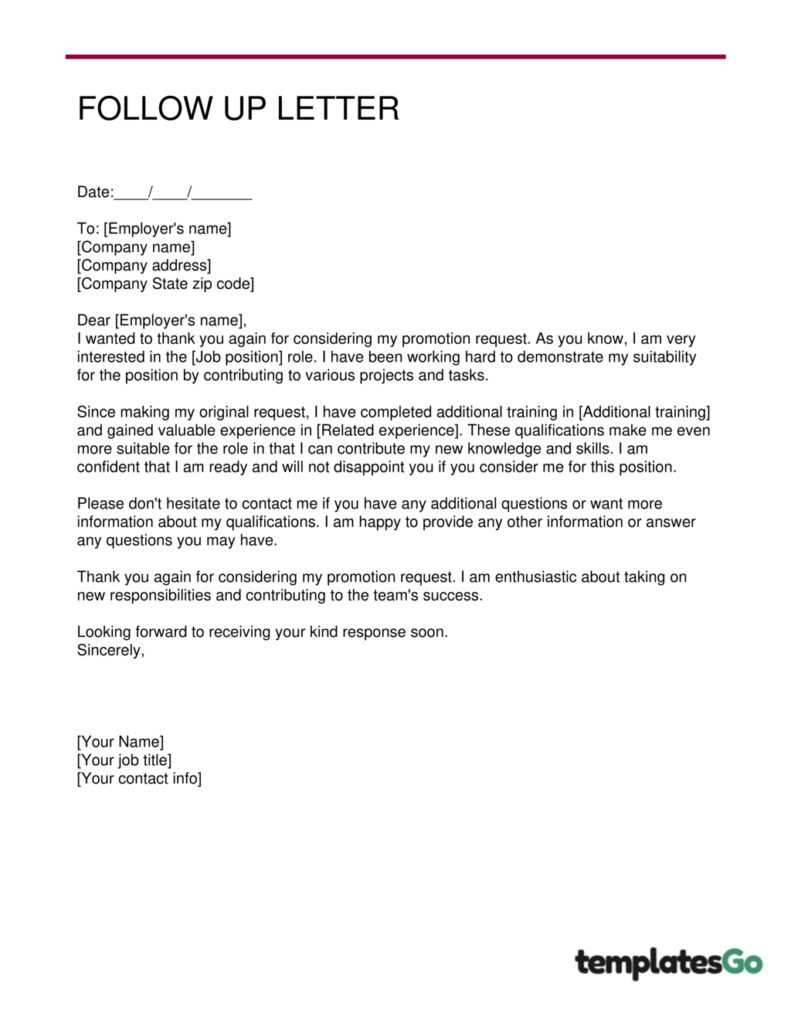 Conclusion
The key to writing a successful follow up letter is to be clear, concise, and professional while also conveying your unique message and personality. With the right approach and a little practice, you can craft a letter to follow up that is genuinely effective and makes a lasting impression on your clients, employees, and associates.
Check for more 🔗 professional sales follow up email here.