A promotion request letter is a letter addressed to your employer to make them aware of your interest in getting promoted. It is different with 🔗a raise request letter if you believe you deserve to obtain a higher position and new responsibilities rather than only salary. However, knowing to write and send a well-written letter at the appropriate time is daunting.
If you are not confident in your writing skill, you can use our document creation tool to customize our promotion request templates freely and at no cost!
Select a template to customize.
Simply answer a few simple questions to fill your information in.
Review and revise the text freely to meet your expectation before downloading this letter.
How To Ask For A Promotion As A Pro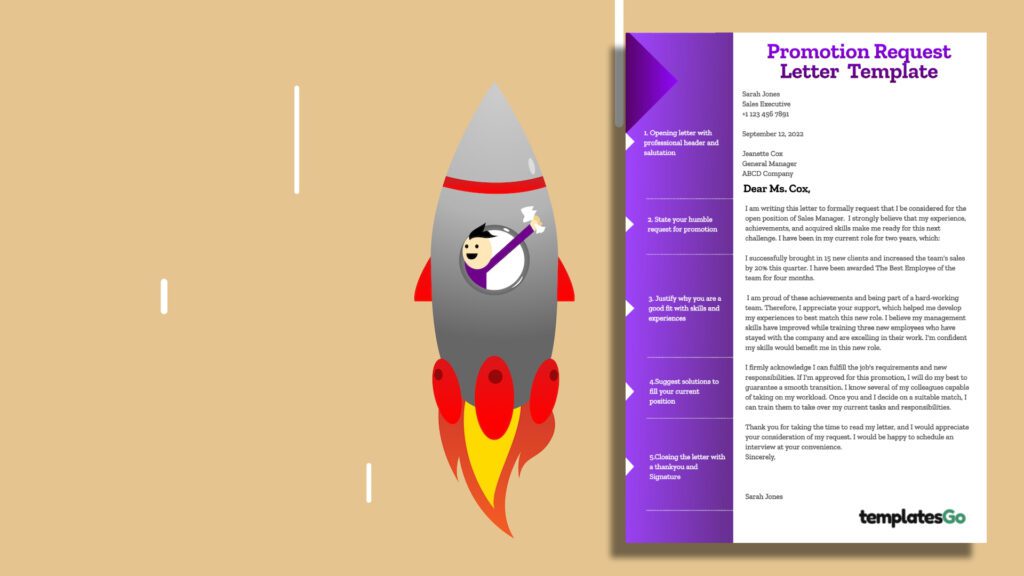 There are five key points you should take into account before composing your letter requesting a promotion:
Research company promotion policy
To increase your promotion opportunities, you must put in the effort ahead of time. The first thing you should do is research the company's promotion policy before you ask for one. As a general condition, if you have been with the company for more than a year and have had some success, you should be eligible. If your company doesn't have an employee handbook, you can ask the HR department or coworkers who have worked there for a long time for reference.
Determine the right position
It would be best to reflect on your current position and how it aligns with the next level. On the contrary, if no role suits you, you can always propose a new position. Likewise, If your company has new job openings, you can check the job description to determine if one best matches your skills and experience.
Evaluate your performance and achievement
Evaluating your all interpretation is a pivotal step to maximizing your chance of getting promoted. Your promotion request letter will need to highlight your ability to succeed in a higher role and value to the company. Therefore, you will need to position yourself as an outstanding candidate among internal and external applicants. For those reasons, you must list your best achievements and records during your current roles, such as certification courses, awards, and well-accomplished results in particular projects.
💡 Important

Doing so will emphasize why you deserve a promotion and how you will continue improving as an employee if promoted.
Use business format letter
The official way to request a promotion is by submitting a formal letter to your boss via email and a hard copy. You will need to pay attention to the business letter format to increase your professional outlook while composing this letter requesting a promotion.
Submit Promotion Request Letter at the proper time
Lastly, picking the right timing can help you create an ideal atmosphere to ask your boss for a promotion. For example, when you bring in a new client or increase revenue with a certain number to the team and company.
💡 Note

Be patient when waiting for an answer and follow up after sending this letter in case there are any questions or feedback from your employer. Do not rush your boss or forward your email / letter to your boss's manager, it will show disrespect to your employer and affect to your request.
How to write a promotion request letter
Your letter request for promotion should be written with care and professionalism. Similarly, you must clearly understand why you are applying for the position and prove to your employer that you can fill the role. To do so, we have prepared a clear structure of the promotion request letter to help you write a strong request: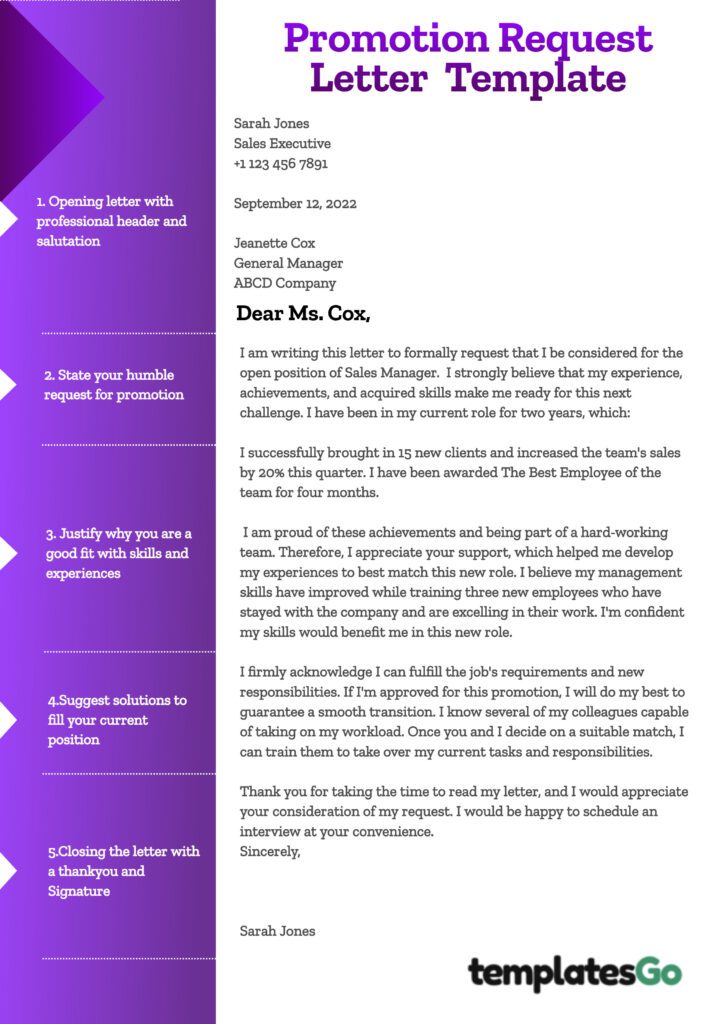 Opening letter with professional header and salutation
According to the 🔗business format letter, the letter opening should include your name, positions, contact information, date, and recipient addresses—appropriate greeting using Mr.,/Ms.,/Mrs. to increase professional tone.
State your humble request for promotion
The letter's main body should indicate the reason for writing from the first line, requesting a promotion. For example, "I am writing this letter to formally request that I be considered for the open position of [desired job title]."
Justify why you are a good fit
The next following paragraph is vital to convincing your boss why you are a potential candidate for the new role. There are several points you can use to talk about your:
Time has been at the company
Outstanding work experience
Most recent accomplishments
Certifications or training courses that are relevant to the new role
Unique skill set earned
Loyalty to the organization
Suggest solutions to fill your current position
While writing your promotion request letter, you should also propose to your boss how you can fulfill your current role if approved. For example, training or suggesting new potential candidates among your coworkers. By doing so, your employer can see you are well prepared and very professional to ensure the workflow is not interrupted.
Closing Promotion Request Letter with a thankyou
In the last paragraph, close your letter by offering to schedule a meeting for further discussion. Now you can express gratitude to the reader for their time and sign off with your name.
request for promotion letter Professional Templates
Strong Promotion request Editable template
Here we provide a professional template to customize your letter. You just need to fulfill your information with the best accomplishments and skills you have prepared.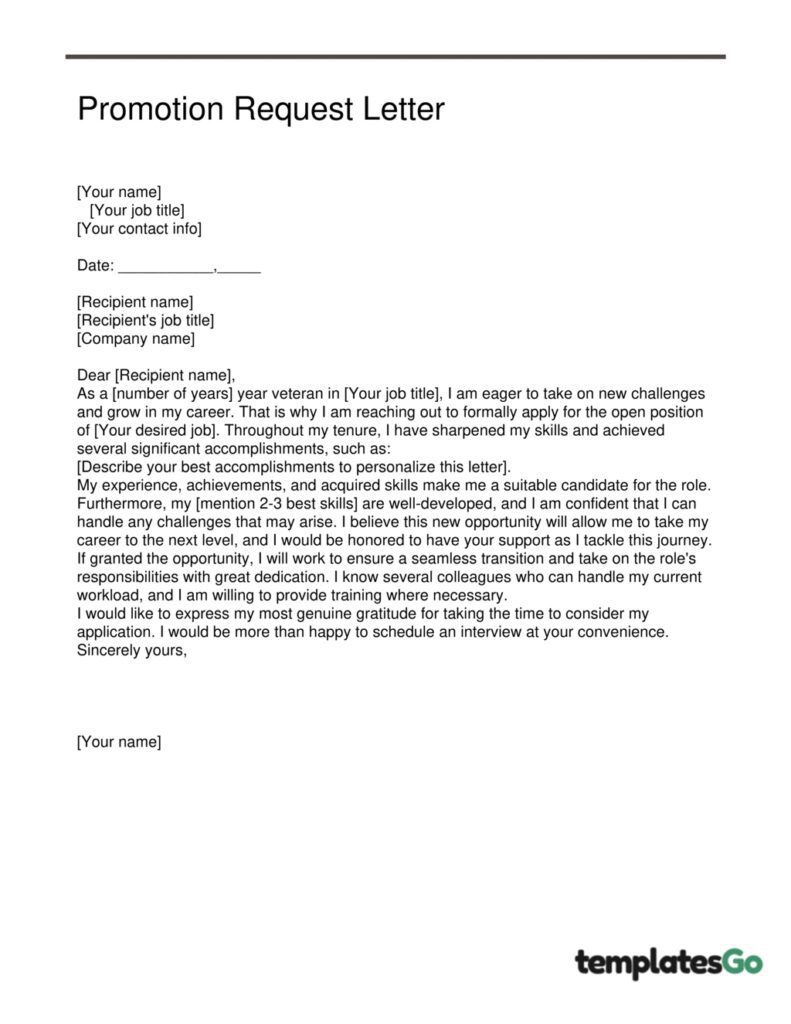 Request Letter For Promotion Template To Personalize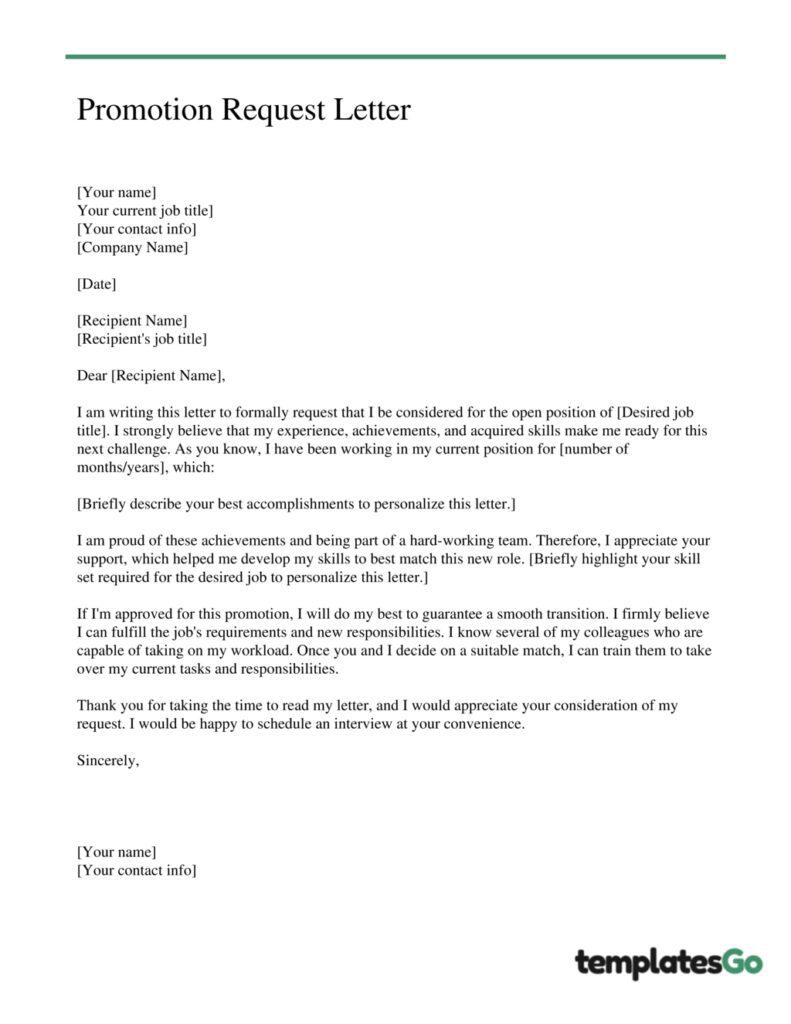 Simple promotion request letter Template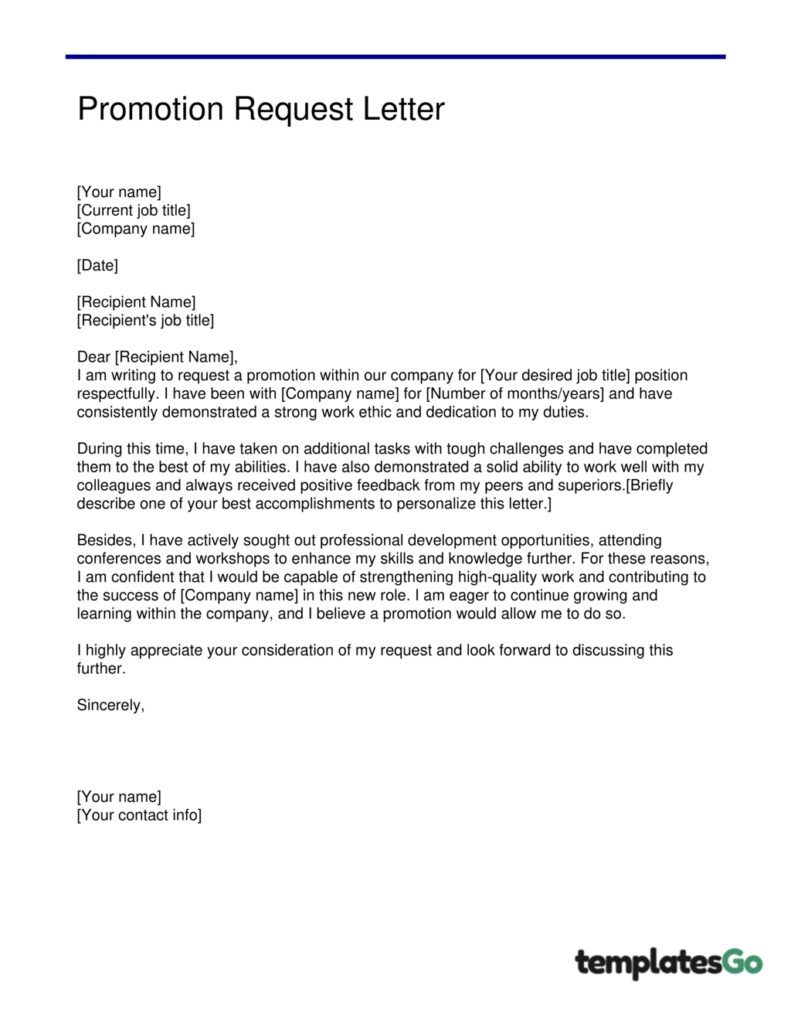 sample of promotion request letter
The below letter is an example we used our template and document generator system to create a strong promotion request letter in a marketing role.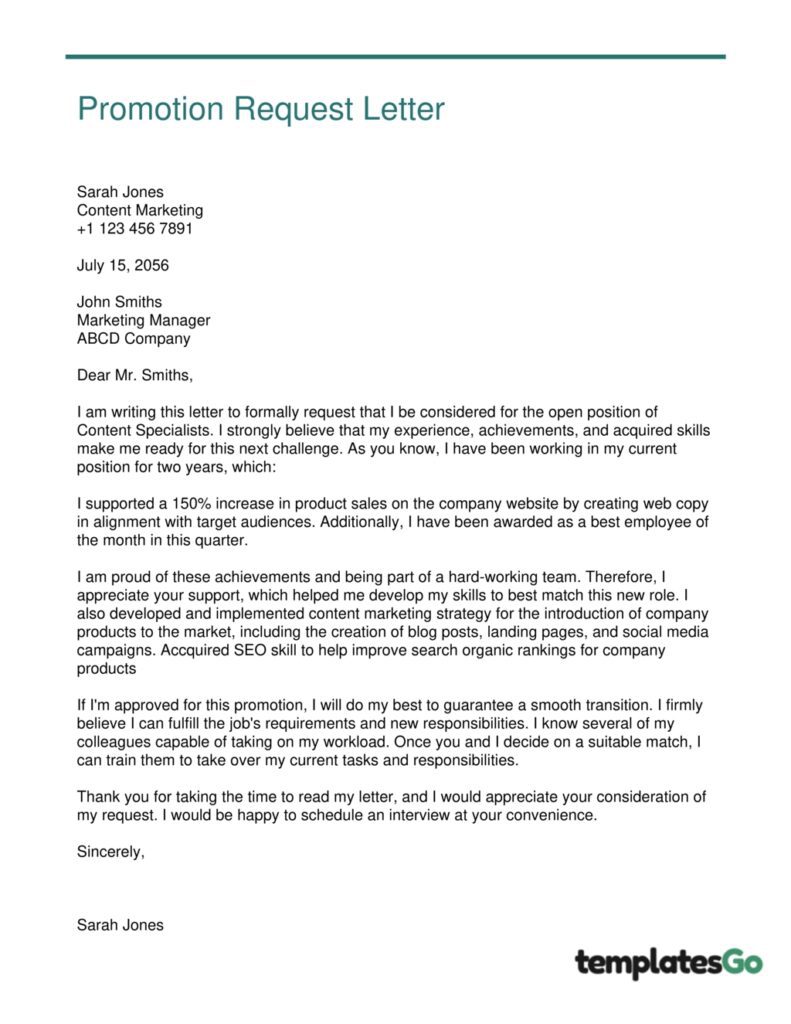 Conclusion
Making a promotion request to your boss and getting success is not easy. However, we believe that a well-written promotion request can make a first impressive step for your boss. Therefore, using our document generator will help you save time in writing and brainstorming. You only need to answer our questions and review (to edit if any), and you will have a letter ready to download and print out. While creating this letter, you will also have an overview of your skills and achievements for further discussion with your boss. You can also look at 🔗 Raise request letter template for more options.
Related Post
Sometimes, you will need to take a 🔗 leave of absence for any reason, then use one of our templates to customize your letter quickly.
Save one of our cheerful templates for 🔗 welcoming new employees or coworkers, send this letter to them, and establish a new significant relationship at the workplace.