A welcome letter is a formal document that many companies commonly use in conjunction with the hiring process or valuing new clients. This letter is a typical communication way to welcome new employees and provides them with the company's instructions about when they will start. Using a welcome letter will bring a good professional impression to the recipients and make them feel valued.
Stay tuned! We will provide you with excellent templates in a suitable format for your welcome letter to new employees or clients. Let's check how to write it professionally with our simple guide. You can also use our documentation generator and edit our templates for faster results in only three (3) simple steps.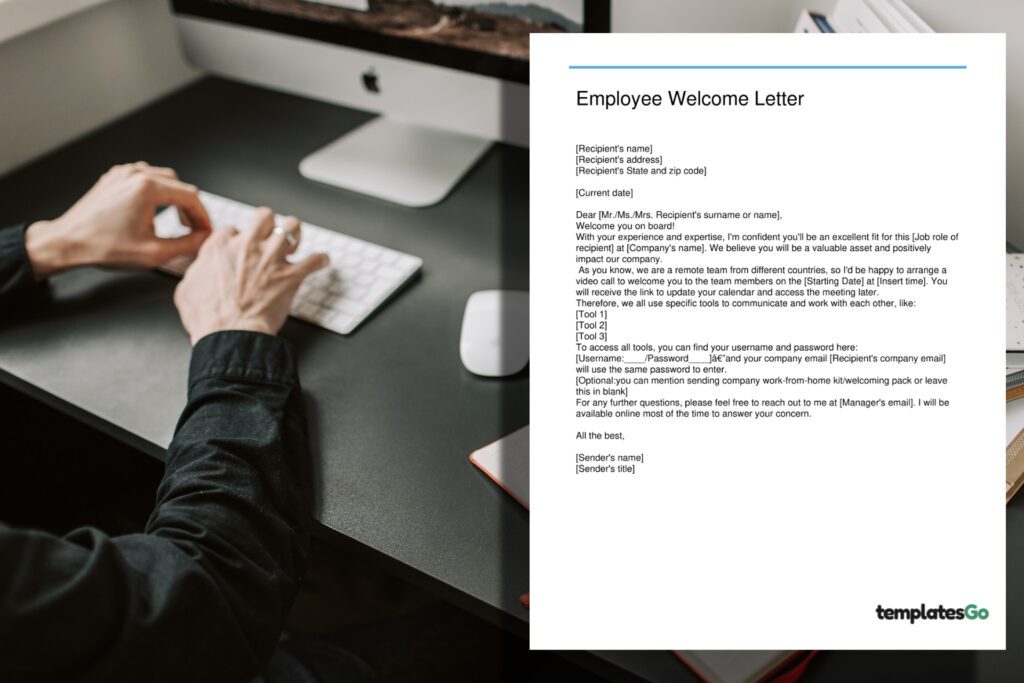 What is the main information in a welcome letter to a new employee?
Here is the necessary information for your organization to write a welcome letter that gets good results.
1. Start with a warm greeting
According to the business format letter, you should start your letter with both the sender and recipient's name, address, zip code, and date. The following is a proper salutation depending on what kind of position. For example, "high-level positions such as Director, CEO, etc.," will require formal salutations like "Dear Mr./Mrs./Ms. Last name". On the other hand, for junior or entry-level, the friendly greeting will be more connected and warm. In any case, we should use their name instead of stating, "Dear new employee," to avoid being less respectful.
2. Get right to the point
The first paragraph of your welcome letter should be clear and to the point with a short welcome. Common phrases for the opening letter are: "Welcome on board!", "Welcome you to our team!" "We're delighted to have you at [company name]", "It is our pleasure to welcome you to [company name]", etc. Then, show new employees your enthusiasm for having them in the new position on the team.
💡 Highlight

If you are sending this letter as the manager to welcome your new hire, it's important that you introduce yourself and mention your role in the company at the first paragraph.
3. Detailed information about the first day of work
When your employee arrives at the office for the first time, they'll need to know where they're going and what they're doing. Here are some details that you can choose to include in the welcome letter for an instruction message:
The date and time for the first day at work.
Who will be meeting them on their first day? What are their name and title? How can this person help out during their first week?
Where do new employees go when they arrive at the office? Is there a specific room or area for this purpose? If so, what's its address and phone number (if not, how could an outsider get there)?
What does this person need to bring with them from home? Are there any special equipment or tools required to complete tasks effectively (e.g., laptop computers)?
If it is a remote job, you should give details of communicating tools and clear instructions on how to access them.
4. Attachments for Emails/Enclosures for Letters
Remember that your welcome letter should be short and sweet. In big organizations, employees are often requested to sign an acknowledgment that they have read the policy handbook and submit it to HR for the employee file. For these reasons, instead of putting all information in this welcome letter, many employers also include a copy of the company's mission and vision statement, an employee handbook, and the policies the new employee must read through in attached files or enclosures for the physical letter.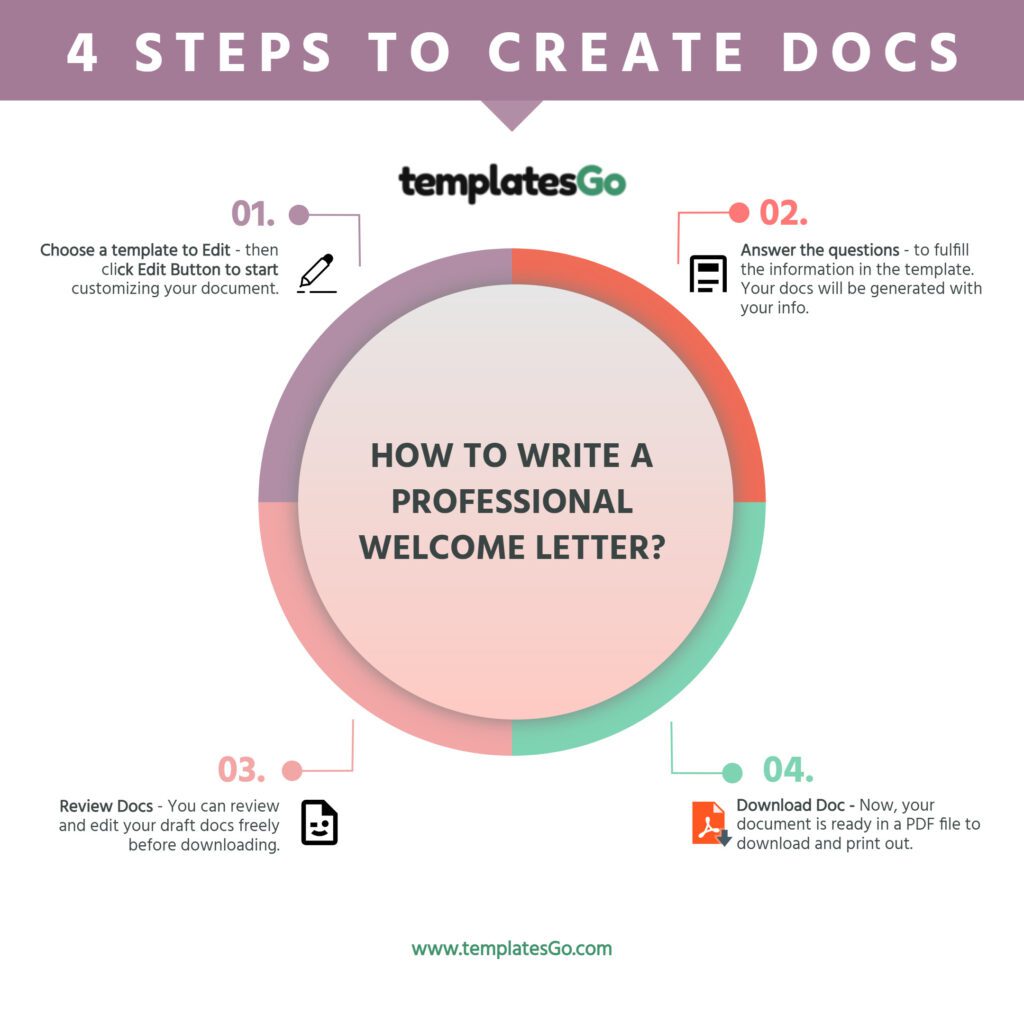 How to write a professional welcome letter to a new client?
A welcome letter to new clients is essential because it helps establish a positive relationship with the client. There are 🔗 many reasons to send this letter to new clients. One of these is to show that the company values the client and is committed to providing excellent service.
1. Start with a business format for the welcome letter
A formal letter will need detailed information about both sender and recipient at the beginning. If your company has a business letterhead with company detail, you can add it on the top instead of writing it down.
2. Use a formal greeting
A formal format and tone are necessary when writing a welcome letter to a new client. If the client has a job title, like "Chief Executive Officer (CEO)", use that instead of their name in your greeting. For example, "Dear Mr. Davis, Dear Ms. Peacock, or Dear Mrs. Jones (if you know her first name), Dear CEO of [company]".
3. Include an official welcome statement
In your opening, state the purpose of your letter with an official welcome statement. Let the reader know what you want to achieve and offer from your company business. Therefore, we recommend creating a complete and detailed welcome message. For instance:
"On behalf of [company name], I would like to officially welcome you as a new client of our company. We value your support and contribution to our business, and we trust that our services will bring you great satisfaction."
💡 Highlight

This letter differs from 🔗 the Introduction letter, where your company has already established a relationship with new clients. The introduction letter helps approach potential clients, while this welcome letter helps enhance the new mutual relationship between the company and clients.
4. Introduce the company and the person in charge
It is necessary to introduce who will take care of this client and provide contact information to the client. This person could be yourself or someone else you assign. You may need to brief the clients about your company, such as vision, mission, and services aligning with the client's business.
5. Reassure your clients
In the welcome letter, you should show that you understand the client's business and offer a solution/service with a commitment to meet their needs. In addition, you can also mention that you always strive to deliver quality solutions and products.
6. Close your welcome letter
Express gratitude toward the client again and use a closing salutation with your signature and full name to end this letter. You can sign off this letter to be personalized or use a digital signature as it is valid in all US states.
Welcome Letter Templates
Employee Welcome Letter Template
Edit the below template and generate your docs immediately in 4 easy steps. You will need to fulfill your information, review your letter to modify (if any), and create it!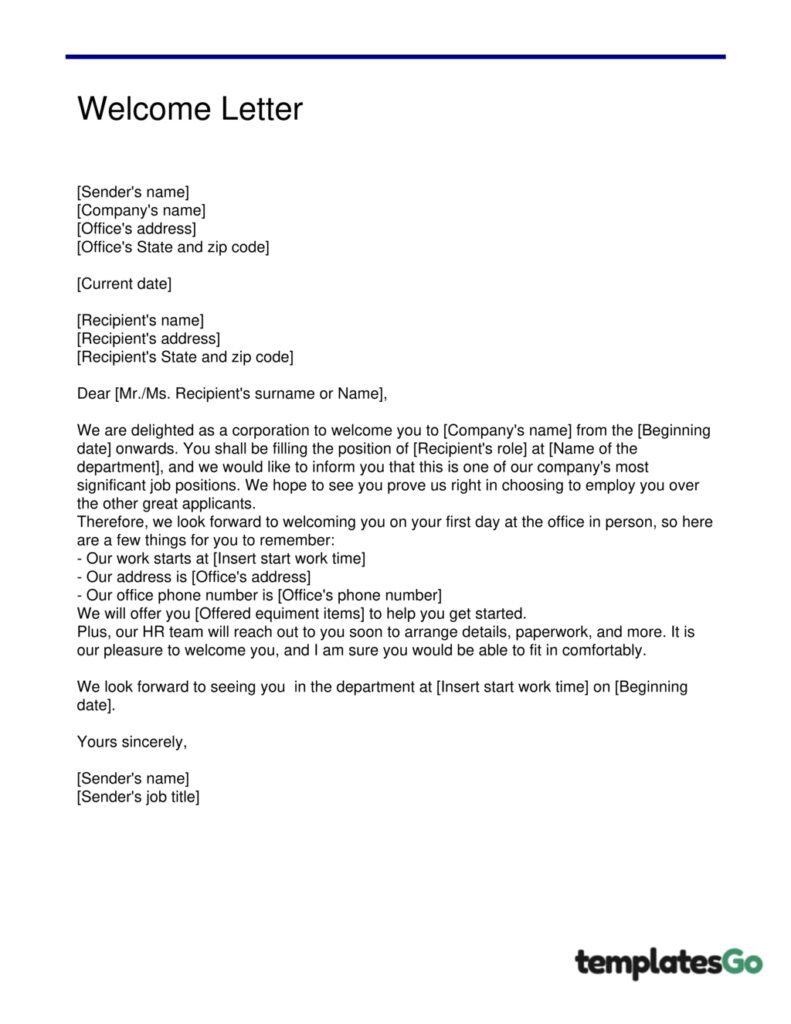 Template Welcome Letter To New Remote Employee
Since 🔗 remote working is changing the way we work, sending this welcome letter becomes an essential step of the hiring process for welcoming remote employees. It is entirely different from on-site in-person welcoming, in which you will need to attach explicit guide instructions to access to company CRM system.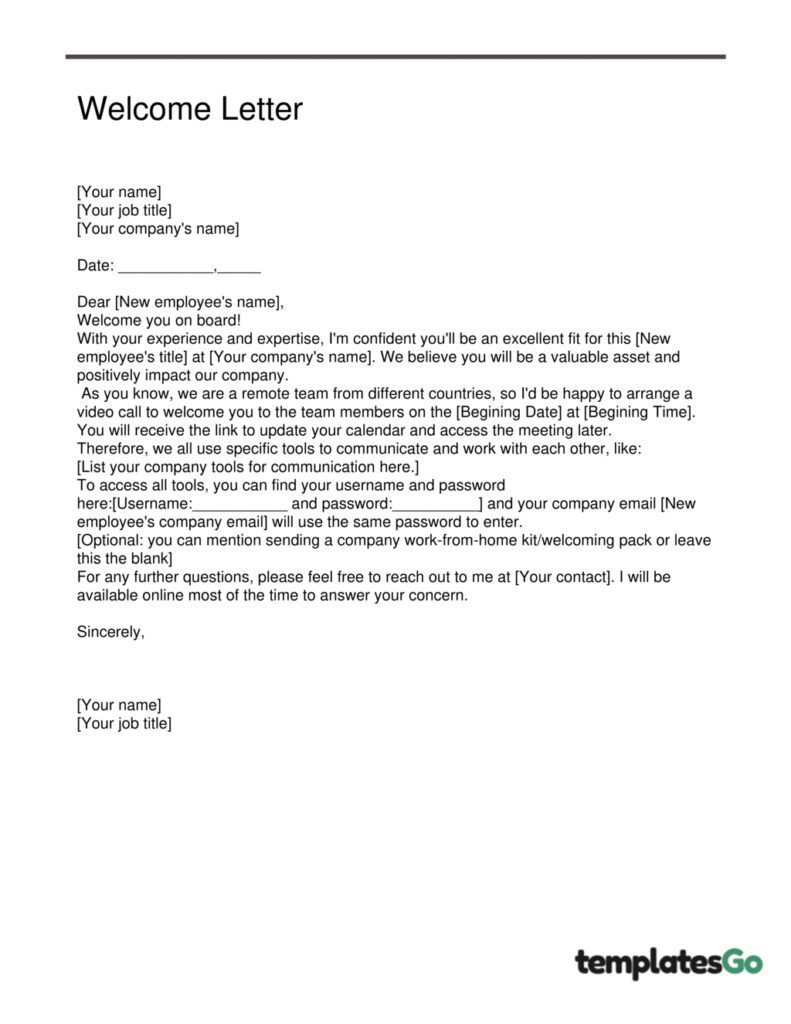 welcome letter to new client Template
We created this template welcome letter for a new client to help services companies make this letter faster your their business. However, you can use our editable tool to edit and customize this template to fit your needs and information.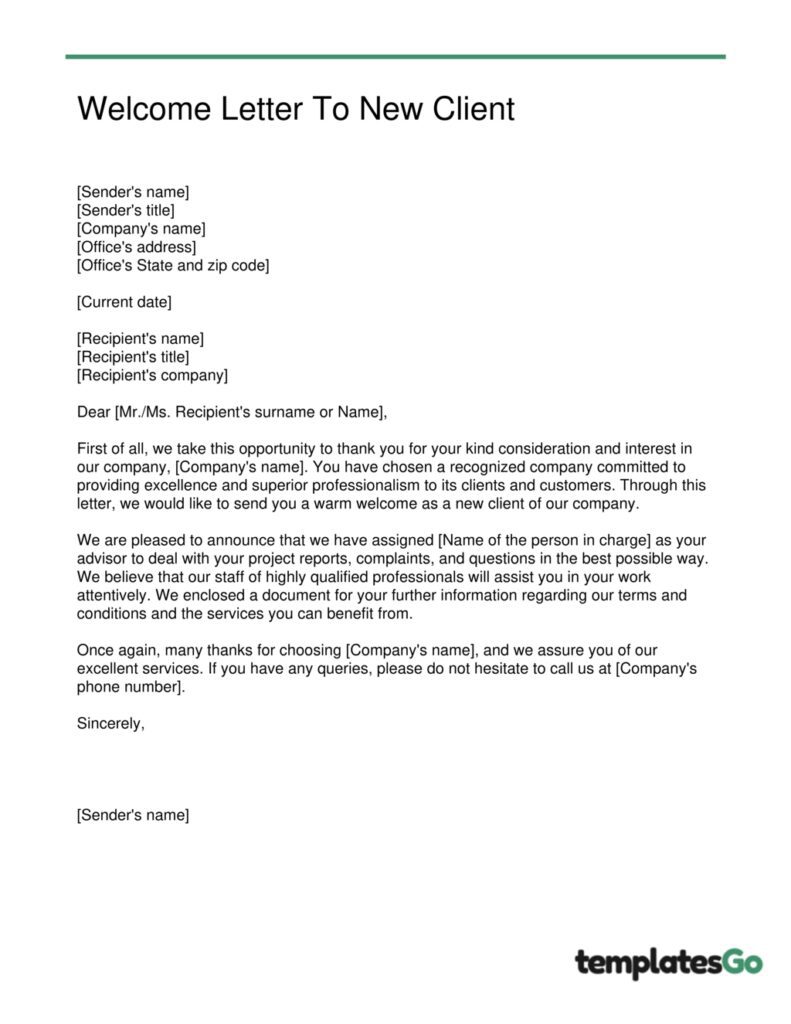 Conclusion
Sending a welcome letter nowadays has become an essential step in business culture. This sophisticated gesture can make your clients or new employees feel valued and welcomed. We believe this will benefit the beginning of a new relationship and make the cooperation go smoothly. We hope our article helps you create your welcome letter easier and faster.