How to write a welcome letter To a New Employee?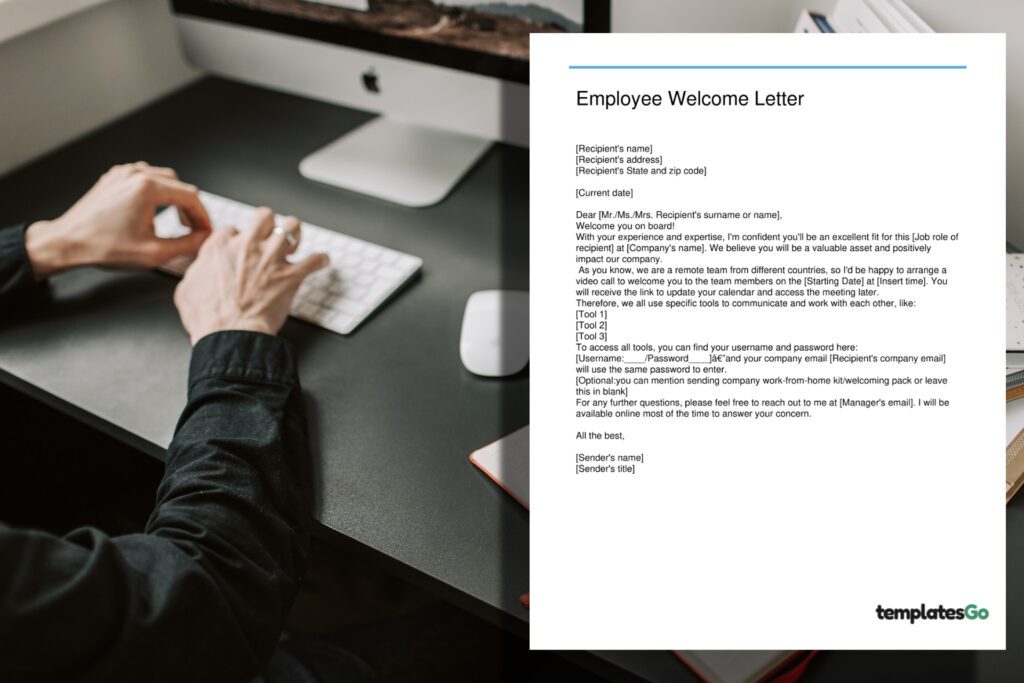 Want to craft a warm and professional welcome letter for your new employee? Here's a guide with all the essential tips to make a positive impression.
Start with a warm greeting
When writing a business letter, it's important to follow a proper format. You can begin with both the sender's and recipient's names, addresses, zip codes, and the date of issue. Then, the choice of salutation depends on the recipient's position. For high-level positions such as Director or CEO, use formal salutations like "Dear Mr./Mrs./Ms. Last Name." For junior or entry-level positions, opt for a friendly and warm greeting.
Get right to the point
The first paragraph of your welcome letter should be clear and to the point with a short welcome. Common phrases for the opening letter are: "Welcome on board!", "Welcome you to our team!" "We're delighted to have you at [company name]", "It is our pleasure to welcome you to [company name]", etc. Then, show new employees your enthusiasm for having them in the company.
Detailed information about the first day of work
When your employee arrives at the office for the first time, they'll need to know where they're going and what they're doing. Here are some details that you can choose to include in the welcome letter for an instruction message:
The date and time for the first day at work.
Who will be meeting them on their first day? What are their name and title? How can this person help out during their first week?
Where do new employees go when they arrive at the office? Is there a specific room or area for this purpose? If so, what's its address and phone number (if not, how could an outsider get there)?
What does this person need to bring with them from home? Are any special equipment or tools required to effectively complete tasks (e.g., laptop computers)?
If it is a remote job, you should give details of communicating tools and clear instructions on accessing them.
Attachments for Emails/Enclosures for Letters
Remember that your welcome letter should be short and sweet. In big organizations, employees are often requested to sign an acknowledgment that they have read the policy handbook and submit it to HR for the employee file. For these reasons, instead of putting all information in this welcome letter, many employers also include a copy of the company's mission and vision statement, an employee handbook, and the policies the new employee must read through in attached files or enclosures for the physical letter.
Highlight

Writing a letter for welcoming new clients will be easier and more generic than writing for a new employee. We also have 🔗 introduction letter that helps you approach potential clients, while this welcome letter helps enhance the new mutual relationship between the company and clients.
Editable Employee Welcome Letter Templates
Feel free to use our letter templates as references, or select one and customize the text to streamline your writing process. Just follow three simple steps to create your letter right here.
Answer our quick questions to fill in the information.
Review your draft document.
Download your letter in PDF, ready to use.
Welcome letter On-Site Template
This is a straightforward template commonly used by companies on-site.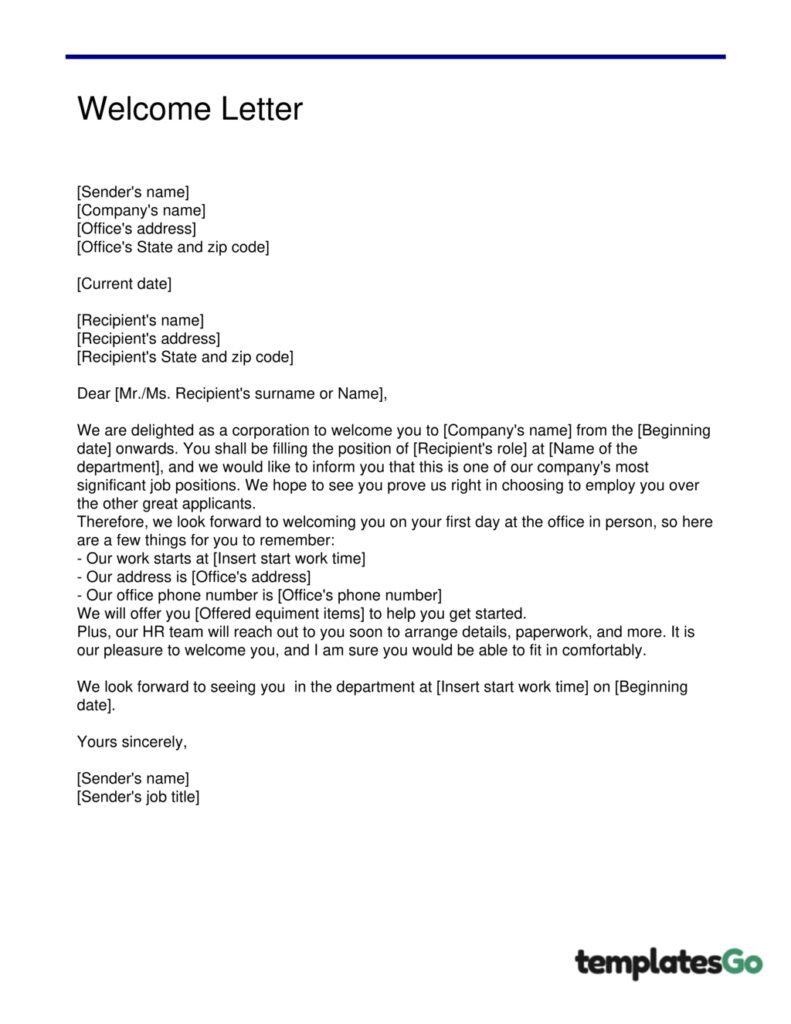 Template Letter To Welcome New Remote Employee
As 🔗 work remote continues to reshape our work culture, sending this welcome letter has become a crucial part of the hiring process for remote employees. Unlike in-person on-site welcomes, remote onboarding requires clear instructions for accessing the company's CRM system."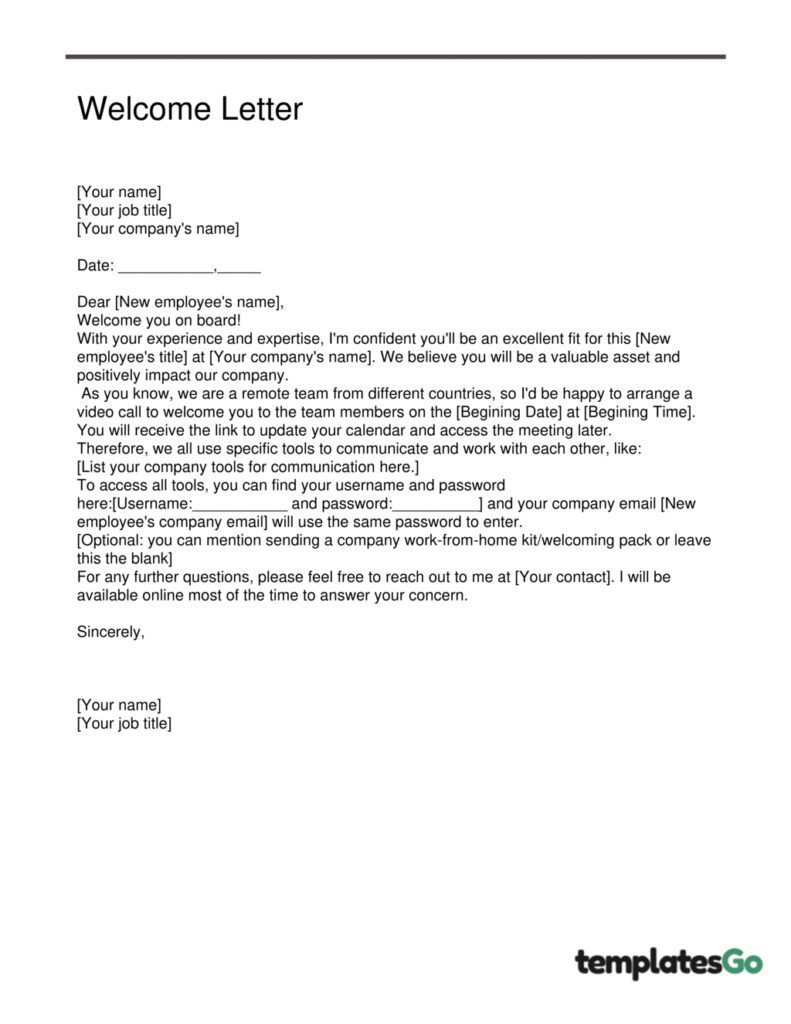 welcome letter to new client Template
We designed this template for welcoming new clients to help service companies advance their letter-writing process. Thus, you can easily customize this template to match your specific needs and information.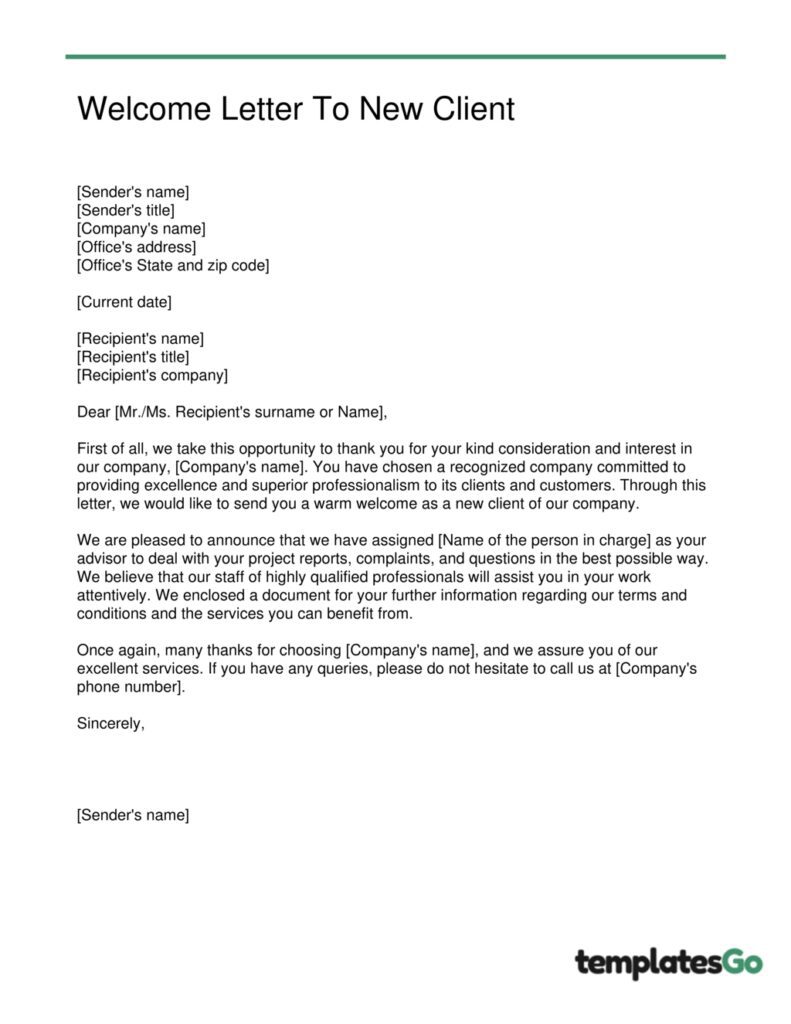 Welcome Letter For Online Business Template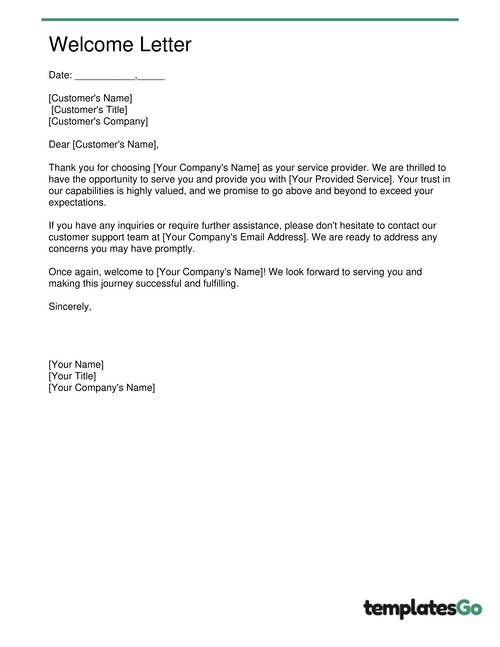 Related Post

We provide 🔗Employment Offer letter templates that are easy to customize for extending job offers to potential employees.
Conclusion
Sending a welcome letter nowadays has become an essential step in business culture. This sophisticated gesture can make your clients or new employees feel valued and welcomed. We believe this will benefit the beginning of a new relationship and make the cooperation go smoothly. We hope our article helps you create your welcome letter easier and faster.