Types of introduction letters and benefits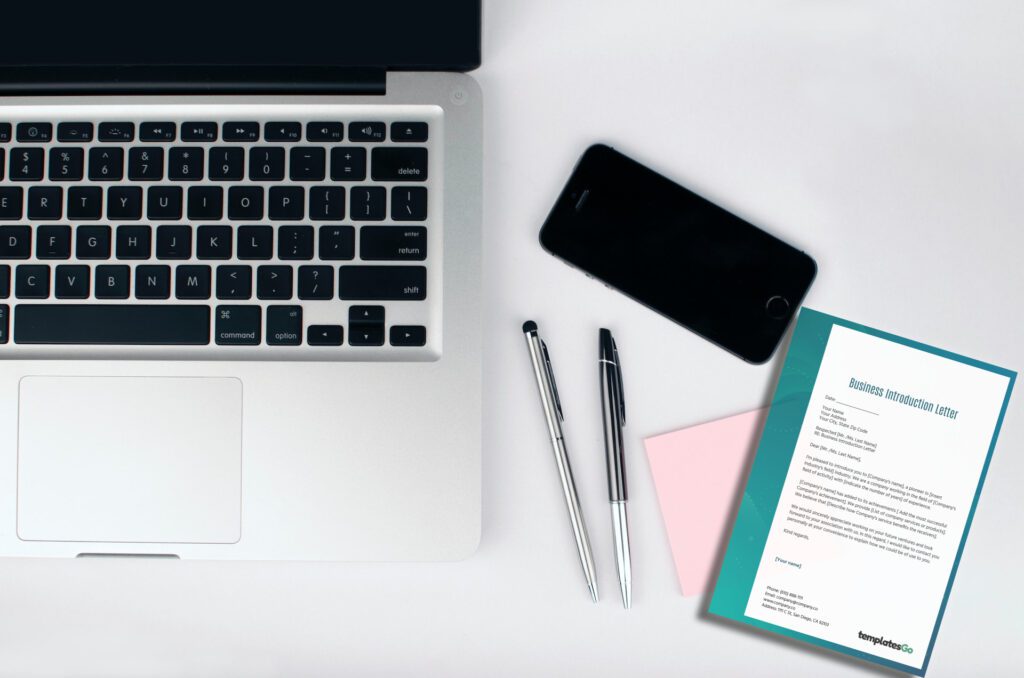 This letter is beneficial in building professional networking and relationships that lead to job opportunities, business growth, and collaboration. For those reasons, we will list down the most typical types of introduction letters for use during your career:
1. Job Opportunities
Generally, A job candidate often applies for job offers from companies when looking for a new job. However, job seekers can also use a letter of introduction for a job to create an opportunity at a particular company or headhunter they're interested in. It will demonstrate that you are actively searching for a role and showing solid ambitions to work with that company. By doing this, you can be the person HR keeps in mind when a new job opening is available.
2. B2B Business Sales Growth
These introduction letters are typical for connecting and 🔗 building new relationships with potential customers, which play an essential role in business development. A company that wants to offer its product and service to new clients first needs to leave an impact introduction to gain the receivers' attention. Another example is that this letter can help startups looking for new partnerships or investors introduce themselves politely and professionally to start new relationships.
3. Freelancer and contractor
An introduction letter is a valuable tool for business professionals like freelance writers, graphic designers, virtual consultants, and others. Building trust with clients can be challenging in the online world when you work independently. That's where a well-crafted introduction letter comes in. Freelancers use it to showcase their skills and highlight their successful projects, making a strong impression and gaining their clients' trust.
4. To Seek new distributors
Many manufacturers with high inventory would like to seek new distributors/trading as new partners for their products. This letter is an excellent way to help them increase sell volume, expand their shared market, and increase brand awareness in various countries.
5. Professionalism and educational opportunities
The manager who witnesses the impressive results contributed to the projects by an employee can send a letter introducing this worker to participate in the company's program. This letter can create a chance for the employee who seeks to grow in the international environment. For example, International firms usually have training programs on different continents for the elite whose work is outstanding. This letter can help the candidate be more competitive and dedicated to another.
It also works out for professors who can introduce their most promising students to collaborate in specific research projects or academic programs. You can reference our article on 🔗 letters of recommendation for students from teachers.
Letter Of Introduction Free Templates For Business
In this section, we will provide you not only our customizable templates that you can edit in just a minute but also a few samples of introduction letter business at the end for your overview. Let's start with three simple steps to create your personalized letter!
Select a template.
Answer simple questions to fill the text.
Review and revise your document freely before downloading it. Try it now!
Standard New Business Introduction Letter
Below is one of our formal introduction letters for businesses you can customize freely for your company. In this template, you can add all your client's information, such as the company's name and address. You can fulfill the client's data, skip it, and edit the document to complete it.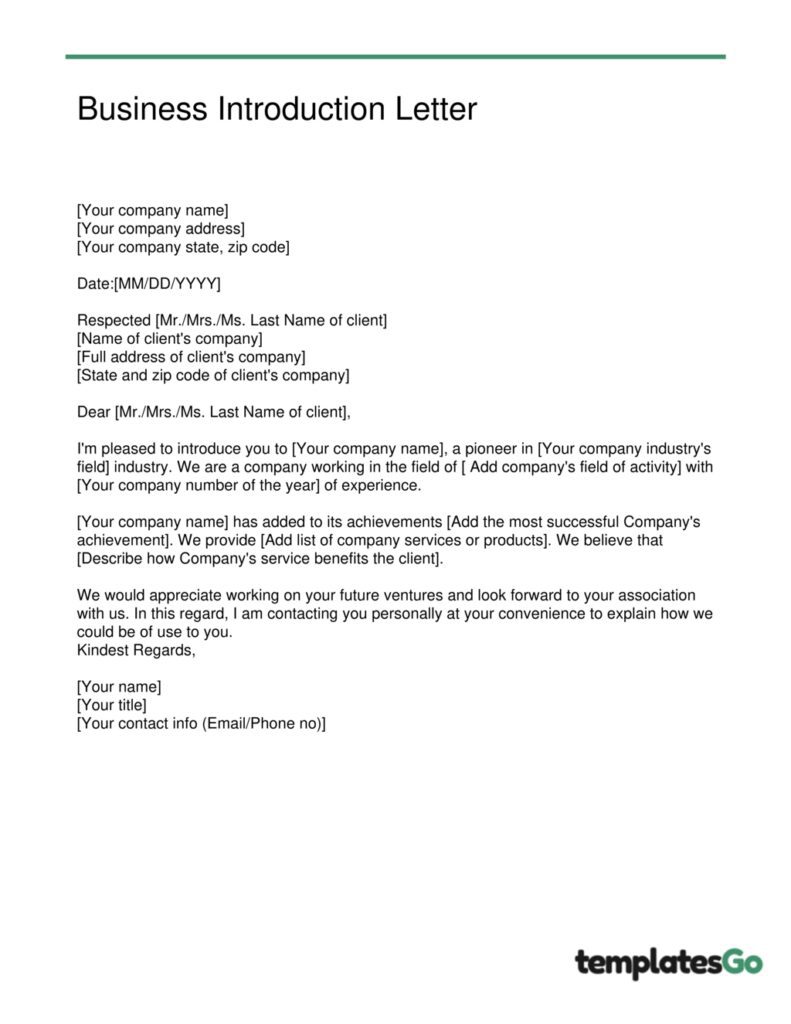 Other Letter Of Introduction Templates
With our standard introduction letter template, we believe it will be sufficient for you to easily customize a letter to suit your needs within a few clicks. Alternatively, you can select one of our personalized templates designed for the most common use cases. Check them out 🔗here and choose the one that works best for you
Business introduction letter to new clients
A simple template to introduce your company by email and an attached formal letter to the client. The letter will be generated automatically when you edit this template by filling in your info in each box. However, you can review and edit your doc before downloading and attaching it to your email.
Freelancer Introduction Letter
Use our document generation system to edit this Letter Of Introduction template by clicking the button below. You can now save all your info and customize docs freely. Download the high-quality file in PDF to attach or print out with us.
Agency Business Introduction Letter
This is a customized template for Agency business. Our system will help you save time writing a new letter. You only edit your new client's name and download it in a high-quality PDF file to print out or attach to your email.
Related Post

Create an effective 🔗 proposal letter and approach your potential clients successfully with our professional templates. At templatesgo, you can customize and create a personalized letter without limits.
Tips to Write an Approaching Letter of Introduction
1. Pay attention to the first Paragraph
A solid interactive opening is crucial if you want to catch the attention of new clients or investors. Your potential clients are probably busy and may skip the introduction email or letter if it is boring, so make it impressive. If you send this letter to a group of individual clients, then a catchy introduction in the first sentences is a must. For clients as a company, it is recommended to investigate their profile/website and tailor your introduction to benefit their business, for example.
2. The importance of a professional format letter
Make your letter precise and concise to read. Remember that most people receive more than a hundred emails daily. So, no one is willing to read a long letter without the main point. Prioritize the most important and helpful information you believe will help solve a problem or benefit clients.
3. Follow up on The Letter Of Introduction
You made a lot of effort to create a great introduction letter but have not received any response yet. Your receivers are probably busy and skipped your letter. However, a follow-up on the introduction will show how serious you are about collaborating with them. Though It is optional, it can have an impressive impact on your new clients. For the second follow-up on your introduction letter, they will recognize that your letter is not spam and will likely respond to your email.
4. Carefully check grammar and spelling Errors
Last but not least, recheck your letter for any grammar or spelling errors you may have before sending it out. Of course, you don't want to send a mistake-filled letter to a potential investor or client. A mistake detected can affect your professionalism.
Conclusion
Preparing a professional introduction letter is a daunting task. You may need to craft your letter carefully before spreading it to your potential clients. We hope this article will help you approach your new clients successfully. Similar to this formal business letter is a 🔗 price increase letter to clients where you may need to inform your company to raise the price for particular reasons. Check it out and get this professional template!