Are you searching for business proposal letter samples? Let us assist you. Templatesgo offers a wide selection of free, editable letter samples, expert tips, and guidance on crafting a persuasive partnership proposal letter.
Only three (3) simple steps to create your document with our tool:
Select the sample you need from our Business proposal letter editable templates.
Answer our simple questionnaire to fill in your information.
You can review your document and edit the text if necessary before and after downloading.
Our easy-to-use document tool simplifies the process by generating letter text based on your responses to a few simple questions. Try it now for better results!
Tips for writing a persuasive Proposal Letter For Business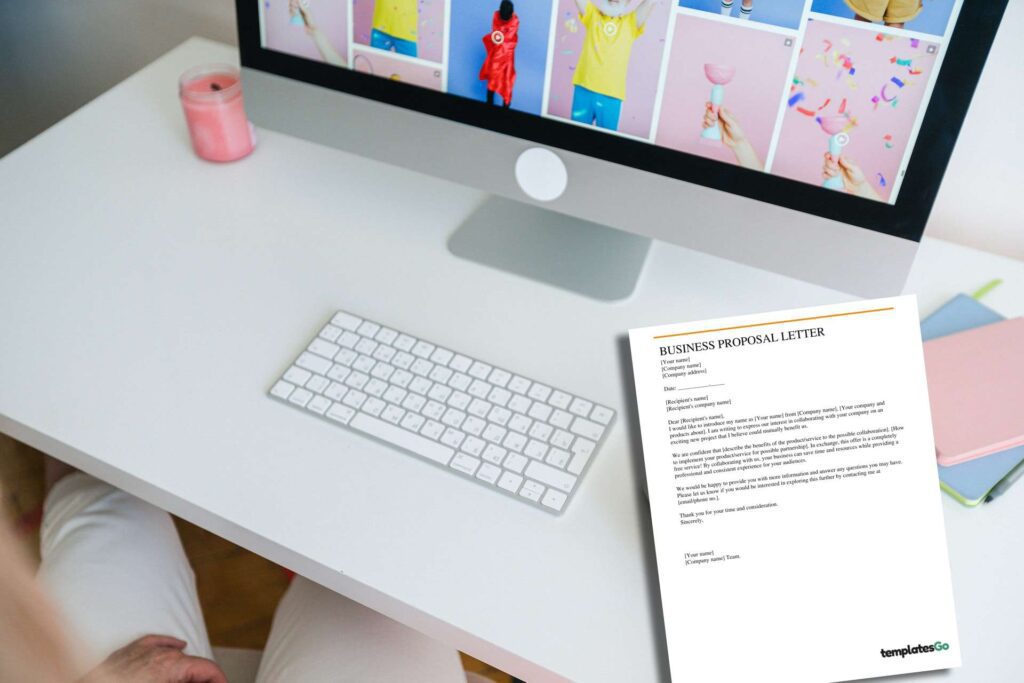 You must always wonder how to write a win-win business proposal letter that can attract potential partners and win the deal. It may sound complicated and vague, but knowing where to start and which step to take will be easier. Also, for your overview, an efficient and dynamic partnership proposal letter for business online should be clear, concise, and persuasive. Although you may use templates to craft this document, keep in mind some tips for writing an effective letter listed in order:
Do Good Research on the company
Before writing the business proposal letter, you should:
List the relevant companies with which you're proposing a partnership. You can download a 🔗partner/client checklist free form to organize well.
Research these companies and understand their business, products, services, and target market.
Tailor your proposal to their specific needs and goals.
It will help you to have an overview of the potential partners and open the letter more approached.
Use a short but professional format
The fact is that everyone is busy, and they do not have time to read a long email/letter, even us. For that reason, the first line is the most crucial part for the reader to decide whether to continue reading. For that reason, use the first line to briefly introduce you, your company, and the letter's intent. Therefore, pay attention to a clear and professional layout to catch your reader's first impression and keep them reading it. You should break down 3-4 small paragraphs for better readability
For the letter: Include a header with your company's name (if applicable) and contact information, it shows the company's professionalism. Then, a clear and direct subject line and a proper salutation with the recipient's name to personalize this letter. Finally, a well-closing phrase call-to-action or get in touch by suggesting scheduling a meeting/call.
For the Email: A compelling subject line is matter. Use a clear and direct subject line that summarizes the purpose of the email. Since we have hundreds of emails or spam daily, If you present them with an intriguing subject line that piques their curiosity will increase the likelihood of the recipient opening and reading your email. The email must be shorter than the letter and prefers a personal tone. You can check our examples at the end of the article and tips to avoid going to the spam box.
Get to the point and personalize each letter
Clarity and honesty are essential when crafting a business proposal letter. However, it's also important to avoid sending a generic letter that may not be relevant to each potential partner or capture their attention. To increase the chances of success, tailor your proposal to highlight how your business can benefit and contribute to each partnership. Doing so will make you more likely to approach them and generate their interest in your proposal.
Use persuasive language
Use persuasive language to convince the other party that the partnership will be mutually beneficial. To do so, you must highlight the strengths of your company and the areas where you can complement their business. Additionally, consider the win-win situation that could benefit potential partners and mention it in your partnership proposal letter.
Provide evidence or supporting documents
Provide proof to support your proposal. But what kind of proof can give value to the proposal? You can think about what achievement your business has reached so far. How % much did your company's marketing campaign increase the conversion rate and traffic to clients in the last few months? These specific questions help narrow down the essential details you can include in your proposal letter. For instance: statistics, testimonials, analytics, or case studies of successful partnerships.
Show a tone voice of enthusiasm and polite
Although this is a formal document, you can express enthusiasm and excitement about the potential partnership. This will make the other party more likely to be interested in the proposal and to know more.
Include a call to action
Last but not least, remember to include a clear call to action in your letter. It can be an ask for a meeting or call to discuss the proposal further at any time, and have your contact information for easy follow-up.
Related Post

Hey, if you are also looking for ways to reach out to new clients, do not miss out on our 🔗free business introduction letter samples and tips to write a good one!
business proposal letter templates (editable versions)
business proposal letter For A Win-Win Deal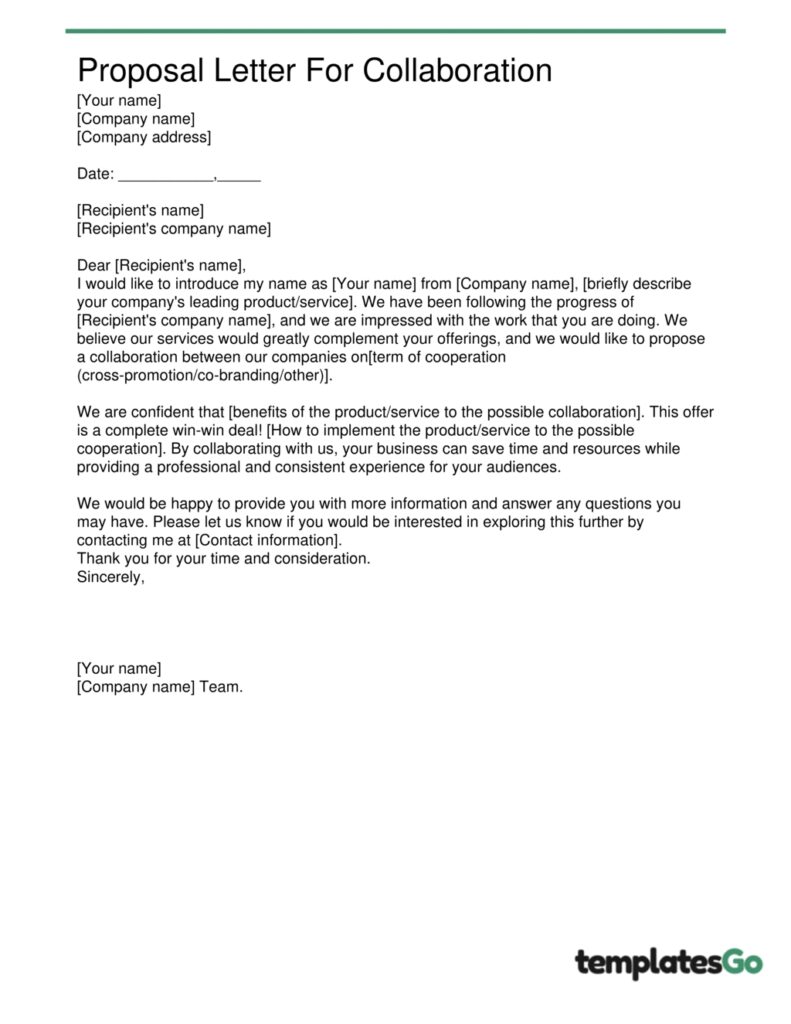 Business proposal letter For Collaboration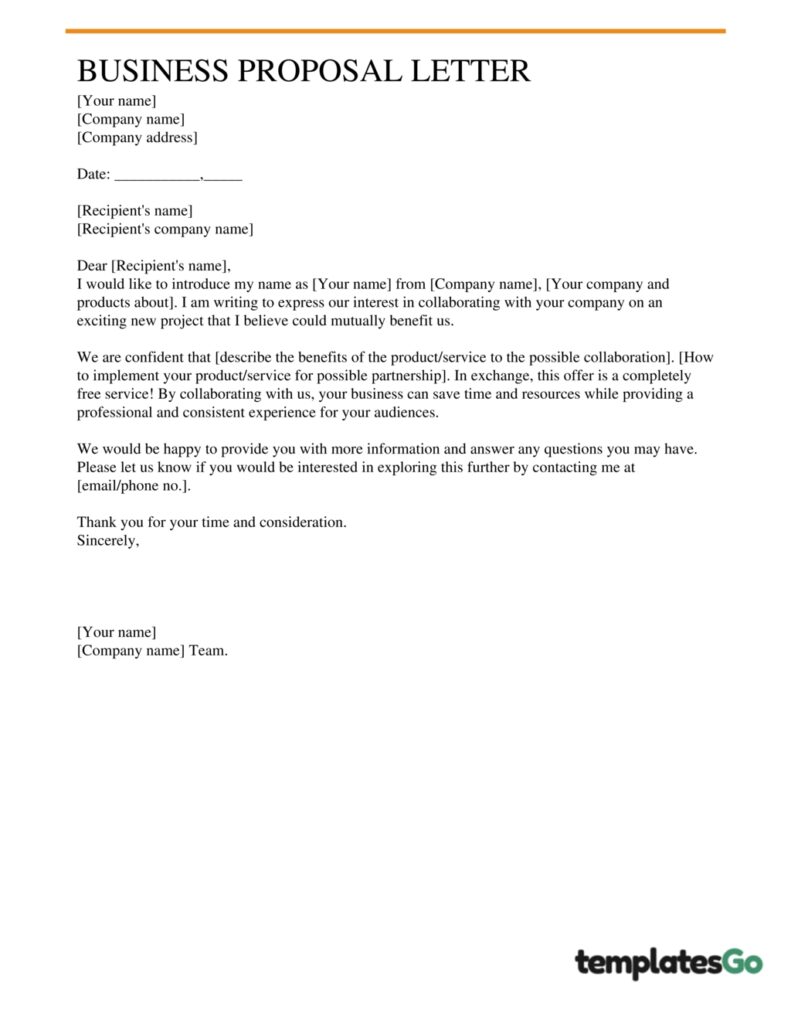 Proposal Letter For Business New Partner As suppliers/manufacturers/distributors
This Proposal Letter template is suitable for product/service companies to new suppliers/manufacturers/distributors in the same industry as a new business partner.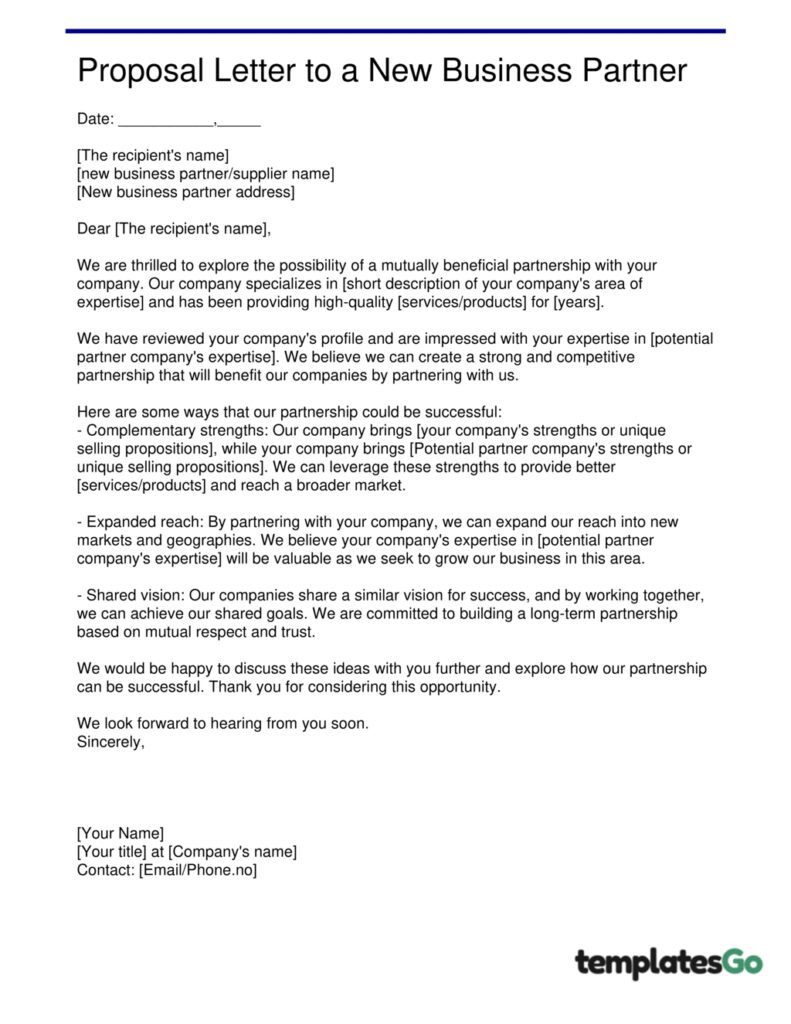 Cover Letter For Marketing Services Business Proposal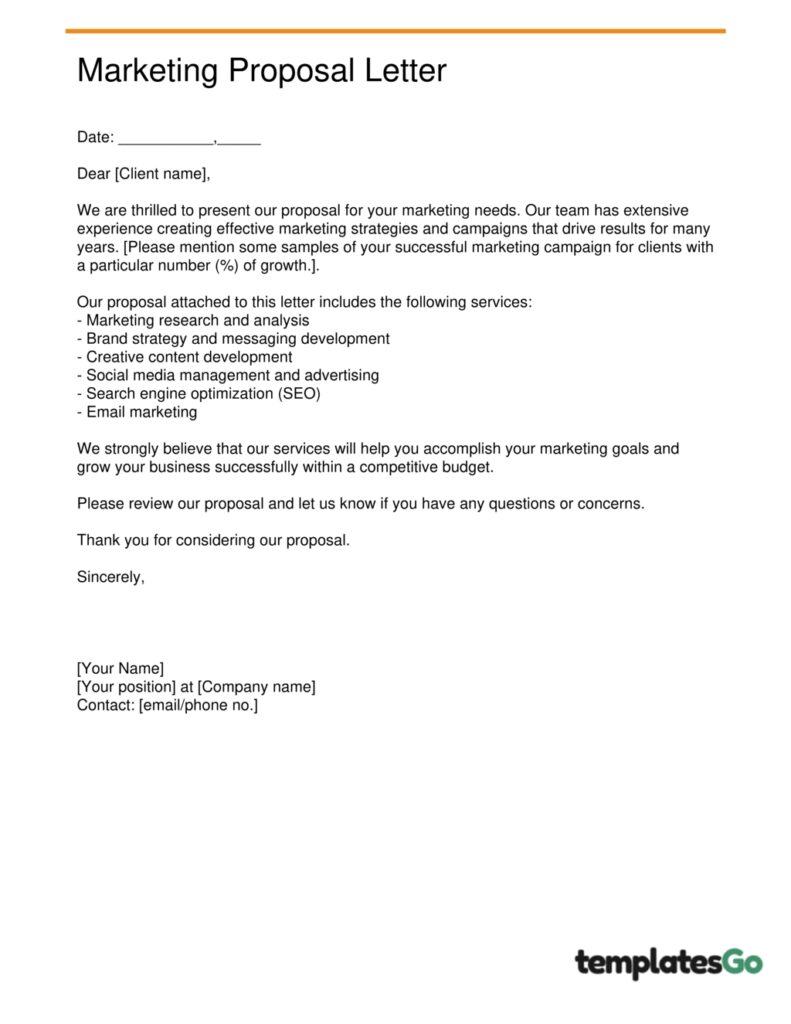 Marketing Proposal Letter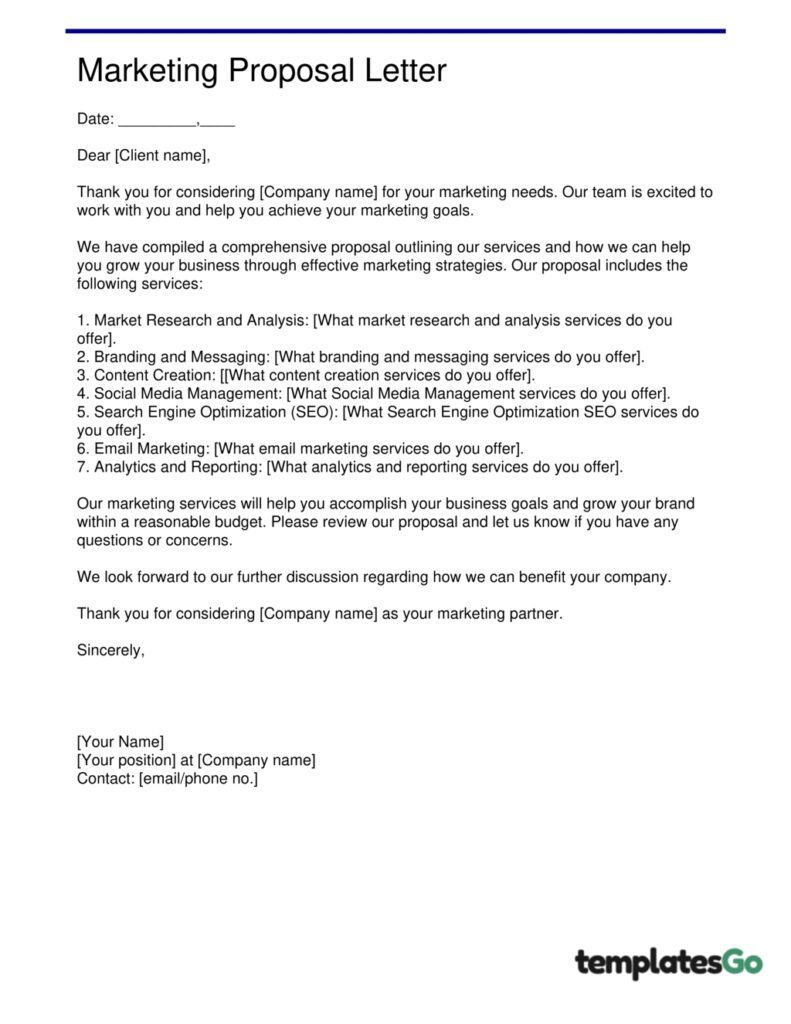 Marketing Proposal Letter Sample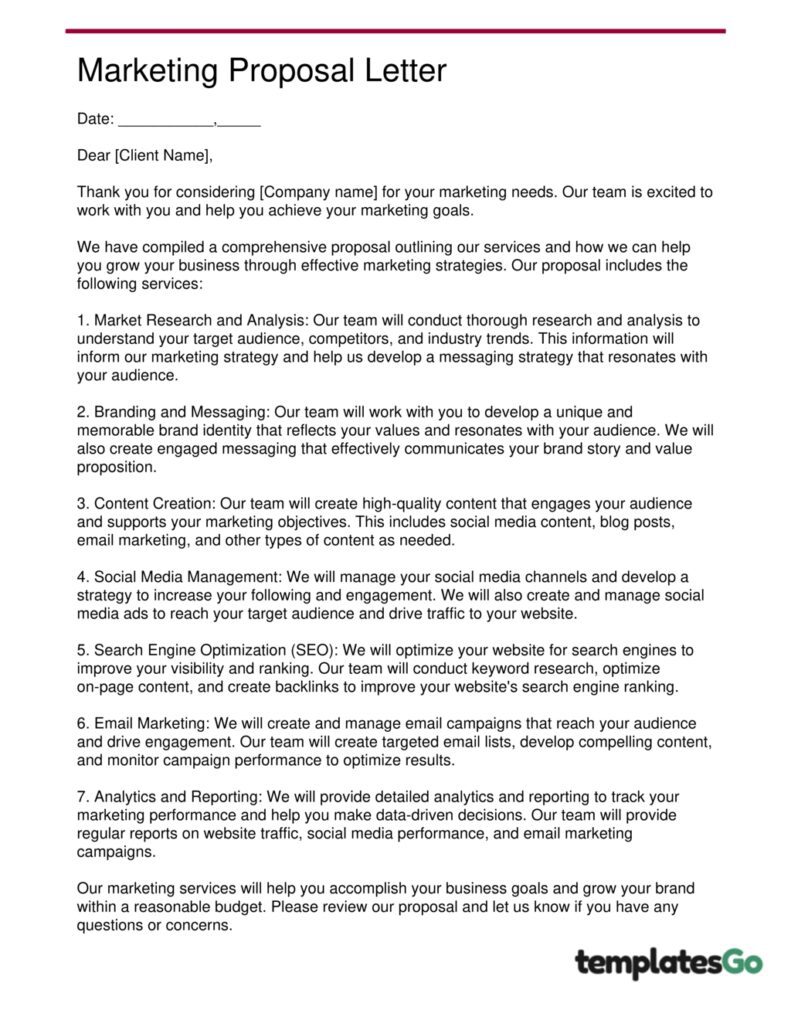 HR consultant proposal Letter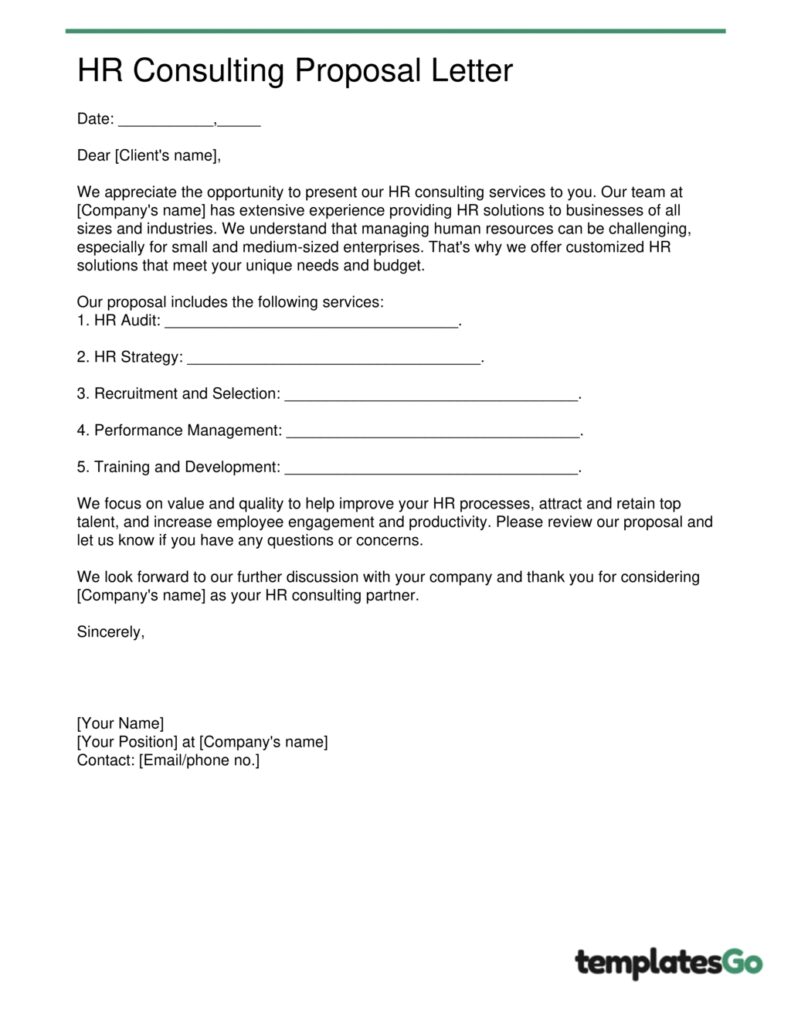 sample hr proposal letter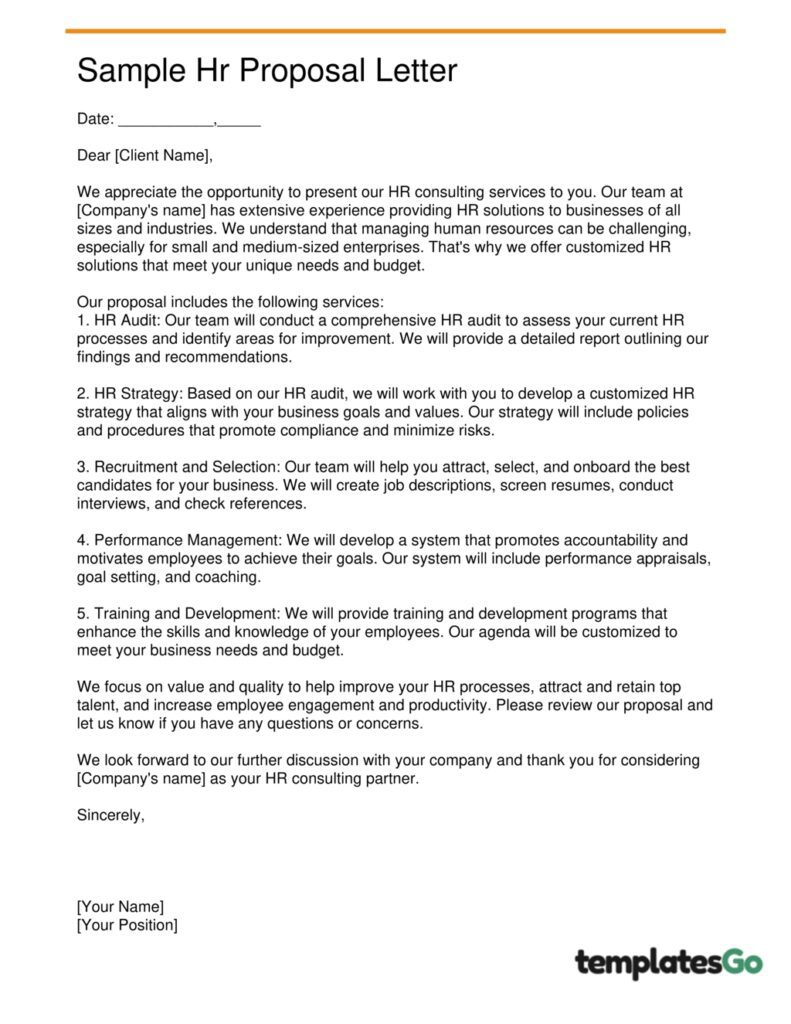 Recruitment Proposal Template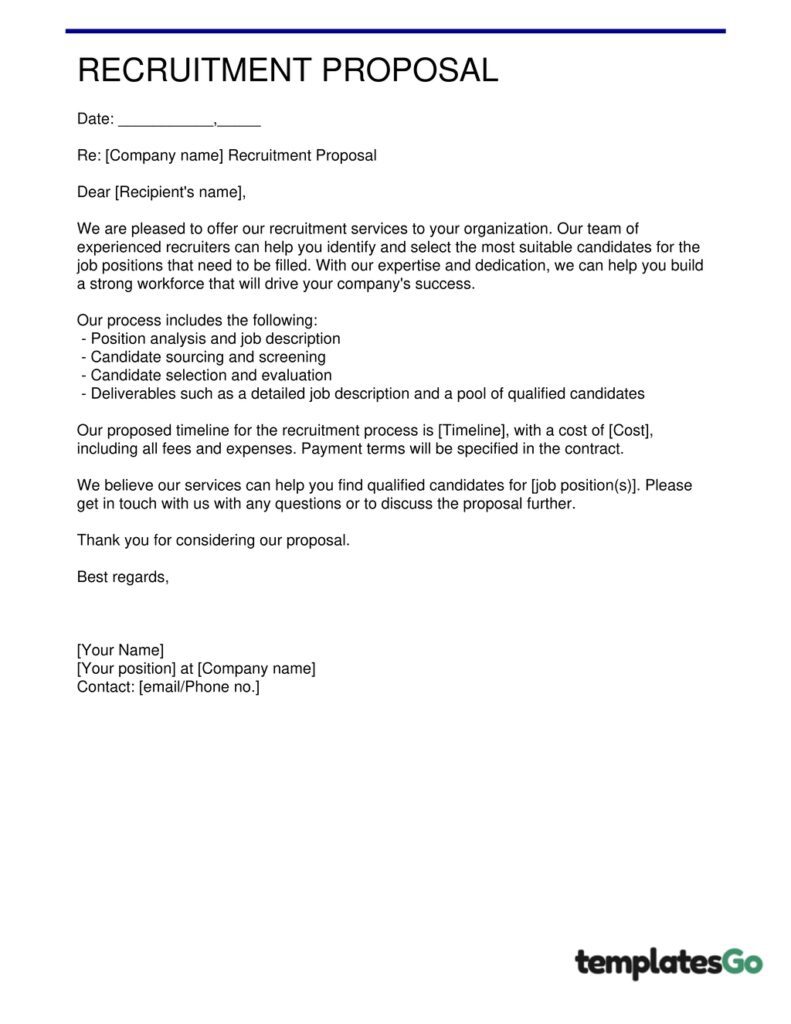 Approachable recruitment proposal sample letter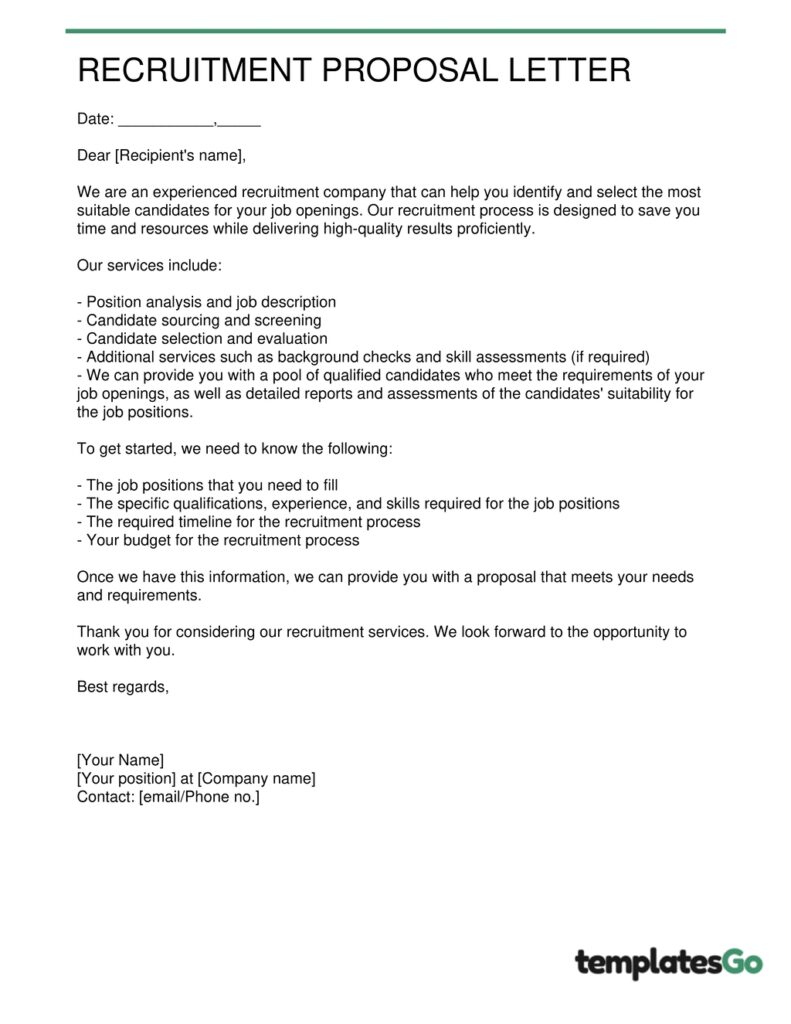 Business Proposal Email Examples
Collaboration Email Free Template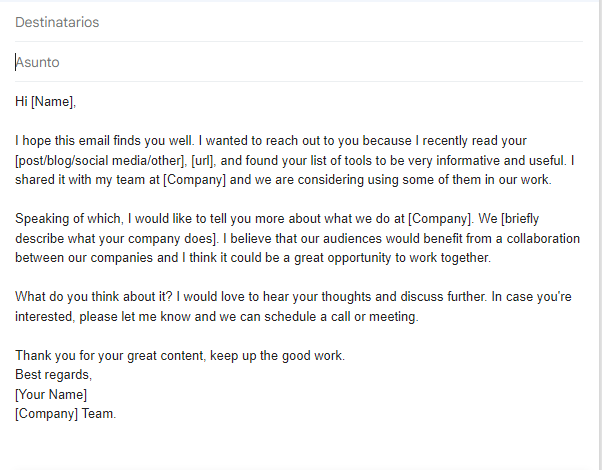 Online Business Proposal Email Sample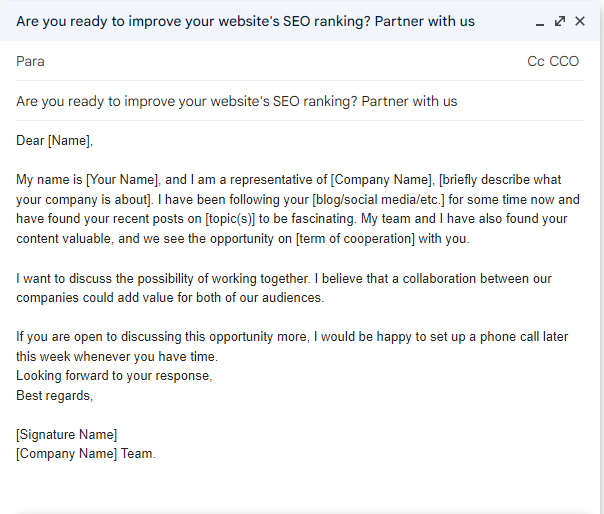 Tips

We highly recommend to use a 🔗spam checker to optimize your letter and avoid being sent to spam before your potential partners can read it.
How to Write a catchy collaboration email?
Nowadays, many online businesses choose email marketing to reach potential clients or partners. It has become an effective way and low cost to promote the company. The way to write an email is similar to writing a partnership letter. However, there are a few critical things you need to pay attention to while writing a business collaboration email:
A clear subject line: Use a short but direct subject line that summarizes the purpose of the email. If you do not know where to start, you can take a glance at 13 tips to write a catchy email subject line with 100 samples by Indeed.com.
An introduction: the most common way is to start the email with a brief introduction that explains who you are and why you are reaching out. However, you can also mention how you know them in the first line before introducing yourself and the company: "I have followed your blog and impressed at your work as well as the details you put into every article".
Briefly purpose of the partnership: Now, you can clearly state the purpose of the collaboration and how it will benefit both parties in your business proposal letter, such as cross-promotion, co-branding, joint product development, etc. For example: "I want to let you know that my team and I would love to have the opportunity to collaborate with you on cross-promotion."
Pay attention to the email length: no matter how many details you want to add to the collaboration email to explain your excellent service/product, It is a prevalent mistake. Nonetheless, keep in mind that with hundred emails/spam daily, your potential partners are too busy to read all, even us. For that reason, sending a short but intriguing email is better to get the reader's attention and response.
A call to action: Include a clear call to action in your email. Ask for a meeting or call to discuss the proposal further, and include your contact information for easy follow-up.
Include attachments if necessary: if you are proposing a partnership with a detailed plan or any other document that might be helpful, attach them to the email.