Are you in need of an employment offer letter template? At templatesgo, we provide standard employment offer letter templates you can customize quickly and easily with your company information. Our generation tool will do the work to create a professional letter in just a minute. In addition, you can also create a unique letter with an AI option, and it only takes a few steps to do as follows:
Select a job offer letter template you need.
Fill in your information to be generated into the template.
Review or create a unique version with our AI tool.
Download your letter in PDF with business letter format.
What is a job offer letter?
A job offer letter, also known as an employment offer letter, is a formal business document that outlines the terms and conditions of an employment offer created by a company to a potential employee. This letter typically includes details about:
The job position is being offered and the responsibilities.
Type of contract and the start date.
Salary/compensation package and company benefits.
🔗 Employment contingencies. It may include background checks/drug screenings/reference checks/I-9 forms/etc.
Employment offer letters are usually sent after a successful job interview. They also help to ensure that both parties clearly understand the terms of the job offer, including salary, job responsibilities, and expectations.
Employment Offer Letter Templates
Standard Job Offer Letter
We provide a standard format of the job offer letter template that includes the job position, start date, salary, supervisor name, and other basic terms & conditions of employment from the company. Once you fill in your information and the text is generated, you can also make a different version with our AI to get a unique branded letter.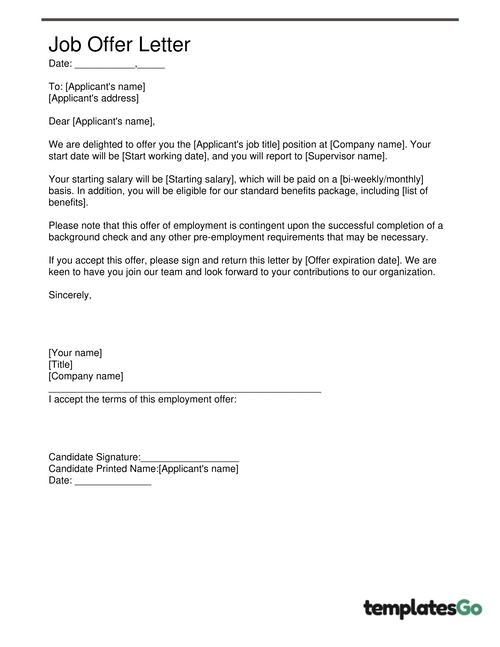 Executive Job Offer Letter
This type of offer letter is used for executive-level roles. Besides the essential information you will fill in, it typically includes more detailed information about compensation, stock options, and other benefits to be more competitive with other companies. If you are hiring for this job level, hit the button to create this formal document.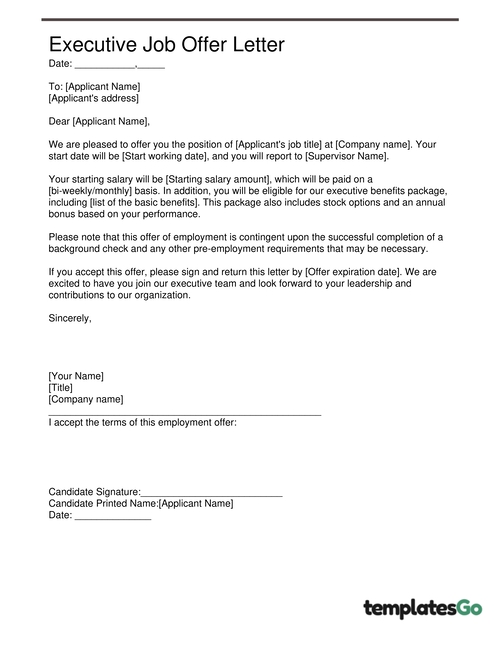 Internship Offer Letter
This type of offer letter is used for internships and typically includes information about the internship period, responsibilities, and compensation (if applicable). Additionally, an internship role is not a paid position, and the intern will not be eligible for company benefits, such as health insurance, sick pay, unemployment, etc., so we will not mention any benefits in this letter unless your company has any specific conditions for this role.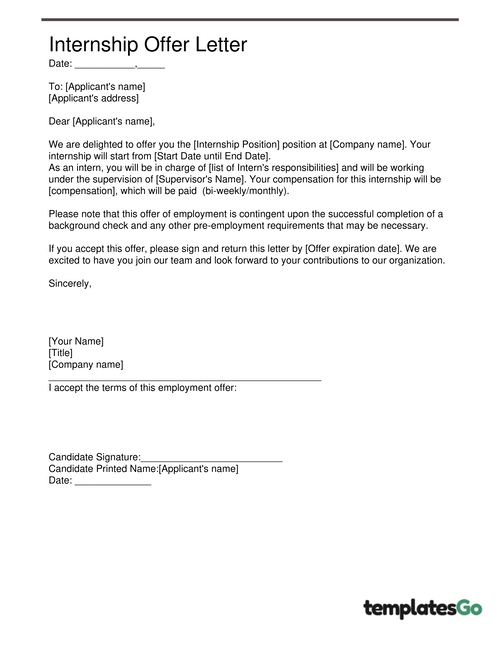 Related post

If your candidates accept your offer, it's time to craft a 🔗 welcome letter, you can use our document generation to create a warm letter to welcome your new future employees.
Contractor Offer Letter
If you are looking for a part-time or independent contractor offer letter sample, the following editable template is for you. This letter typically includes details about the related project, scope of work, compensation, and company benefits. Moreover, we provide quick questions to help you fill in your information quickly into this template. Once you complete it, the text will be generated and customized immediately for your review and to make any modifications (if necessary).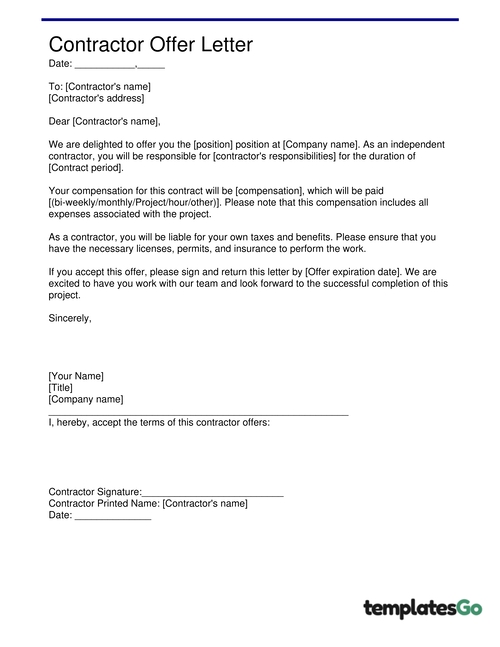 Internal Offer Letter
An internal offer letter is a document a company uses to formally offer a job position to an existing employee. This template can also be used as a promotion offer letter. Internal offer letters can be an effective way for companies to retain top talent and fill open positions with qualified candidates from within their organization.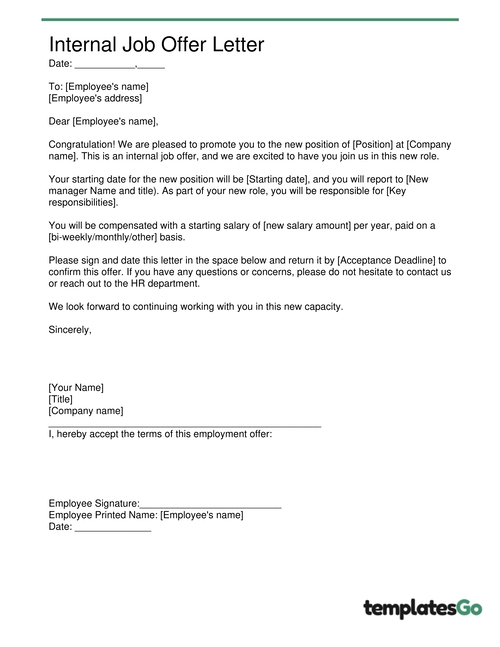 Conclusion
Overall, an offer letter is an essential document that helps establish employment terms and sets expectations for both the employer and the employee from the beginning. It's important for employers or HR to make sure their offer letters are clear, concise, accurate, and complete to avoid any confusion or misunderstandings that could lead to legal issues or disputes down the line.
On the other side, you have some employees who are performing under the company's expectations. It's time to make a 🔗reprimand letter to warn them before taking any final steps to 🔗terminate their employment contract.