An employee termination letter or termination of contract letter is a formal document used to officially inform an organization or an employee to end the relationship or contract with the company. However, creating a professional and legally compliant termination letter can be a complicated process. Still, with the help of our free letter templates, you can easily create a clear and concise letter that meets your specific needs.
Select one of our customizable templates.
Answers a few easy questions to fill in your information.
Review and download the letter in a business format for your use.
How to write a termination letter to an employee?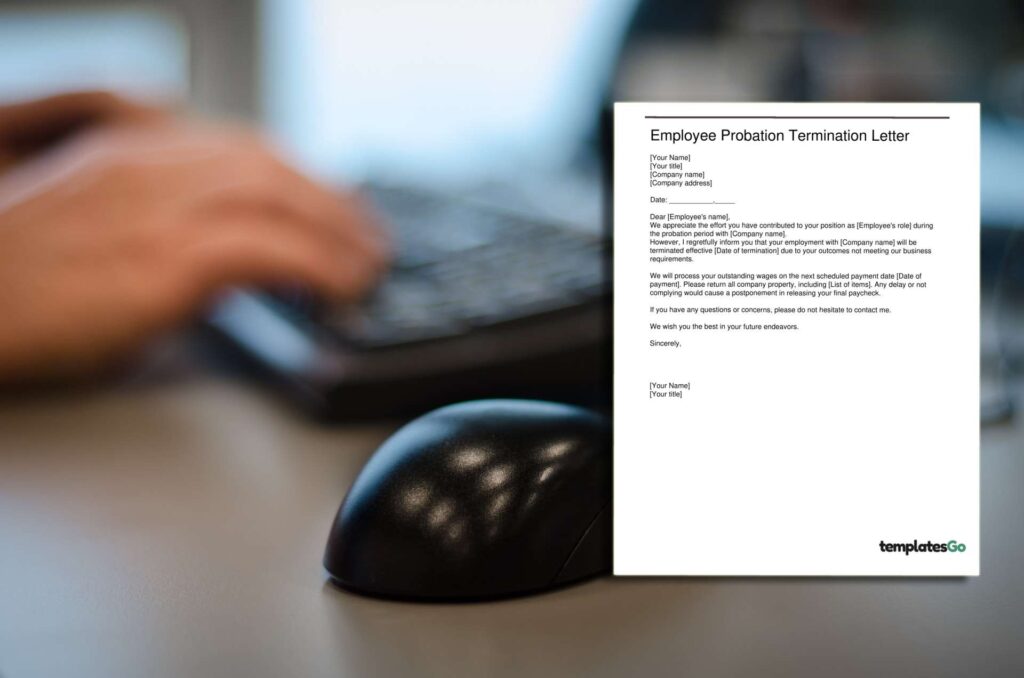 An employee termination letter is an official document written by an employer to inform a worker that their employment relationship with a company is ending. In order to create a professional notice, the letter serves several important purposes:
Date and address: company's name, address (or company letterhead), and the date this letter was issued.
Employee information: employee's name, job title, department name (if applicable), and brief employment record with the company.
Reason to terminate: the termination letter should clearly state the valid reason explanation, whether for layoffs, cut loss, employment poor performance, or violation of company policy.
Effective Date: Mention the termination date or the last day at work.
Termination benefits: If the worker is eligible for termination benefits, such as severance pay, unused paid vacation days, or unemployment insurance according to the laws or company policy, the letter should contain this information.
Company requirements: Mention to return any company property provided to employees during their work tenure.
Final Statements: no matter how this relationship ends, the letter should add the final remarks, such as wishing the employee success in their future endeavors and appreciating their contribution. Close letter with signature and print name.
Request the employee's signature: Remember to request the employee's signature as a record of receiving this letter after sending it.
A well-detailed employee termination letter can help protect the employer against possible legal claims by the terminated worker. On the contrary, this letter also protects employees' rights by outlining the terms and severance benefits and final salary they are entitled to.
examples of termination letter to employee
Here, you will find our examples you can use as a reference for your letter. However, with our document creator, you can immediately edit and personalize our template without limits and create your own letter in just a few clicks. Pick your template and start creating your letter now!
A Simple termination letter to employee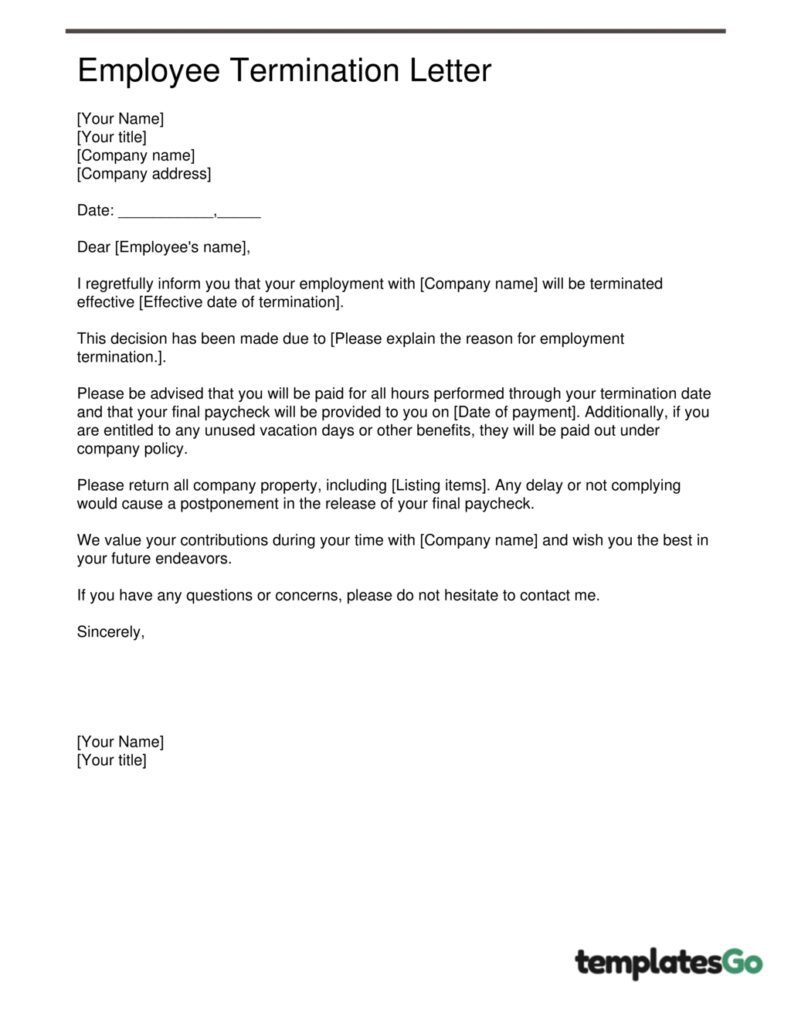 immediate termination letter to employee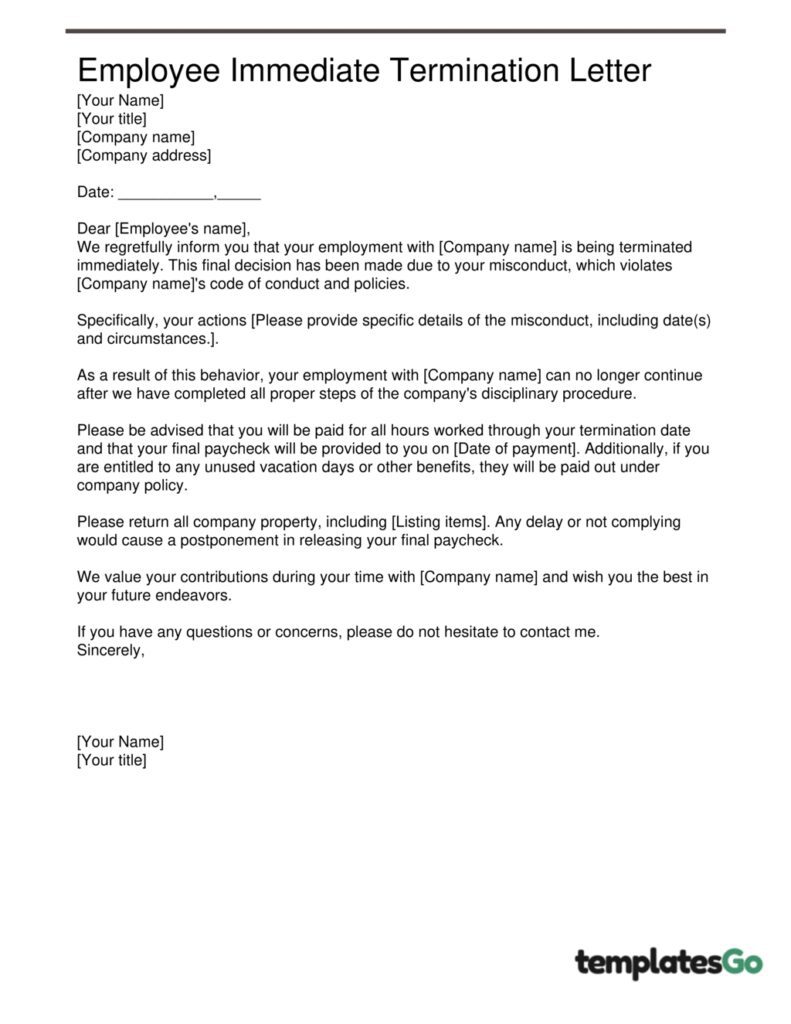 Employee Probation Termination Letter
Internship Employee Termination Letter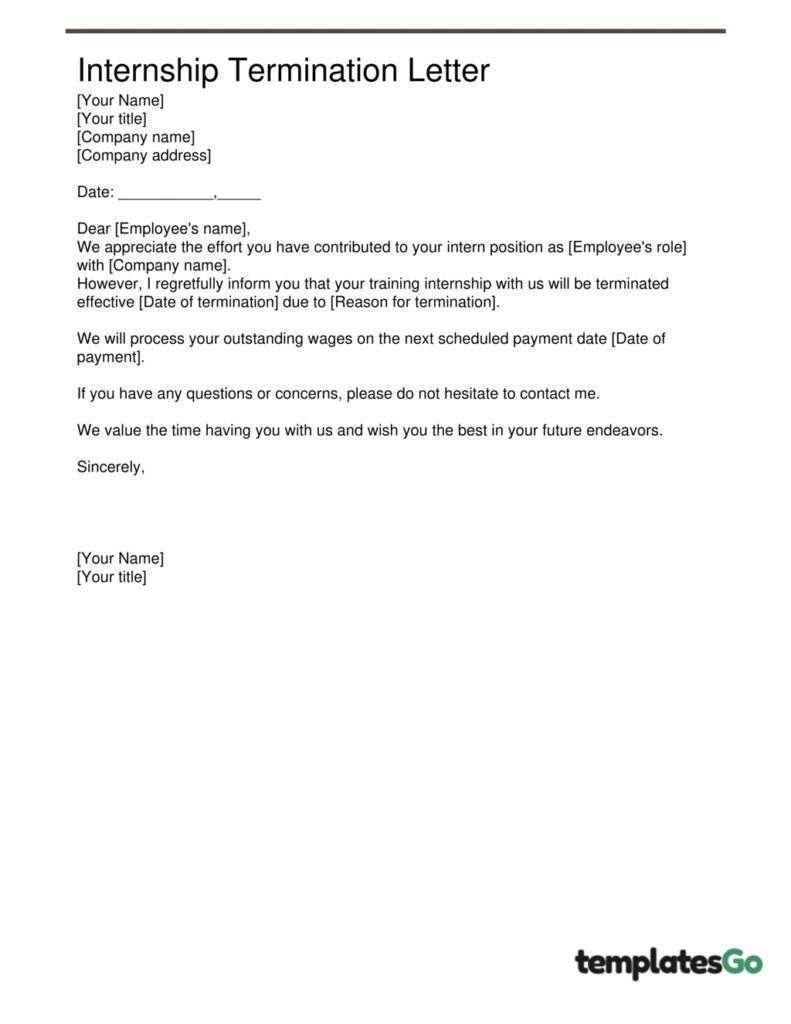 Remote Employee Termination Letter
termination letter to employee for poor performance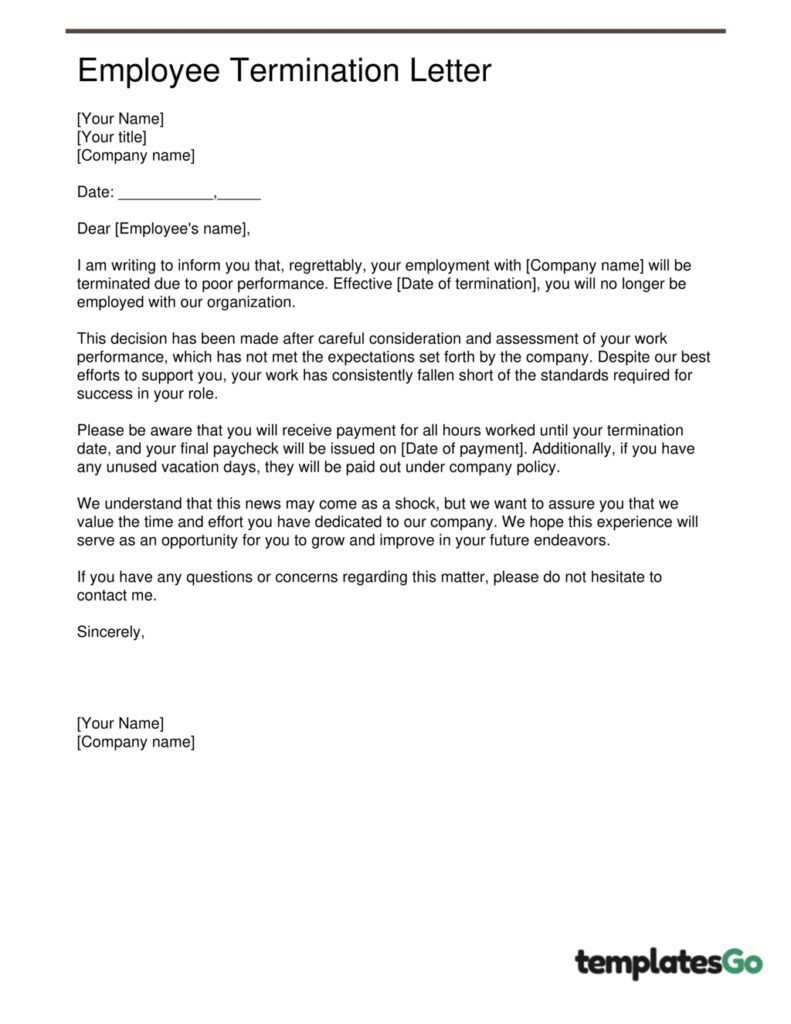 Related Post

Terminating an employee is always harder than bringing them in, but it is a part of working life. Learn 🔗 how to fire an employee gracefully and do it right can make the process less painful. The process of firing or resigning will need a🔗 relieving letter for your employees which you can find here also.
contract termination letter sample
Basic sample letter for contract termination With Your Reason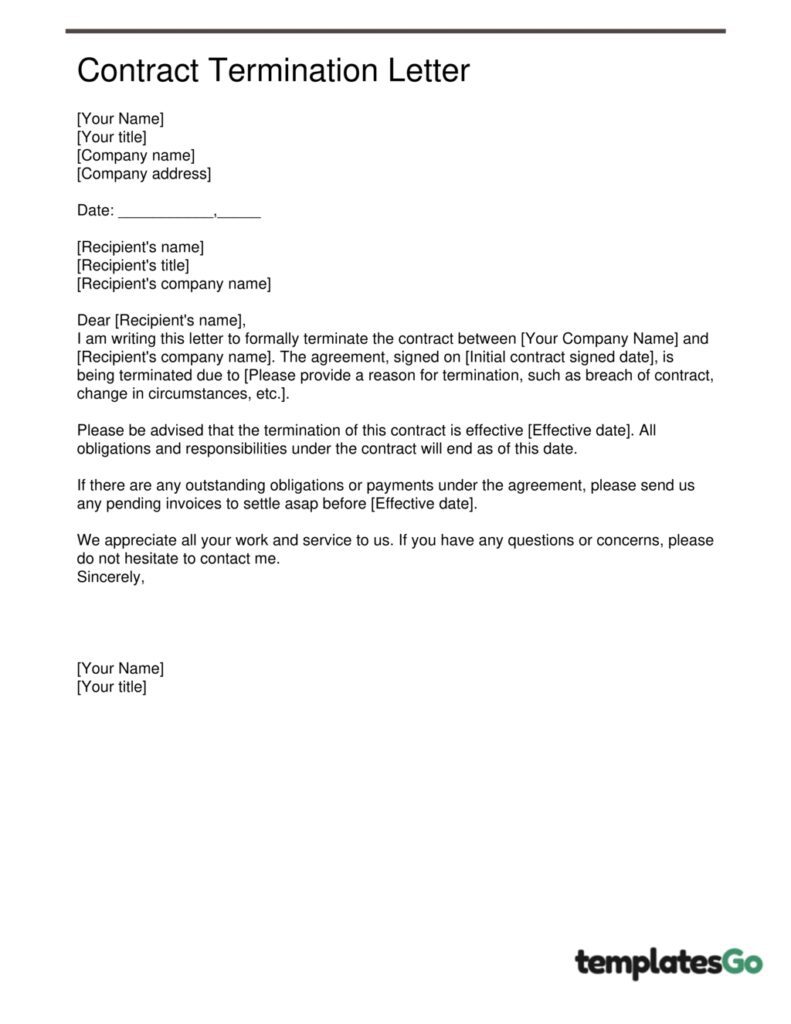 Service Contract Termination Letter For No Longer Requirement Example
Why do we need a contract/employee termination letter?
This formal letter could be used for legal purposes if one of the parties did not respect the termination term and the company's policy. Below are the main reasons for creating this letter:
Formal Record: The letter of termination provides the date and the reason for the termination as a record to start the termination process.
Clarity and Communication: This document clarifies the terms of the termination, including the details of the effective date, the explanation of the reason, and other vital information related to the company policy or contract. It helps reduce the risk of misunderstandings and future claims or disputes.
Legal protection: A well-detailed termination letter can help avoid any legal claims or conflict by the terminated party.
Professionalism: A termination letter can help maintain a professional impression and respect for the contract terms and the termination process between both parties.
Related Post

At our platform, we understand that creating bank documents for your business can be a tedious and time-consuming task. That's why we offer a simple and convenient solution: typical 🔗 bank letters that you can easily edit and customize to fit your needs. With just a few minutes, you can make professional-quality bank documents that will meet the requirements of your financial institution.