A bank letter is a formal document related to a bank's activity that provides information or requests about a specific bank account or transaction. Bank letters can be used for a variety of purposes, including verifying account balances, confirming transactions, and providing proof of funds. Though writing a formal letter from scratch is time-consuming, you can create this letter in 3 simple steps with our document generation tool.
Choose one of our professional templates you need.
Fill in your information by answering our simple questions.
Review the bank letter. You can adjust the text before and after downloading this document.
letter to bank templates
Several types of bank letters are commonly used, such as requests for bank statements, bank reference letters, bank closure account letters, stop payment letters, etc. Each type of bank letter serves a different purpose and requires specific information.
As these letters are formal documents that need time and effort to write, we offer templates for the most commonly used types of bank letters that can be easily edited and personalized to have quick results tailored to your needs.
company reference letter for bank account opening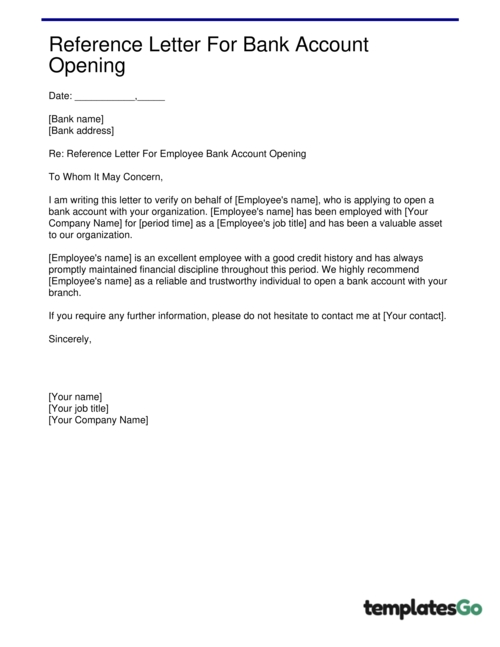 Request for Opening Employee Bank Account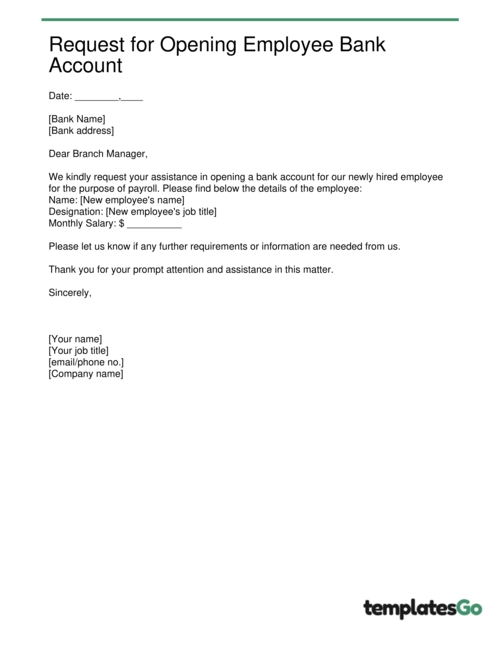 bank letter to close account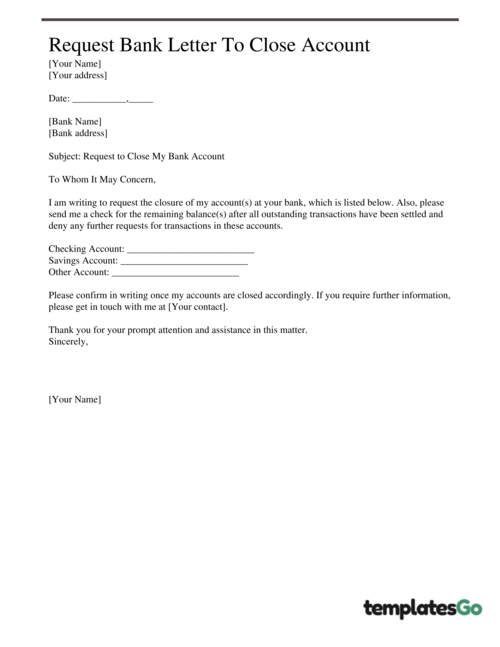 Authorization Letter To Close Bank Account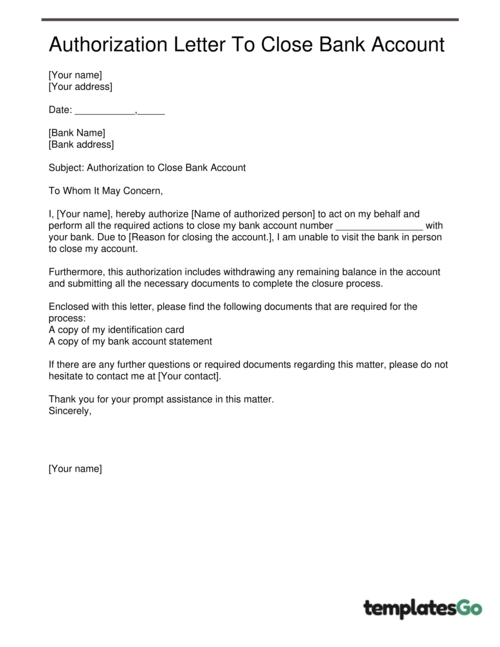 You can also create a free 🔗 authorization letter with our templates with your information for a quick result.
Bank Reference Letter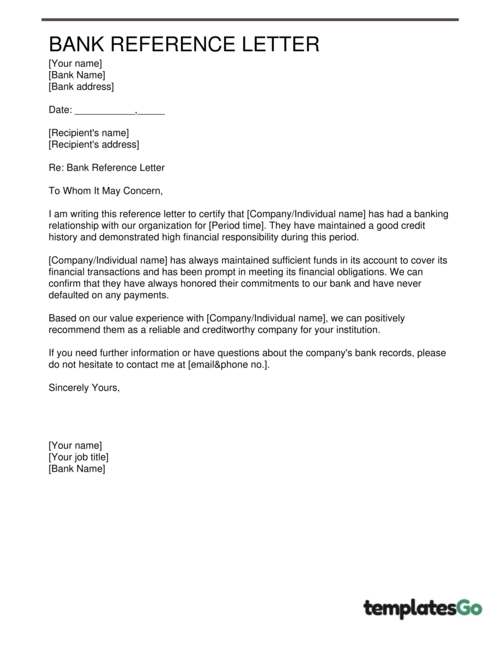 request letter for bank statement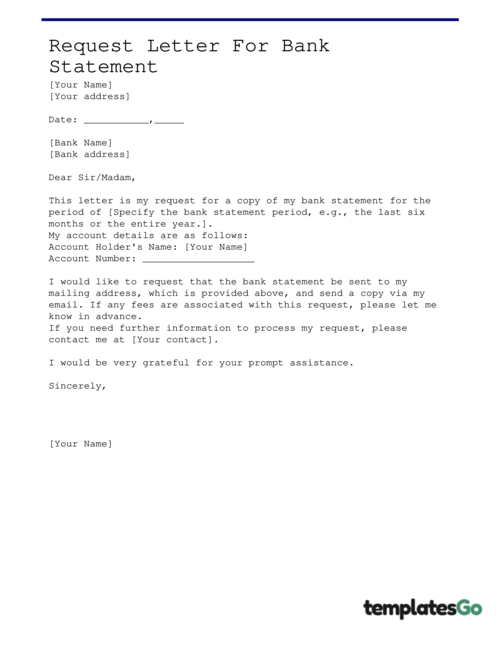 request letter to bank for stop payment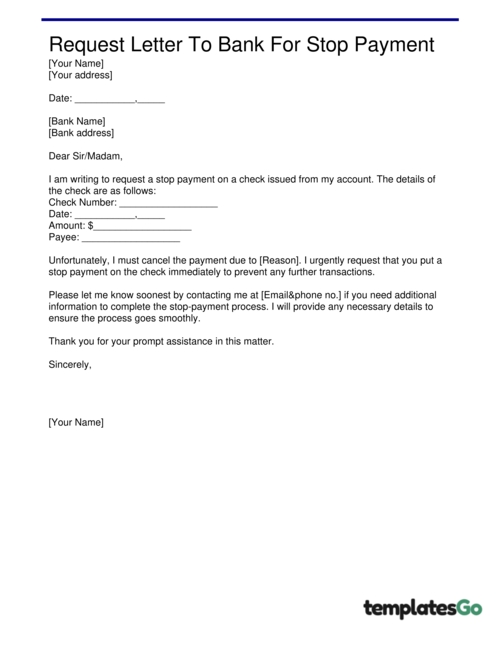 Request to Unblock Bank Account Letter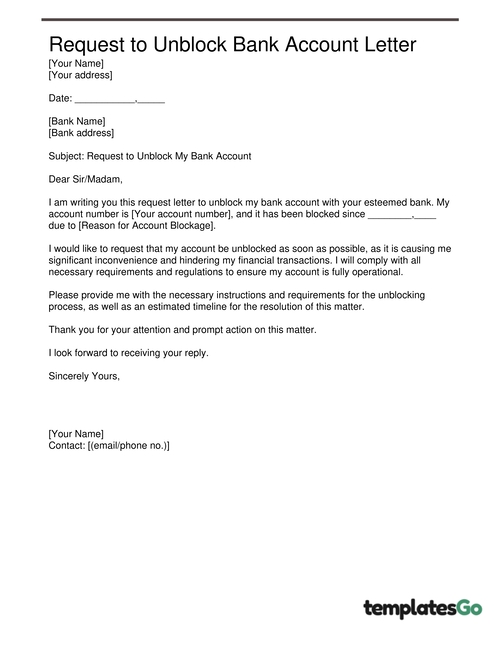 Request Letter to Remove Hold on Account Balance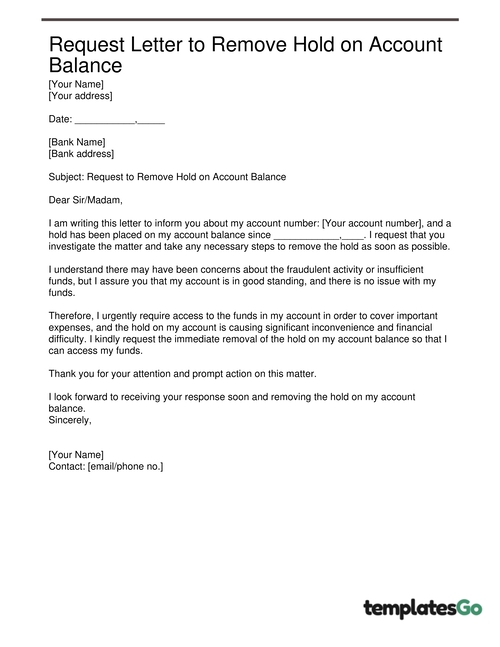 letter to cancel a credit card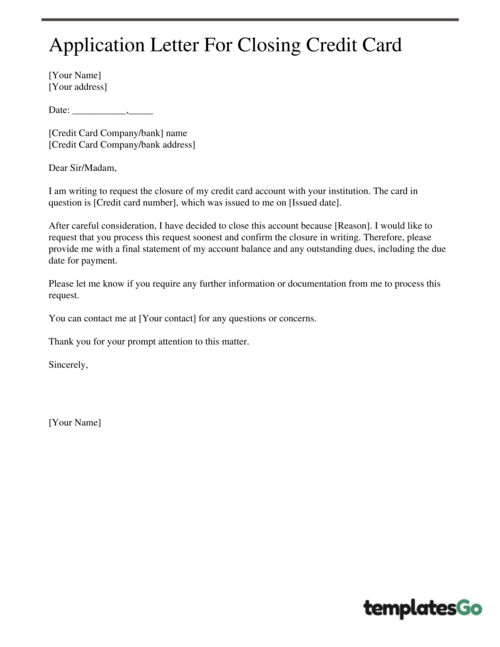 Stop Loan Payment Request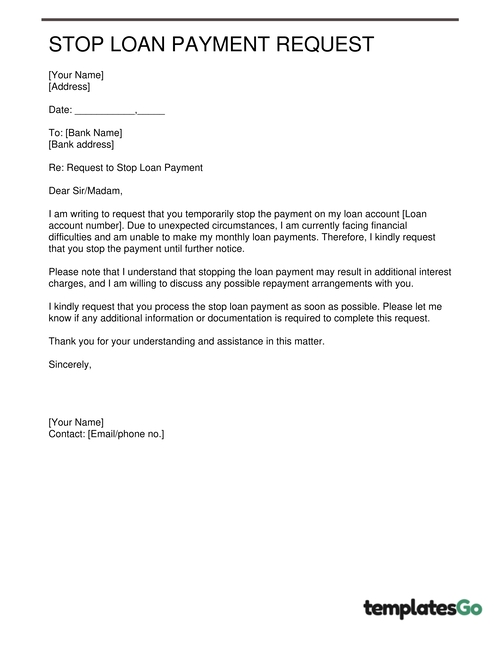 Request Letter To Place Hold On Payment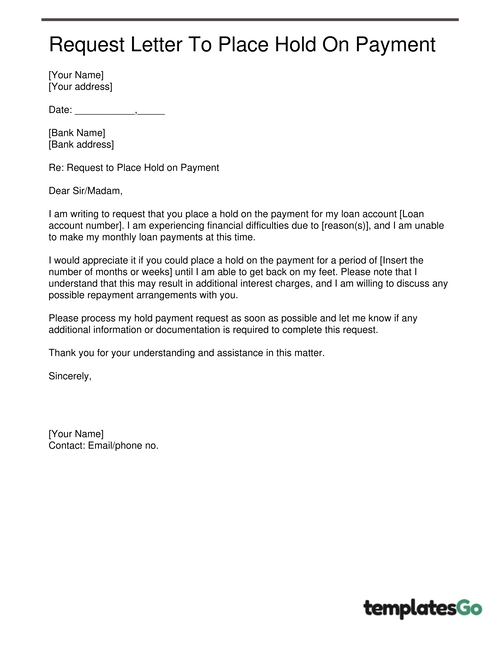 Letter Request For Loan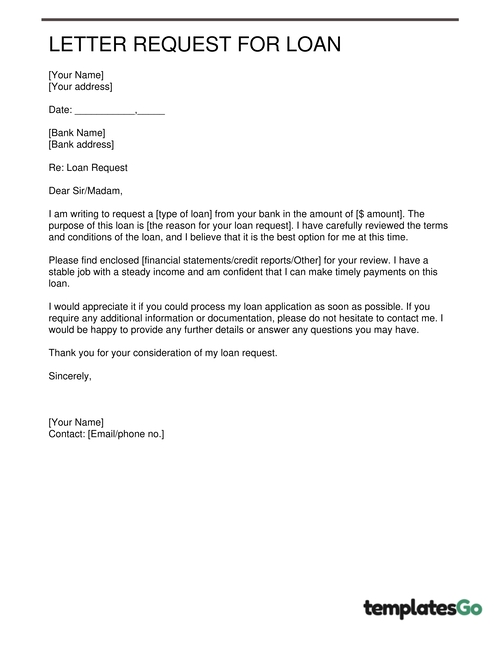 Mortgage Loan Modification Letter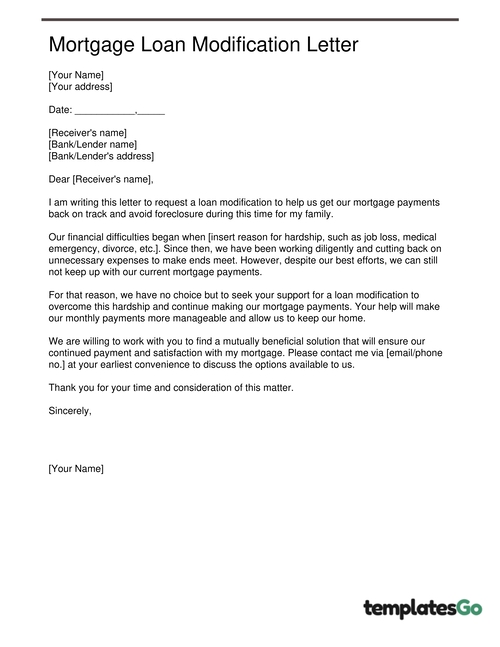 Related Post

We also have 🔗financial hardship letter templates for other cases, such as College Aid, Auto Loans, etc., you can edit immediately on our platform to help you request assistance from the creditors.
Business letter to request for loan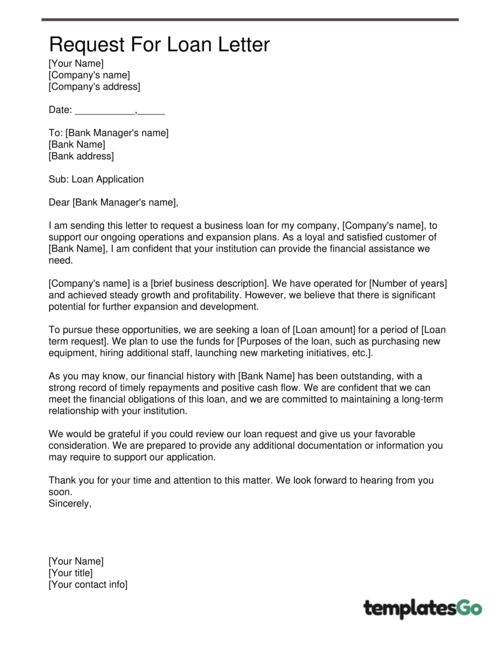 Our template uses the common purpose of requesting a loan for further expansion and business development. However, you can customize this template with your reasons. Here is a list of potential purposes for requesting a loan as a reference:
Reasons to Request a loan for Individual
Reasons to Request a loan for Business
- Home improvement or renovation.
- Purchasing a vehicle or other large asset.
- Paying off high-interest debts such as credit card balances.
- Covering unexpected medical expenses.
- Financing a wedding or other major life event.
- Starting or expanding a small business.
- Paying for education expenses such as tuition or student loans.
- Funding vacation or travel plans.
- Making a large investment, such as in real estate or stocks.
- To buy commercial real estate.
- To buy equipment.
- To buy inventory.
- To increase working capital.
- To hire more employees.
- To finance marketing campaigns.
- To attract top talent.
- To relocate your office.
- To open additional offices in a new area.
- To purchase business insurance.
- To merge with or acquire another company.
- To buy out shareholders.
- To establish credit for a future larger loan-
Source: templatesgo.com
How to create a formal bank letter?
Here we will provide a comprehensive guide on how to write a formal bank letter, including all the necessary information you need to know. But you still don't have time to create this letter after reading it?
Our editable templates are designed in a professional business format to make writing easier and faster. You can simply customize the templates to your specific needs and get quick results without spending hours creating a letter from scratch.
Use a standard business letter format: Your letter should include the sender and receiver's details with a formal greeting. Additionally, the letter should be formatted and well-structured. You can check our 🔗 letter format to learn more.
Include a subject line: This should clearly state the letter's purpose. For example, "Request for Bank Statement," "Authorization Letter for Account Closure," or "Reference Letter for Account Opening."
Address the recipient correctly: In our samples, we address the recipient in general, such as "To Whom It May Concern" or "Dear Sir/Madam," to simplify. However, if you have the recipient's information, we highly recommend addressing their name in your letter. Our document generation system allows you to edit the text freely before downloading your personalized document.
Explain the letter's purpose: When writing a letter to the bank, you can start the letter's intent from the beginning briefly, such as closing an account or requesting a stop payment.
Provide bank account details: If necessary, include specific details such as dates, amounts, or account numbers on the written letter so the receiver can check and take prompt action in your matter. For security reasons, remember not to write this information into your email to prevent hackers.
Attach relevant documents: If this is an urgent request, check the bank's requirement to attach supporting documents to speed up the process, such as a copy of your ID or bank statements.
Use a professional tone: Avoid utilizing informal language or slang, and be polite and respectful in your language.
Close the letter: Thank the recipient for their time, and include your email, phone number to get in touch, and your signature.
Review and proofread: Before sending the letter, ensure all information is accurate and complete by reviewing it carefully for any errors or typos.
Related Post

In some cases, if you are requesting a loan or mortgage, the bank may request a 🔗 verification letter to inspect your financial status. You can create a professional letter with just a few clicks with us.