Hi, are you looking for a standard authorization letter sample? You arrived at the right place. As you may know, an authorization letter is well known as an official document to authorize a chosen person to act on behalf of you when you are away or to solve complicated matters that require an expert to handle. Since this requires a formal business format letter, our editable documents tool can help you create this formal letter in just a minute.
You will only need to select the template for your need, fill in your information on our questionnaire, review all the text, and edit (if necessary) before downloading it. The whole process of completing this authorization letter is only in three (3) simple steps. Therefore, we will guide you on what information you should add with steps to write before creating this letter yourself.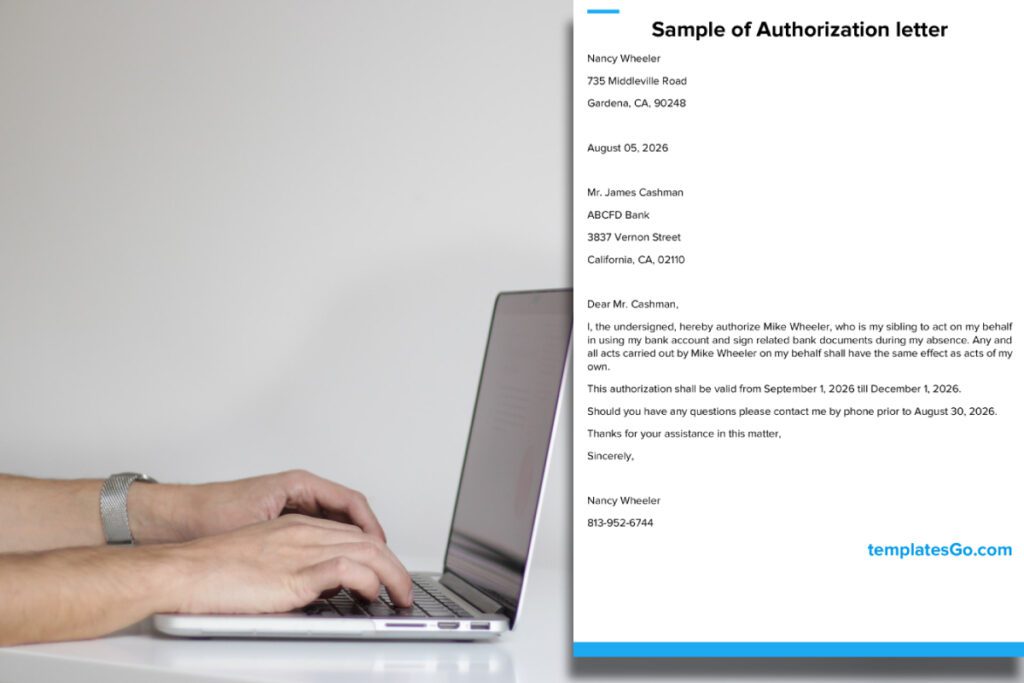 Purpose of an Authorization Letter
We can use this kind of letter in various situations of business and personal life. Here you will find our compiled list of common uses for Authorization letters to your knowledge:
The business owners may add an entrusted employee as an authorized signer on their business account since daily financial transactions consume much of their time. Moreover, if they often take business travel, they can grant authorization for that person to carry out different business activities.
For property matters, the owner may need to hire an agency and make a letter of authorization for real estate to assist them in handling monthly issues.
An individual can give someone full permission to sell their motor vehicles while absent.
A person's representative can collect health reports using a permission medical authorization letter.
Attending a school field trip will require permission from the parent's children. They will need to fill out the form of an authorization letter the teachers gave.
An authority letter to collect documents would be ideal and convenient for individuals who are not present in their country but need to obtain essential documents at a particular time.
At some moment, people will encounter a sudden meeting with the bank for account issues, and they are unavailable to attend to sign important documents. In this case, a letter of authorization can play a significant role.
How to write an authorization letter (simple steps)
If you wish to write this letter independently, let's check out the guidelines and critical highlights below to outline your draft and idea. On the contrary, if you do not have much time to write an entire letter, skip this part and use one of our samples to speed up your process.
Remember that you can use our editable documents tool to speed up your writing process with our customizable templates.
Write the Sender's name and address on the top left side of the authorization letter
On the letter's heading, It is essential to notify the receiver where this letter comes from and by whom. You will have to write your full name on the first line, your full address on the second line, and the third line will show your city, state, and zip code.

Insert The Date
Write out your today's date when you create this letter, do not shorten it. Place the date after your address and skip one line.

💡 Tips

Our editable documents tool will automatically insert today's date for you while creating this letter on our system. So you will not be missed out!
Include the Receiver's name and address
The format of the receiver information should be the same as yours. Remember that the recipient is not the person you want to grant authority to act on your behalf; they are the second party to whom your authorized person will deal on your behalf.

Highlight

Authorization letter is required to write in formal format. For further information, you can visit our article how to write a 🔗 business letter format with free example.
Write the salutation
In this body of the letter, use the appropriate titles politely, such as "Mr.", "Ms.", "Mrs." or "Dr.", also it is required to indicate "To" or " Dear" due to the formal format of this letter before the receiver's name.
If you don't know to whom you are sending this letter, you can write the phrase "To whom it may concern" instead.

Specific authorized actions and reason
This is the most critical part, where you must specify the proxy duties in detail and full name. Keep your letter concise and precise to avoid any conflicting interpretations.
In this section, you should write in the first phrase, for ex: I, the undersigned, hereby authorize [proxy's name] to act on my behalf in [details of actions] during my absence.
Furthermore, you will need to include your personal information depending on your situation. For example: if this authorization letter is addressed to the bank for financial matters, including the applicable account information is necessary. Another sample is if the letter is regarding a medical report, including your medical insurance number and information.

Give a period of time for the authorization
After writing all the duties and reasons, you will need to specify the timeline for which this authorization is in effect. There are two ways to show the date as follows: 
You can show the beginning and the end date your proxy has been delegated permission to perform specific actions on your behalf.
If you are unsure of the exact date, you can indicate the length of time, such as "2 weeks from the date of this letter" or "act on my behalf for 30 days."

Close the letter of authority
Give your contact to get in touch before you are away on the letter. Ideally, notify the time they can contact you before you go, and conclude the letter with the closing word "Sincerely". After that, leave enough blank space to put your handwritten signature and full name below. 

💡 Key highlights

– In certain circumstances, you may want to add a restriction of action where to set a boundary for your proxy's duties. For instance: you can write: the authorized person is not allowed to make certain financial decisions aboved $ 50.000 without prior written consent.
– Other fact is that a letter of authorization doesn't need to be notarized to be valid. However, it can be optional if you want to use the notary public to notarize and avoid suspicions of fake.
– Keep this letter in 1 copy for you and give the original one to your proxy. In most cases, your authorized person will need to present the physical authentic letter to the second party in order to act on your behalf.
Examples and editable templates of Authorization Letters
standard authorization letter to customize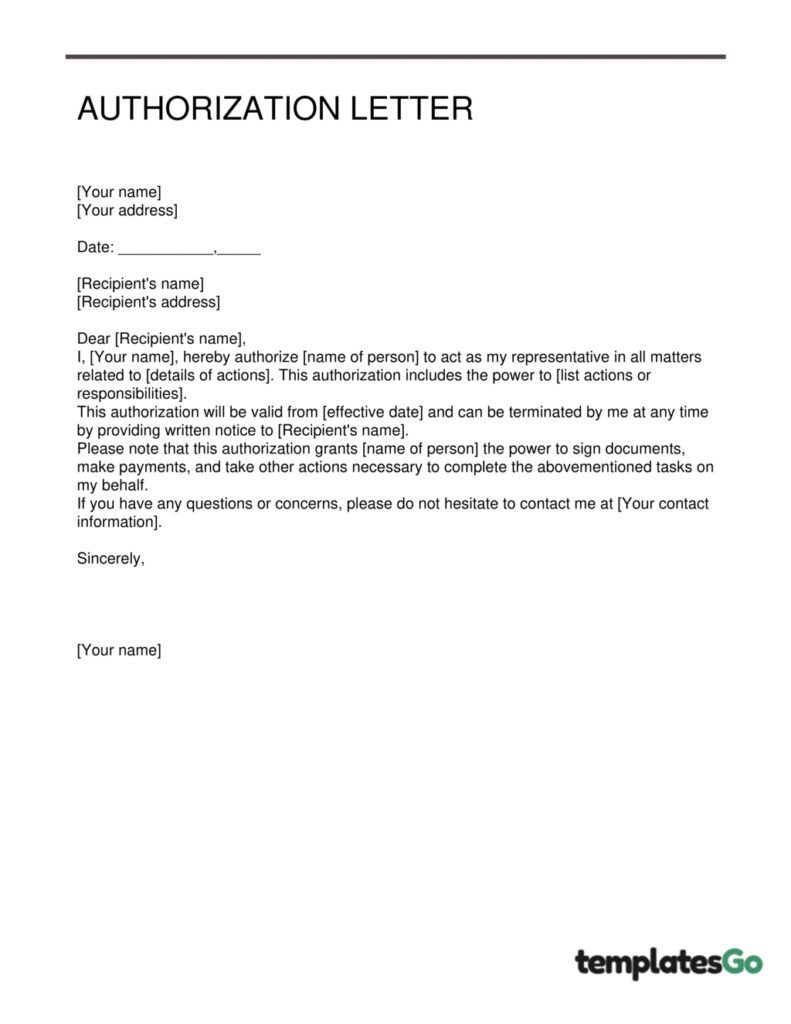 Simple authorization letter editable template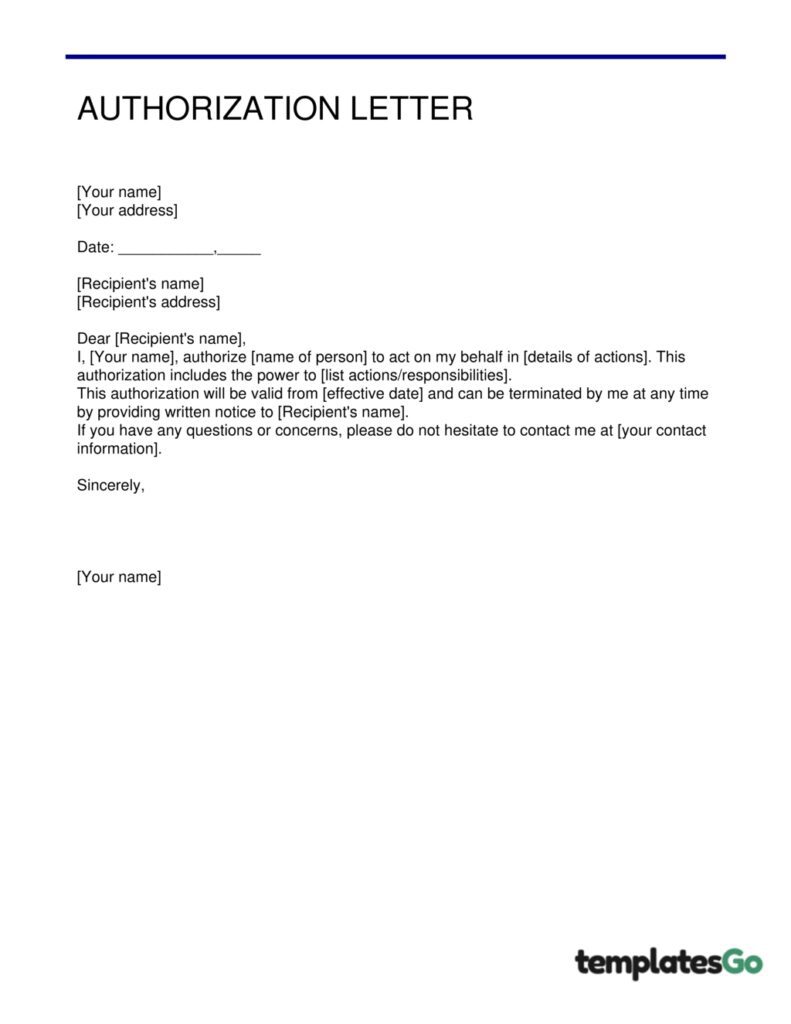 Organization Authorization Letter
The NYC government provides authorization letter instructions for organizations that you can look at 🔗here.
Samples Authorization Letter
This is a standard letter of authority that we created for your reference.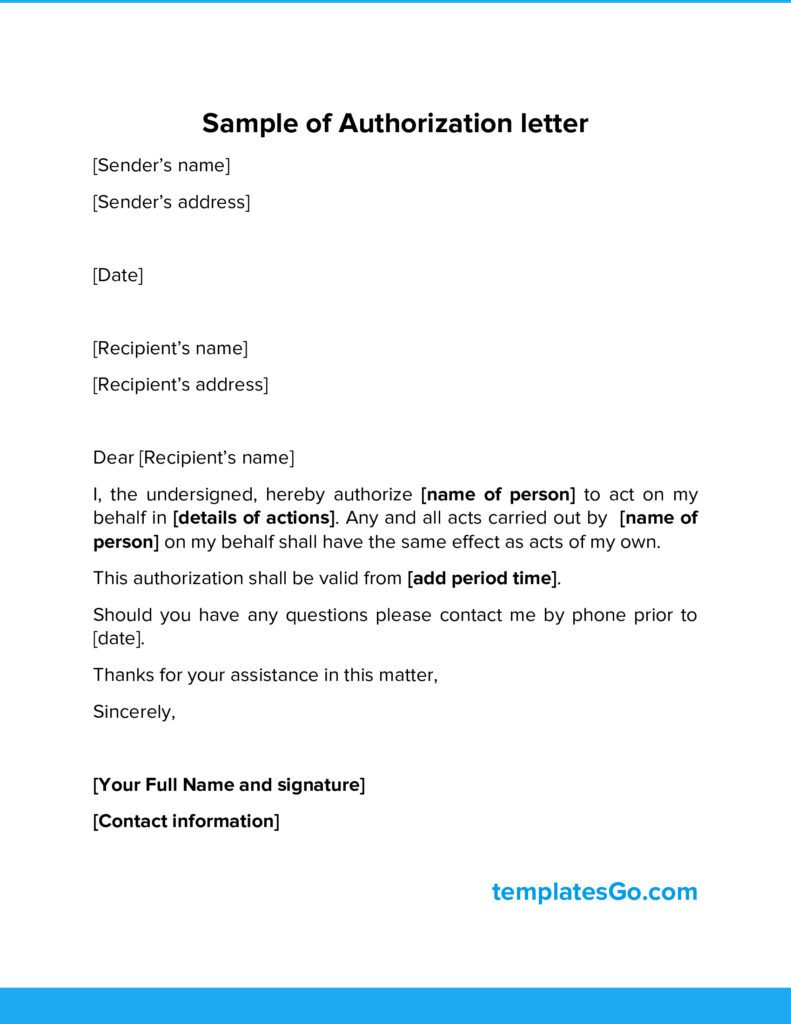 Nancy Wheeler, a sister who will be absent during a trip. She then granted permission for her brother by an authorization letter to use her bank account. The second authorization letter example is in full text, and we applied it in a bank situation.