What is an Employment Verification Letter?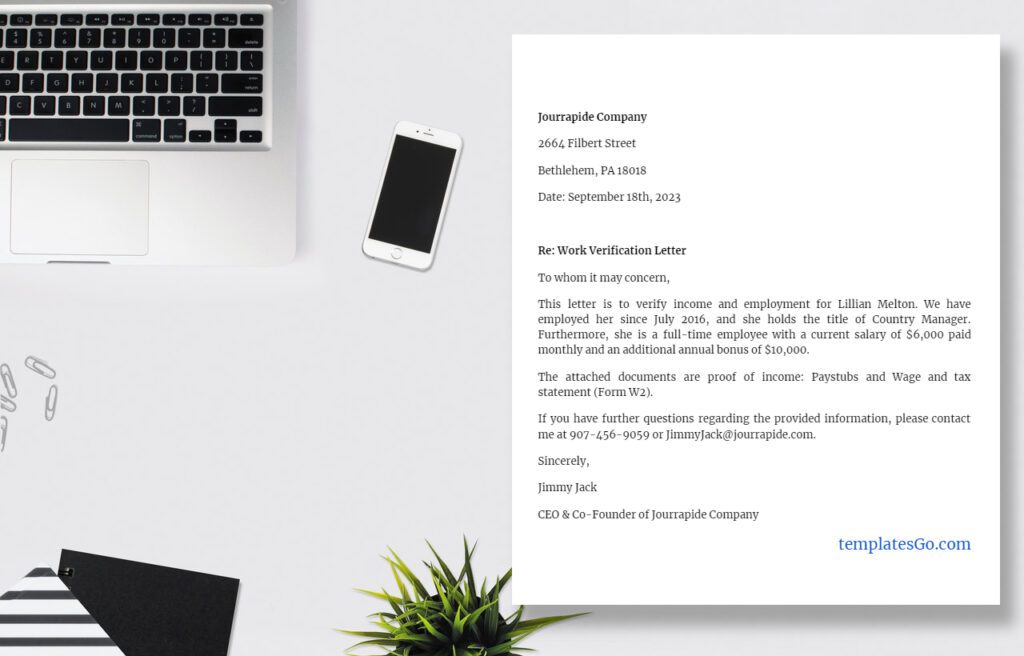 Verification of employment letter is a formal document mainly required before purchasing a home, renting a property, etc. This requirement aims to ensure your employees are employed and have sufficient income to pay rent or loans on time. Equally important is the employer or supervisor (you in this case) at the company, who must write this letter to verify the employment background on your employees' behalf.
In addition, this verification letter can be used for a variety of reasons, which is why they have different names which you should also know, such as:
Income Verification Letter
Proof of Employment Letter
Proof of income letter
Employment Confirmation Letter
Work Verification Letter
Salary Verification Letter
Who Needs A Letter Of Employment?
The landlord: the most common use is for the landowners who want to check your income background and ensure your financial situation is sufficient to pay monthly rent on time.
The bank: most banks require employment verification for mortgage or loan/credit card applications. This is critical for the bank to verify if you can pay the debt and interest every month.
The employer: approaching employers may request a Work Verification Letter to ensure you have been truthful about a previous salary and position on the job application.
The embassy: Finally, we would mention another usual purpose of this letter is for immigration and other visa purposes. The destination country's embassy will request proof of income to verify if you can travel adequately.
How to Verify a Proof of Employment Letter
To avoid scams or fake letters, people who request to verify income will ask for further documents to prove this letter is eligible. It's a common request that you or the employee can get these papers from the bank and company.
In general, this letter will need to combine with at least two of the following standard documents to use in addition to a verification of employment letter:
Bank statements
Paystubs
US Individual Income Tax returns 🔗(Form 1040)
Social Security proof of income / Benefits Verification Letter
A Workers' compensation letter
Wage and tax statements 🔗(Form W-2)
Note

Some skeptical landlords and companies may even require using a notary public to confirm the authenticity of Income Verification for an extra layer of trust.
Employment Verification Letter Customizable Templates
Let's use our customizable templates to advance your work and create this letter faster. You only need to follow these simple steps to complete your letter within minutes.
Select one of our proof of income letter templates.
Answer a few simple questions to fill your information in.
Review and revise the text freely to meet your requirements and download it.
Professional Salary Verification Letter editable template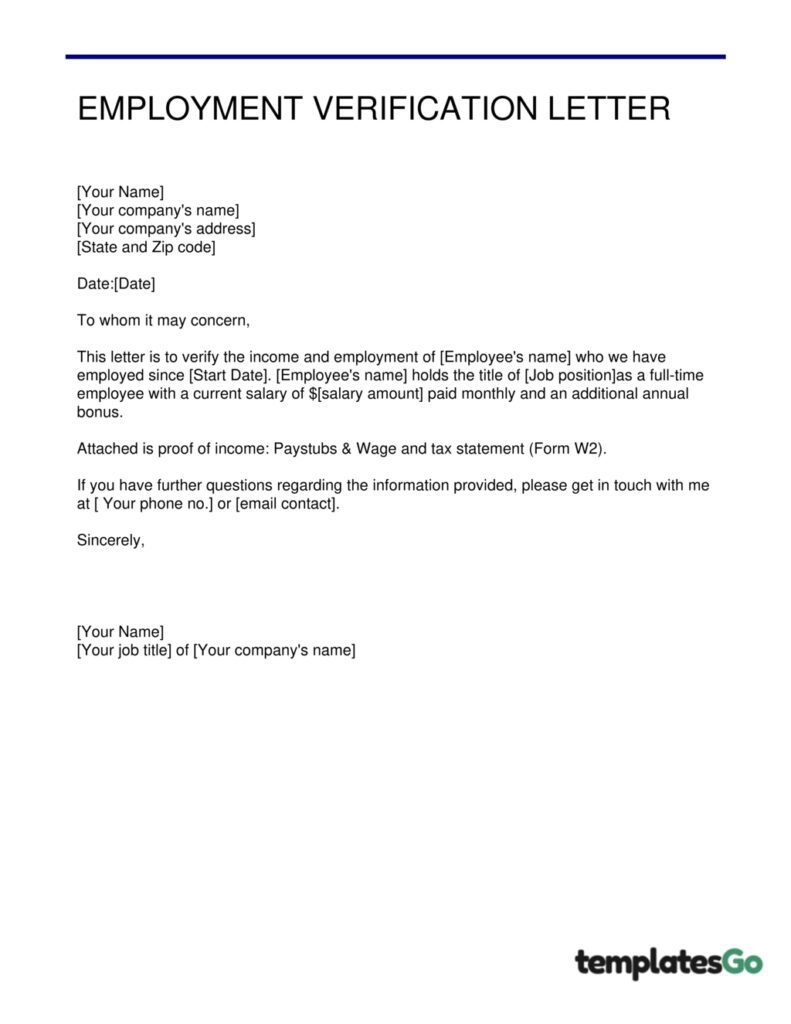 employment verification letter template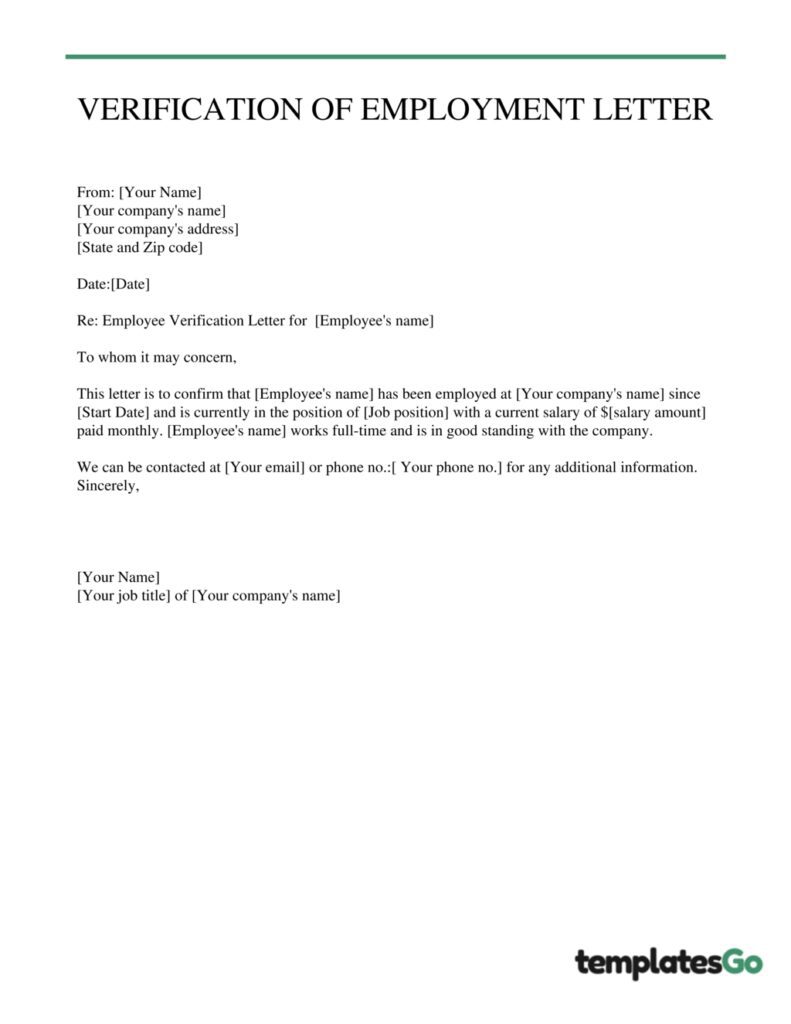 Proof Of Income Letter Template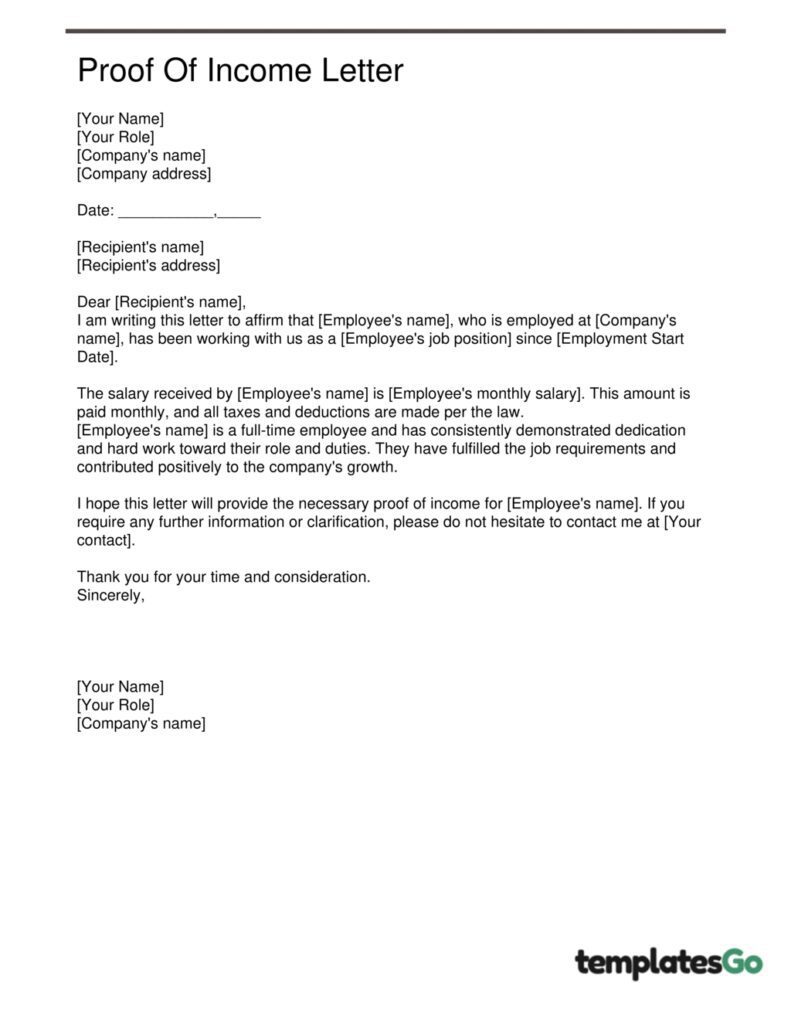 rental reference letter from employer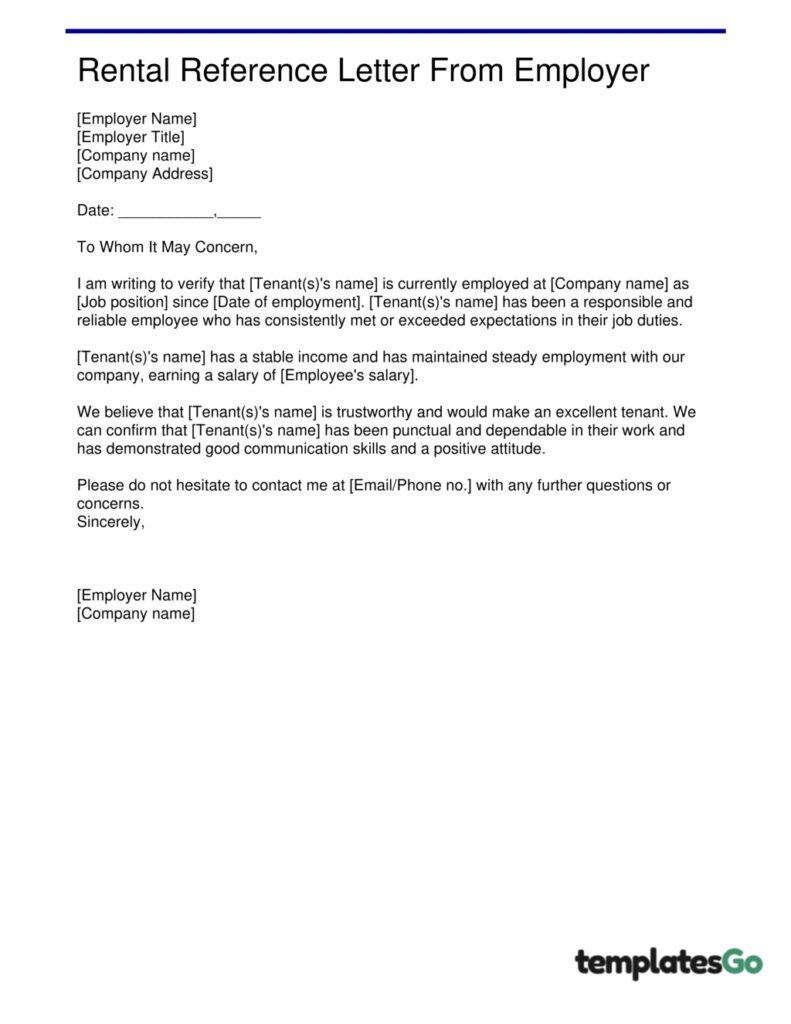 How To Write A Proof of Income Letter
Because this is a formal document and not easy to compose, following a standard form is necessary to write this proof letter and save you time. Here is what you should know to write on your own:
Format letter: Use a business letter format that includes the date, verifier's contact and company name with address, a proper salutation, signature name, and job title.
The Intention of the Letter: while writing this document, focus on the requested information for verification. You should avoid giving irrelevant performance reviews of the individual in this letter. This body of the letter should include this information:
The employee's name: is the person who needs to verify their income.
Employee Start Date: Mention the employee's work duration (if necessary).
Job role: indicate the current position and tenure of the employee from the company.
Monthly salary and annual bonus amount.
Length of the letter: keep it brief and go to the point, ideally one page only.
Stamp/sign: A stamp of the company, the position, and the signature of the issuing authority must be included in the verification of the employment letter.
Include your contact information: Do not forget to include your contact details at the bottom of the letter. People who request this letter may need to contact you for further questions.
Tips

Using the company header or logo is highly recommended because it will give more formality to this letter.
Conclusion
In conclusion, the income verification letter is crucial for landlords to know if their future tenants can pay the monthly rent on time before signing the lease agreement. For that reason, whenever receiving this request from your employee, take your time to prepare a formal letter or use our document generation to create this letter faster.
Therefore, we also have 🔗 proof of residency letter from the Landlord or Roommate templates you may also be interested in if your employee requests in this specific case.
We hope this post and our employment verification letter templates will help you by saving time and a lot of effort.