Are you facing financial difficulties and struggling to find a way to communicate your situation to a lender, creditor, or other financial institution? Composing a well-written hardship letter can help you explain your current financial situation and request the assistance or relief you need to overcome it. At templatesgo, we can simplify the process of creating this letter but still keep it sound original. Following three steps, you will complete this letter in just a few minutes.
Select a template for hardship letter that suits your situation.
Answer a few simple questions to generate your information into the template.
Review your draft and download your letter in business format, ready to use.
Hardship Letter Templates For various purposes
financial hardship letter To Creditors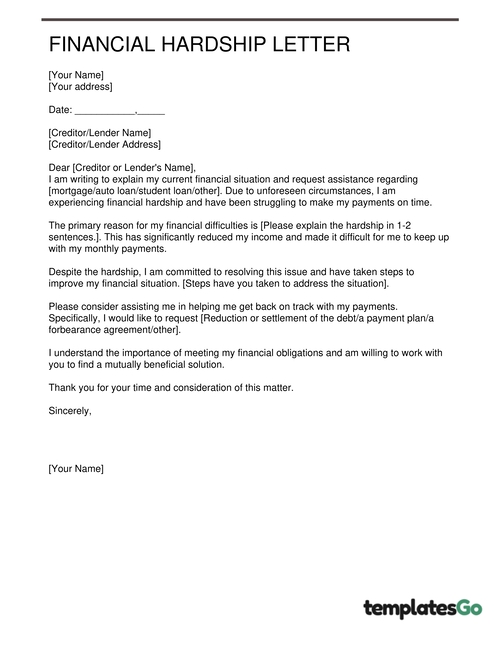 Simple hardship letter template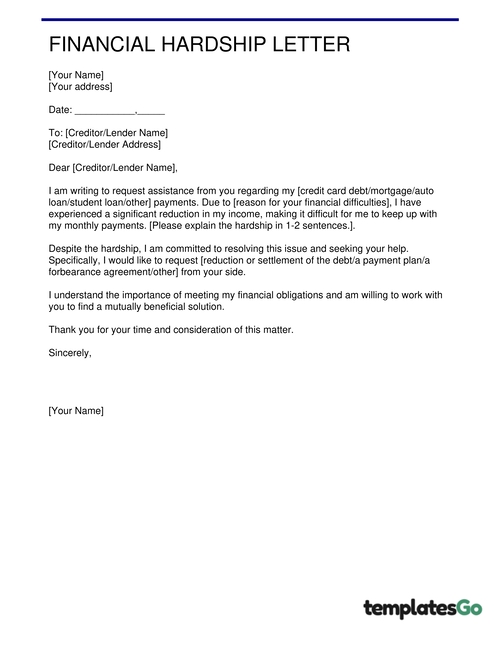 hardship letter For Loan Modification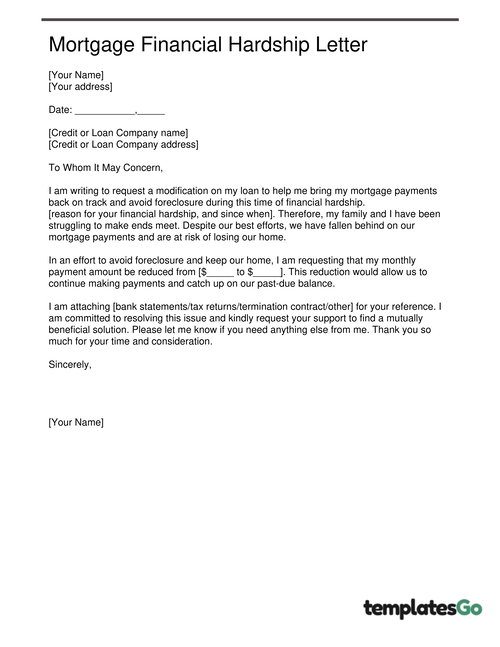 financial hardship for student loan letter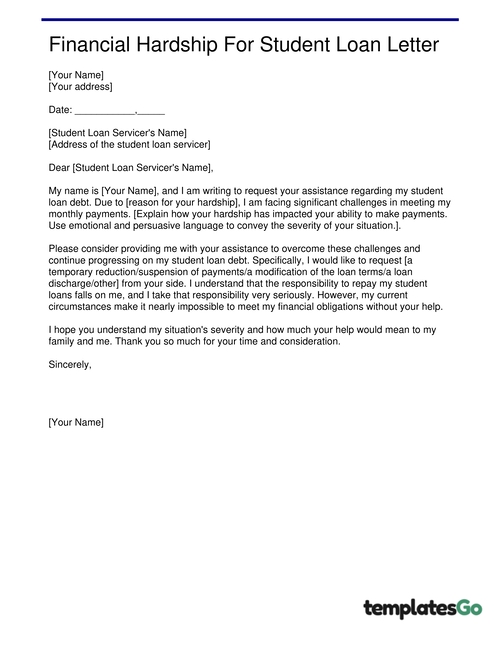 School Financial Aid Hardship Letter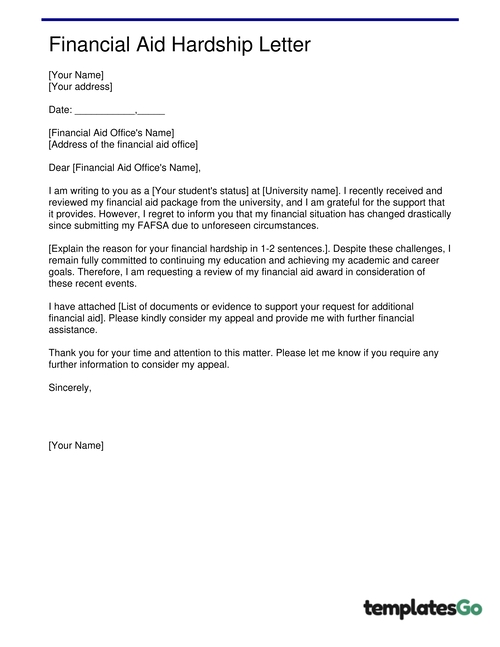 How To Write A Good Hardship Letter?
Writing a formal letter can be challenging, especially if you are not a good writer. Also, It can consume your time and energy if you do not know where to start. For that reason, we provide professional hardship templates for various purposes that include all the necessary information. You just need to add your input to fill out our template and review it. Or we will guide you step by step to draft your letter with clear instructions. There are certain rules to follow to craft a well-written hardship letter that we should follow:
Introduce yourself and state the intent of the letter
As a rule of thumb for writing a formal letter, you need to address who the receiver is (the lender/creditor's name) and your information as the sender at the beginning. Then, the first sentence should clearly state the purpose of your letter, which is to explain the hardship you are facing and request assistance.
Explain the hardship
Now, this is an important part where you must explain briefly the financial hardship you have been experiencing since when, and why it was out of your control. Remember to be specific and include any relevant information, such as job loss, lay-off, medical issues, divorce, or any other unexpected circumstance that has led to financial difficulties. You can use a hardship letter template to craft this letter faster. However, we recommend you write your reason in your way to keep it sound original, honest, and natural.
Explain what you have done to address the situation
Provide brief information on any steps you have taken to address the financial hardship. For example, include this information if you have started a new job or are seeking new employment, etc..
State your request
You need to propose an ideal solution and be committed to persuading the lenders. Be specific about how and when you can sort your problem out. Then, make it easy for the lender or creditor to understand what you need and how they can help you.
Close Your letter
Now you can end the hardship letter by expressing your willingness to work together to find a mutually beneficial solution and thanks for their consideration.
Provide supporting documentation
Attach any supporting documentation or evidence with the hardship letter you may have before sending it is vital. Doing so will help strengthen your case and become more persuasive for the lender. Here we will list the documents you may use to submit:
Medical Expense Invoices/Statements
Bank and Brokerage Account Statements (Excluding Retirement and College Savings Accounts)
Recent Paystubs Showing Current and YTD Earnings
🔗Form 1099s or 🔗W-2s for Independent Contractors or Employees
Signed Tax Returns for Current and Previous Years
Accident or Police Reports
Bills for Uninsured Losses or Repairs
Military Deployment Orders
Divorce Decree or Separation Agreement
Court-ordered alimony or Child Support Payments
Death Certificate
Proof of Incarceration
Detailed Monthly Budget/Expenses List
Proof of Unemployment Benefits
Disability Benefits Award Letter
Proof of Public Assistance Benefits
Notarized Affidavit (Sworn Written Statement)
Profit and Loss Statement for Business