Things To Do Before Writing Raise request letter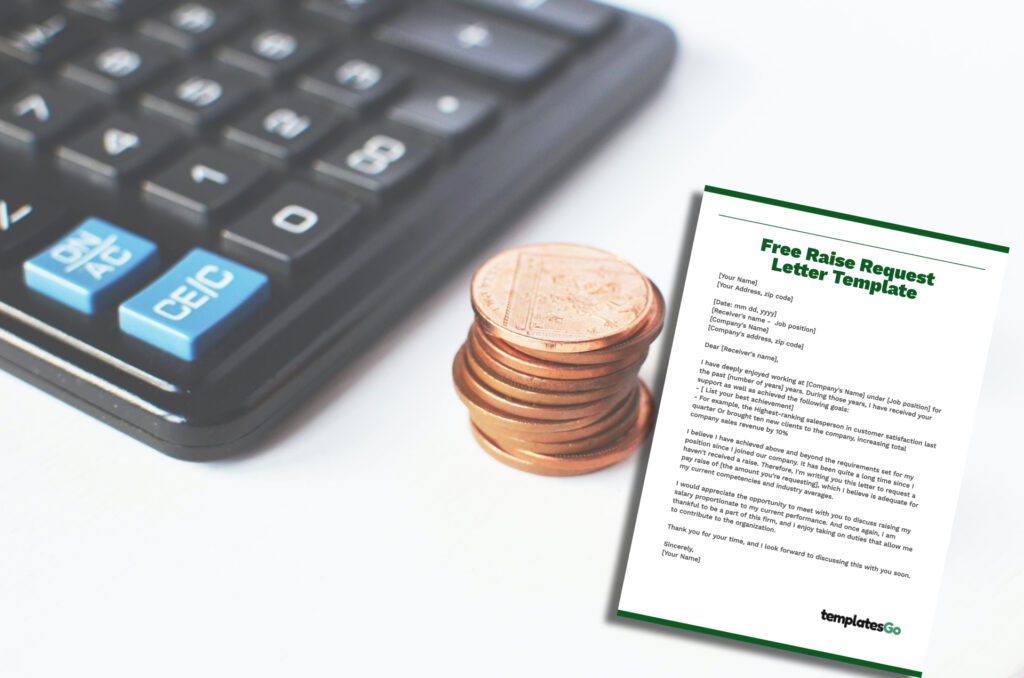 We recommend the following steps to ensure you are on the right track to asking for a raise.
Evaluate your work 
You believe you deserve to receive a raise; however, your boss might not remember all your achievements. It is highly recommended to list and quantify your accomplishments. You should pay particular attention to goals exceeded and any money you saved from the project's budget or earned for the company.
Do your salary research 
Before you send out your letter to request a raise, you must know your worth. This means knowing what others in your industry and company make. To do that, use websites like 🔗Salary.com, where you can enter information about yourself (education, experience level) and the company where you work, and it will come up with an estimate of how much money companies would pay someone with those qualifications. Another website where you can accurately check the average salary for your position per year is 🔗talent.com, a well-known website in the USA.
Pick the right time
Choosing the right time to send your raise request letter is essential. For example, if your company is in a crisis moment, your boss will not be willing to raise a salary yes or yes. Instead, check if your organization has a policy of granting pay raises annually or only during performance review periods for a better time. 
Address the right person
Writing a well-requesting raise letter can help you prevent from saying inappropriate things in person. You can organize your details and information well in an excellent structure to be more persuasive. Therefore, it's crucial to think about who will receive this letter. In theory, it should be the person at the office who's in charge of bonuses and pay raises, for example, the head of the department or your manager. Your supervisor is probably not the one who can decide on increasing salary but an intermediate person. However, it can be a bad idea to go above the person who managed you as it might create the wrong impression.
Important

For above reason, your request raise letter should be in 🔗formal business format. You can use a standard Raise request letter template to ease your writing time.
Free Templates letter to request a raise
In order to save you time, we offer free editable templates to help you create this request letter faster, only in three (3) simple steps.
Select your template.
Answer our quick questions to generate your information into the template.
Review and download your letter in just a few clicks.
Let us ease your writing process and speed up for better results!
Customizable Raise request letter template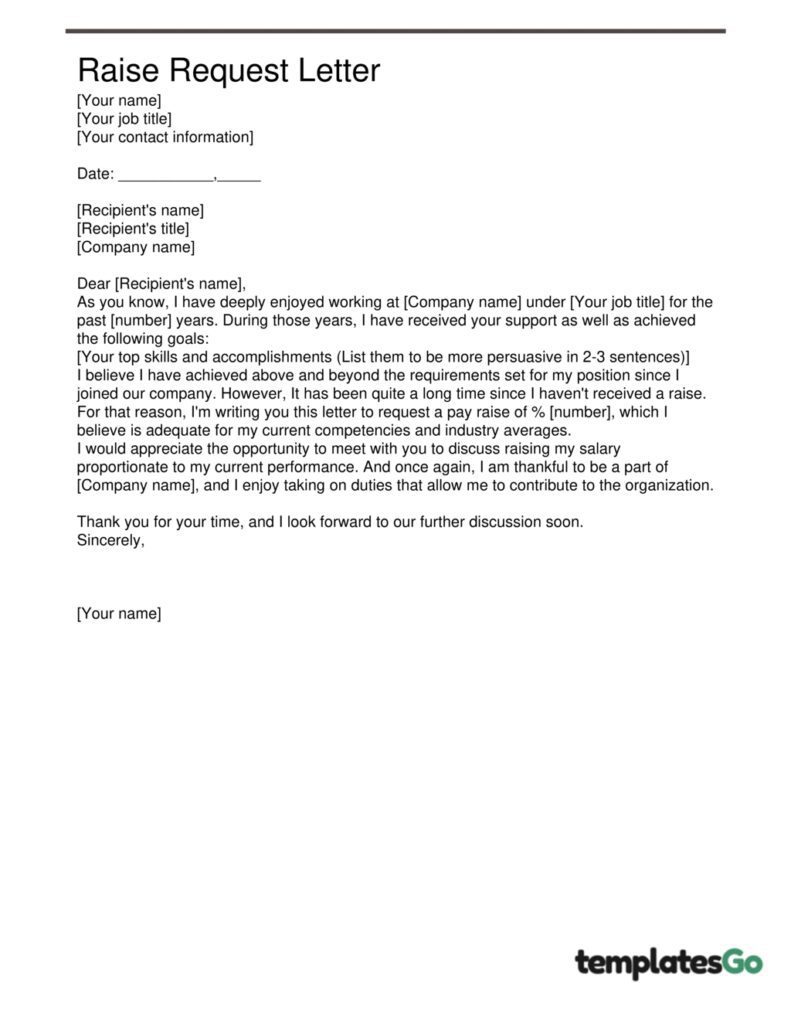 Letter To Request A Raise For Retail Sales Worker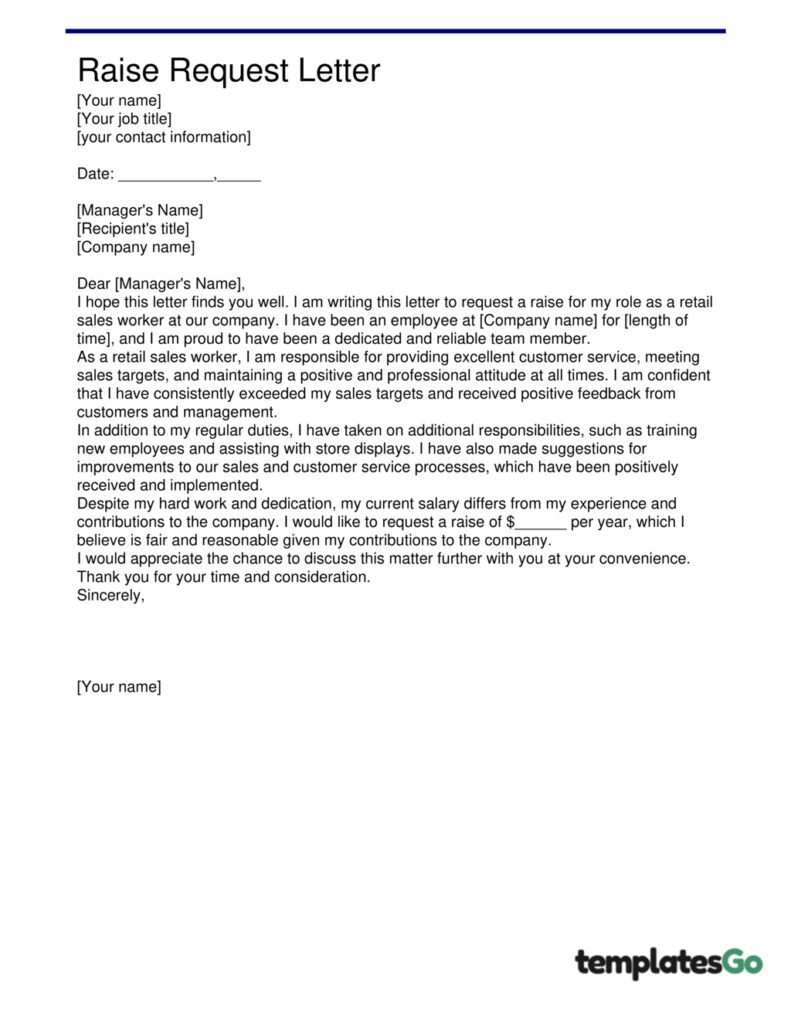 Letter Requesting a raise for teachers
Request A Raise Letter For Nurses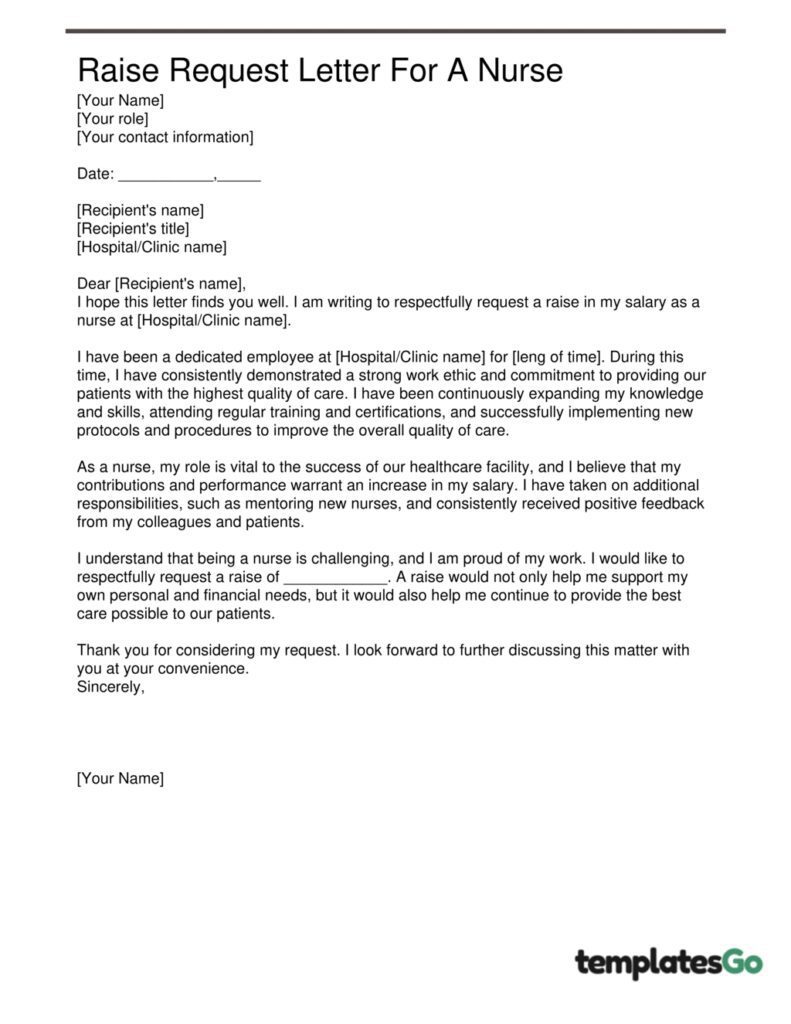 How to write a good raise request letter
You can use our template to save your time or follow our below instructions to write a persuasive letter to request a raise:
Express your gratitude 
In the first line of your raise request letter, mention how long you have been working and how you enjoy working with the company. Then, you explain the letter's purpose of asking for a raise. It's also helpful to add your job title and how long you've worked for the company before your purpose's line.
The reason for your Letter To Request a Raise
You should explain how much more money will allow you to do for your company and why it would be in their best interests to give it to you. You can also talk about long-term goals, such as buying a house, starting a family soon, or increasing the cost of living in your job's location if they are essential to determining whether or not they should increase your salary.
Note

Be sure that you are prepared for a positive or negative answer, and be ready to explain why you deserve the raise in the meeting.
The justification for your request
Because we have done the first step, evaluating your work, you can now list your best accomplishments and work performances in this letter. These points will support your right to have a raise persuasively.
The new salary range you ask for
You did the research and knew the new range you should have. Then, be confident to specify your number. Remain discreet when writing this part down to ensure you don't sound overly demanding.
A statement regarding negotiation
It is a nice gesture to soften your request by telling your boss that you are open to discussing it. It would be beneficial if your employer sees that you're willing to negotiate and work with them long-term.
Key takeaways

Don't overwrite your letter. Writing a letter requesting a raise that's too long might bore your employer and prevent him to read it to the end. The best letter should fit on a single page, specific and detailed.
Now you know the basics of how to write a letter to request a raise, it's time to write your own. Take a look at our example letters and fill out the template with your own information. You'll be able to see what to say and how each section should look on paper. Plus, if there are any areas where you're unsure about what goes where, we'll walk you through it step-by-step!
Conclusion
Writing a raise request letter can be challenging because you need to negotiate well with your boss, written and verbally. Prepare yourself to receive whatever your boss replies, good and bad. If you get rejected and do not want to work with them, you can consider looking for a better job and prepare a 🔗 letter of resignation.
If you request a new position for your career development, you may consider sending a 🔗 promotion request letter instead. Check this article to find out if it is what you need!