At some point in your career, you may need a leave of absence for any number of reasons, including medical or family emergencies, military service, or even personal reasons like wanting more time off than your employer offers. Whatever your reason for requesting a leave of absence from your job might be, there are some factors to consider before writing an official letter requesting one.
Additionally, you can use one of our editable templates at the end of this article to customize your formal leave of absence letter for faster results. I will take only three easy steps:
Select a suitable template for your need.
Fill in your information by answering our simple questions to complete.
Review and download this letter in professional format PDF.
What is a leave of absence?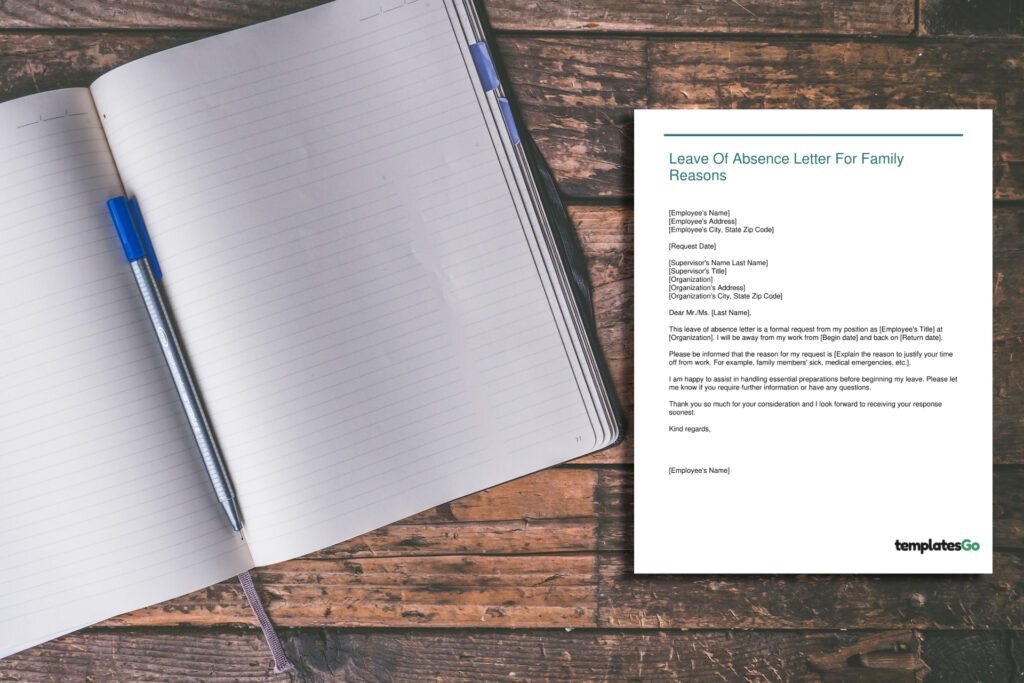 A leave of absence is a temporary leave from work for an extended period that exceeds your assigned Paid Time Off. Often, it's unpaid and used for family or personal reasons. For this reason, it is essential to check your company's leave policy and whether your reasons are eligible for 🔗 Family Medical Leave Act (FMLA) and the 🔗 Americans with Disabilities Act (ADA). From a legal viewpoint, this formal letter also records your request if your situation falls under situations protected by law.
how to write a leave of absence letter
When writing your letter requesting a leave of absence, the most important thing to remember is to be professional and courteous. Therefore, this letter has to be written in a formal format. A standard letter for a leave of absence will include the following elements:
Date in the format mm/dd/yy
Recipient company and address (name of optional)
Request a leave of absence
Duration of leave
Offer assistance while on leave
Thanks for considering your request
Closing and signature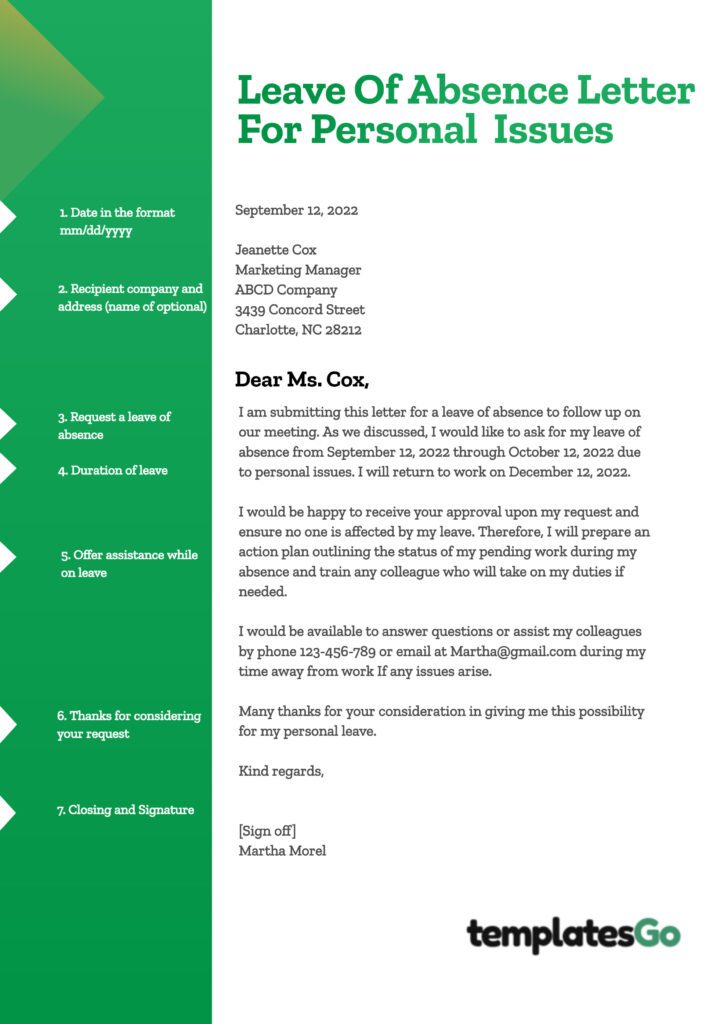 Include any justifications that may be helpful for your employer also, such as:
A note from a doctor explaining why you need this extended time off work.
The dates when any other employees on maternity/paternity leave will return to work so they can plan accordingly.
💡 Important Note

Make sure to sign your leave of absence letter, and all parties involved know it comes from an authorized party within the company or organization. Without this physical letter, there's no record that you officially requested a leave of absence. The consequence of not sending an official letter is the company may automatically terminate you once your extended absence is past the paid time and vacation days you have accrued.
leave of absence letter samples
Writing a letter can be a daunting task for everyone and time-consuming. However, now you can use one of our templates to tailor a letter with your information. We provided standard templates for leave of absence letters with common reasons.
Maternity leave request letter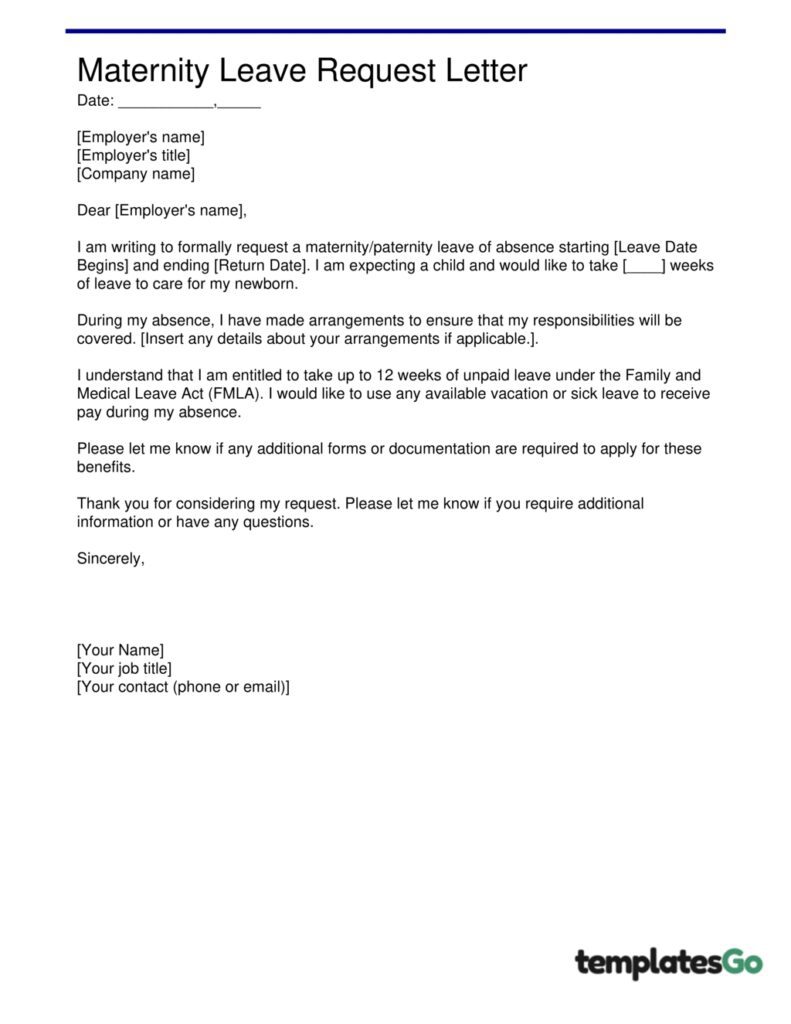 leave of absence letter for family reasons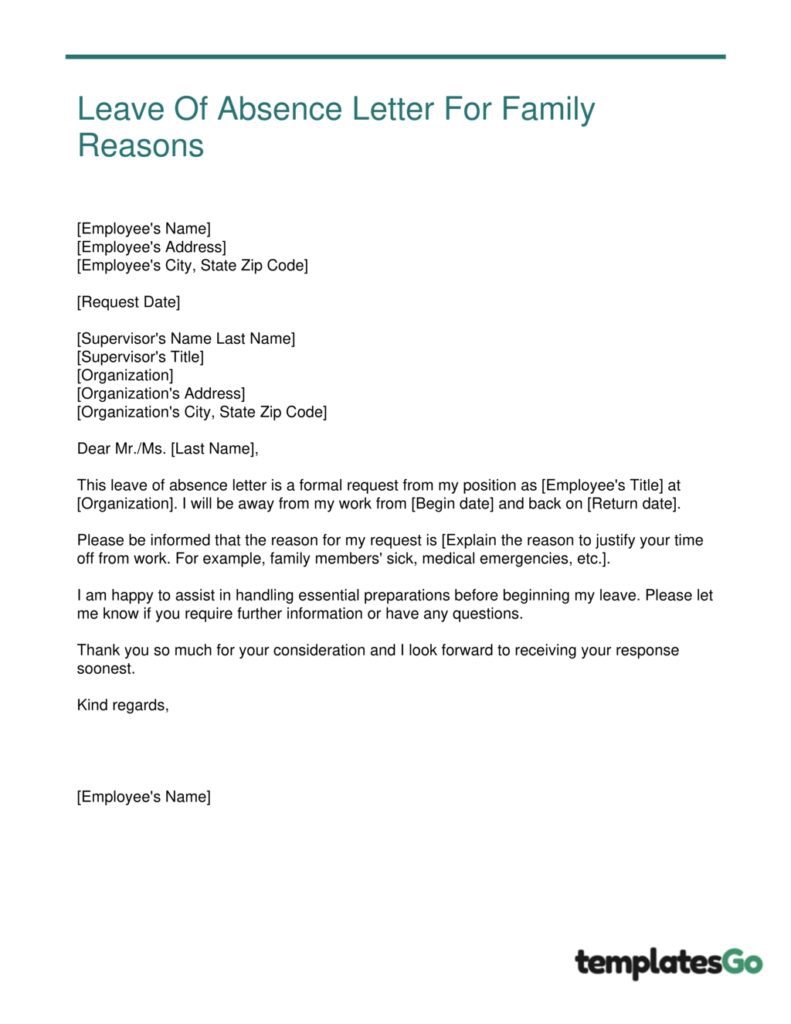 leave of absence letter for work – Follow Up Template
If you had a conversation with your boss regarding your leave of absence request, use this follow-up template as a formal follow-up letter for your leave of absence.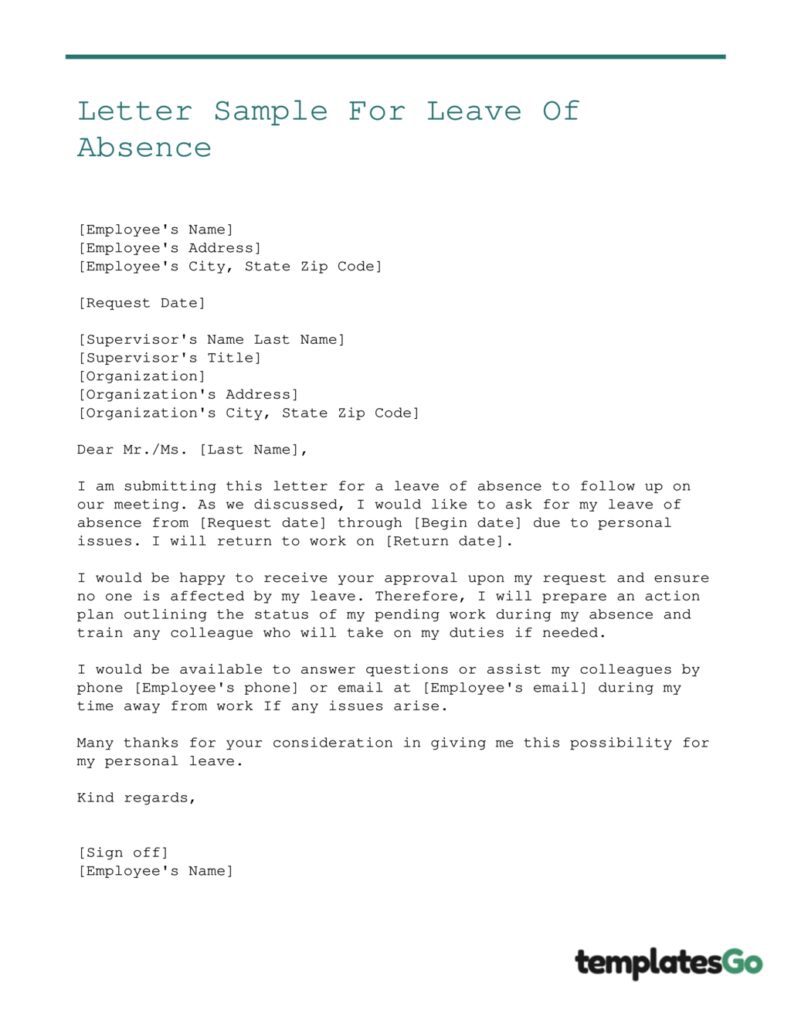 Simple Work Leave Of Absence Letter Template To personalize your reason
With this template, you can personalize your reason and request time off in a professional format ready to download and send to your boss.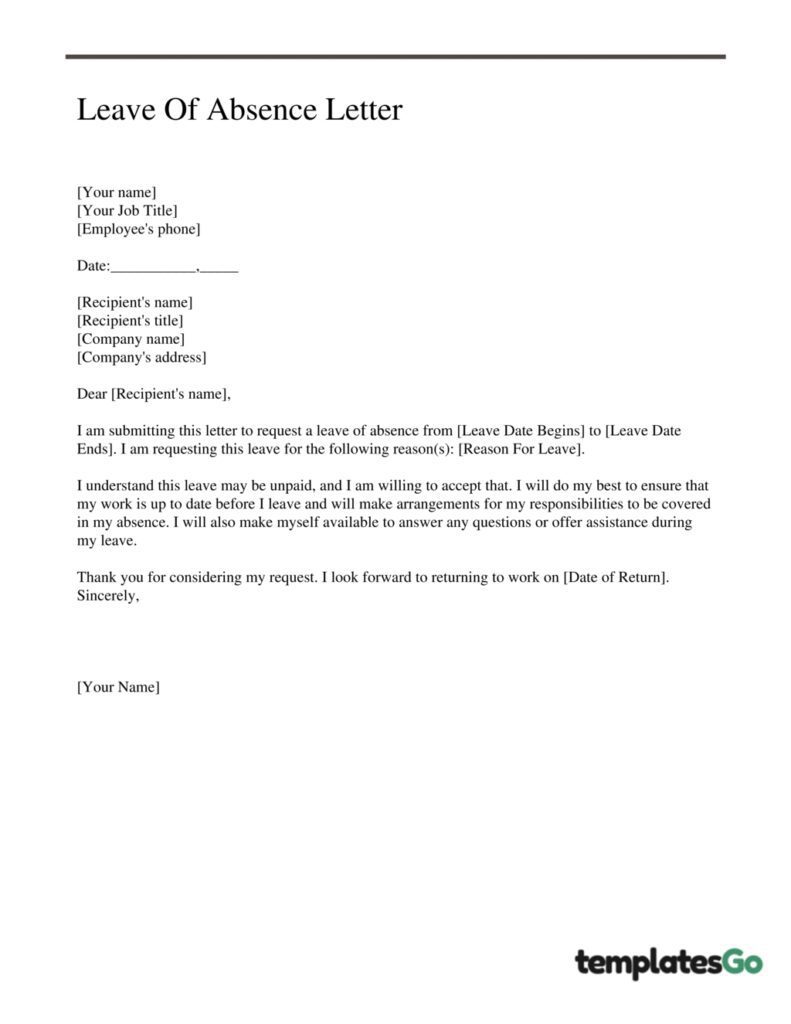 military leave letter to the employer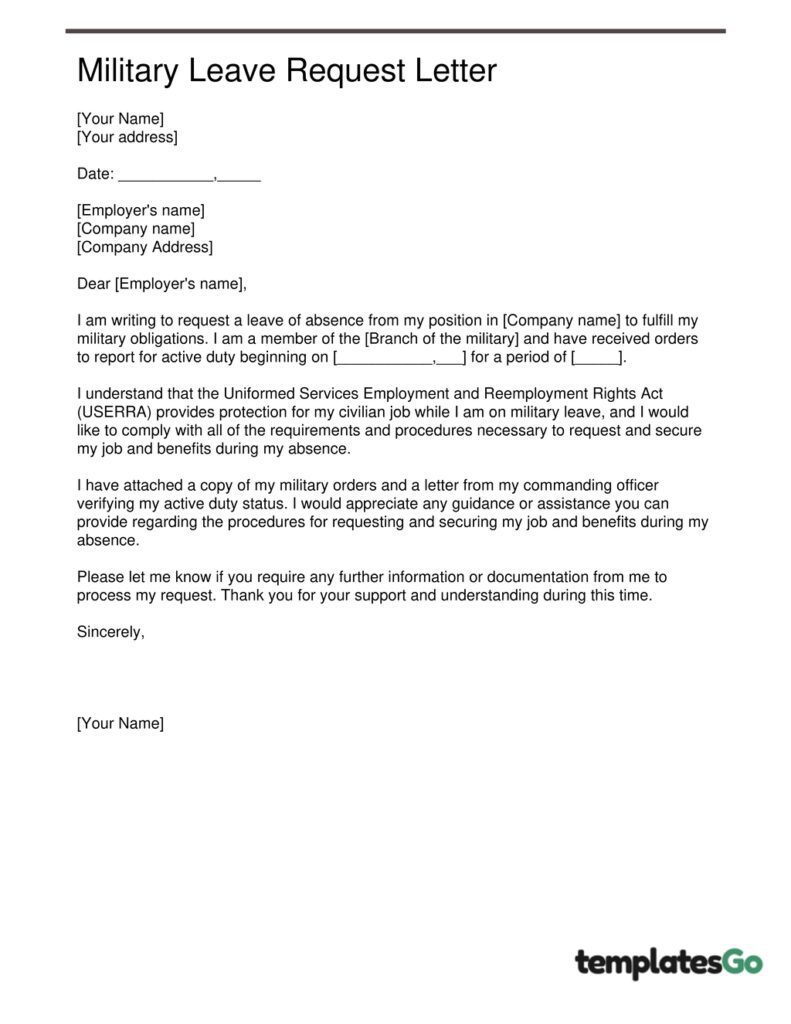 leave of absence for mental health letter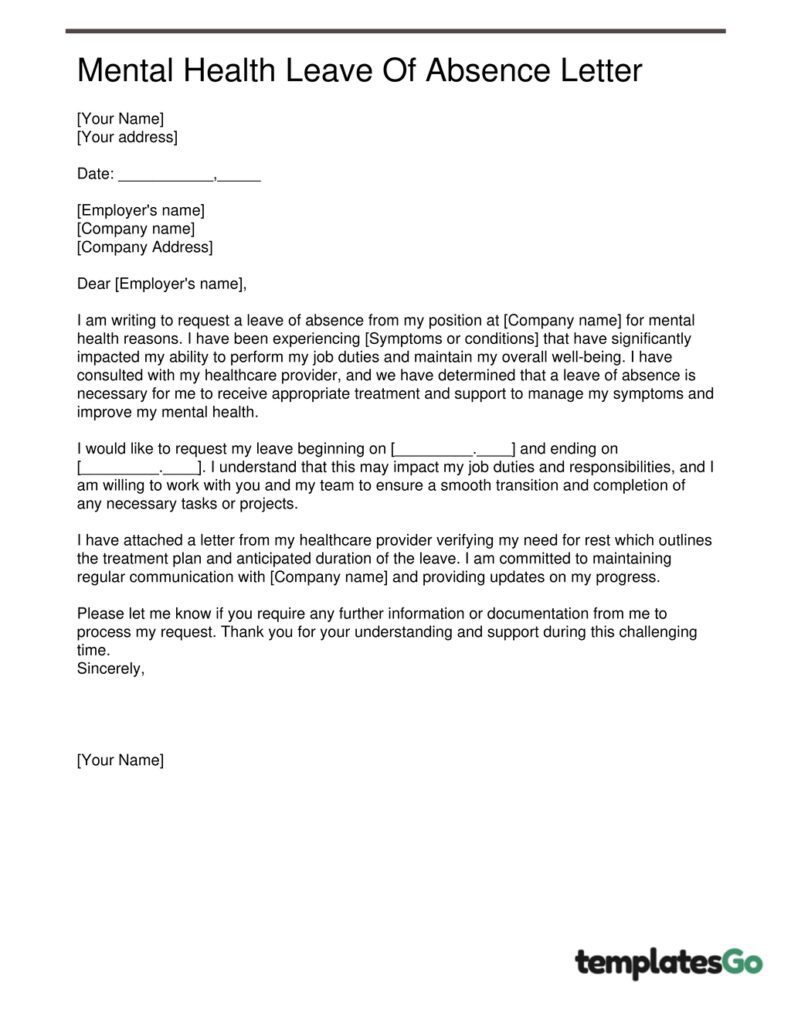 How to send your leave of absence letter professionally?
1. Inform your employer before submitting the letter for leave of Absence
Talk with your supervisor about your plan to take some time off before sending this letter officially. It is better to talk in person privately to explain your reason well and discuss who will take your responsibilities during your absence.
2. Be as specific as possible
You may take your leave of absence for many reasons, such as taking care of a sick family member, personal reasons, jury duty, medical emergency, etc. No matter the reason, you should be specific and give your employer a reasonable explanation of why you need to take time off. Therefore, identify when your leave of absence will begin and end if possible. In some cases, it isn't easy to know the exact time; for instance, when facing a severe medical problem, you may not know when you will be able to return to work. In this case, an estimated duration will help your employer manage an appropriate plan for covering your duty during your absence.
3. Prepare an action plan outlining the status of your pending work
No one will know your workload better than you, so take your time to make an action plan to outline your current projects in detail. Doing so will help your employer assign your team members to continue your duties smoothly.
4. Provide a physical letter to the HR Department
Delivering a copy letter for leave of absence to your supervisor or HR Department is a standard Operational Procedure that most companies execute. This letter will be official information attached to your employee records for following up. Furthermore, notifying the HR department is essential if you take an extended leave for six to twelve months. They may need to find a temporary replacement for your position.
5. Evaluate your situation to consider alternatives
If your case lets you work remotely or part-time, you can negotiate another arrangement with your boss. You can suggest your boss allow you to work flexible hours or send a request to work from home for an inevitable circumstance. By doing this, you can still have income, and your company may not need to delegate your work to someone else.
6. Submit your letter requesting leave of absence soonest
Talk to your boss and submit this letter as early as possible so your team will not be under pressure when you are suddenly absent or do not delegate the workload appropriately.
Conclusion
Whenever you encounter an emergency or personal reason to take a leave, prepare and send this letter as soon as possible. Remember that this is a formal letter, so it needs to follow the 🔗 business standard format with a formal tone. Or you can always use our editable tool to get this letter faster instead of spending hours composing a proper one.
In case you still have remaining leave, and you want to use your time off. Then, you can consider using our templates for a Vacation request letter and create a free document.