Are you looking for a vacation request letter sample? You may wonder how to inform your employer about your request via email or letter. A practical and formal method is sending a professional vacation request letter. However, writing a formal vacation request letter may be time-consuming. No worry! You can use our free editable docs tool to create this letter in just a minute with only three (3) simple steps:
Choose an editable template.
Complete a quick questionnaire.
Review your document and edit the text freely before (and also after) downloading.
How to write a formal vacation Request Letter?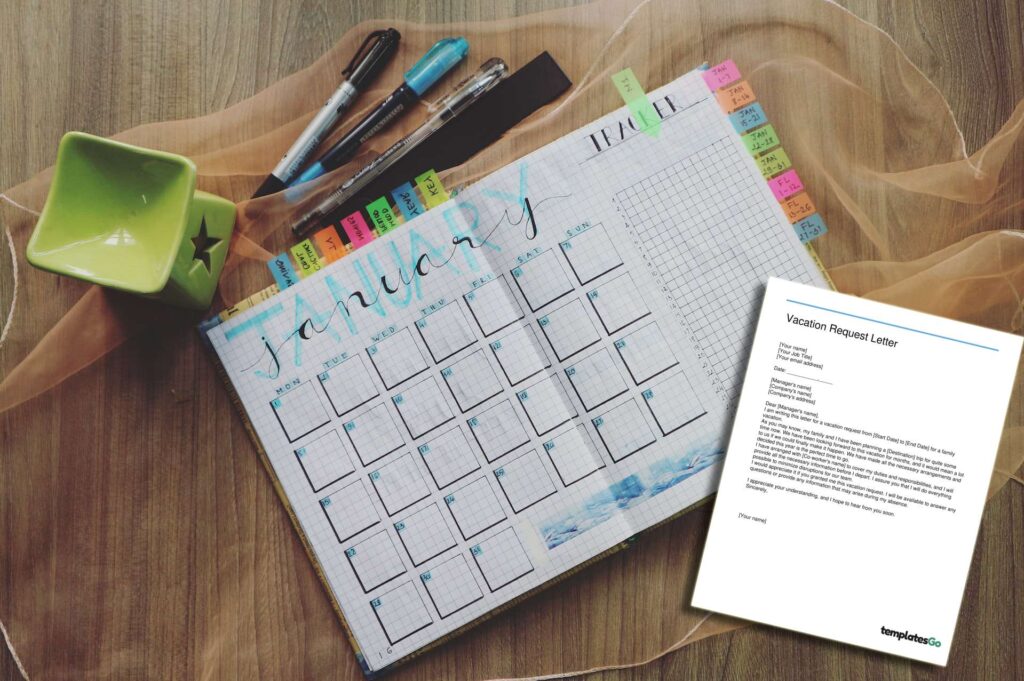 When writing a time off request, you should follow a specific format, and including all necessary information is essential to convey your request effectively. Here, we will highlight what information your letter will need as follows:
State the date of the request
Include the date of the request, as this allows your reader to understand when the letter was written. As you may not know, with our editable templates, this request date will automatically be generated when you write this letter to avoid missing it.
Address the appropriate person
In this section, consider who is responsible for approving your vacation request. Then, begin by addressing the letter to the proper person, such as "your employer" or "human resources representative". Remember that you may discuss your leave with your team leader or supervisor, but they may not be the person who can approve your request.
Clearly state your request in the opening sentence
Clearly state the letter's purpose in the opening sentence. For example, "I am writing to request vacation time." or "I am writing this letter to request time off formally."
Include the time and reason in Vacation Request Letter
Provide specific details on the number of days or 🔗length of time you are requesting and specify the reason for the request. For example, "I would like to take one week off to attend my son's graduation in New York." or "My dad is sick, and I need to spend more time taking care of him from 6th to 15th February."
Provide a backup plan or how you manage work before your leave
Your boss will worry about your workload and how you handle not to have any disruption to the team before your departure. For that reason, mention any appropriate information to be more persuasive, such as if you have already discussed the request with your supervisor or if someone else can cover your responsibilities during your absence.
Show appreciation for the employer's time and understanding
Close the letter for a vacation request by thanking the reader for their time and consideration of your request. Remember to include your contact information if they have any questions or concerns.
Use a formal, business letter format
This vacation request letter is a formal document that your superiors will keep as a record of your day's leave. Therefore, your employer will likely be interested in a brief letter other than reading a long explanation of why you need to take time off. For that matter, use standard, professional language throughout the letter, avoiding overly casual or informal language. Keeping your vacation request letter precise and concise on 1 page is ideal.
Note

Proofread and edit your vacation request letter before sending it: Ensure it is polished and error-free to leave a good impression on the employer.
By following this format and including all necessary information, your letter for vacation request is more likely to be approved and result in your desired vacation time. You can also look at 🔗leave of absence letter templates here.
Vacation Request Letter Editable Templates
Simple Vacation Request Letter Template For traveling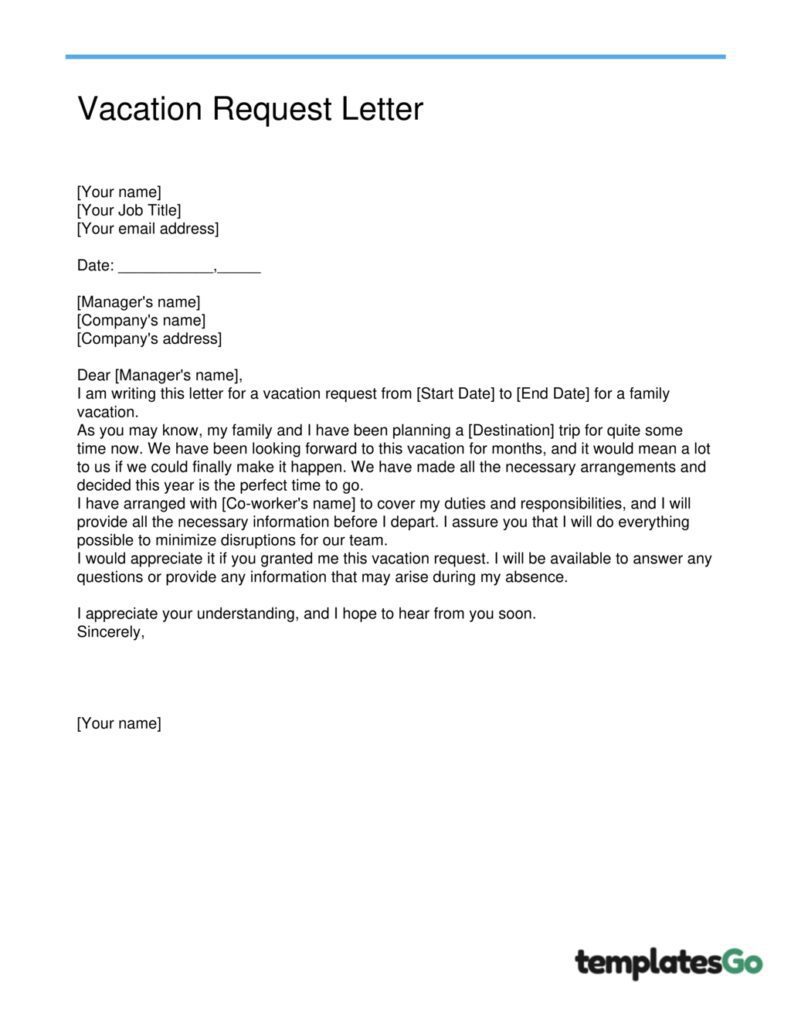 Customizable Annual Leave Request Letter For Various Reasons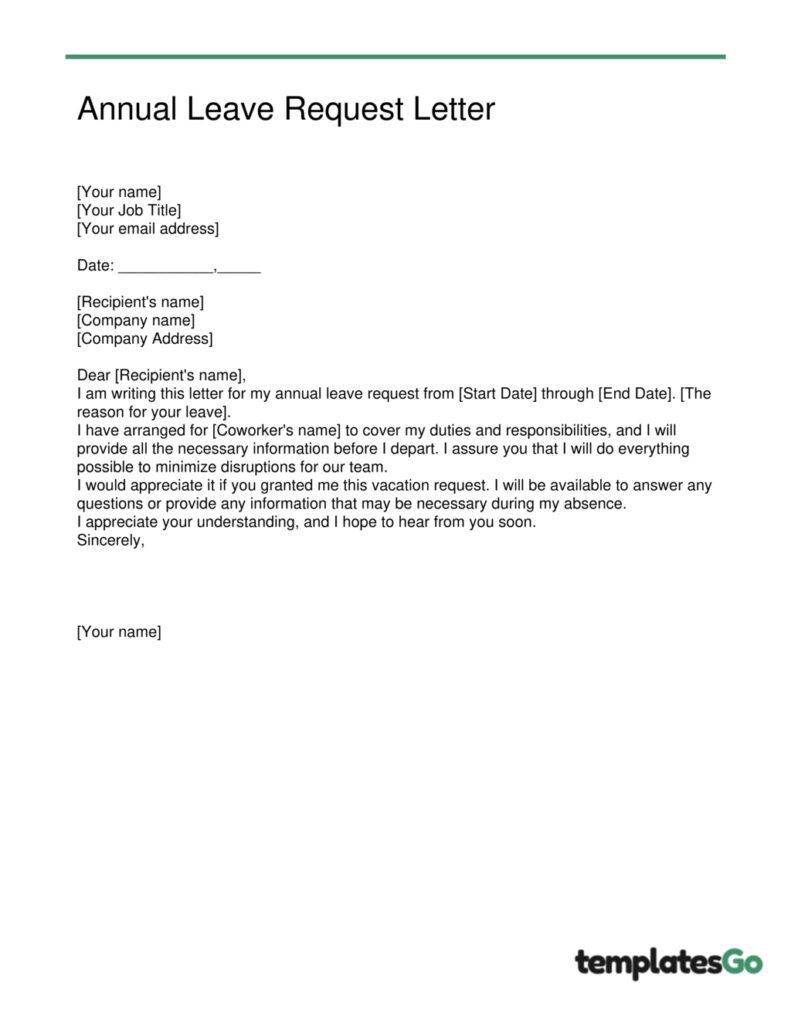 Remote Employee Vacation Leave Request Letter
If you are working as a 🔗 remote employee, this template is perfect for creating your vacation leave request.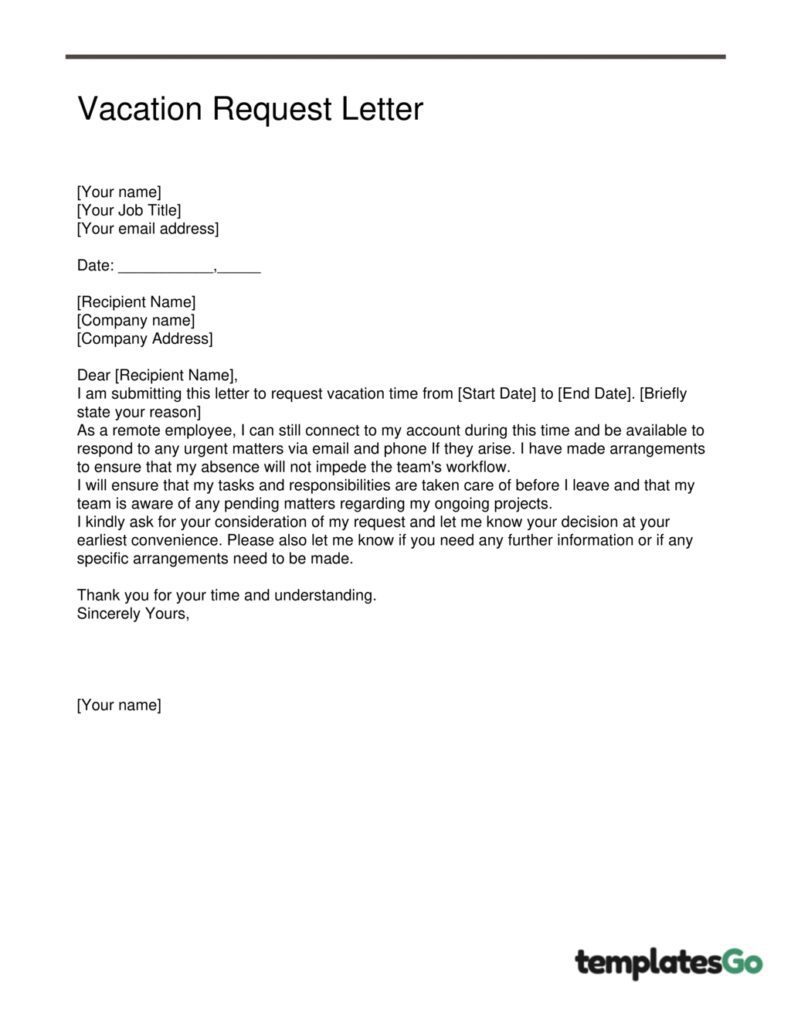 Medical Leave Request Letter
If you have any evidence, such as an appointment with a doctor or medicine prescription, attach it with this letter to your employer. Depending on your case, you can also check 🔗 Family and Medical Leave (FMLA) and its benefits.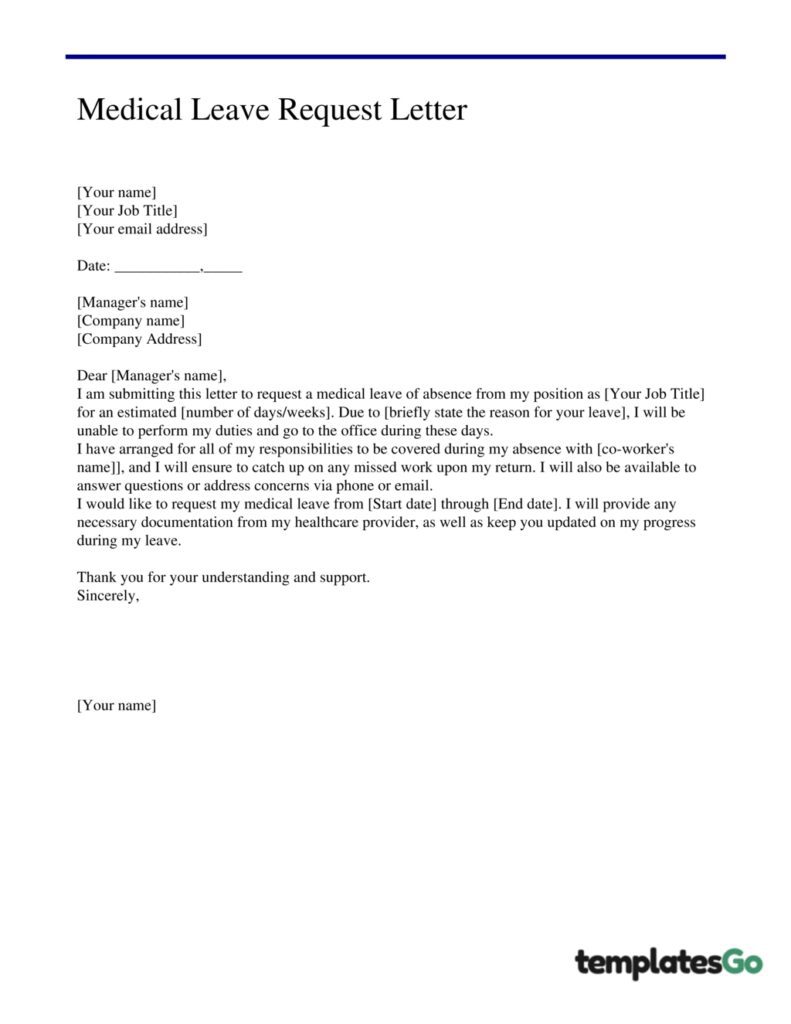 Tips To Communicate Well And Get Vacation Requests Accepted
Do your research on the company's policy
As you may know, most companies will have a specific vacation policy or employee handbook to check. So, review the company's vacation policy beforehand to ensure you understand the requirements and procedures for requesting time off. If your company does not have any particular policy, it is wise to check with your supervisor or HR manager about the employee vacation leave application and protocol.
Always ask your boss or supervisor in person first
Before formally submitting your vacation request letter, you should approach your team leader or manager to discuss this in person. You can consult face-to-face with your supervisor to better understand the ideal dates and appropriate leave duration or plan accordingly. It will also allow you and your employer to effectively brainstorm how to manage work during your absence.
Have your plan in advance
Avoid planning and requesting at the last minute unless you have an emergency reason to do so. On the contrary, try to schedule your vacation time to minimize the impact on your team and colleagues. It is practical to apply your vacation request letter at least one month in advance. Especially If you are asking for time off in the summer or winter holiday seasons, a month's notice is the standard protocol to arrange backup for your absence.
Select the most convenient dates
If you and your team are working hard to catch deadlines, it's stressed out, and you may think about taking a week's vacation off. But then, it just seems unfair for your team, and you will likely get rejected! For that reason, Select dates most convenient for your team and the company's operations by evaluating your current workload, ongoing projects, and upcoming deadlines. You should avoid scheduling vacations during peak work periods or before essential deadlines. If possible, schedule your time off during a less busy time of the year to minimize disruptions to your team. 
Plan to backup your absence
It is essential if you want prompt acceptance from your employer. Prepare a proposal for how you will handle all your current responsibilities, and also be prepared for any emergency that may arise during your absence. You can advise personal contact in case your colleagues need any questions or assistance from you.
Inform key team members
You must keep all your colleagues currently involved in your projects informed about your upcoming vacation. Furthermore, sharing your work with your team and providing guidance on how they should handle the workflow during your absence is vital. Make sure to inform your teammates about all engaged stakeholders/clients/ partners and provide instructions on handling any potential issues.
Complete all required vacation Documents
Before officially applying for your leave, be sure to complete all necessary vacation application forms for your company. Carefully read the conditions to identify any exceptions or requirements for an extended holiday, and complete the documents according to your company's guidelines and leave policy. This will help you draft a valid letter for a vacation request.
Follow-up with a reminder email
After submitting your vacation request letter and getting accepted, you are probably excited and busy planning your trip. However, remember to send a reminder email or message a few days before your vacation starts to ensure that everyone knows your plans and arrangements. Not only will it remind them of your leave dates, but it will also provide them with ample time to ensure that all ongoing projects are on track or completed before your departure.
Conclusion
You have read all our information in this post!!! Now it is your time to create a professional letter of vacation request to your employers and communicate well to get acceptance faster.