A debt collection letter is an official notice sent to customers to remind them of their due payment that needs to be made. The purpose of this letter is to inform debtors that they owe you money. This letter often uses in business as an initial legal step to collect the debt before seeking help from a professional collection agency. To use this letter, you may need to follow several steps before sending this debt collection letter to your debtors. This article will give you an idea of how to write a debt collection letter and the standard process to communicate with your clients.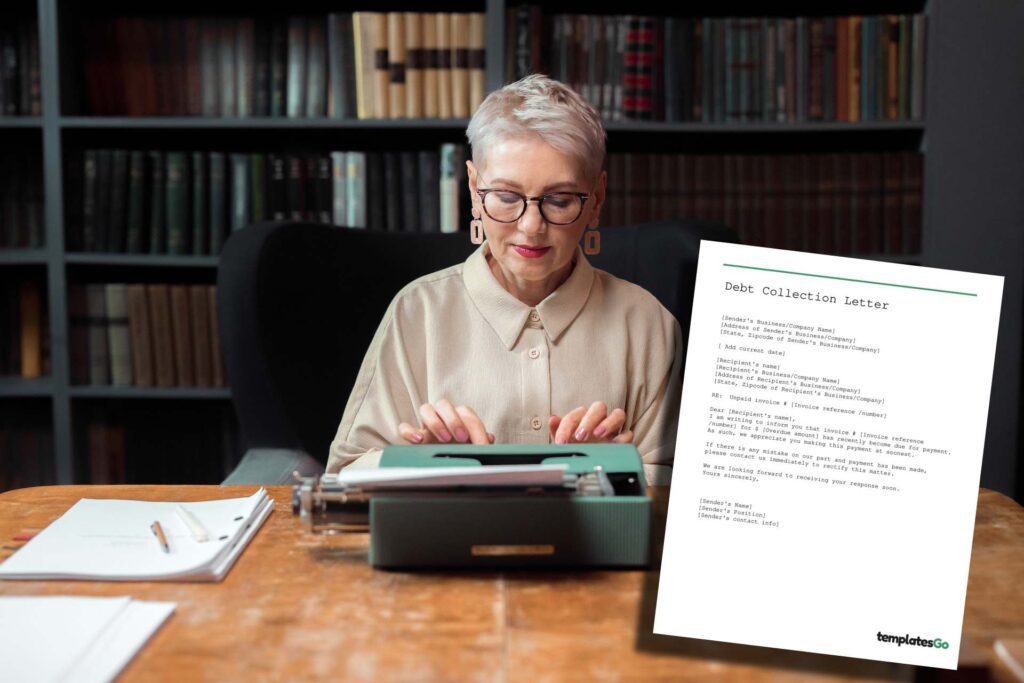 The Standard Process to send A debt collection letter
Every business has its own risks. They will have clients with debt in one way to another, especially if the companies offer credit to their clients. Some big organizations even have a legal department to manage debt, but many else don't. In your case, you attempted collecting debt by calling and emailing, but customers haven't paid yet due to many excuses. Then, it is time to formally send the first general past-due reminder to your debtors and start legal proceedings. We will draw a standard approach to communicate with your clients regarding the debt as follows:
1. First debt collection letter
The first letter is also known as the general collection letter. Remember to send this first collection letter only when you have tried communicating with the customers through verbal conversation or email. You don't need this letter if they reply with specific reasons for late payment. On the other hand, send this formal letter after your first attempt if they don't respond or don't make the payments again. To make it official, you should send a copy of the debt collection letter with your company's letterhead by email and a physical letter to their address via certified mail. After that, you can follow up on your letter by communicating with them again on the phone to see when they will make the payment.
💡 Note

Sending the debt collection letter via certified mail has an advantage that upon receipt, the customer will have to sign for it and you will be notified.
2. Second Past Due Reminder
If your efforts are still unsuccessful after a while, you will need to send a second debt collection letter. The difference from the first one is that you mention in the letter you've tried contacting the debt customer many times, but the payment has not yet been received. At this point, you may suggest an alternative payment plan option or further discussion how you can help the customer. By doing so, you show the debtor your effort to support them and to know if your debtor is willing to pay or not. In many cases, good clients face a financial issue that leads to past due payments, and they would appreciate your offer. They will try to make payments partially and keep the business with you. Continue sending the second debt collection letter the same formal way as the first one.
3. Final Reminder
After a while since sending the second past-due reminder, try to discuss an alternative payment option with your customer verbally. However, if you still not receive any news from your debtor despite many attempts to support them, It is time to send the final notice. In this letter, you will need a firm warning of impending legal action and a straight tone to finalize this matter. However, keeping the remaining professional language in the letter is crucial. You can also emphasize in the last debt collection letter that you may request help from a lawyer or debt collector. Send this final notice by certified mail so that you will have a proof for legal action against the customer later.
How to write a debt collection letter?
A Debt collection letter should include the information as follows:
The amount the debtor owes you or your company.
Indicate the Invoice number or any related document regarding this own amount.
The initial due date of the payment.
In your first debt collection letter, advise the debtor to contact you if the payment has indeed been made and you are mistaken. Because it happens pretty often, and by doing so can avoid miscommunicating.
In the early stages of collection, you can be friendly but give firm reminders that payment is due and that you appreciate prompt action.
Offer an alternative payment plan in the debt collection letter (if applicable).
Depending on the past due payment's length, you can emphasize a warning of impending legal action, such as sending the debtor to collections.
A new due date for the payment is also necessary at the late collection stages. If you have reminded the debtor many times without succeeding, set a deadline; otherwise, they will never pay.
When you write the second or the third letters, they should reference the previous letter you sent to the customer.
💡Highlight

Use our document generator to help you create your letter faster. Follow four easy steps in the below infographic to start the process!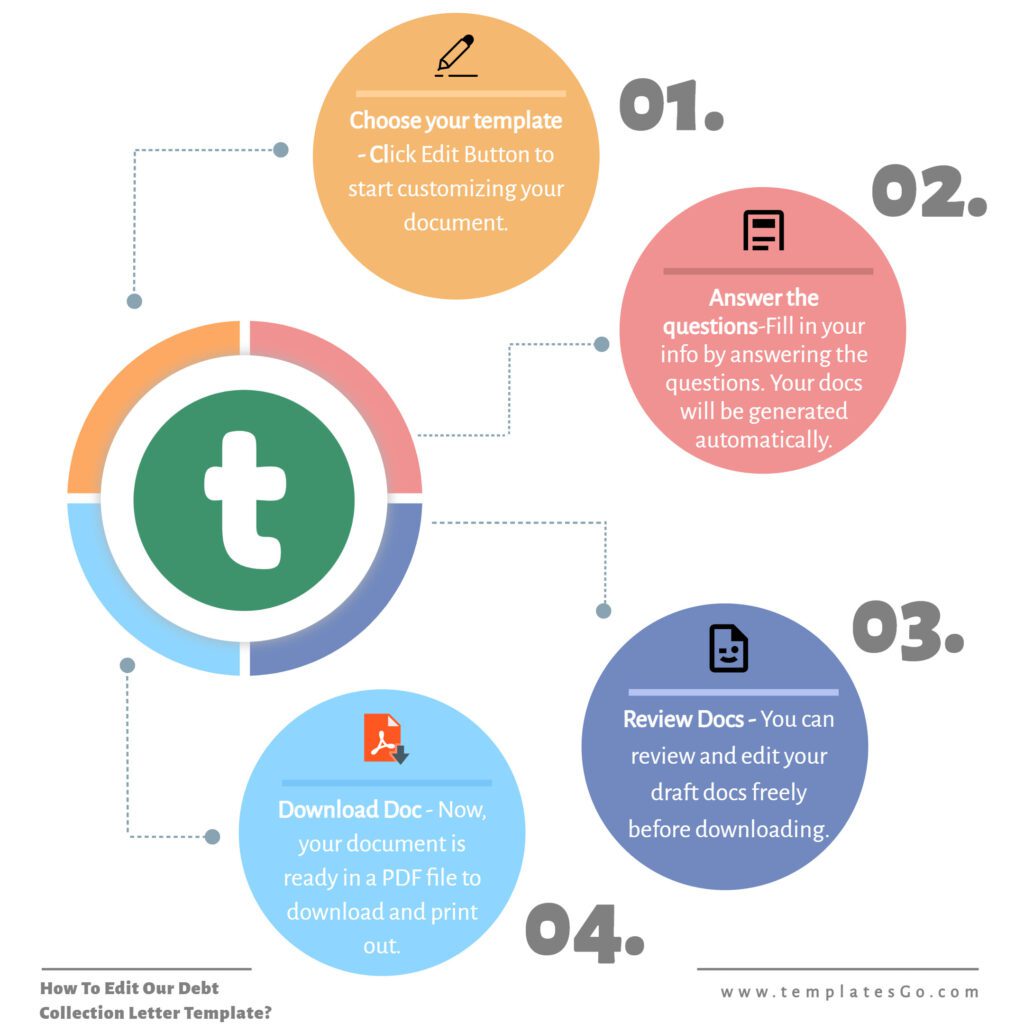 debt collection letter sample
#1 Simple Debt Collection Letter
This template with a 🔗 formal format applies to every kind of business. To be more specific, you can add further information regarding the unpaid payment from your debtor.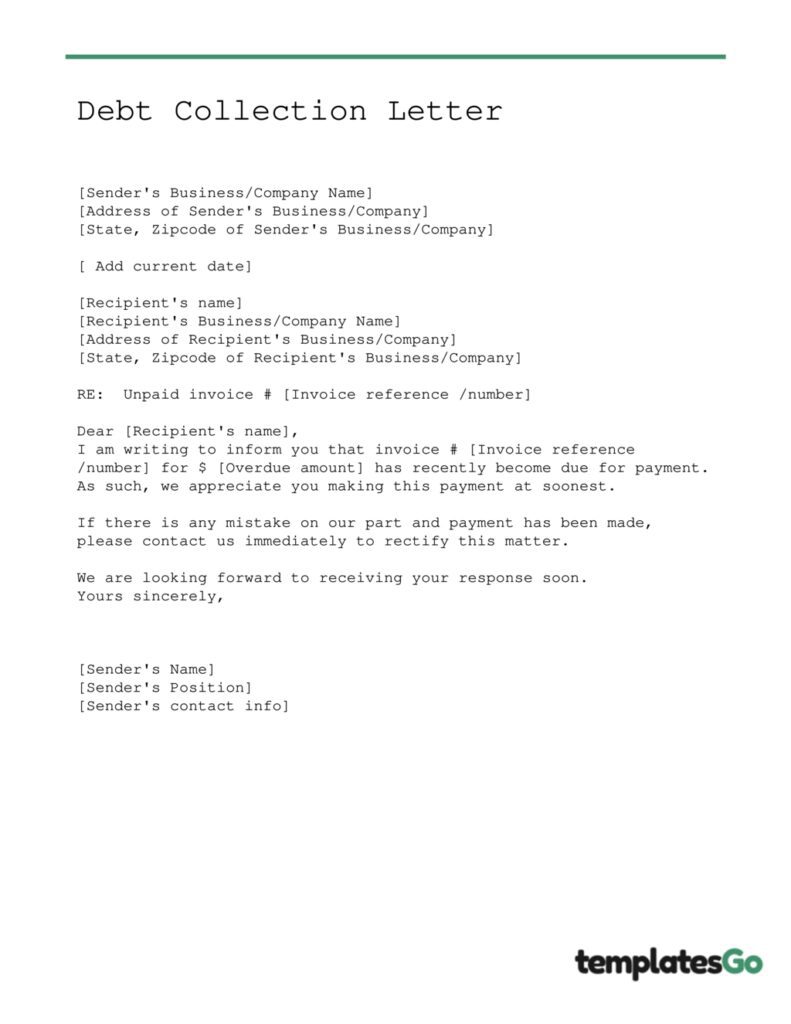 #2 Second Past Due Reminder
You already sent the first email or letter to remind the past due payment, and the customer hasn't paid yet. You can customize this debt collection letter template with your info to follow up on the first letter.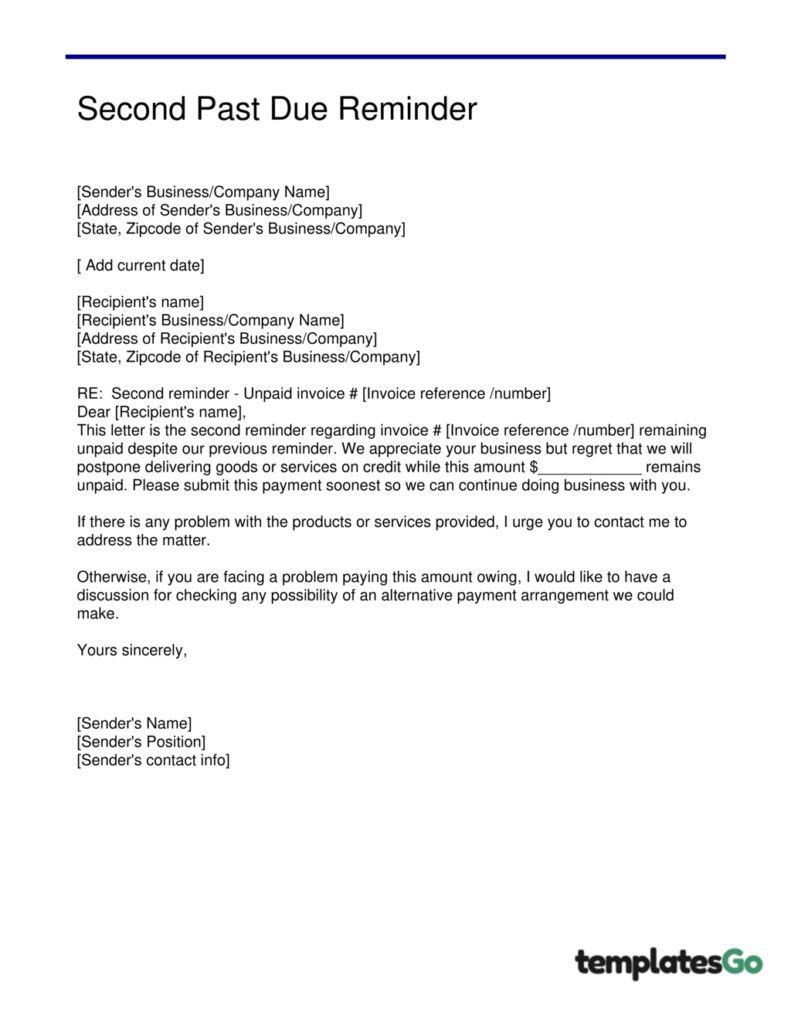 #3 Final Notice – Legal Action
This template applies to all of the kind businesses for products or services. You will need to add related info regarding the first or second reminder letter to give the debtor the final warning before deciding to take legal action.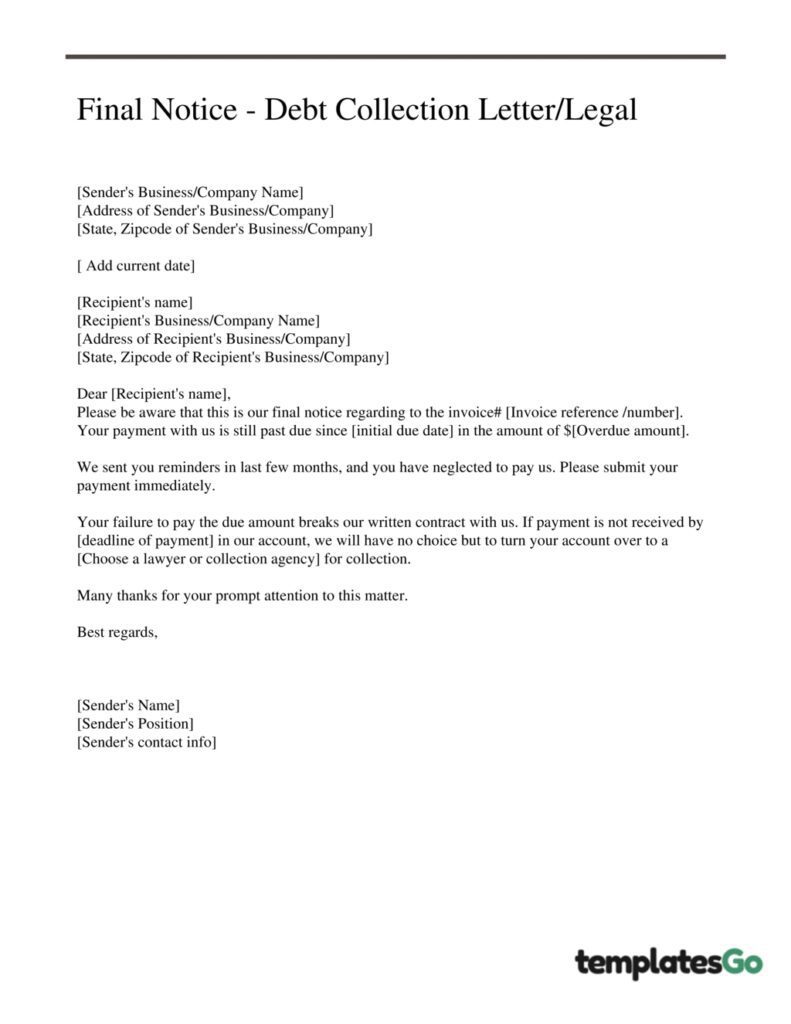 #4 Past Due Rent Letter Template
This template is for landlords when the tenant has owned the rent for more than a month. The landlord can use this past due rent letter template or 🔗 Late rent Notice letter to notify the tenant before 🔗 evicting them.