Are you searching for a Late Rent Notice sample to send to your tenant? You are in the right place. We offer our free Late Rent Notice editable templates to help you create this letter faster and easier in just a minute. Simply:
Fill in your information by answering our simple questionnaire.
You can review or edit text freely.
Download your letter in business format and PDF, ready for print or other use.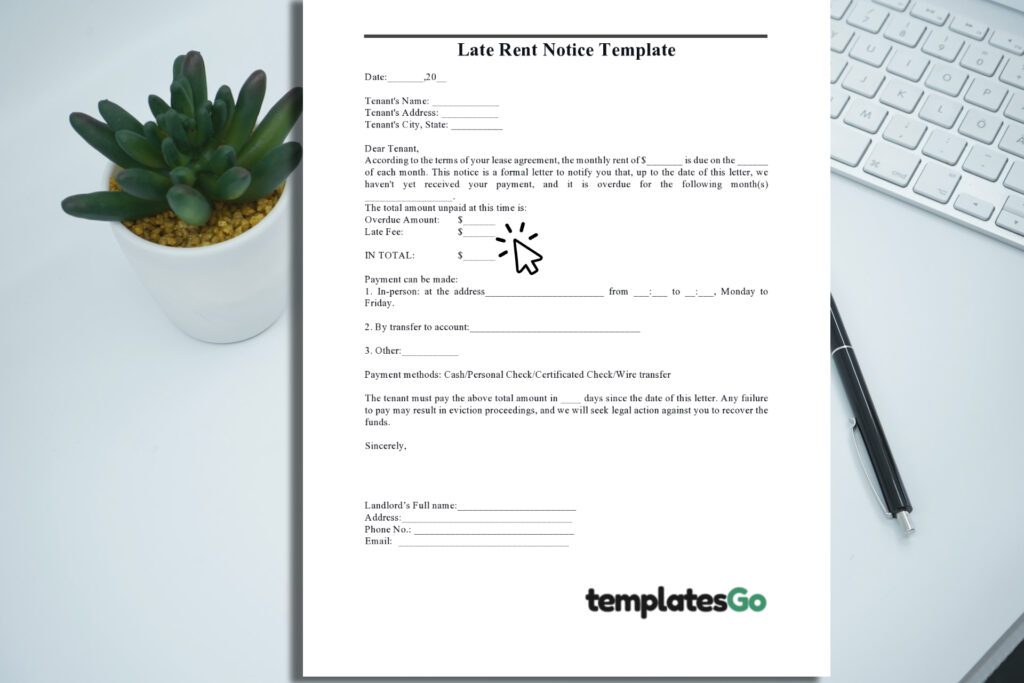 Why is it a benefit to send a Late Rent Notice?
A late rent notice is written in letter format created by the landlord to notify the tenant when the rent is 🔗 past due with a request to pay it immediately. While your tenant habitually fails to pay rent on time and bothers you, sending this letter is a brilliant step to remind them before taking further legal action. This way will cost you zero money, and a little effort may solve your problem.
It may be bothering when you don't receive the payment on time as it should be on the lease agreement. However, depending on your tenant's circumstances, a notice of late rent could serve enough to alert your renter but still maintain your relationship. Furthermore, by giving your tenant a chance to cure the contract's violation and pay, you will be benefited by:
Saving your time: learning about the eviction process means you will have to spend much time doing your research and checking for a good lawyer nearby.
Saving your money: the situation may not be so bad that you need to jump into the eviction process and pay attorneys to start it.
Less Pressure – Despite being unhappy with overdue rent, a simple letter might settle the situation for both sides instead of using a thread of eviction.
Pleasant Communication: Perhaps your renter is a good person without the intention to pay late. But sometimes they forgot to send a check that month due to a business trip, for example. Therefore, using our template will not threaten them while politely reminding them to pay timely in the future.
💡 Important

A 3-day or 5-day notice is typical. However, always review your lease again and check the laws at your state for when you should send your renters a late rent payment notice.
What Should The landlord Include in a Late Rent Notice?
Below is the necessary information to include in a rent late notice, which is ordered by number to follow the format of this letter.
Date: the date of the letter being written.
Tenant: name of the person currently renting the Unit.
The premises: rental Unit address and location in detail.
The monthly rent amount: mention the renting amount on the lease agreement.
The outstanding rent: the total amount of money the tenant now still owes the landlord
Late Fee: if the contract has a condition for a late fee when the rent is past due, mention it in the letter.
Effective Date: When the tenant must pay the late rent or leave.
Deadline: a time for the tenant's response in days or before a date.
Acceptable forms of payment: Indicate your acceptable payment forms.
Consequences of nonpayment: emphasize to your tenant what you will do if they fail to pay.
Landlord: landlord's contact in detail.
How and When Should The Landlord send a Late Rent Notice?
A lessor should send this late rent notice to the tenant the soonest, the better when the rent payment is overdue and out of the grace period. To calculate the time, here is an example:
Due date: on the 5th of each month.
The grace period: is five days from the due date.
Consequence: You can charge a late fee from the 11th of the month and send a late rent notice if payment has not been received.
The ultimate thing is to ensure that your tenant acquires this letter. Ideally, you should send a late notice for rent in a way that demands signature confirmation from the tenant to document its receipt. Doing this will avoid miscommunicating and bring up your tenant's attention. Here are three common ways to deliver this notice by:
Sending in person and asking the tenant to sign to accomplish the receiving of the notice.
Sending via certified or registered mail
Dispatching by courier service
💡Note

Keep one original copy as evidence of late payment will support your legal case in the future if the tenant starts to pay the rent late habitually.
Late Rent Notice FAQs
1. What if a Tenant Ignores the notice and still doesn't pay?
If your tenant fails to pay the past due rent and late rent fee, you will need to start the eviction process for the next step. The bottom line is that this is your business, and there must be consequences for not paying the rent on time.
2. Should a Landlord Accept a Partial Rent Payment or Not?
It is recommended NOT to accept partial payment from the tenant for any reason because they may take advantage to keep paying late in the future and avoid the penalty for late rent.
3. How many days on rent should a landlord wait before sending a late Rent notice?
The typical grace period is from 3 - 5 days. However, it also depends on your state's laws and the terms of your lease agreement with the tenant.
late rent notice letter Templates
Here is a template created by us at TemplatesGo.com for your reference at the end. Use our template now to save time!
Editable Late Rent Notice Letter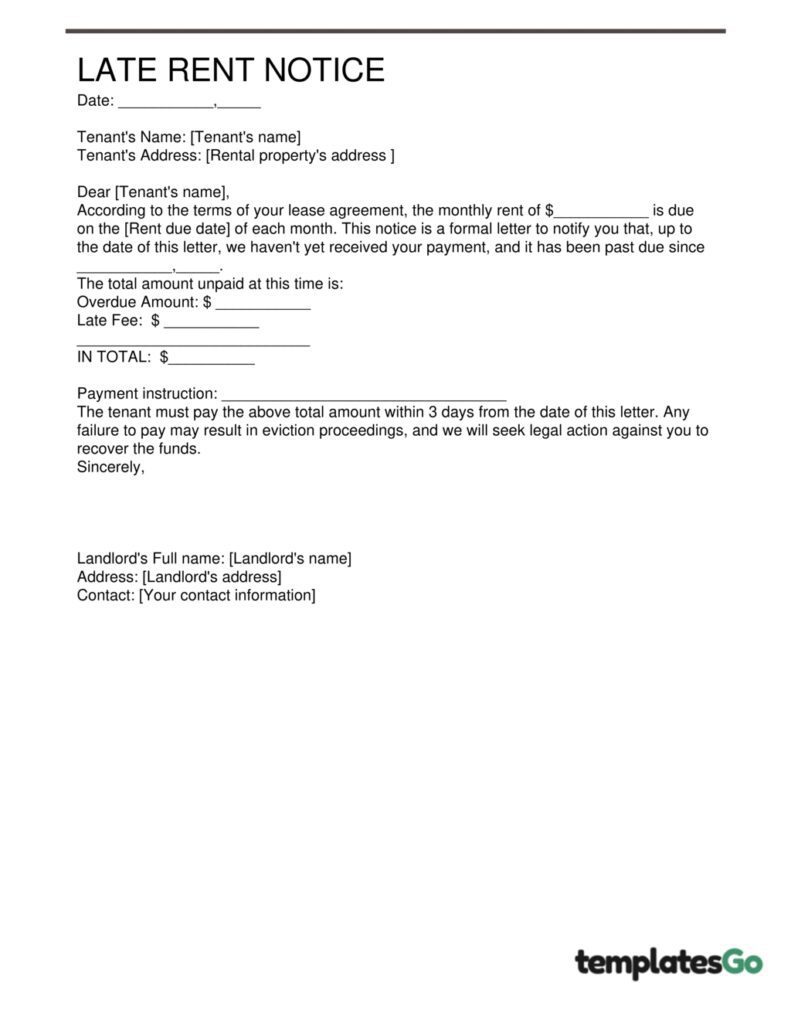 Late Rent Notice Sample