A letter of recommendation from professor is one of the standard requests in the college application process from many universities. You will find this requested letter repeatedly on many websites while checking school programs.
Nevertheless, this requirement relies on the opinion of your professor, teacher, or counselor, who will write it on your behalf. Sound complicated, right? No worry! Here, we will guide you on how to ask for a letter of recommendation successfully, and you can edit our template at no cost to get your request letter in just a few quick steps:
Select one of our customizable templates.
Answering quick questions to fill in your information.
Quick review quickly with your answers in highlighted color.
Download your request letter for a recommendation from a professor in a standard format, ready to use.
What are letters of recommendation from professors for?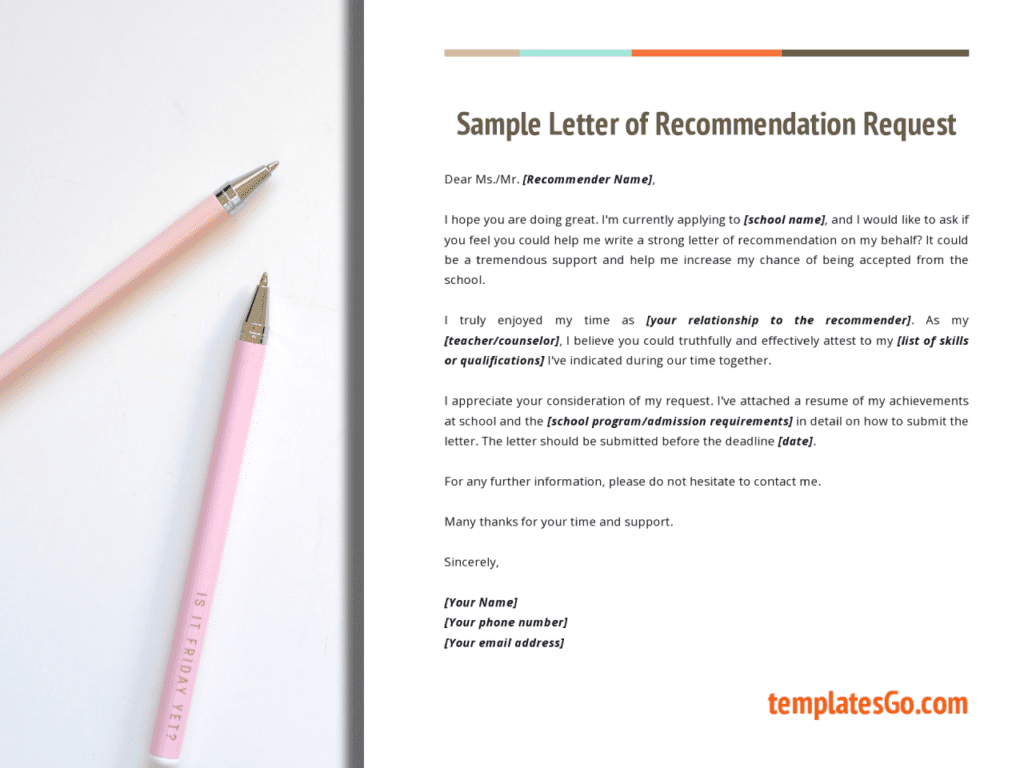 This official letter has become a common request in the university application process, where your teacher will illustrate your character and your performance at school. The admission officers want to get a glance at your personality and ability from the third person. And for that reason, a letter of recommendation from a professor has become a particular request among the schools.
To learn more about how it looks like a letter of recommendation, read our article 🔗Best Templates Letter Of Recommendation For Student here.
How to ask a professor for a letter of recommendation
1. Think about who you want to write your letters
The most practical way is to come to someone who knows you well and can personally speak to your characteristics, especially the teachers of classes where you performed well. Compile a list of several teachers best suited you could ask for this letter. With your preparation following our guide, you may only need three people to request a recommendation from the professor successfully. Nonetheless, having extra options is never a bad idea if they are all busy.
Find the teachers during your senior year who will more likely have fresh memories of you and how you studied in the class.
If you are a student who wishes to apply for Ph.D. programs, your letters should come from one of the professors in the same field as the program you want to submit.
There are several exceptions, while many university applications require at least one letter from a guidance counselor. If you do not know this person so well, do not be afraid to arrange an appointment to get to know each other.
2. What should you prepare before asking
You may have several universities in your mind that you want to apply to increase your chances of being admitted. It is imperative to analyze school programs and requirements, and you have to be the one who understands them the most. We suggest a few points for preparing yourself:
Review and summarize the main points of school programs and their requests.
List your achievements during the classes, such as your overall GPA, test scores, and top academic accomplishments.
Note down your volunteer work or outdoor activities you have participated in.
Think about your goals and purposes for studying this program to share. It will add more persuasion to your request.
We recommend you prepare these points briefly on the computer because you may need to attach them to your teachers.
3. Have a conversation in person first
After summarizing your background, it is time to prepare your speech before sending a written request for a letter of recommendation. Choose the available time when your teachers are not busy, or you can schedule a meeting to speak directly at their convenience.
Deliver a concise explanation of why you need this recommendation letter. Emphasize your qualifications and goal ambitions to your teacher, who will be happy to help you succeed. Additionally, you can even discuss your chosen school program with them to seek pieces of advice.
4. Send a written request for a letter of recommendation from the professor
After verbal confirmation between both parties, send a formal request to reconfirm by email to each individual who will help you write this letter. When you send your request, make sure to include the following:
Brief information on the programs you are applying for.
The deadline when the letter should be submitted.
The point list of your academic background and achievement you collected.
Details of whom should receive this letter and how.
A sample letter (if requested). You can attach our article 🔗Best Templates Letter Of Recommendation For Students.
With the detail you prepared, the teacher will see your effort and likely do their best to help you.
5. Follow up before the deadline is due
Remember that your teachers will probably be busy all of the time. Thus, following up with a kind reminder weekly before the submission deadline by email is essential. This is also an excellent opportunity to send them your appreciation. They will see this program's importance and pay full attention to writing a strong letter of recommendation.
6. Say a final thank you
Once your letters have been completed, we highly recommend sending a 🔗 thank you note to each person who wrote you a teacher recommendation letter after. Express your gratitude for their time and keep in touch to inform the final result once you get it, whether it is approved or not.
💡Key takeaways to asking for a letter of recommendation from Professor successfully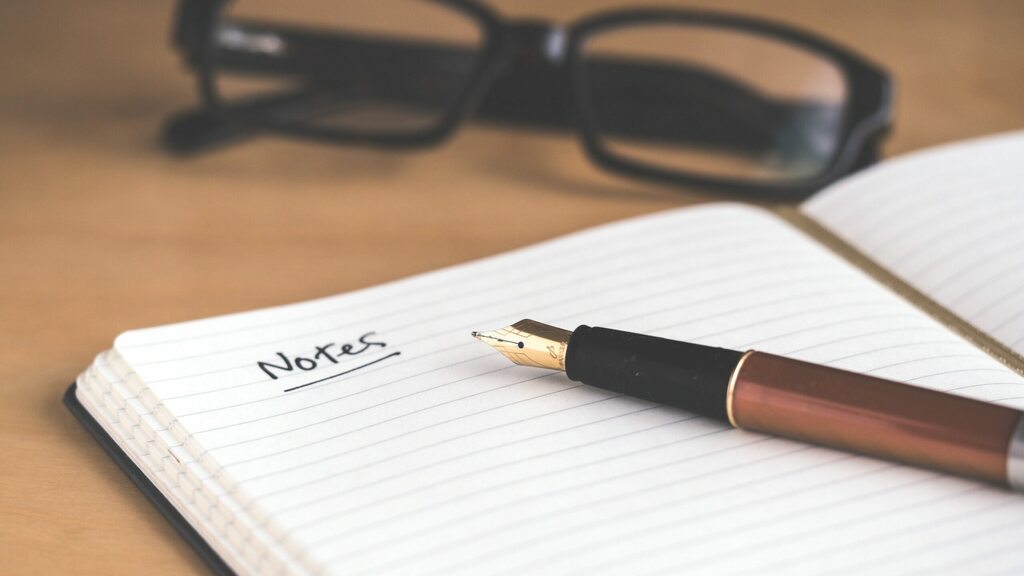 Don't insist if you sense hesitation
Sometimes, you will receive hesitancy from your tutors for many reasons, which may have nothing to do with your qualification. Frankly, this person might feel they do not have enough time or give full attention to compose your letter. Instead of insisting, you should say thanks and move on to someone else who can write you a strong recommendation.
Request this letter the sooner, the better
Avoid putting your teachers in a rush situation. Ask them at least three weeks ahead so that they can organize the time and write your letter with full awareness.
Be prepared for any questions from teachers
You have never asked for this formal letter before and do not know how to ask your professor properly. It is easy to feel overwhelmed. Conversely, the professors who may receive this request from other students will ask questions to see if you deserve their time to write this letter. They may ask about your purpose, goal, or what you want to achieve in the future. For this reason, the more you prepare to give them persuasive answers, the better chance you have of getting accepted by your teachers.
samples request for letter of recommendation from professor
#1 Simple Request letter of recommendation from Professor Template
You can customize this letter to fit your specific situation and the receiver you are asking for a recommendation from. It's also a good idea to mention why you think the person you are requesting would be an excellent choice to write a recommendation for you. Such as their expertise in a specific subject or experience with you in a particular class or activity.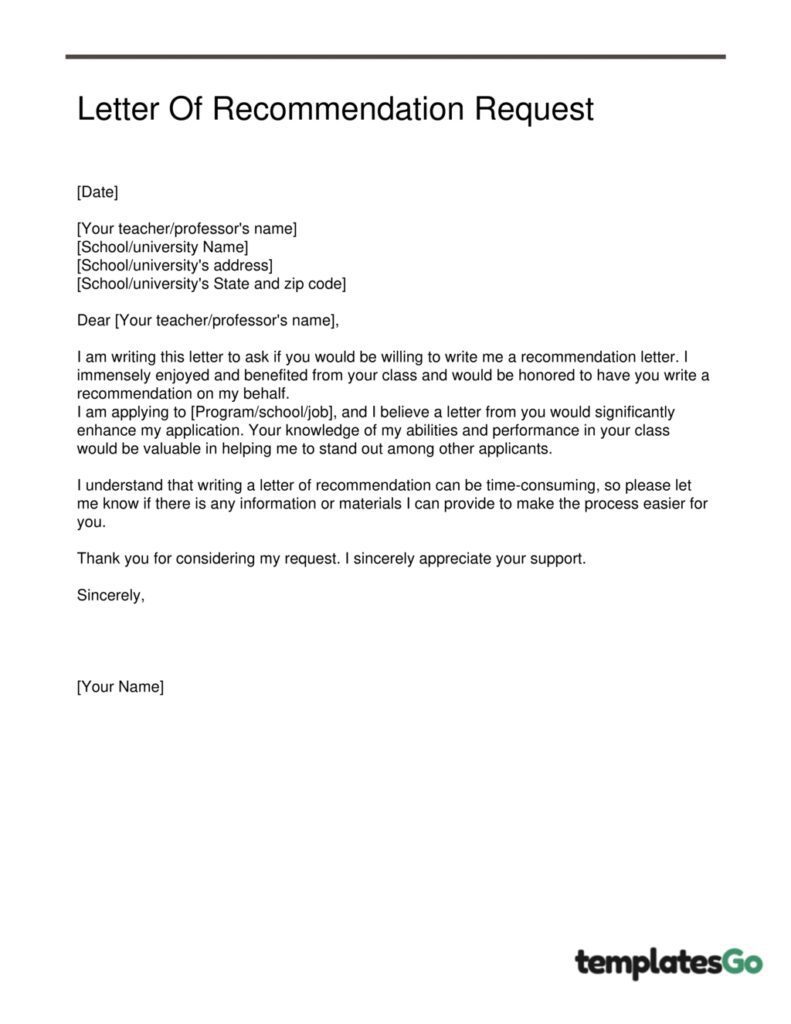 #2 Request letter of recommendation from Professor Template
The second template we tailored for the situation after the verbal conversation with your teacher about the request. As recommended, always reconfirm your information by email with this formal letter after a conversation with teachers and express your thanks to them.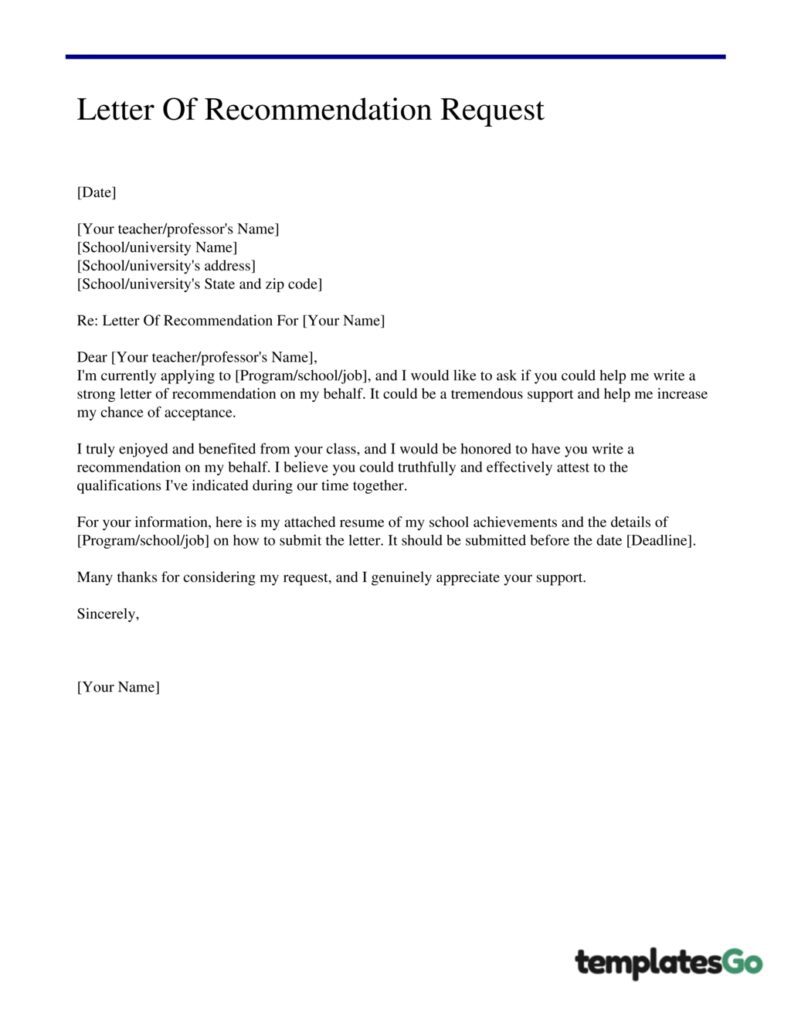 Conclusion
In conclusion, getting a recommendation from a professor can be a valuable and essential part of your academic or professional journey. By starting the process early, being specific and organized in your request, and showing appreciation and respect for your professor's time and expertise, you can increase the chances of getting a high-quality recommendation letter. Additionally, if necessary, following up with your professor can help ensure your request is noticed and remembered. By following these tips, you can successfully get a recommendation from a professor and use it to enhance your application and stand out among other candidates.