How to write an apology letter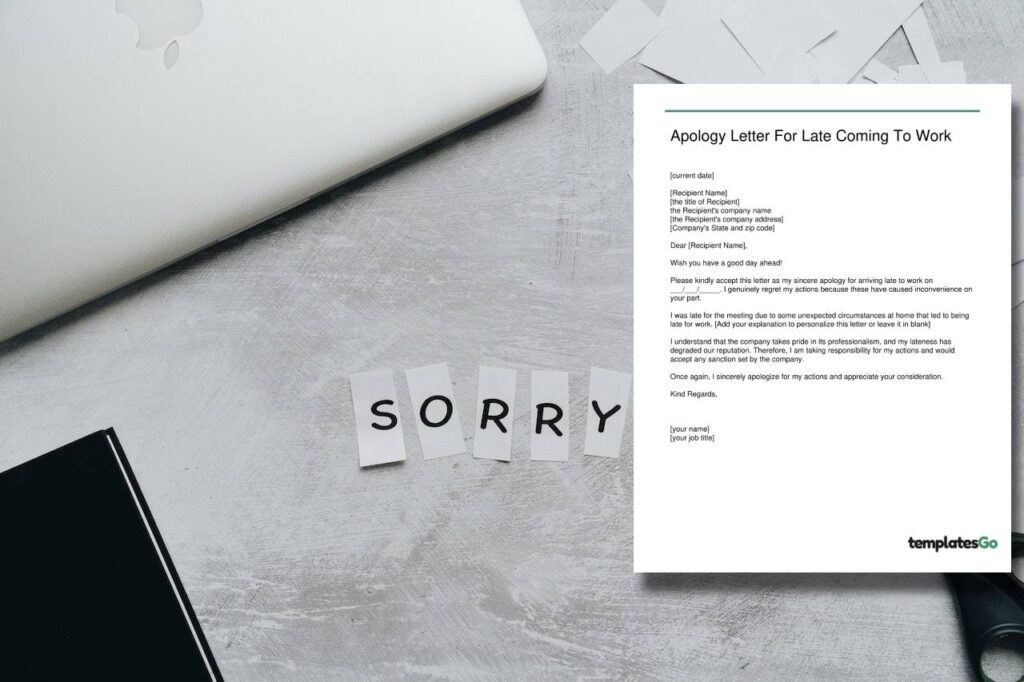 Specify what you are apologizing for
The objective of an apology letter is to express your regret for something that has happened and to show your willingness to make amends.
The first step in writing an apology letter is clearly stating what you are apologizing for and why it was wrong. Doing so will show the recipient that you have considered their feelings, which can help prevent a situation from escalating further.
You must also use specific language when specifying your error because vague language can make someone feel uncomfortable or offended without knowing why they feel this way. For example, I am sorry that I was late in the meeting yesterday morning; instead of using this phrase: I apologize if my behavior made anyone uncomfortable yesterday morning.
Acknowledge the other person's feelings
When writing an apology letter, it's essential to acknowledge the other person's feelings. Letting them know that you understand their perspective will help them feel validated and respected, making them more likely to accept your apology later. A standard apology format is phrases such as "I understand" or "I can imagine how you must feel"
Explain what happened
Explain the situation in detail, being honest with yourself and others involved—what factors contributed to your wrong actions? The cause of the action should be related to something about yourself (e.g., low self-esteem) rather than blaming someone else.
State clearly how this has affected yourself and others, especially if you have hurt someone else in some way.
Express remorse in the apology letter
You should express your regret for what happened and explain how you feel about it in the letter of apology. You might also want to explain why you think that way. For instance, "I'm sorry I didn't explain the instruction well."
Say you're sorry. In this section of the letter, make sure to say "I apologize for the inconvenience" twice (or more), so the recipient knows it's honest. It's okay if this section is a little repetitive—they need to hear those words directly from your heart!
State what you intend to do to make things right
In this part, you should explain your plan to make things right. If you can fix the mistake, let the person know what steps you will take to rectify it. However, If the problem cannot be fixed or made right because of circumstances beyond your control, explain how you plan to address this issue with others who may have been affected. 
Offer an appropriate form of reparations (Optional)
If you're able to do so, offer a proper form of reparations. It can be a gift or a discount to help with a project that the offended person has been putting off or other acts of kindness.
On the contrary, if you can't make any material restitution for your mistake. For example, suppose you accidentally broke someone's cell phone and didn't have enough money to replace it. In that case, you can still offer a form of reparation in the form of time and energy spent doing something pleasant rather than simply making amends.
Ask for forgiveness
Acknowledge that what happened was not okay and that you are sincerely sorry. You can't expect forgiveness unless you admit and accept responsibility for your actions.
To end the apology letter positively, express hope that the person will forgive you and say it would signify a lot to you if they do. Also, you can say 🔗thank you to them for their time and consideration of your apology.
These elements above are essential and standard to include in a letter of apology. To help you complete your letter, below are key takeaways while composing this letter for you.
Remember, you can always use our editable template to create an apology letter faster and easier with a professional 🔗standard format at no cost!
Tips for writing a letter of apology
There are a few notes that you should keep in mind when writing a letter of apology as follows:
Be sincere. You have to mean what you apologize for, not just make an excuse with an apology to solve the problems. Many people think they can write an apology letter by being half-hearted and not owning up to what they did wrong, but this will only worsen things.
Be specific. If there was one person affected by your actions, talk about them specifically; don't just refer generically to "my coworkers" or "my boss". If several people were affected by your actions, list those specific names so that the reader knows whom he/she needs sympathy.
Be timely. The sooner you send this letter of apology after an incident occurs, the better chance your apology gets accepted. Also, it is a gesture of sincerity when you acknowledge the error and apologize immediately instead of ignoring or letting it pass after a while. For example, if you receive a 🔗 complaint letter from a client, identifying the problem, responding with an apology, and suggesting a solution soonest will improve customer satisfaction.
Be formal. A letter of apology should be written formally and professionally in some situations.
Letter Of Apology Templates
Writing a thoughtful letter to apologize can take time. Let us help you to kick start, and you can personalize your letter without limitations.
Pick a template for your case.
Complete the questionnaire to include your information.
Make any edits to the text before downloading.
Example Of Apology Letter To Customer For Service Issue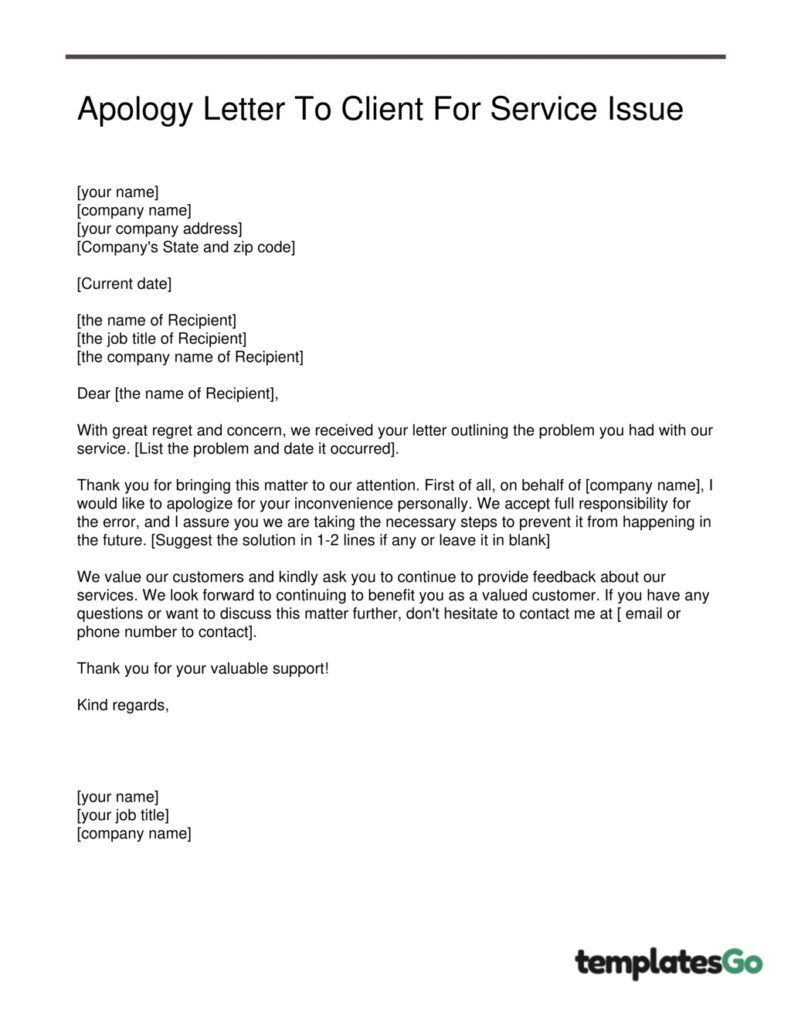 A Letter Of Apology To A Customer For Product Issue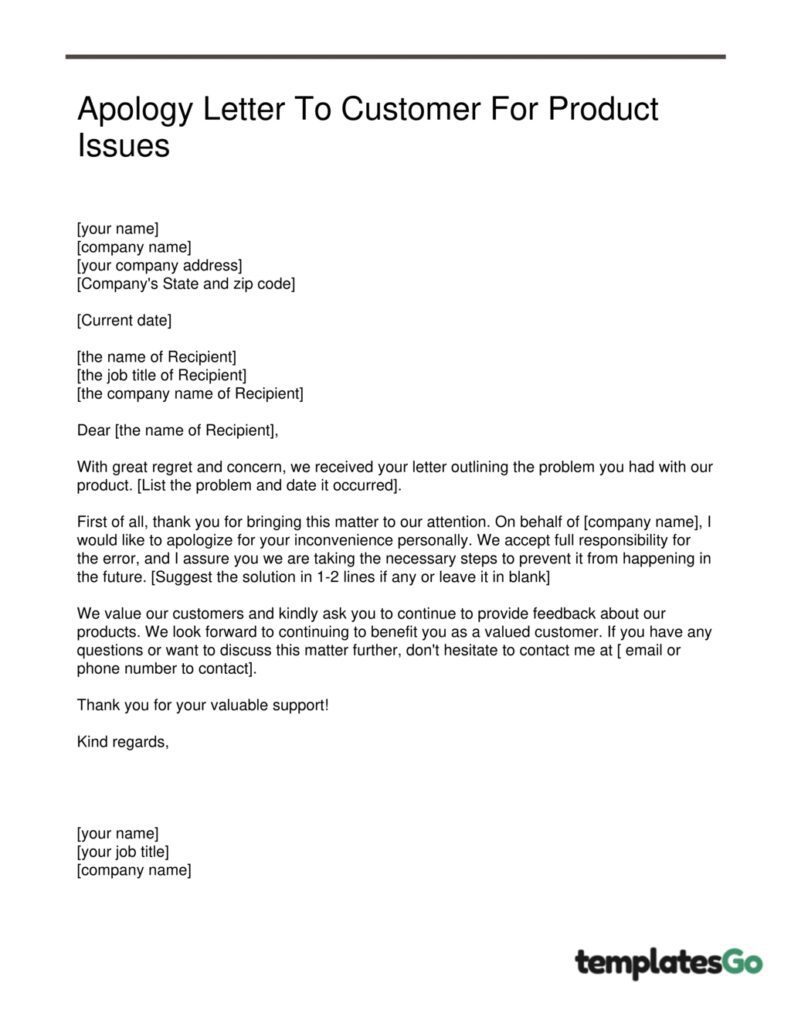 Example Of Apology Letter For Late Coming To Work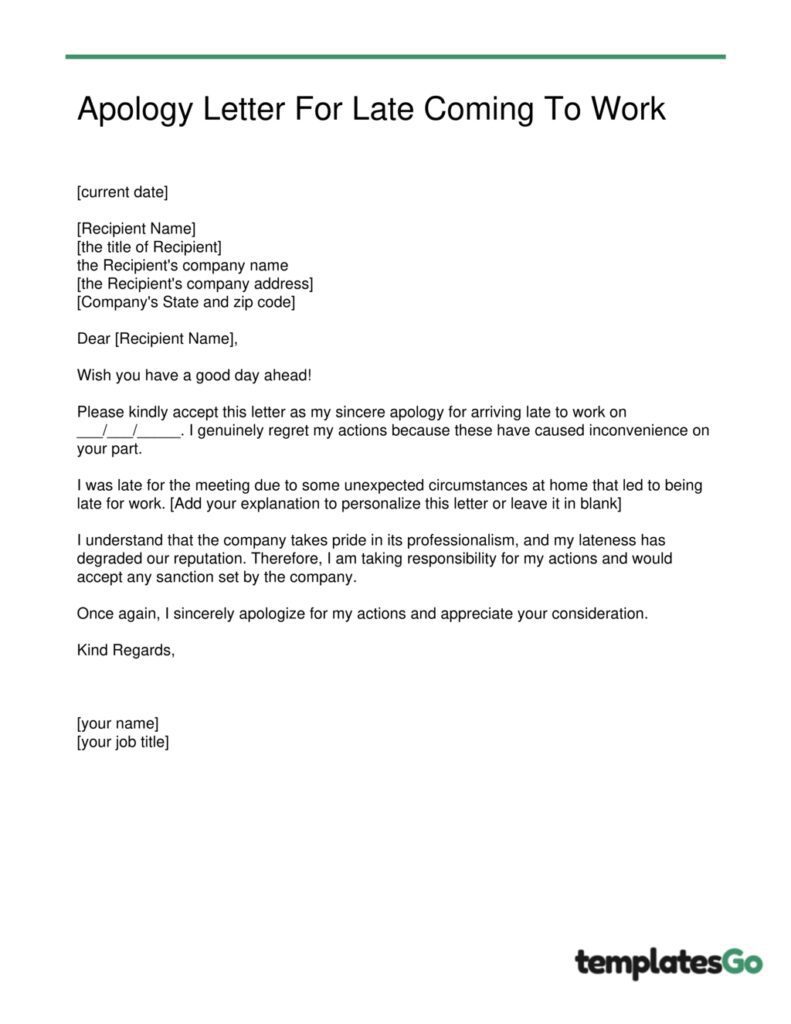 Related Post

If you have an inevitable reason for missing work, you can create 🔗an excuse letter to explain to your boss well.
Letter Of Apology For Mistake To Boss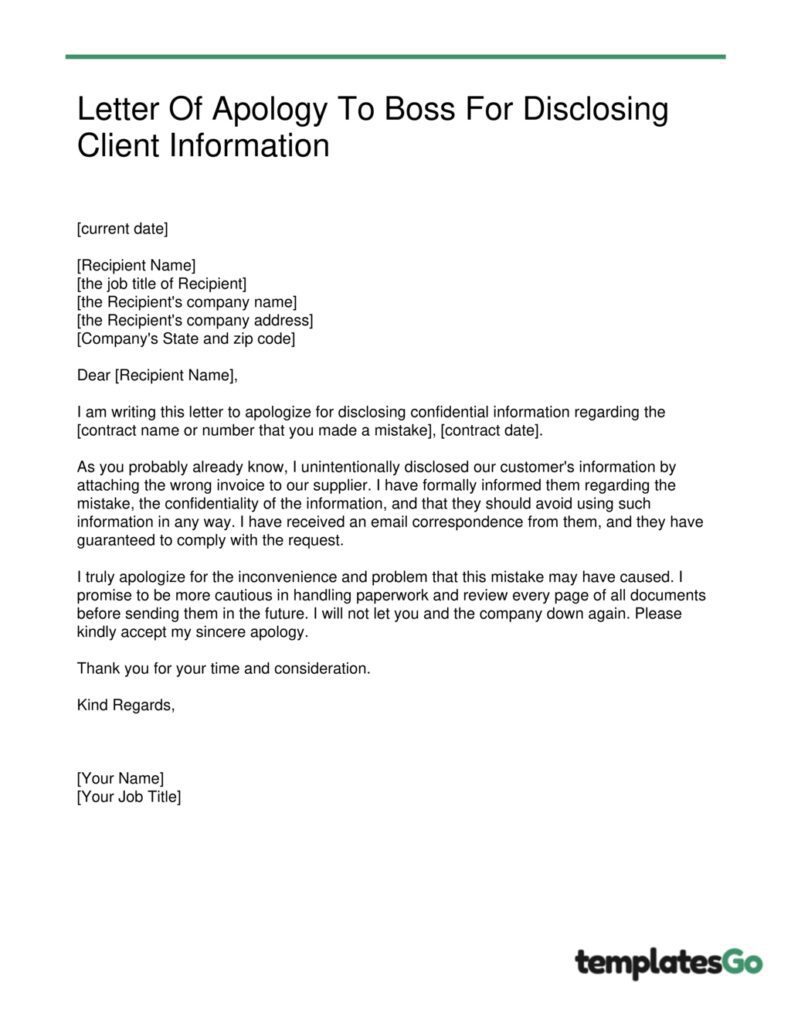 Formal Apology Letter To Teacher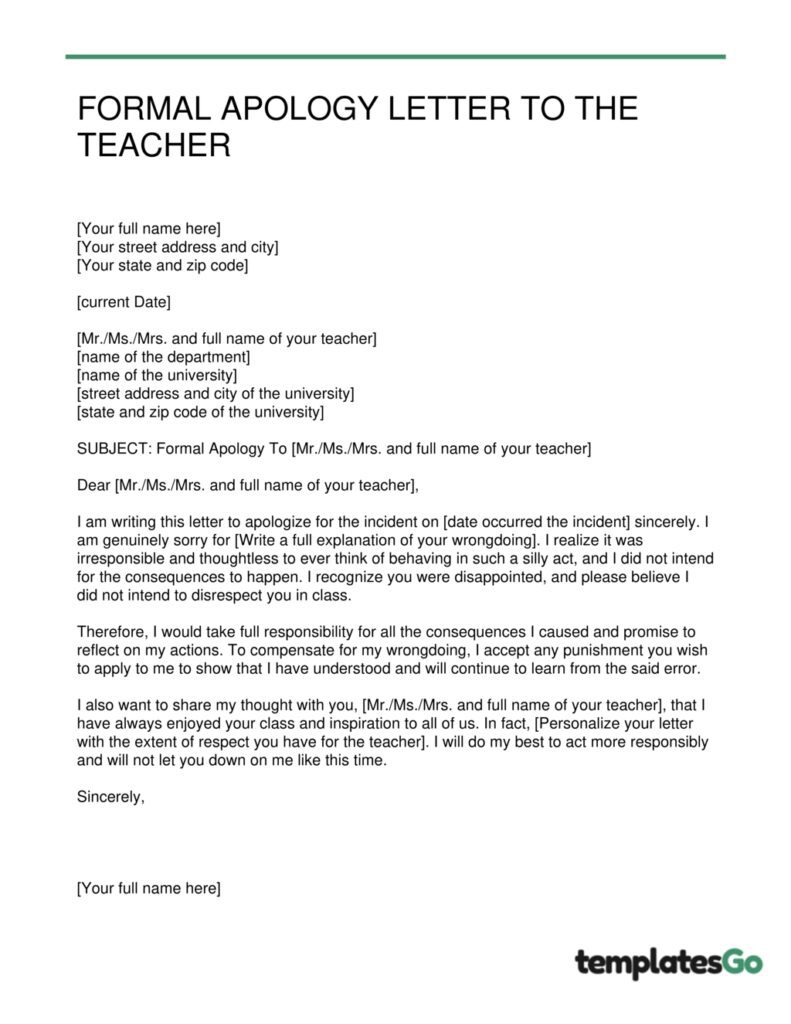 The importance of the apology letter
Learning how to apologize can signify emotional maturity and an important life skill. It is also a sign of emotional intelligence, and the ability to apologize shows you can take responsibility for your actions and how they affect others.
Sometimes, an apology can be one of the most challenging things we can do as humans. Learning to apologize correctly will help you in many parts of your life, including improving personal relationships, business dealings, and with friends.
Conclusion
Writing this letter is vital in your personal life and professional pursuits. If you need help writing this letter on time, use our document generation to finish your letter quickly. We also have 🔗 congratulation letter templates to edit immediately or various request letters at work, such as🔗 request letter for time off you may need.
We hope our advice helps make your following letter easier!