Why Should You Write a Congratulations Letter?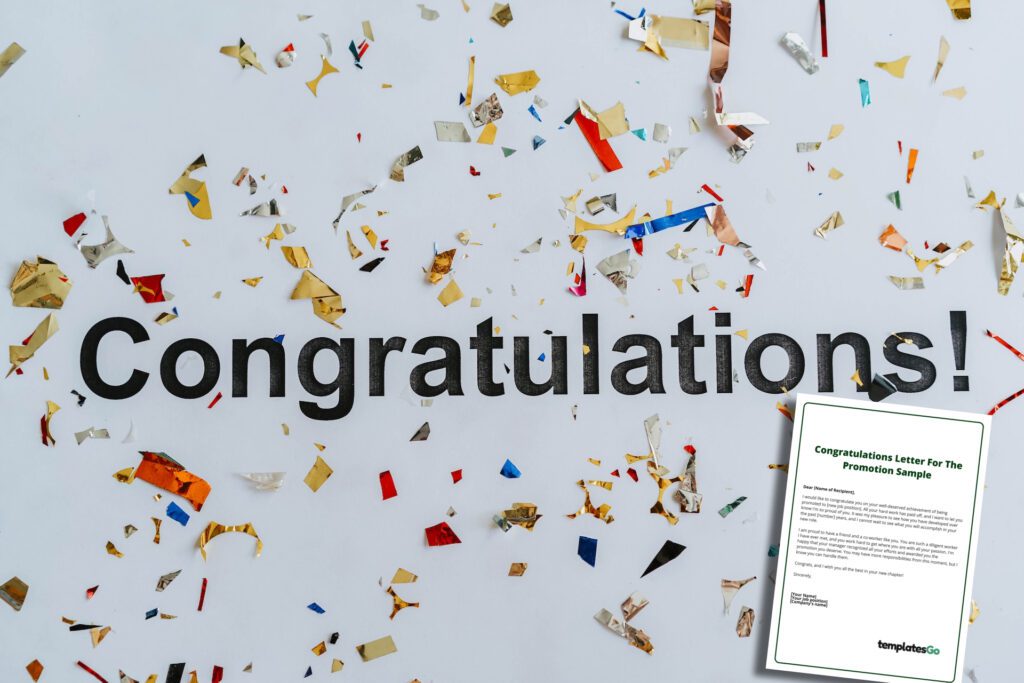 When someone achieves something big, they deserve recognition and appreciation. For that reason, saying congratulations is a heartfelt way to acknowledge someone's success. A congratulations letter can be the perfect way to congratulate your friends, family members, clients, and colleagues on their success. Because through the power of written expression and thoughtful words, you can tell them how proud you are of their accomplishment.
We don't often recognize many personal achievements to say congrats to them. For example, completing a complex training program, winning a team sport at a company, etc. It seems like a typical occasion, but it could be significant for someone else's life. Letting people know their hard work has paid off will impact them and create a positive impression. Last but not least, you can make a person's day with just a tiny gesture. So let's make this letter now, sure they will be more than happy to receive your letter!
Samples of congratulations letter
Sending a formal congratulations letter is a thoughtful gesture to celebrate a colleague's promotion, new job, or important life milestone. If you're not sure how to compose such a letter, we offer a selection of sample congratulations letters to inspire you. You can easily customize these templates to create your own letter with our document generator in only three simple steps.
Simply select a template and fill in your information.
Review your draft letter
Download your letter for any use.
Generic Congratulations Letter Template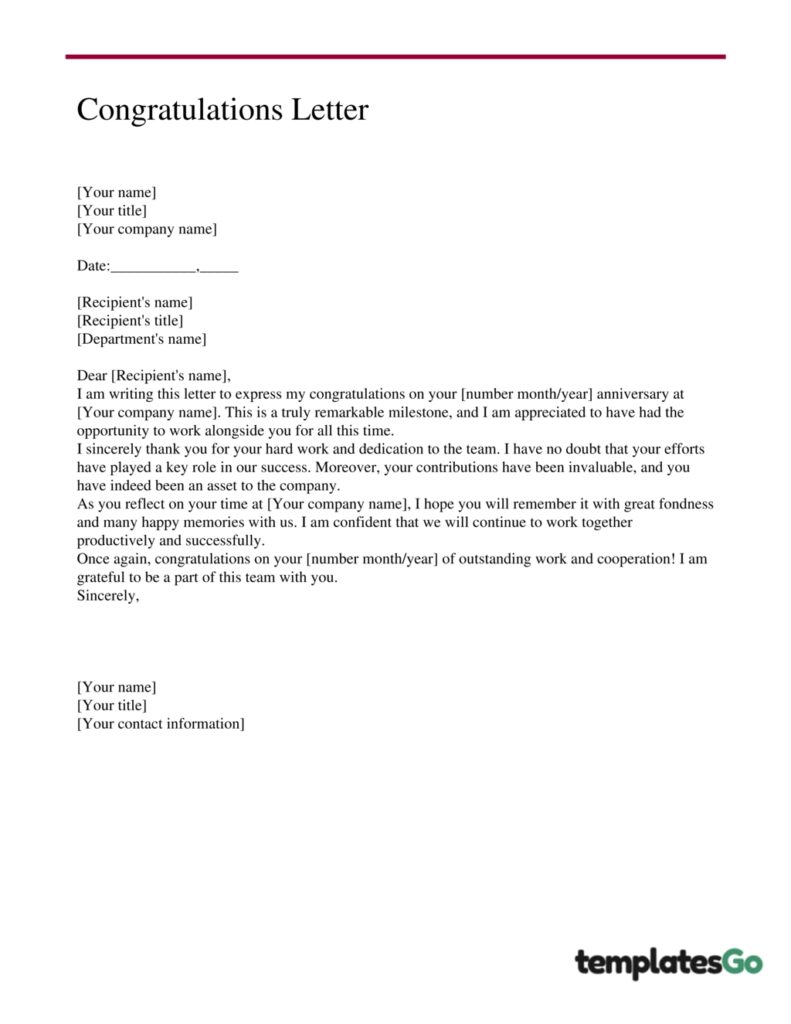 Congratulations Letter Template On Achievement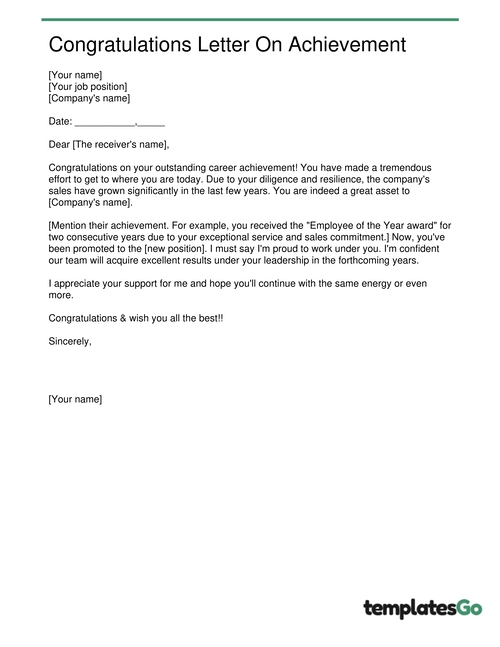 congratulations letter for promotion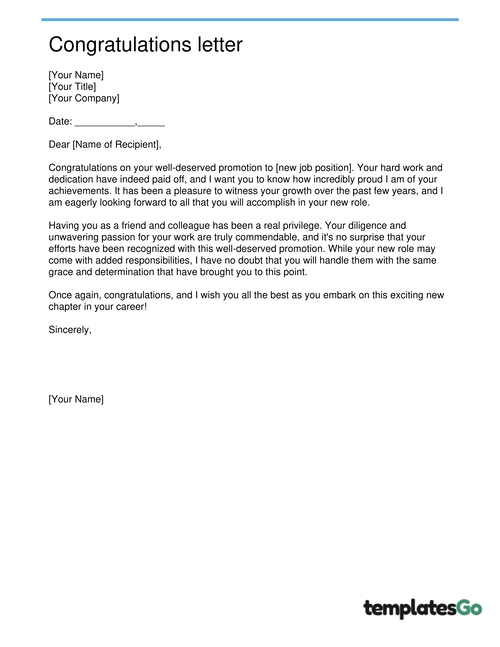 Related Post

Every year we should evaluate our work. If it's been a few years without a promotion, it could be a sign that it's time to have a conversation with your boss. You can consider writing a 🔗promotion letter to discuss your career prospects.
Letter Of Congratulations On Anniversary To CoWorker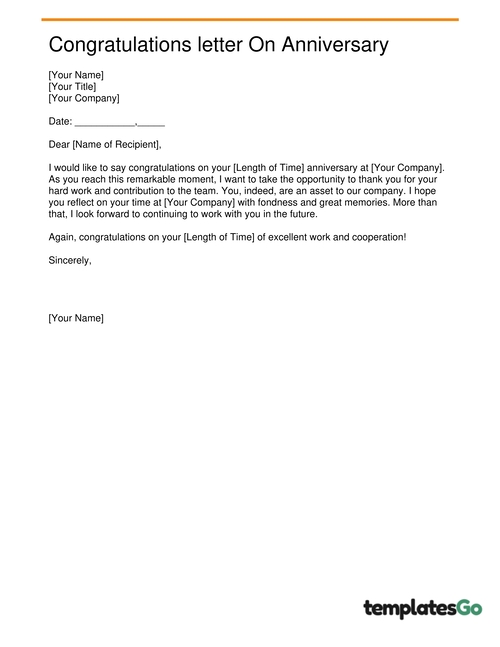 Related Post

Use our 🔗thank you letter templates to express your gratitude to your employer or coworkers when needed or special moment.
How to write a Good Congratulations Letter?
A congratulations letter is an excellent tool for building relationships with co-workers, clients, and others who are important to you. We will walk you step by step through this simple guide that can help you write a successful congratulations letter:
1. Start with a simple greeting
In a congratulatory letter, you may use different tones of regard, such as "Hi" or "My Friend," as well as the person's name you're writing. You may need to use a professional tone with "Dear" for your boss or clients. For example, Dear Mrs. Smith, Dear Mr. Johnson; Hi John; My Friend Michael, etc.
2. Mention the accomplishment
Write about what makes the recipient special or unique in some way—and why they deserve praise for their achievement(s). Even if their accomplishment isn't necessarily remarkable on its own, it can still be worth celebrating when seen through specific lenses (e.g., how long they've been working toward this goal).
3. Express your delight for the receiver
It's essential to express how proud you are of the receiver on their achievement while writing this congratulations letter. Likewise, you may want to express gratitude to them for their cooperation. If the recipient is the one you are on good terms with and you want to say thank you for particular occasions, you can also send a thank you letter.
4. Encourage them with your wish
Regardless of the individual's achievements, always encourage them to go to other extra milestones in their future goals and wish them well.
5. Close your congratulating letter warmly
Reiterate congrats on closing your letter warmly and signing off. If the receiver is one of your clients, you may need to add your contact information to stay in touch.
Key takeaways
To help you write an excellent congratulations letter, here are some tips :
Be personal and use your own words: Your letter should be unique and contain your voice, not someone else's.
Be concise and clear: It's a good idea to keep your letter concise and to the point. While you should definitely take the time to express your congratulations, you don't want to go on for pages and pages. A few short paragraphs are usually enough to convey your message effectively.
Do not procrastinate in sending: If possible, send the letter within 24 hours of receiving news of their accomplishment. Doing this will tell them how much they mean to you right away.
Be professional in specific cases: If you are writing this letter on behalf of your company, then add the letterhead or logo of the company to be professional and formal. You may also need to add your title or role at the company.