A complaint letter is a formal document describing your awful experience or issues to an individual or organization in specific cases. If the matters come from organizations' products and services or harassment in your workplace, you have the right to complain. Therefore, writing this letter about your problem is the step you should take to notify the other party in order to seek a solution. Let's create a free complaint letter in just a minute with us.
Simply select a template for your need.
Your information will be generated into the letter by answering our quick questions.
Review your document and modify the text if necessary.
Complete, and the document will be ready to download in professional format letter.
Three common types of complaint letters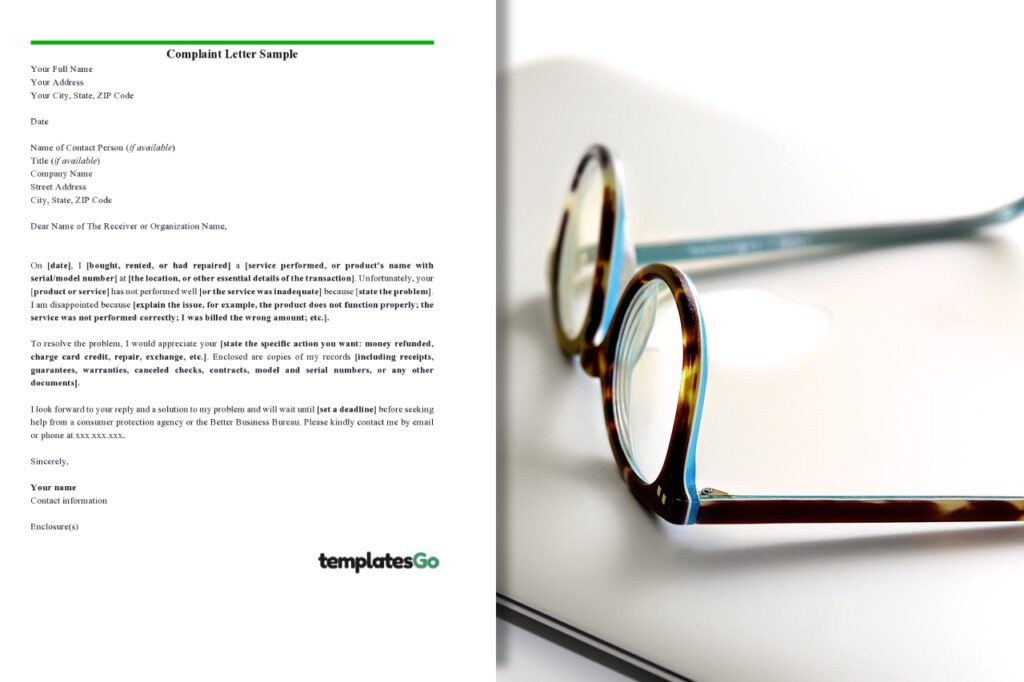 You have suffered an occasion for a while, or the product you bought cost you money for nothing; it's unfortunate. Then you can use this complaint letter to seek justification for the issues that need to be solved. This letter also serves as evidence for legal help later if the party you are addressing the problem with does not provide any proper solution. Here, we will present to you three common types of complaints with their different complaint letter format you should know:
Employee Complaint Letter
Whether an employer or employee, you have the right to complain if you encounter a harmful situation at work. The three most common reasons for writing a complaint are harassment, intimidation, and discrimination. If you are under these circumstances, make a letter of complaint to protect yourself.
Harassment: you receive inappropriate touching or sexual insults from your colleague or boss, usually verbal or physical. It is called sexual harassment.
Intimidation: It is when one employee or your boss has an action that threatens or frightens you. The form of coercion includes blackmail, physical bullying, or abuse at work.
Discrimination: when you receive unfairly treat from another person based on your gender, national origin, age, disability, or other attributes.
Product And Service Complaint Letter
If you have a terrible experience with the products or services you have bought, write this letter to notify the seller or manufacturer. Let them know your problem with the evidence you collected from the product's damage, such as photos, video, etc. This is an excellent way to help them improve their product and service in the future. So, do not hesitate to let them know your matter.
Formal Complaint Letter to higher authorities
You can write this letter about your grievances to raise concerns and seek positive results from the government authorities regarding the matter you face with the Government's services.
Complaint Letter Samples (Editable Templates)
complaint letter For Defective Product Sample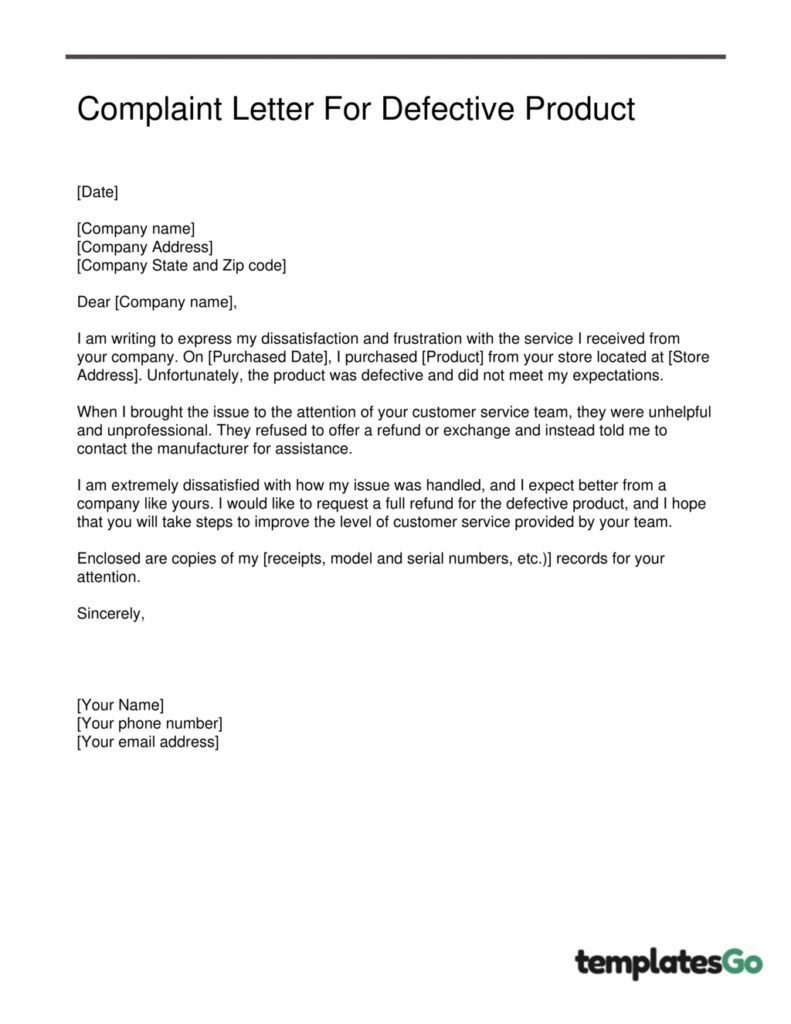 Complaint Letter For Poor Service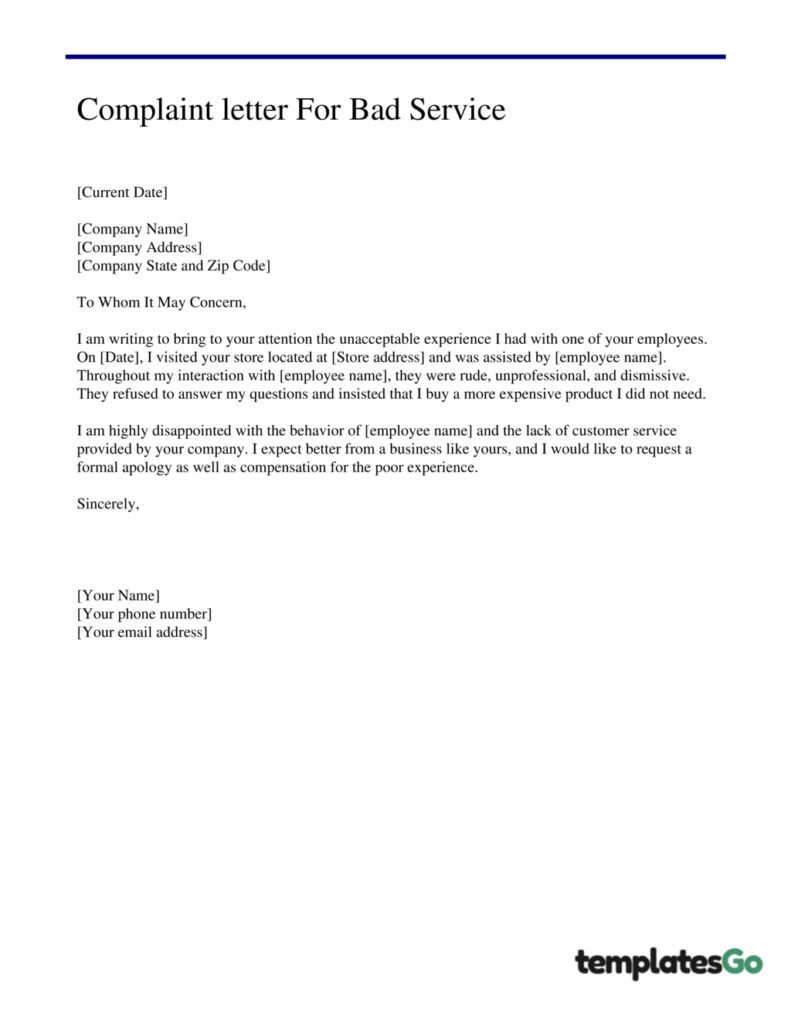 Complaint Letter For Delayed Delivery Online Product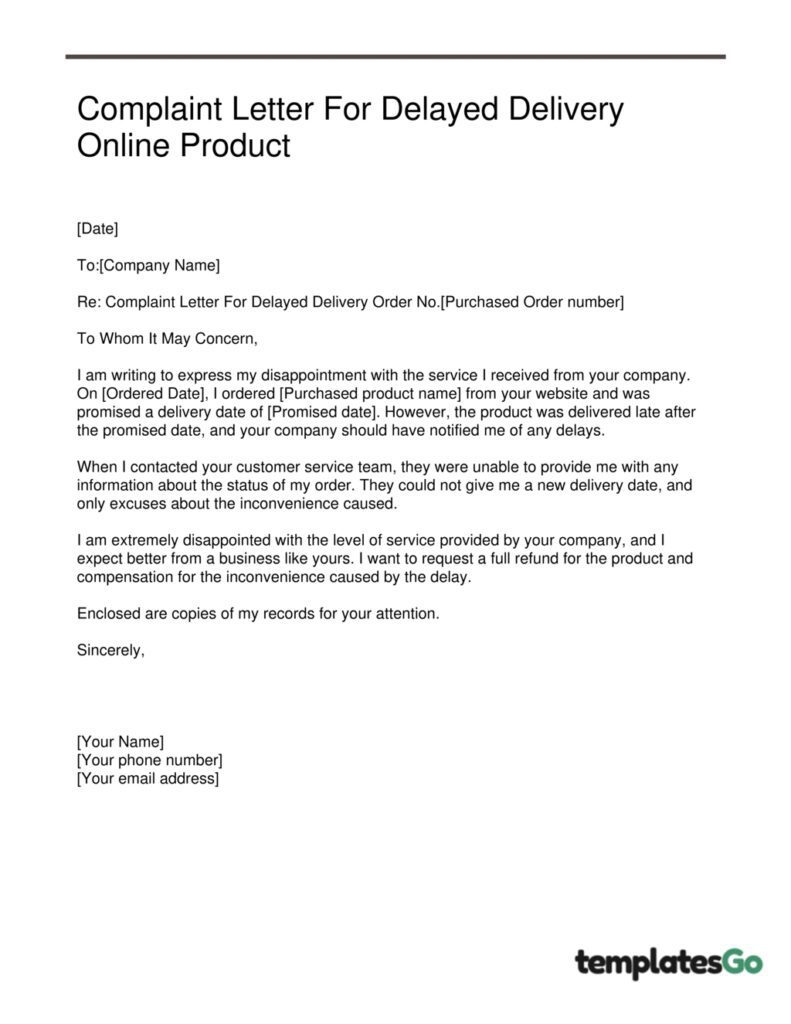 Noise Complaint Letter To Neighbor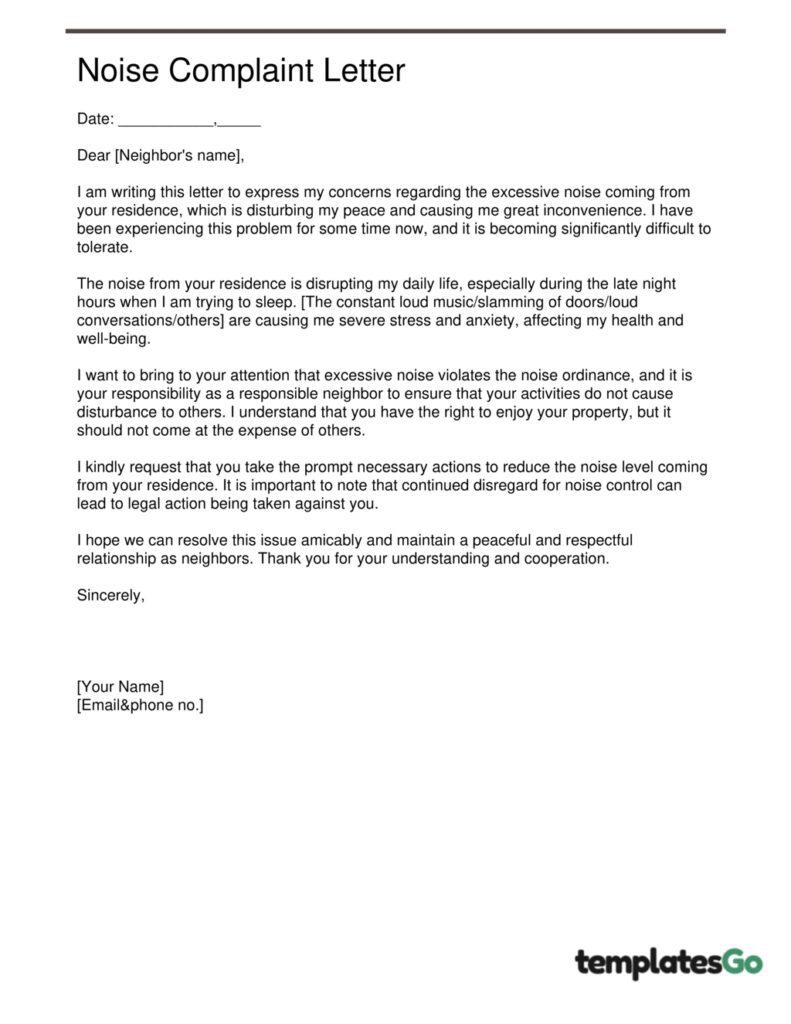 complaint letter to landlord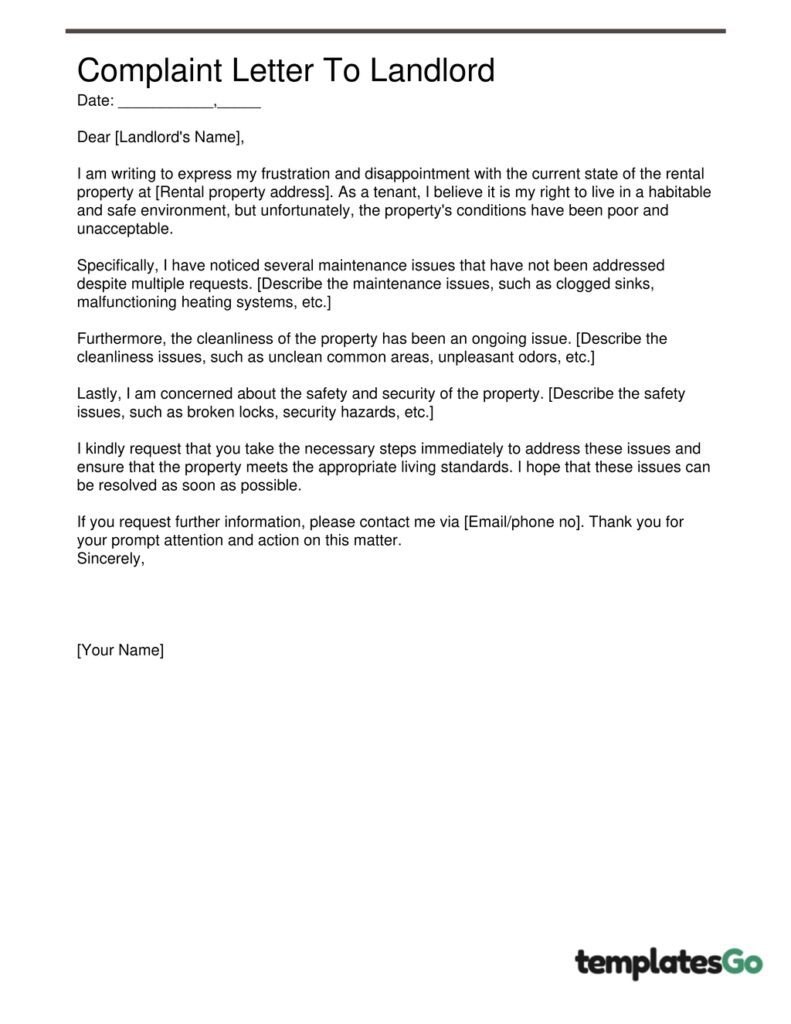 Employee complain letter template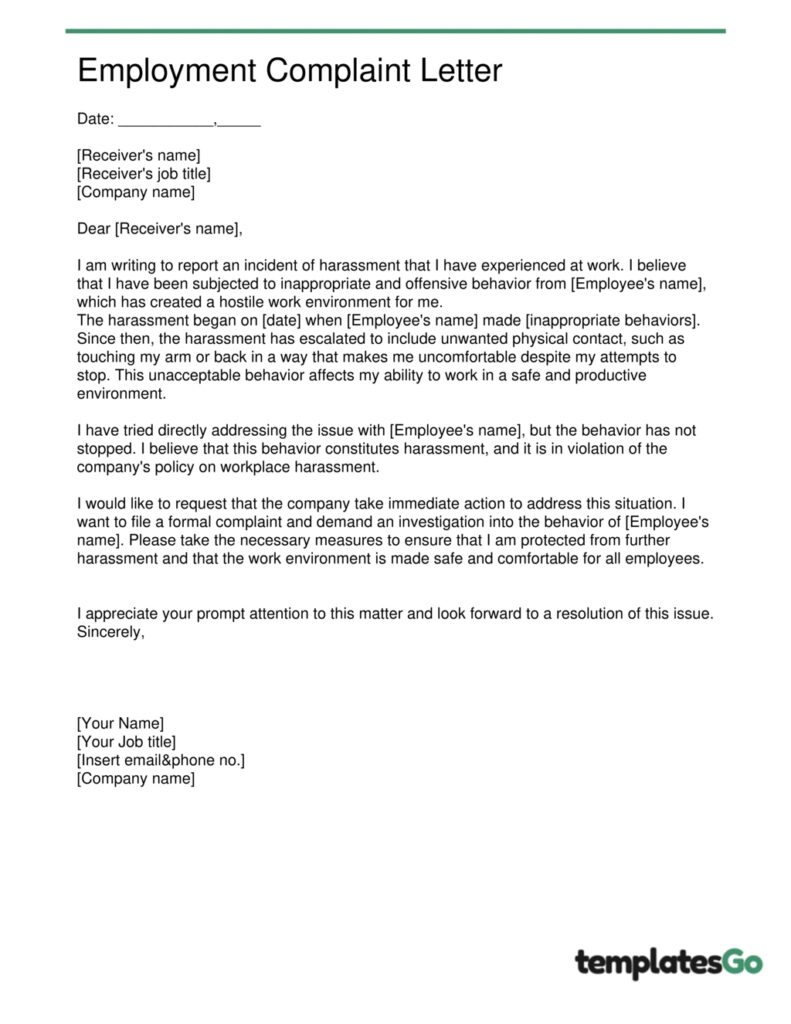 complaint letter example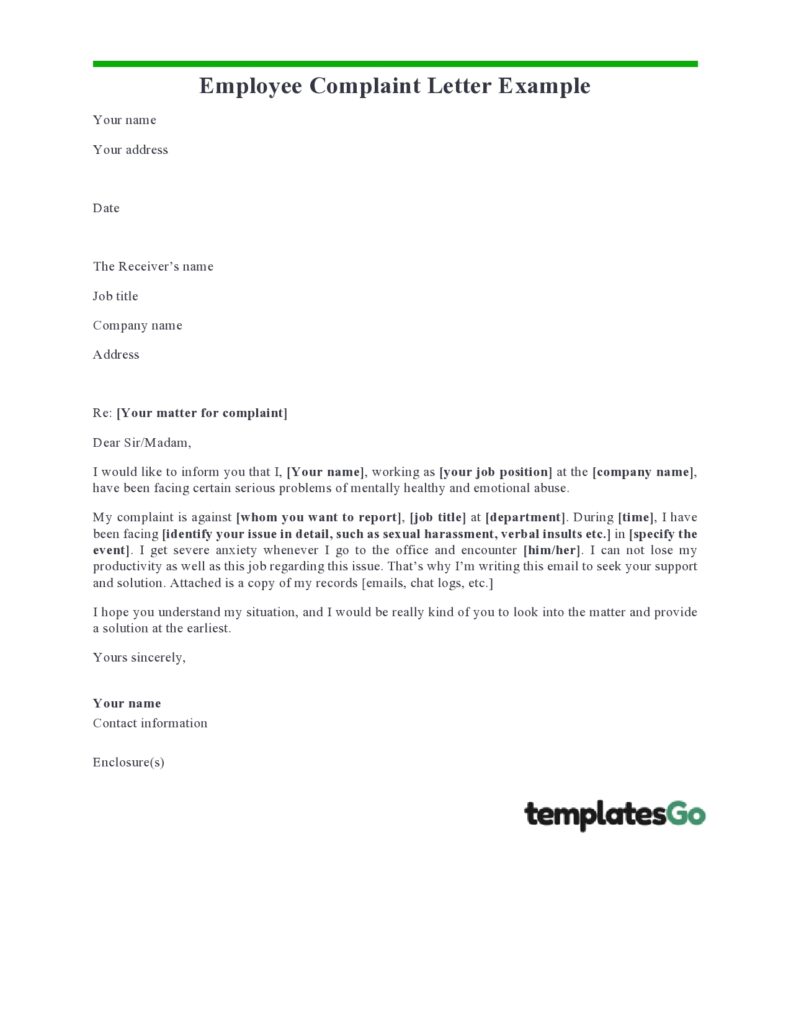 How to Start a complaint letter
Before making your official complaint, try to find a friendly solution with the company's customer service by letting them know about the problems in detail through your formal complaint letter. In this way, you can use a sample complaint letter as a reference to tailor your letter, or if you wish to create the new one from scratch, follow our outline format of complaint letter orderly to complete it:
Start with your name and address.
Add the date when you wrote this letter.
Then, mention the name of the person in charge and the job title. You can add the company name and business address if you don't know whom you are sending.
Include an opening salutation. Ex: Dear Mr./Mrs./Ms or To whom it may concern.
After the salutation, emphasize your intent in the body of the letter. You must express the problems in detail and concisely in three parts: Introductory, Explanatory, and Closing.
Write your salutation, your signature, and contact information.
Remember to attach all your records along with this letter.
Besides, pay attention to the attachment and ensure you have the basic information below:
1. For Product and Service Complaint Letter
Name and location of the store or manufacture
Copy of invoices or receipts.
Your account number if you registered.
Mention the date you purchased goods or services; it is usually written on your receipt.
Add a brief description of the problem and when it started concisely.
If you have previously spoken to a customer service representative or manager about the issue, mention it in the letter.
Attach a copy of previous emails, chat logs, or letters, and photos of product damage, if any.
Adding the product's serial and model numbers is vital to help detect the problem faster.
Your contact details
2. For Employee Complaint Letter
Introduce yourself in the first sentence.
Specify and explain the harassment that happened.
Write the details of when it occurred.
Describe the fact of how you responded and your feeling.
Declare your purpose.
Suggest your solution to solve the problem.
Key Notes

- Even though you are angry with your issue, you must avoid using offensive language in the letter.
- Remain in a respectful and constructive tone of voice despite your emotional upset.
- The length of letter should be on one-page only. Keep it short and concise.
How to Officially complain about your matters
Gather your records
The first essential step before writing this letter is collecting all your documents regarding the issue you want to complain about. It will help you craft and organize your idea to compose a good note. After that, attach all the proof you have with the letter, such as sales invoices, contracts, valid warranties, or photos of product damage.
Note

You can attach the copy to send by email or post mail, but do not lose your original paper as it is a crucial record for the case.
Find out and Contact the Sellers or employer
You may need to know who will be responsible for solving a complaint in your company in order to address the matter to the correct receiver; it could be your boss or higher authorities. Once you find out to whom you should send this letter, it is recommended to set up a meeting to talk in person first so that they can know the overview of the matter before receiving your letter of complaint attached with records.
You can call the retailers or manufacturers' customer support regarding products and services. Still, we do not recommend it because calling customer support recently is annoying, and you must first find the correct phone number. Then, you will wait and listen to a long automated system to direct you to the correct department you can speak about your matter. Indeed, It would be a fantastic way to express your problem if you not be stuck too long waiting on hold to talk to a particular person in charge.
Instead, you can send this letter first to notify them through their customer services website or their contact information by email. Nowadays, most companies will have a bot chat or online chat to contact directly on their website and tell them to check the email you sent to provide a solution. Doing this will save you energy and time in waiting on hold for so long.
Seek legal help
Despite sending a complaint letter, you haven't received any positive outcome to solve this matter. Then it is your time to consult with a licensed lawyer or seek help from 🔗a consumer organization or local Government. This link will provide contact instructions to go through the legal system from the Government and find low-cost legal services.

Conclusion
Writing a complaint letter needs to explain the reason with eligible evidence precisely. Though this matter does not happen often, you will encounter a situation in which you need to send a complaint letter to help the receiver improve their services/products and compensate for what it damages to you. If you like our post, follow us for more professional topics and editable templates at work and personal life!