A roommate agreement is an essential contract between roommates who reside in the same rental unit to outline the house rules. The agreement defines each roommate's responsibilities regarding rent, utilities, and other conditions. It also establishes who will be responsible for cleaning, repairs, parking, and other shared spaces, such as the kitchen or bathroom. A roommate agreement differs from a 🔗 lease agreement, which the landlord is not required to include. The primary purpose of this agreement is to set specific rules among tenants to live together with complete respect.
Why don't you save time using our standard Roommate agreement template to edit and customize your contract faster?
Click on one of our templates to edit.
Fill in your information quickly and customize it freely.
Download your doc immediately in a professional format letter.
What should be included in A Roommate Agreement?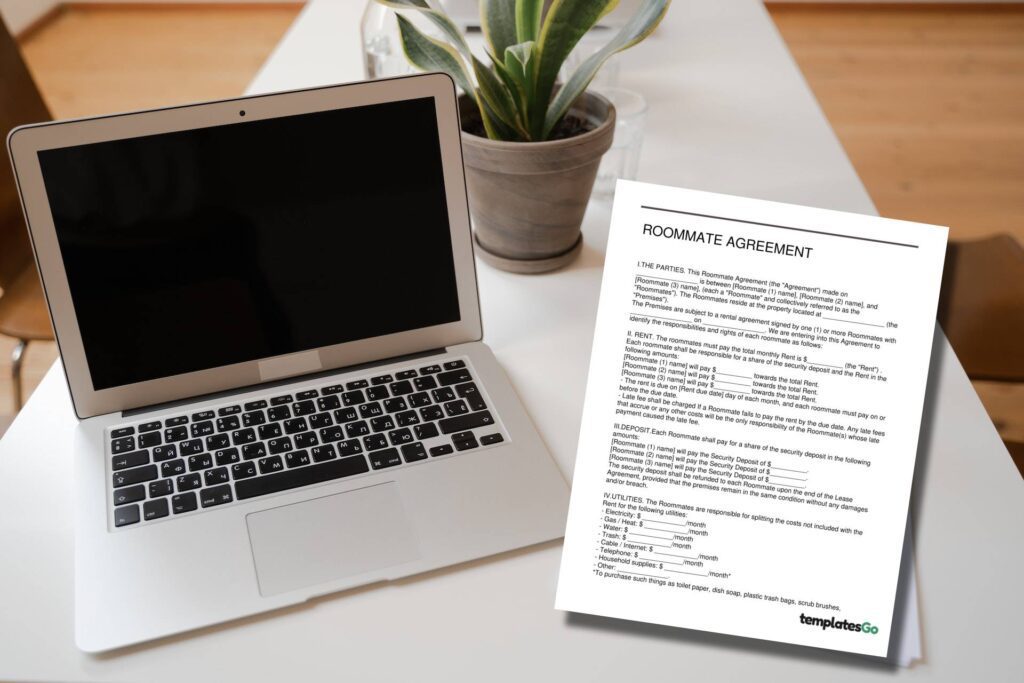 The Roommate agreement should include the following information:
The name of all occupants at the rental property.
The address where the rental unit is.
The date of the contract.
It is optional to mention how long you will live together (e.g., one year).
Include the rent amount of each roommate and the security deposit (if applicable).
Specify the rent due date and whether or not late fees are levied if rent is not paid on time in the roommate lease agreement.
Define the cost of utilities to share among tenants, such as electricity, gas, and others (you can choose to divide these expenses equally).
Clarify the method to purchase the Household supplies or who will be responsible.
Define who will clean specific areas of the house (i.e., bathrooms, kitchen) and other duties when necessary - this should also be specified in your Roommate Agreement and attach a 🔗 cleaning schedule. Hence, clarifying each roommate's responsibility will avoid misunderstandings later on down the road!
Mention notice of Termination and grace period can be optional.
What Are Special Conditions to Consider?
We list the following items that are well-known as the leading causes of conflict among roommates. If any of the following can present as a problem, write out any needed additional conditions and attach them to this agreement.
Overnight Guests
Guests (those who are not roommates) may be allowed or not to stay on the property. If you all agree to allow guests, it is recommended to ask for written permission by message or email from all roommates.
Pets
First, check the lease agreement with the landlord to see whether the property allows pets. If permitted, the roommate rental agreement should state clearly that the pet owner is responsible for all care and any damage caused by the animal. You may also include that they are responsible for cleaning up after their pet. Suppose your roommate brings an unregistered animal into your home without permission and it causes damage or otherwise violates local laws. In that case, you may choose to evict them and/or take legal action against them.
Smoking/alcohol/drugs
Check the lease contract to see if your landlord permits or not smoking/drinking alcohol at the rental unit. In case it is Yes, you'll need to agree on whether smoking inside the house is allowed or not among the roommates and specify which areas. Drugs must be prohibited in all cases in the roommate agreement.
Note

If you are caught breaking any of these rules, your landlord can 🔗evict you without warning and without refunding any of your security deposit, which will be considered a violation of this agreement and grounds for immediate eviction.
Quiet hours
Each roommate can agree to establish any rules of quiet hours on the contract or not. For example, to keep their noise to a minimum to allow the Roommates to sleep, work, or for other purposes. Specifically, you can also set a time during weekdays or weekends in the roommate agreement. For instance, The quiet hours will go into effect from [TIME (AM/PM)] to [TIME (AM/PM)] on Monday to Friday.
Firearms
Suppose your lease agreement with the landlord does not have this condition. In that case, all the roommates need to reach a mutual agreement to allow using firearms on the Premises or not. However, we bring up this condition here because it has become one of the most dangerous causes in the community.
Important

As a roommate, you are expected to abide by the terms of this agreement with applicable laws and lease agreements. Please note that all occupants must be 18 years or older. Roommates may not sublet the room without their roommates' and/or landlord's permission.
Roommate Agreement Templates
Our templates are customized for Roommate lease agreements from the three tenants above. You can use our editable template to edit the text as well as adjust the quantities of roommates freely after answering our simple questionnaires. Now you do not need to create this contract from scratch or copy-paste text.
Roommate Contract Template (With Lease)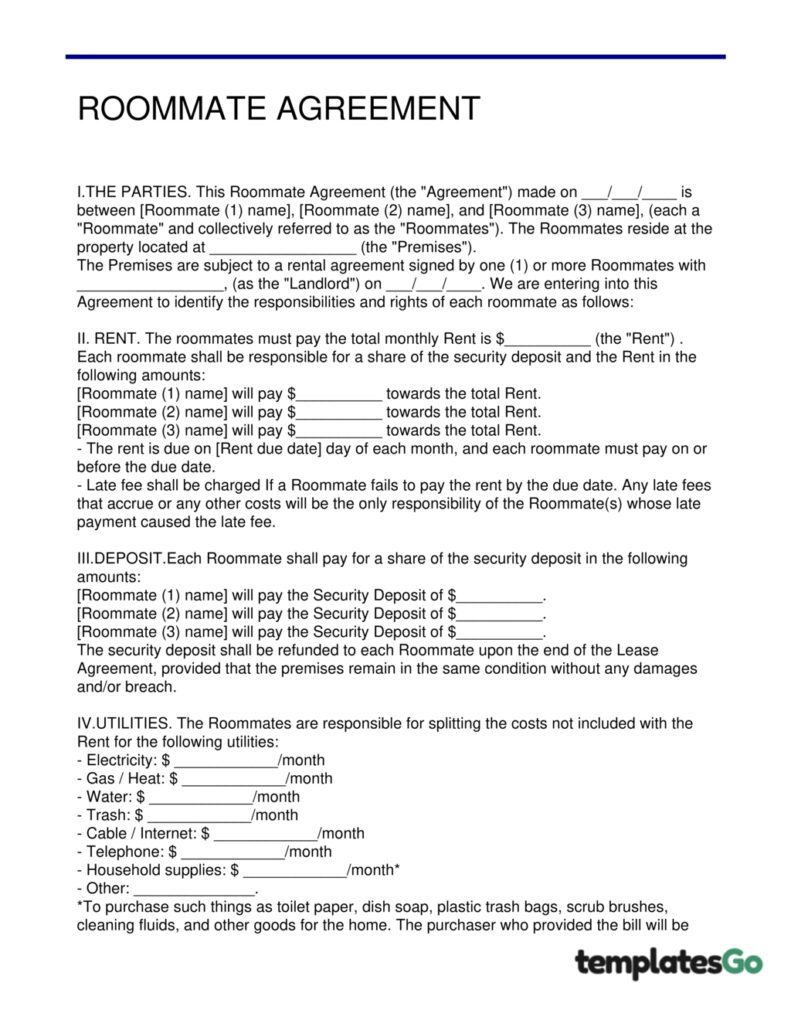 Simple Roommate Agreement Template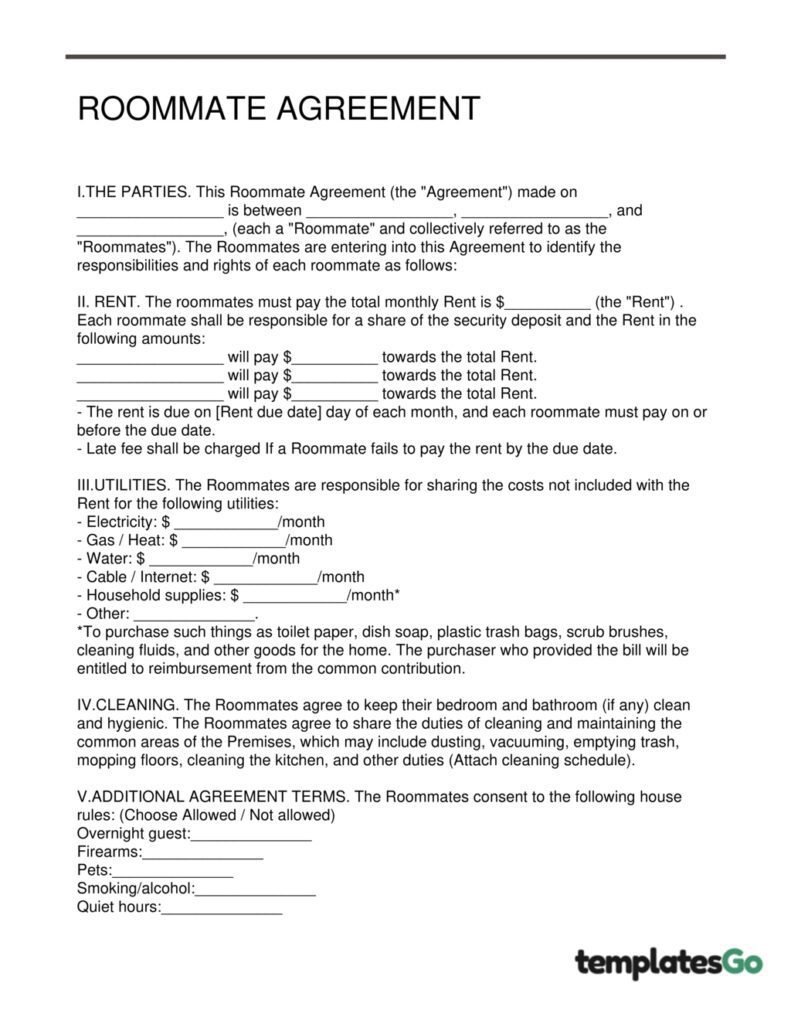 College Roommate Agreement Template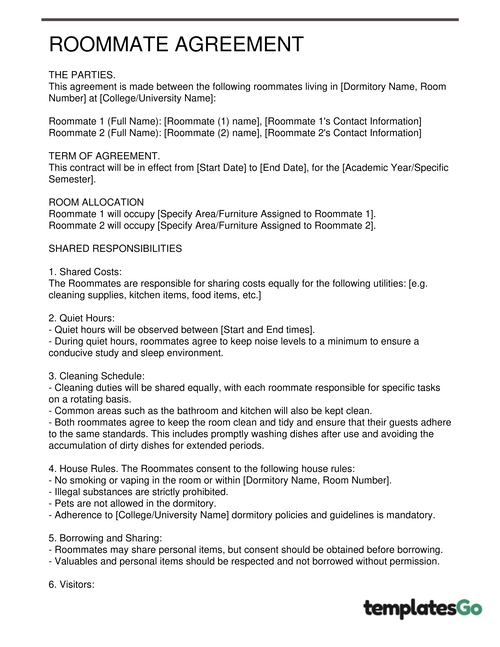 Related Post

You may be interested to know about 🔗Sublease Agreement and what it is for. This agreement is for the case when you need to be absent from your rental property for a while and transfer your lease to the new Subtenant to cover the cost.