A sublease agreement is a document used to transfer one tenant's rights to another. In this way, the original tenant can continue occupying the premises while someone else inhabits it. This is important when a person as the Sublessor cannot afford to pay rent on their own or for other reasons. This article will briefly highlight the main points to help you understand your research. You can always use our document creator to create this free sublease agreement faster in a few steps:
Select our templates.
Fill in your information by answering our quick questions.
Review your answers in highlighted color and download this contract in business format, ready to print or send.
Remember, you can always edit the text freely before and after downloading your document.
What should be in a sublease agreement?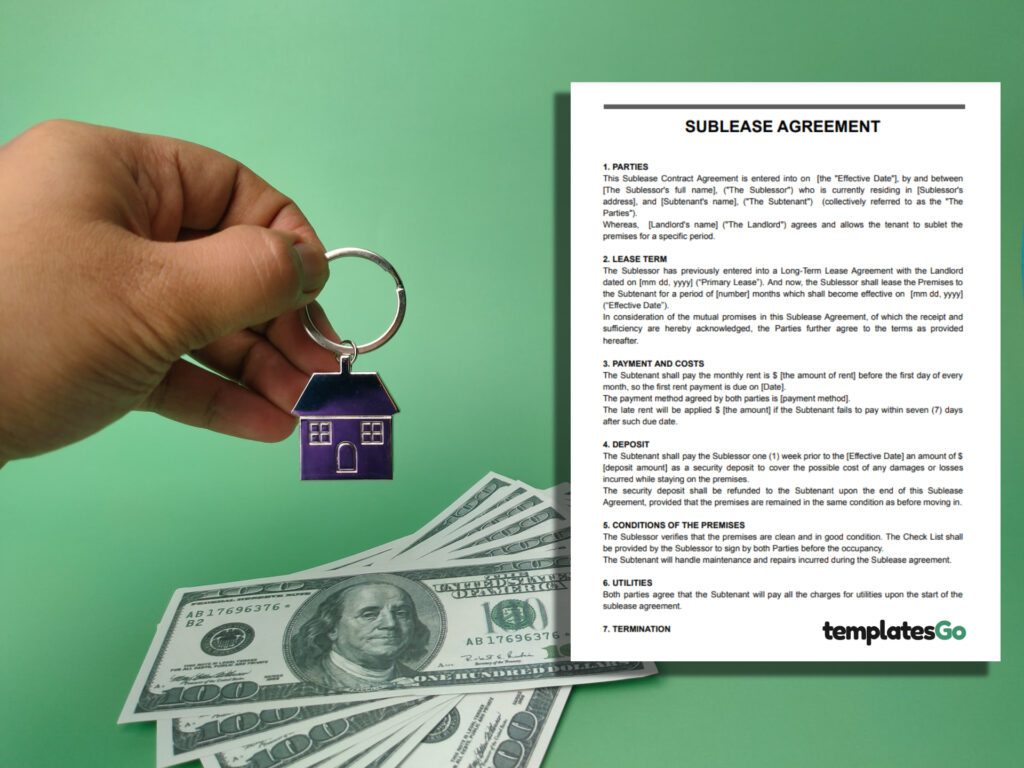 This type of agreement should include all relevant details about the arrangement between you and your tenant, such as:
Who the parties are (landlord and tenant/lessee)
Where the property is located (address)
How long does the lease last (length of time)
Rent amount due each month (rent amount)
Security deposit amount due at signing of the agreement (security deposit amount)
Maintenance responsibilities;
Other terms and conditions are specific to your situation (e.g., pets allowed on the property).
Simple sublease agreement template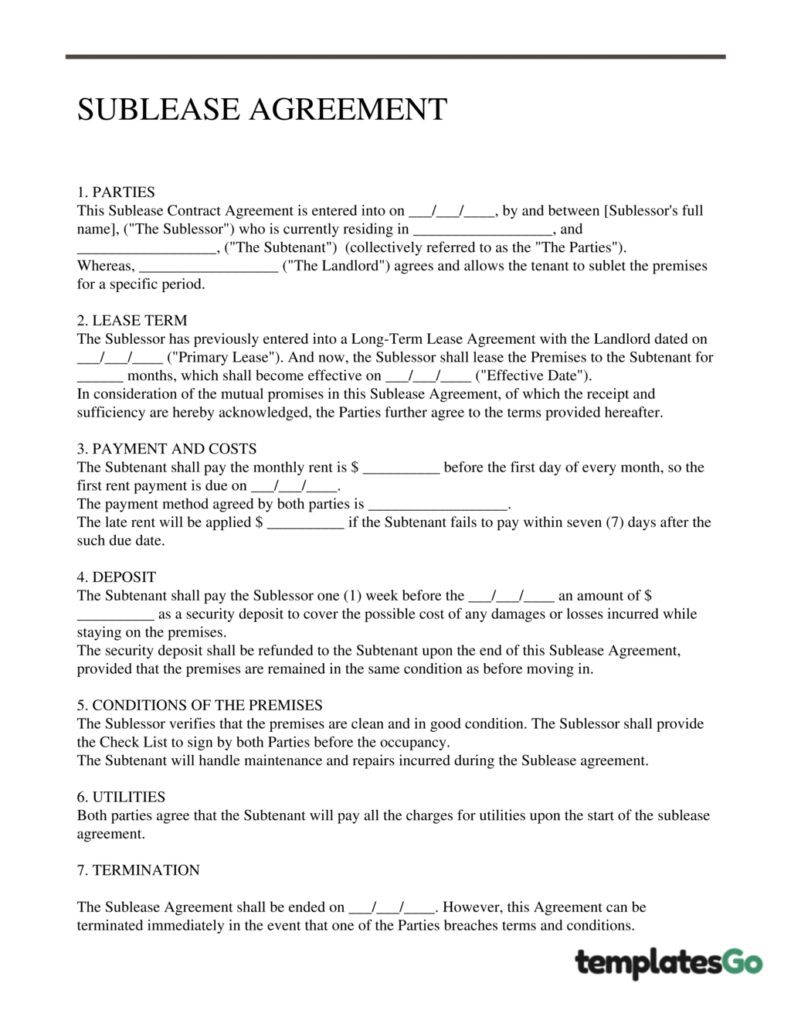 What is the primary use purpose of sublease?
It's important to understand that a sublease is essentially the same as any other rental agreement, except that it involves two parties instead of one.
Subleases allow current tenants moving out of an apartment to find someone else who can take over their lease without paying rent until they move back in later down the road (usually around six months or so). This can be advantageous for individuals who have already signed a lease but do not want to live there for whatever reason. Or as we mentioned before, some tenants are not affordable to pay for a whole property, and they wish to sublet it to share the bills.
For example:
The common use of this contract is for traveling purposes. A tenant can sublet their rented space to cover their rent cost while traveling. Many people choose this way because they do not want to start over the process of looking for a new place after coming back.
Young professionals who need to move to work in another city for a while would use a sublease agreement rather than terminate their lease.
How to Sublease an Apartment in 5 Steps
Before starting your sublease process, research to see if this agreement fits your need. For example, your situation may require you to be absent for more than one year; then, you may consider 🔗terminating your lease early and moving out.
1. Get the landlord's permission
Reviewing the original 🔗lease agreement to determine if you can sublet legally according to the terms and conditions is essential. If the lease agreement allows you, the next step is to get your landlord's permission. You will need to prepare a landlord approval letter ready for both parties to sign.
💡 Important

Get your landlord's signature on this approval letter to confirm the permission to begin the process of creating a sublease agreement and avoid any misunderstanding that can occur later.
2. Find a sublease agreement template online or create your own
If you have never done this type of contract before, we recommend you read our sample sublease agreement for your idea. This is the most practical way to help you know the contract's form and not miss out on the critical elements you should have in your agreement.
3. Find a subtenant
Make sure the person you are subleasing to is reliable and trustworthy. Roomies are one of the most common places where you can find your potential subtenant. This platform allows people looking for a room or apartment to post their profile and budget in a specific location. Another alternative website to look for your subtenant is Sublet.com, a site focused mainly on subleasing.
Ensure you screen your prospective subtenant properly by verifying their income and running a credit check to prevent troubles while you are absent. Additionally, your landlord may require this information before giving you their approval.
💡 Tips

To save your time, you can also run the same application screening process your landlord ran when you applied for the rental unit.
4. Think about the amount of rent to be paid
You will need to decide on how much rent to charge for the property and when it is due. However, don't assume you can charge the new tenant an extra amount. Rocket lawyer advised that It is curial to check your local laws in rent-controlled cities because there are states that prohibit making more profit than what you pay to your landlords, such as New York and San Francisco.
5. Sign A Subleasing Agreement
Finally, you reached a mutual agreement among all parties. Have both parties sign the sublease agreement, taking care to make copies of everything for each party's records.
If you sublet your rental unit and still live there, you may need a 🔗roommate agreement to set the home's rules.