Are you a landlord who has been approached by a tenant seeking permission for an emotional support pet? Or perhaps you're in need of a rental pet agreement template that can help you establish standard guidelines in rental property. Look no further! Templatesgo is here to assist you. With our agreement template and convenient online document maker, you can effortlessly create the contract you require in just a few clicks. Here are three simple steps to guide you through the process:
Choose the template that suits your needs.
Provide the necessary information by answering our short questions.
Review your document and download it for immediate use.
Pet Rental Agreement Templates
In general, most landlords do not want a pet residing in their rental property to avoid any excessive damages. However, if you are in a situation that you must accept, creating a rental pet agreement or a pet addendum to lease can help minimize the loss and headache the pet may cause. Here we will provide you with our professional templates of the contract and addendum for easy use.
pet policy rental agreement
Below is a standard pet rental agreement with two pages. We created the contract outlining the most common restrictions and conditions for having a pet on the rental premises. Additionally, you can use our document creator to customize the template and modify the text to meet your requirements. Click on the template and create your own now!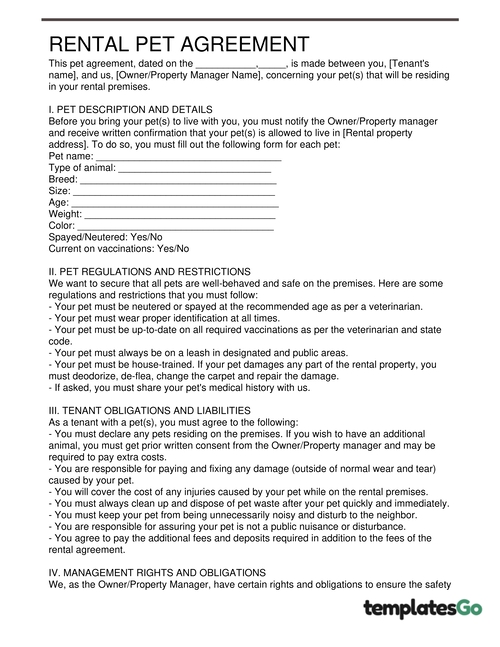 Pet Addendum To Lease Template
Another common way to establish a pet's regulations on the rental property is to create a pet addendum for the lease. This addendum also serves as a legal document and forms a part of the original lease that most landlords use.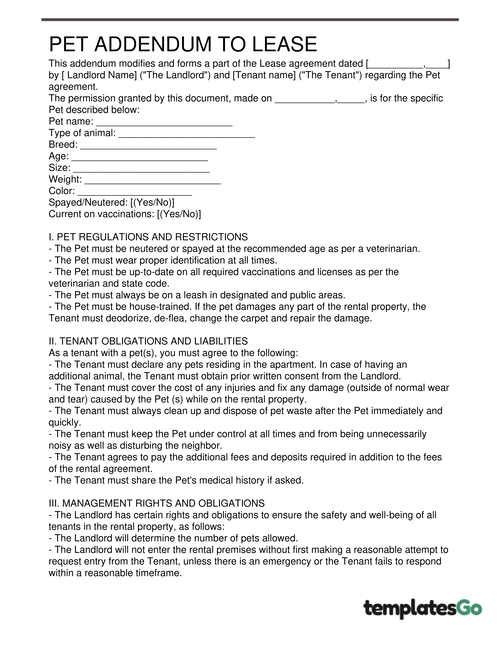 free pet addendum to lease agreement
Generally, common contracts or addendums are pretty long to outline as much as conditions for a pet's control of the rental unit. And we understand that not always long document is an option. Particularly, a healthy relationship between landlord and tenant still exists, and they probably need a simple template for a pet agreement. For that reason, we provide a simple one-page pet addendum to the Rental agreement that you may want to use.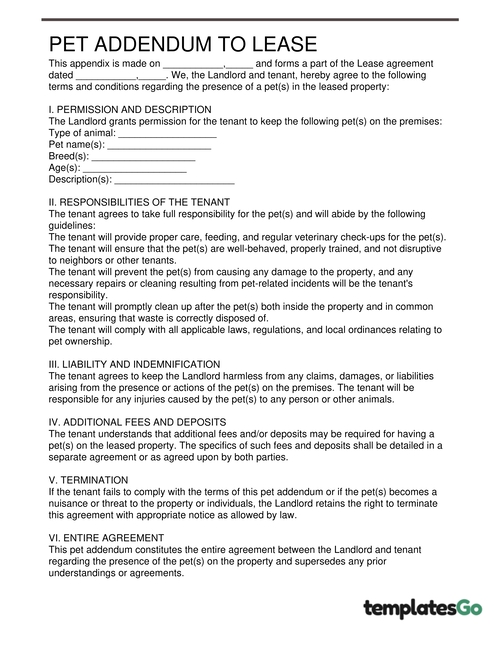 What is a pet rental agreement?
This document serves as a legally binding contract that brings together the landlord (property owner) and the tenant, establishing clear guidelines for allowing pets in the rental premises. It outlines specific terms and conditions that both parties must adhere to. This agreement covers a range of crucial aspects, including any limitations on the number of pets allowed, rules and responsibilities related to pet care, additional fees or deposits, and the tenant's liability for any damages caused by their pet. Moreover, the agreement may incorporate specific requirements set by the landlord concerning the pet's behavior, vaccinations, or licensing.
In certain situations, a tenant may require the accommodation of an emotional support animal, which the landlord can not deny. Then, a pet rental agreement plays a vital role in ensuring that both parties know their rights and obligations regarding having pets in the rental property. It is a valuable tool for establishing mutual understanding and respect while safeguarding the property. Also, landlords have the option to create a pet addendum to lease, which is equally binding and helps provide further clarity and guidelines regarding pets.
💡Important Note
According to Federal law (42 U.S. Code § 3604(e)), it is necessary to note that a landlord is not allowed to charge a pet fee to a tenant if the animal serves as an emotional support animal. In such cases, the tenant is protected under this law and cannot be subjected to additional fees for having an emotional support animal.
On the other hand, the landlord has the right to charge a pet fee if the pet is not used for emotional support. The amount of this fee is at the discretion of the landlord unless there are specific state regulations in place that impose a maximum limit on pet fees.
Conclusion
With Templatesgo, creating a comprehensive Pet Policy Rental Agreement has never been easier. By using our templates, you, the landlord, can save time and effort in creating a complicated contract. Instead, with our customizable forms, you can edit and personalize the text to download quickly. We also have 🔗rent increase notices and 🔗eviction notes for landlords to utilize in any problematic situations with tenants.