The time has come, and the decision has been made; you decided to move out! Whether you early terminate your lease or your lease will expire soon, sending a notice to vacate is necessary to inform your intention to the landlord formally. There will be several factors you should take into account while writing this letter. This article will give you an overview of how this notice works and what information you should include in this notice to vacate the letter.
In this article, we offer you editable templates where you create this letter faster in only three (3) steps.
Use our editable documents tool online to input your information.
Then, you can review and edit the text freely.
Hit the button to complete, and your letter will be generated in good format and ready to use.
What is a Notice to Vacate?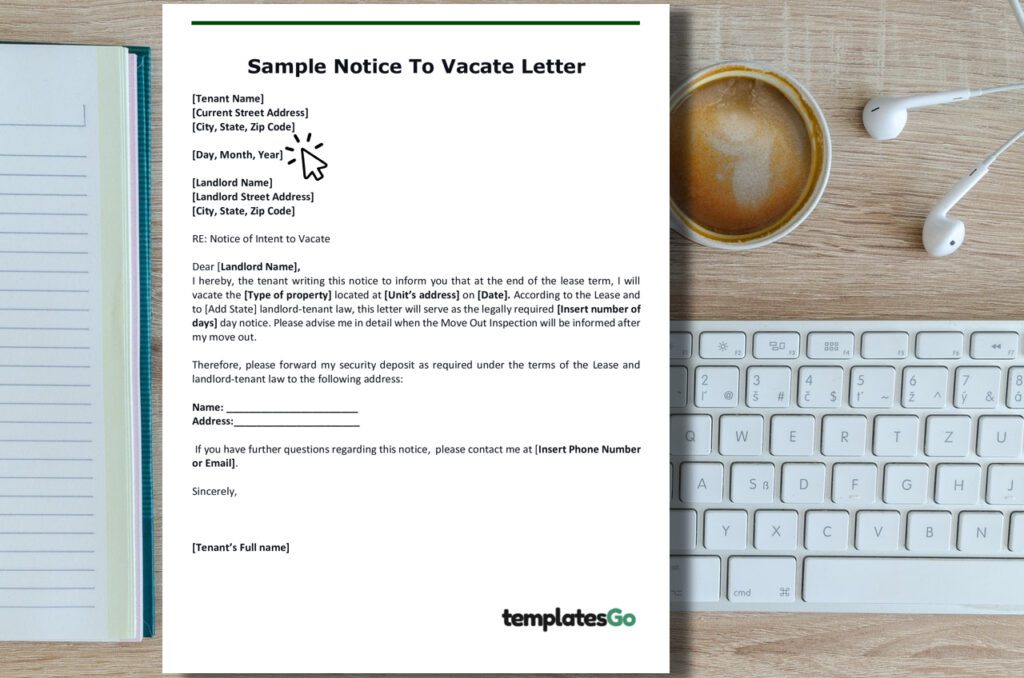 The notice to vacate letter is a written document from tenants to inform the landlord of their intent to leave the unit when the lease ends. However, many cases lead the tenant to break the lease early with the landlord's cause. And terminating a lease before it expires can cause additional fees, or you may not get your security deposit back. If it is your case, we suggest checking your 🔗state's rental laws before delivering this notice to vacate.
Therefore, notice to vacate also has different names such as Notice of Intent to Vacate, lease termination letter from tenant, Letter to Vacate Premises, etc.
💡 Highlight

However, suppose you need to move out before your lease expires. In that case, we recommend writing 🔗 an early termination letter explaining the reasons for negotiating the loss with your landlords. Some landlords are tough to persuade, but they could probably reconsider if you have an inevitable cause.
What information should include in a notice to vacate?
Name and address of tenant and landlord
Remember to add the landlord's address is often shown on your lease contract. The landlord may own different premises, so check it carefully to ensure you write the exact full address on the lease.
Property's address
Use the address of the rented unit shown on the lease agreement because the landlord may have other properties to rent.
Date
Including the date this letter is written to be legit within any time stated on your lease agreement is essential.
Purpose of Notice
Given reasons to move out if you terminate the lease early with cause. If you quit without cause, it's an option not to write the explanation.
Requested Move Out Date
Review the clause that indicates the required amount of notice to give before terminating the lease (if any). Conversely, if the lease does not mention, the tenant can add the exact date wishing to move out.
Required Advance Vacate Notice Period (month – to month lease agreement)
Each 🔗 state's landlord-tenant laws require the notice period the tenant must give a landlord if they want to legitimately quit the 🔗 month-to-month lease. The notice period to vacate can vary from 7 to 60 days, depending on state and local laws. Therefore, the landlords can plan to find alternative renters in advance and avoid a loss from empty units. For a fixed-term lease agreement, the landlord may indicate vacate notice period, which the tenant must follow on the contract.
Desire For Move-Out Inspection
Typically, the landlords often request to perform a final walkthrough before the tenant moves out of the premises. Review the move-in checklist to ensure the property remains the same as the moving-in. You never know if your landlord may try to find minor problems to deduct your security deposit.
Security Deposit Return at the end of lease
Depending on each 🔗state's security deposit laws will provide how and when the landlord must return the tenant's security deposit. A clear statement should be written in the letter by the tenants when they are entitled to receive the 🔗 security deposit back.
Forwarding Address
It is a location where the tenant wishes to receive the security deposit back and other documents after leaving the property.
Tenant Signature and contact information
The formal letter will require the tenant's signature to be legible. Therefore, giving contact information to keep in touch with the landlord is necessary after moving out for any related paperwork to deliver.
Samples Of Notice to Vacate Letter
Use our editable template to help you create this letter faster. Simply answer our short questionnaire to input your information. Then, you can review and edit the text freely before downloading this letter in a PDF file.
Notice To Vacate Template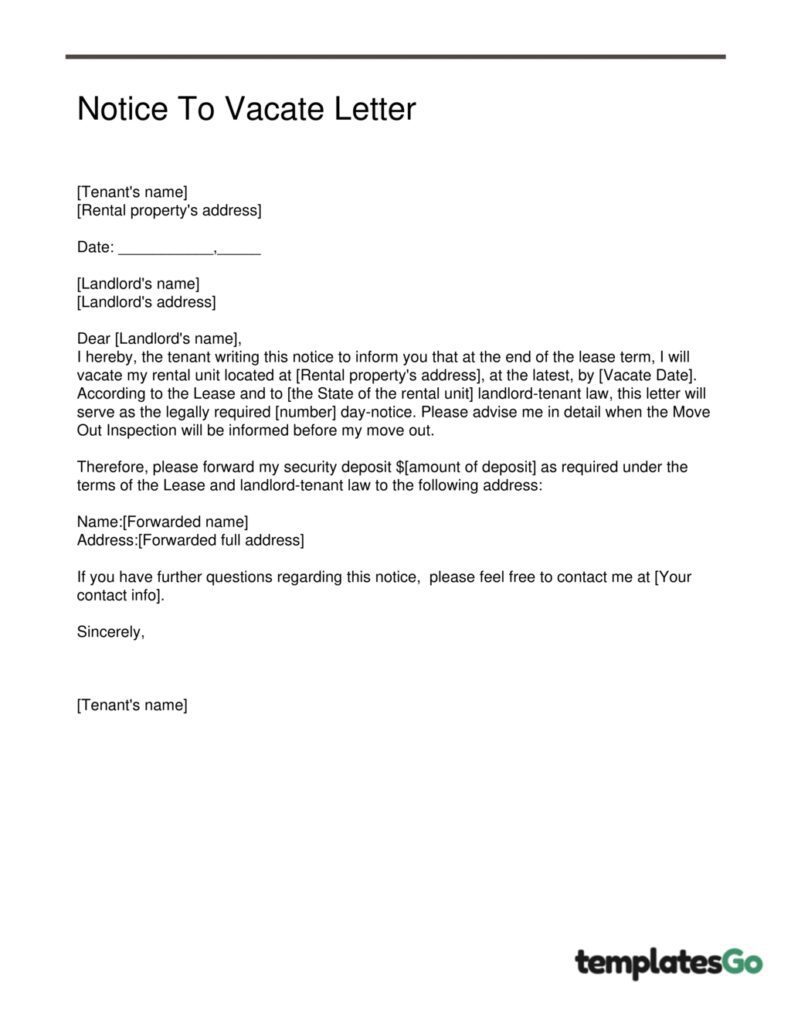 30 day notice to vacate Letter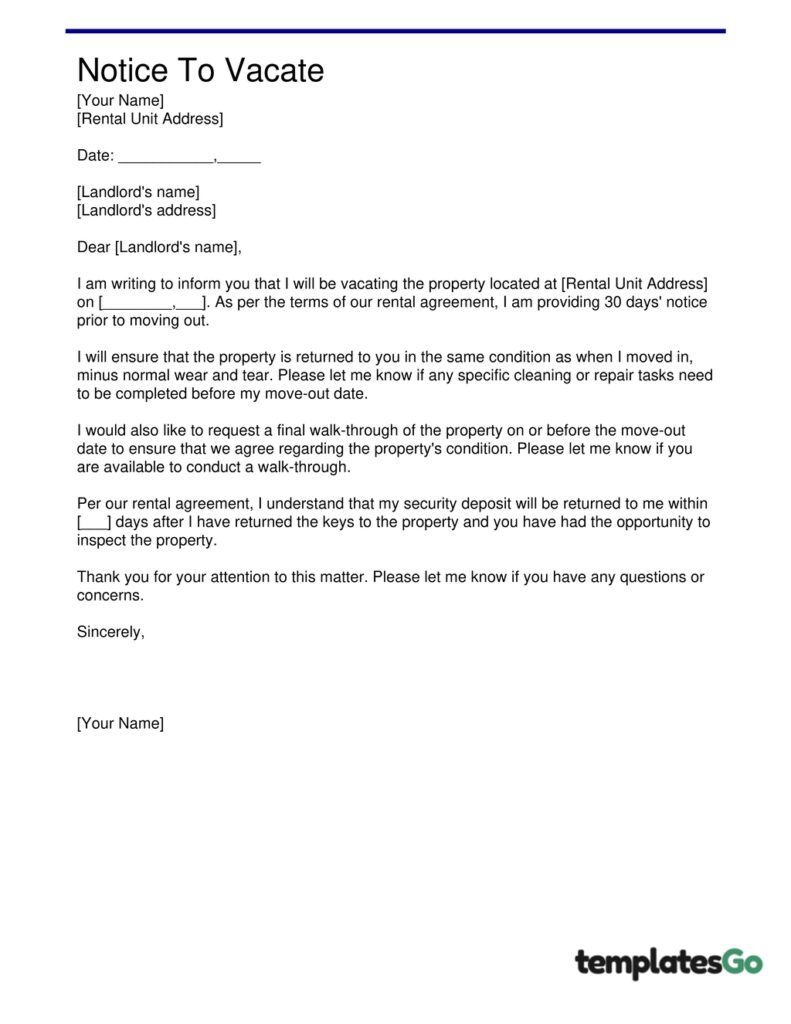 tenant notice to vacate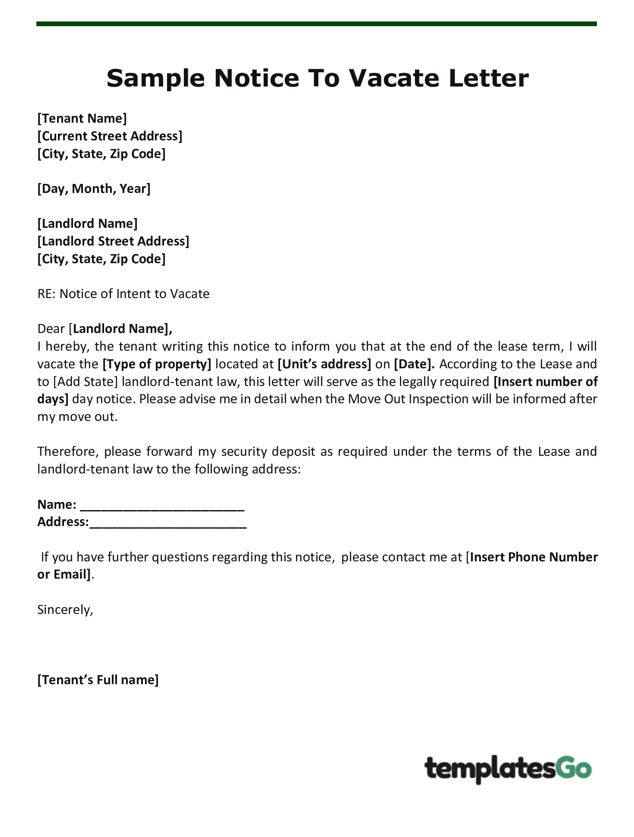 How to Send a Notice to Vacate correctly?
There are several ways to can handle this notice of intent to vacate, as follows:
Delivery In Person – If the landlord lives nearby, the tenant can hand deliver and have a verbal conversation for further discussion.
Certified mail – Sending out an original notice to vacate through USPS service that provides a receipt of mailing to the sender is highly recommended.
By email – If the renters have a good relationship with their landlords, they can choose this way to inform the landlord by sending a scan of the original letter via email. However, it is always good to formally send this letter via certified mail to get a signed proof of receipt.