A month-to-Month Rental Agreement is a short-term rental contract that allows the tenant to rent the unit monthly until either tenant or landlord provides a notice to end the lease. The most 🔗 standard period time is 30 days, which most states require. It is a practical contract with more straightforward conditions that adapts to landlords and tenants with the same need.
In this post, we will provide you with an editable template of month-by-month lease agreements to create a professional rental agreement month to month.
Select our templates.
Fill in your information by answering our quick questions.
Review and download your contract in pdf format, ready to use.
What you should know about Month-to-Month Rental Agreement
👍Pros for Landlord
Additional income in high season
A monthly rental agreement sounds juicy for some landlords who could squeeze every drop to win more money. They can follow the high season to adjust the rent when the market is in heightened renting demand. To do so, you must send your tenant a 🔗 rent increase notice before raising your rent.
Moreover, short-term leases always carry more risk when the tenants can leave at any time with proper notice, enabling them to pay higher rent than a 🔗 long-term lease.
Flexibility Of Use
This rental agreement unlocks the flexibility to use this unit when needed, for example: for family visits, updating the new rental terms for the next tenant, etc.
 Also, some landlords use a tactic to rent out for tourism on Airbnb for a short period instead of a month-month lease agreement.

For example, summer is the best time to earn extra money from local and international tourists seeking a unit to rent for a short visit for up to several weeks, depending on the location.
Addressing difficult tenants
No one wants problematic tenants on their property, especially regarding 🔗 late pay rent. However, It is very tricky that some bad tenants may use to not violate the lease by offering partial payment and continually paying late.

Conversely, A month-to-month rental agreement gives the landlords another compelling flexibility: to get rid of this type of tenant after a month by providing notice on appropriate days only.

With a long-term lease agreement, the owners may have to use 🔗 an eviction notice and be ready to file with the courts for the eviction process afterward.
Additionally, It is never too late to offer long-term renting if the tenant meets the qualifications and expectations of the landlords. A month-to-month rental contract will be an excellent chance to test a new tenant.
👎 Cons for Landlords
Extra cost to find tenants
There are a few costs which the owners should bear in mind. As per the general condition of the rental contract, the property must be cleaned and well-repaired before entering the new tenant. Therefore, it also costs money for advertising and time to screen new tenants, set up a meeting to show the units, etc.
Offseason vacancy
If you can earn extra income in the high season, then there will be a lower season when your property can be empty while searching for new tenants. And a vacated property means you will have a loss of income. In this case, a long-term contract often gives more security for payment during this time, such as winter. Therefore, it is crucial to learn about the housing market and the season from where your premises are located to have an adequate strategy.
Uncertain end date
With this Residential Lease Agreement, tenants and landlords can send a notice in days according to state law before vacating the unit. It can affect having any long-term plan, both professionally and personally.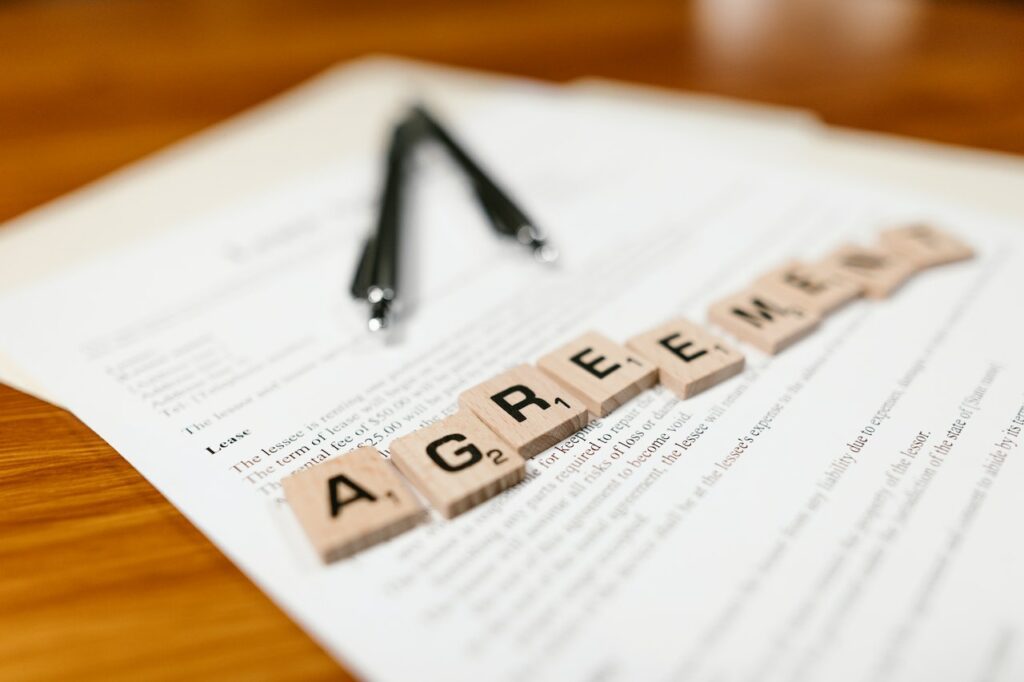 What benefit can tenants have from using a month-to-month rental contract?
A month-to-month rental agreement can benefit some tenants as below:
For Flexible Candidates
It is an ideal rental contract for students who need a short rent first to settle and adapt to a new city. They may not know the area much, so avoiding the long-term lease before getting to know it is a practical and wise choice.

Once the students are familiar with the city, they can negotiate a long-term lease for a better price with the landlord if both parties are on good terms.

On another side, they can send a notice of intent to vacate and take time to search out other flats during that time 30 days in advance.
Furnished property
Typically, most of the property for the month-to-month lease agreement will be fully furnished, minimizing the cost of moving or buying new furniture
. Nevertheless, most landlords tend to offer it to be more competitive and attractive to others and increase the ability to get higher rent.
House Restrictions
For short-term living, house restrictions tend to be less restricted than long-term agreements, making this contract appealing as a first option to choose.
Furthermore, landlords who need tenants fast to fill the void tend to put fewer restrictions.
Last but not least, the rent of this contract is often included gas, water, or electric bill, which means the landlord will be the one who takes care of all the bills, not the tenant.
The bottom line is that a monthly rental agreement is recommendable for people with short-term commitments. It benefits both sides as long as they look for flexibility in the same boat. However, the downside of the monthly rentals is that the rent tends to be higher than the annual leases, and the landlords can vacate the tenants with notice before they are ready to move.
How to Make a standard month-to-month lease agreement In an Easy way
Creating a contract is not easy when it comes to legal matters. The best is to use one standard template to reference all the conditions you may need to consider. Here, offer our editable contract template to help you easily create your contract.
Standard Month To Month Lease Agreement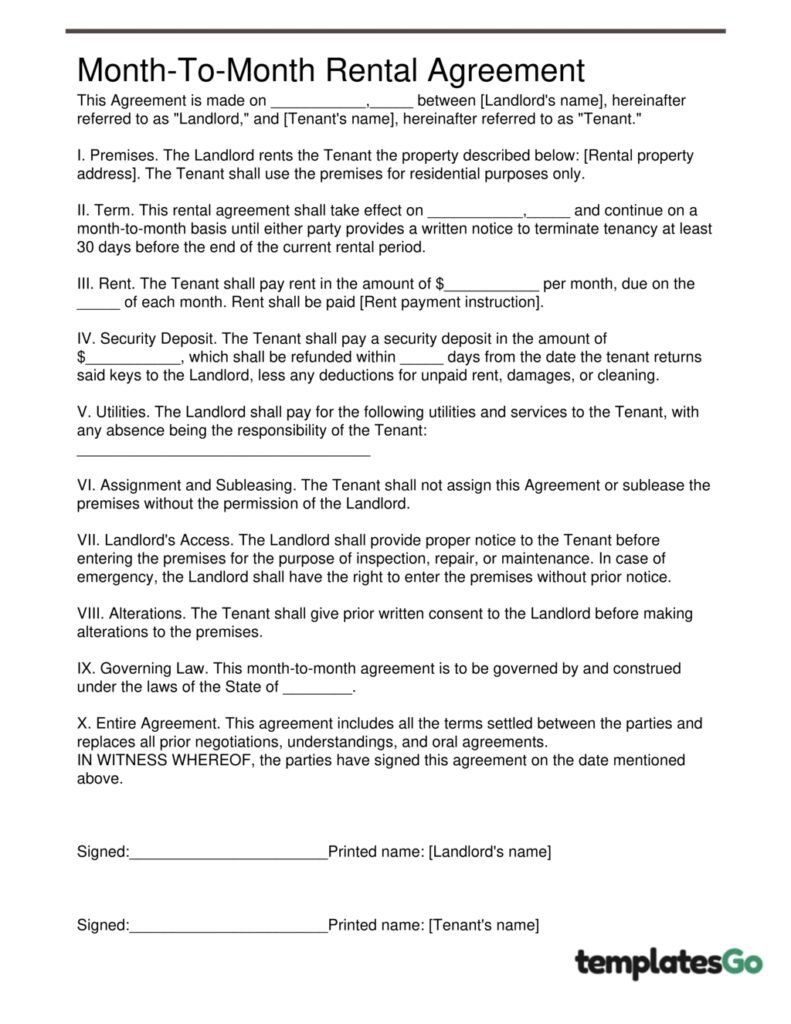 If you don't know the timeline for returning the deposit, check out the 🔗deadline for returning the deposit, state-by-state, provided by Nolo.com