Why does a landlord need to send A return of security deposit letter?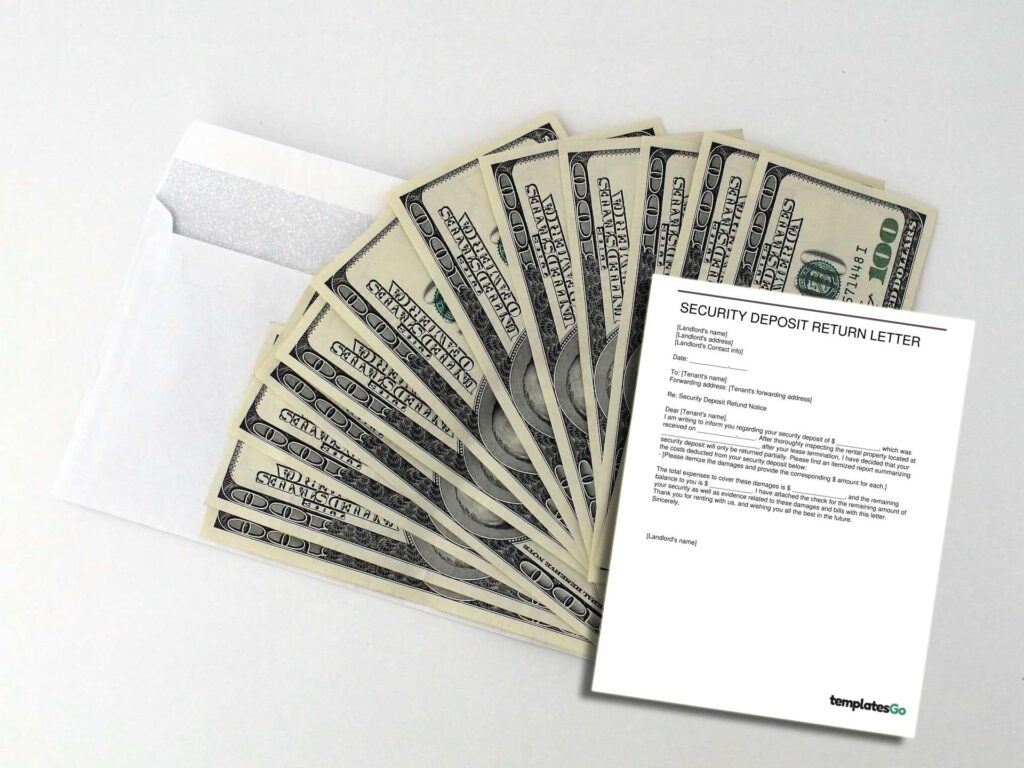 A good landlord commonly writes this document to a tenant to inform their security disposition after moving out. The letter's purpose is to detail the amount of the security deposit received, any deductions taken for costly damages or unpaid rent, and the remaining balance returned to the tenant. Therefore, this return of the security deposit letter helps ensure clear communication and transparency between both parties regarding this deposit and assists in preventing conflicts or misunderstandings after. Here, you may wonder what is deduction actually the Landlord can take from the security deposit. Let's take a quick overview with us now!
What Are common reasons to deduct from a security deposit?
The specific deductions a landlord can take may vary depending on the state laws and the lease agreement terms or 🔗month-to-month rental contract outlined. Therefore, it is crucial for landlords to carefully report the reasons for any deductions made in this security deposit return letter, as they may be requested to provide proof in the event of a dispute with the tenant.
Here are some common reasons to deduct the security deposit the landlords may consider including in the 🔗rental contract:
Unpaid utility bills.
Cleaning costs.
Painting costs.
Repairs for damages caused by the tenant.
Recovering overdue rent and late payment charges (if applicable).
A penalty for 🔗early termination of the lease.
We have reviewed some security deposit deduction reasons, so what else will we need to include in this letter? We will walk you through our below guide with steps.
What information To include in a security deposit return letter?
As a good landlord, you may want to avoid any conflict and trouble with the tenant(s) regarding their security deposit. In that case, it is wise to prepare a well-informed and written letter to the renter after moving out. A standard return security deposit letter typically contains the following elements:
Date of the letter written.
Name and address of the Landlord or property management agency.
Tenant's name and address.
Amount of the security deposit received.
Specify a list of any deductions taken in the security deposit return letter.
Give a brief explanation for the deduction.
The total charges of the deductions.
The balance amount of the security deposit is returned to the tenant.
Method of returning the security deposit, such as by check, direct deposit to the forwarding address, or electronic funds transfer to the tenant's account.
Landlord's signature or authorized representative.
Note

- Attach any copies of evidence such as: 🔗move-out checklist, receipts, or invoices related to the deductions with the security deposit return letter. Having enough documentation will prevent disputes from both sides regarding withholding the deposit.
- It is also a good practice to keep a copy of this letter as a record rather than communicating by phone or email only.
Editable Forms Of Security Deposit Return Letter
We offer editable templates with a formal structure landlords can use to create this letter to return the security deposit in just a few minutes. How does it work?
Select a return of security deposit letter template.
Quick and easy questions to fill in your information.
Review the text and edit freely to meet your needs.
Download the letter in pdf, and done!
sample letter to return security deposit fully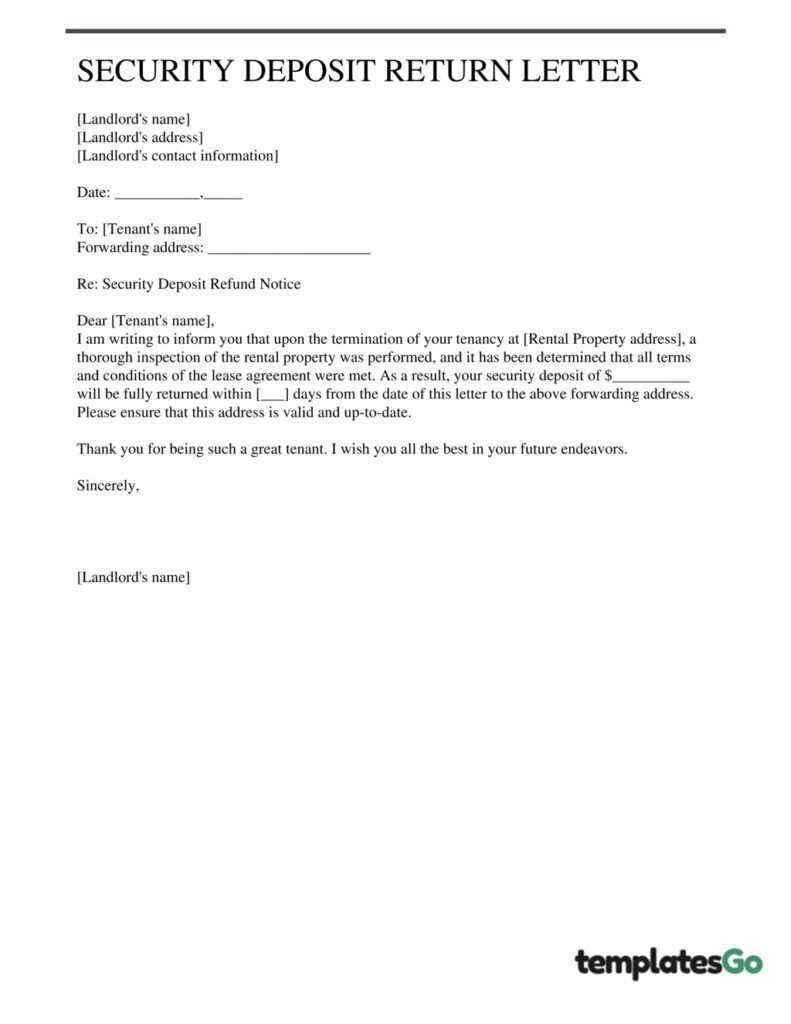 Not Refunding Security Deposit Letter Template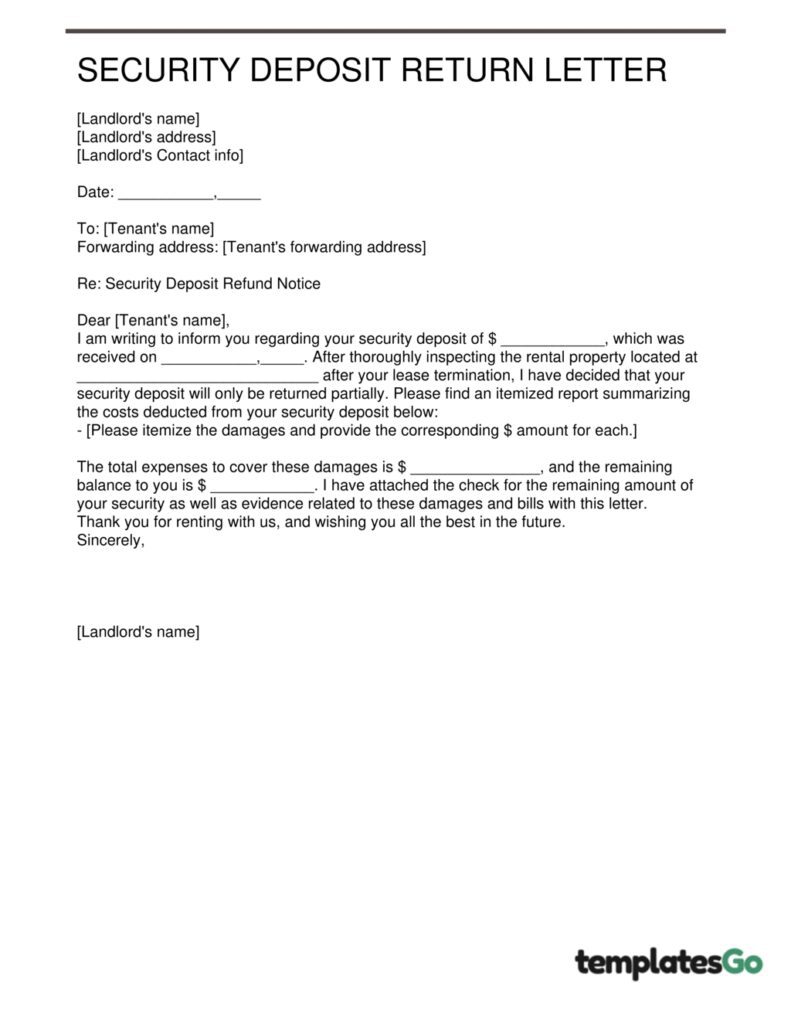 Security Deposit Return Form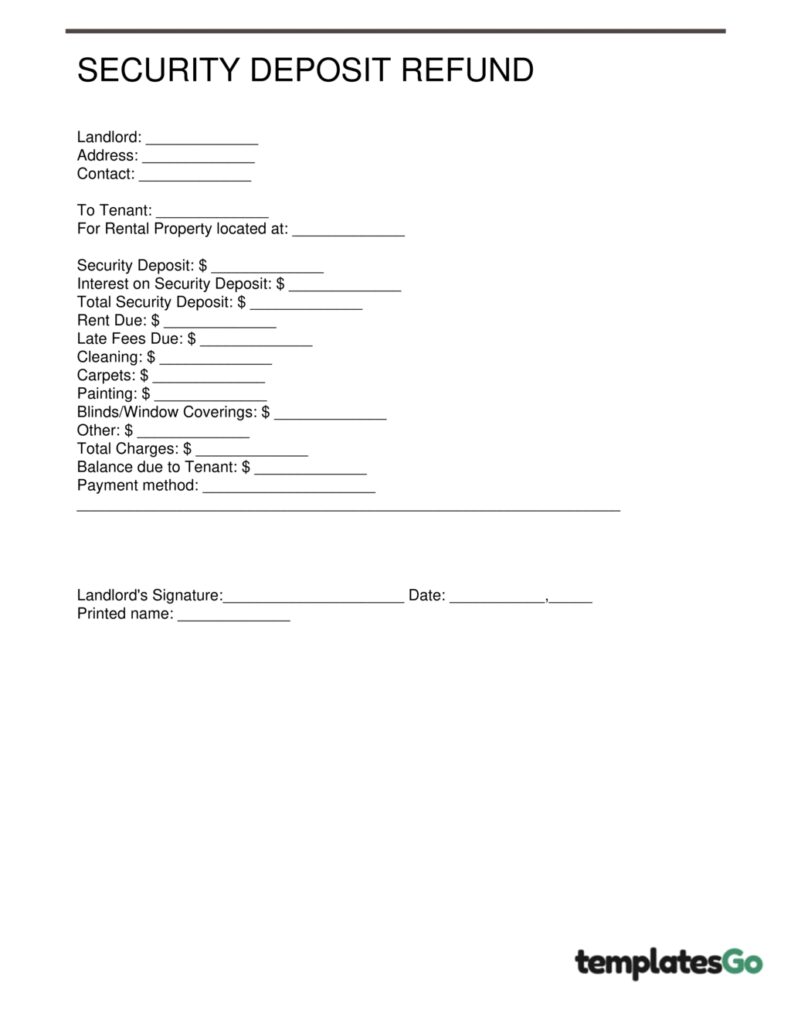 sample Tenant demand letter for return of security deposit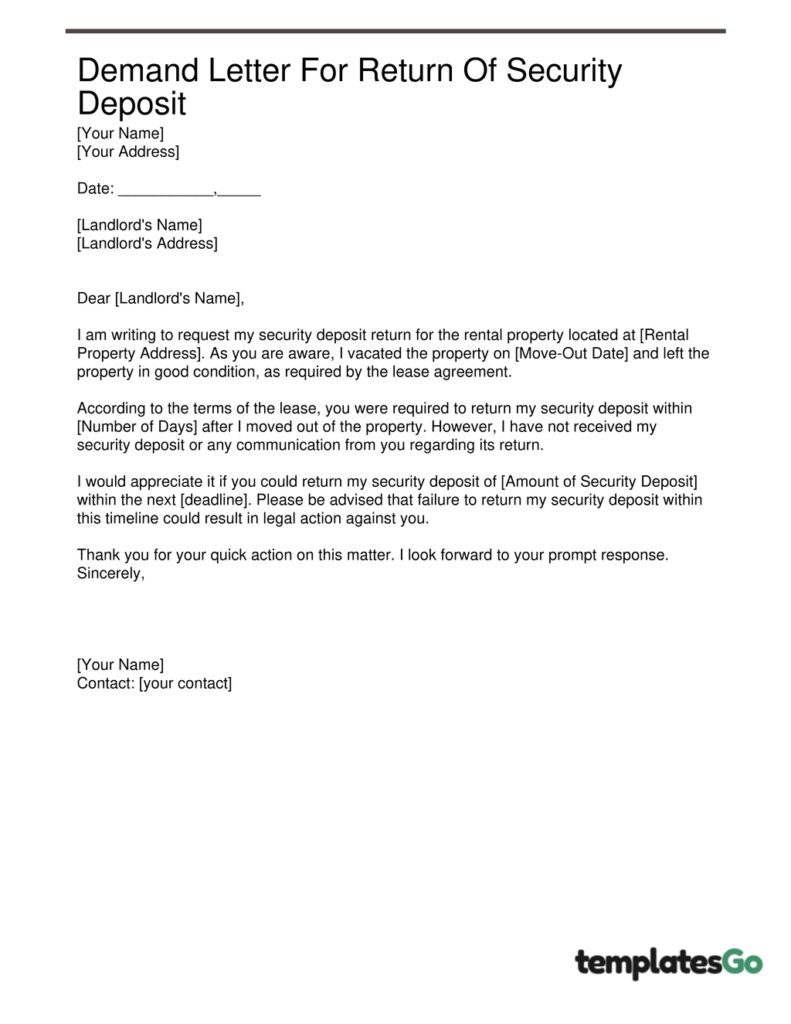 Quick Reminder
Once you complete and print out your security deposit return letter, there are a few notes we want to remind:
Attach any relevant documents, such as bills or a list of damages, if you don't mention them in the letter.
Keep yourself a copy of the letter and any attached documents for your records.
Verify the tenant's forwarding address to ensure you have the correct one before sending it.
Deliver your letter to the tenant via certified mail with proof of mailing or proof of delivery. This provides a copy of the recipient's signature and can help resolve any disputes that may arise in the future.
When should the Landlord return the security deposit interest?
Security deposit interest can alter depending on state laws. Many states in the U.S. demand landlords pay yearly interest on security deposits or at the tenancy termination, while others do not require interest payment. Furthermore, landlords must pay the interest to the tenant along with the return security deposit at the end of the tenancy or annually in states where required. For that reason, please carefully check your state law regarding this security deposit interest, as you may need to attach this detail to your letter.
Important

If a landlord does not comply with returning the interest as required by state law, they may be subject to fines or legal action by the tenant.