Are you looking for a parent-teacher conference letter example and want a simple way to create this letter effortlessly? We've got a pack of editable parent teacher conference letter templates that are just what you need. Plus, our online tool makes it super easy to create your letter in an instant—follow these three simple steps:
Pick the letter template that fits your requirements.
Fill in the details by answering a few straightforward questions.
Review and your parent-teacher conference letter pdf is ready to use.
Editable Parent Teacher Conference Letter Templates
We designed the three most common templates that every teacher requires for various parent-related events. Therefore, our document generator tool allows you to easily modify your chosen template and adjust the text according to your needs, all with just a few simple clicks. Ready to begin? Let's get started!
1. Parent Teacher Conference Invitation Letter
This letter template serves as an invitation to the initial Parent-Teacher Conference, marking the beginning of the new school year. During this event, teachers will warmly welcome all parents at the same time, 🔗introduce themselves, and outline their exciting plans for the upcoming academic year. The primary aim is to enable a strong collaboration between teachers and parents/guardians for the benefit of the students.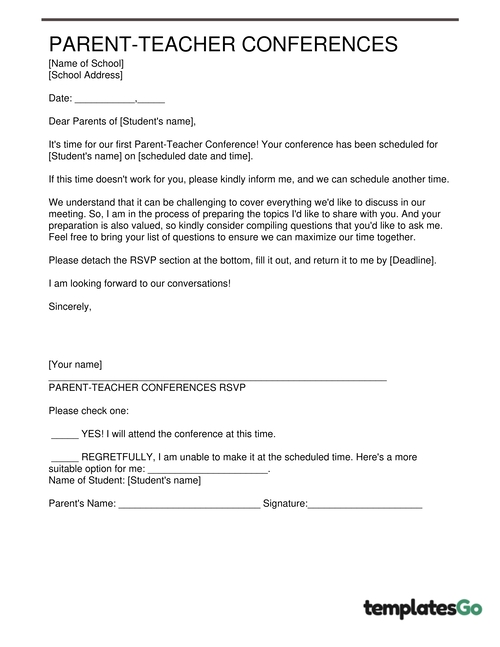 2. Parent Teacher Conference Letter Template
This template is meant for the school's teaching staff to reach out to the parents or guardians of students. It's a flexible Parent-Teacher Conference template that allows you to personalize the purpose of the meeting according to your needs. Whether it's about discussing the 🔗student's progress, poor behavior, 🔗student absence, or overall well-being in school, you can make this template work for you and the parents.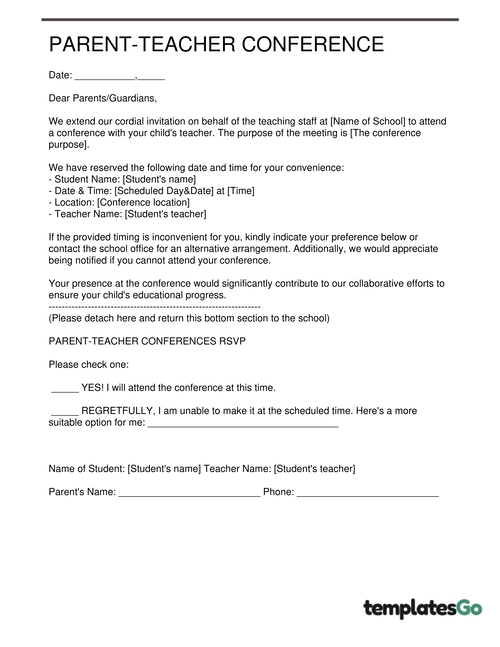 3. Simple Parent Teacher Conference Letter Template
Typically, the meeting will take place right in the student's classroom, and each conference slot is planned to last around 10-30 minutes. To make things even easier for you, we've designed a straightforward template that already includes these specifics. All you have to do is provide your input by answering five brief questions, and then you can quickly download your parent-teacher conference letter PDF.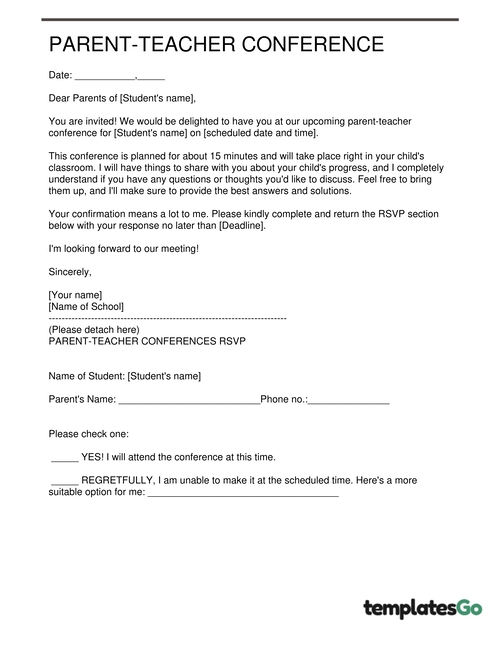 How to write a teacher's parents meeting?
Crafting a Parent-Teacher Conference letter is a way for teachers to invite students' parents or guardians to connect and discuss various aspects. Instead of drafting from scratch, our editable parent teacher conference letter templates can create your letter within a minute.
Just respond to a brief questionnaire, sharing details like your name as the teacher, the school's name, and specifics about the conference.
Once you've provided these inputs, a draft will be generated for your review and revision if necessary.
The final letter will be available for download in PDF format.
Finally, an added advantage of using our tool is quickly reusing this template. By clicking on "create again", you can modify student names and details of the conference, generating a new letter in just a few clicks. Our templates were designed professionally and included all the important key points that we will briefly explain below.
Create a standout introduction
The letter starts by addressing the parents or guardians and the names of the students. You can briefly express the importance of their involvement in the Student's education. For example, "The Parent-Teacher Conferences are a vital opportunity where we can sit down and discuss your child's progress in school. "
Focus On the conference Details
In this part, it's really important to have the correct date, time, and place of the conference on the parent teacher conference letter. Double-check your information to avoid any mix-ups with the timing or location. Just think about if you send this letter to all the parents, and the date turns out to be wrong or misspelled. It could cause a lot of confusion for the parents, and you'd end up having to do extra work to sort out the mistake.
Share Your Intent with the Parents
This letter can serve different purposes. You can outline the topics that will be discussed during the conference, such as academic progress, strengths, areas for improvement, behavior, and any concerns that you want to mention during the meeting. By doing so, the parents can see the importance of the meeting for their children to attend.
Stay open to different scheduling choices
We understand that some parents have busy schedules that might make it tough to attend conferences. It's completely okay. That's why your parent teacher conference letter can include other options for meeting times or ways to contact you if the given conference time doesn't work for them. It shows your flexibility and effort to communicate with parents about their children. You can use 🔗Google Calendar to create a sign-up online form, allowing parents to choose the most convenient time for them,
Considering Confirmation Request
While it's not mandatory, we suggest you encourage parents to let you know if they'll be attending. It means that you will need to put a deadline for their responses in your letter. This makes it easier to know who will be able to join and organize the discussions you need to have with each parent.