Introducing our customizable student absence notice and attendance warning letter templates, designed to simplify the process and enhance collaboration between schools, parents, and students. Minimize the effort to create a document from scratch with only three simple steps as follows:
Select a template for your need.
Answer our quick questions to generate your customized document.
Review and download it for immediate use.
💡 Quick tips

This document helps to address clear and effective communication with parents and students for absences or tardiness. Additionally, it serves as a gentle reminder to parents and students about the importance of providing an 🔗excuse to the school, ensuring that proper documentation is maintained for administrative purposes.
Free Templates of Student Absence Notice
To help keep track of attendance, some schools require that notes are sent home when students are absent from a lesson without notice. However, creating a document can be time-consuming for teachers, especially when we are too busy at work nowadays. To alleviate this issue, we provide these editable templates that you can edit easily with our online document creator in just a few clicks.
Parent Notice For Absence Or Tardiness Template
An amicable student absence notice for the parent template that highlights the school's care for their student's well-being and educational progress. If this is the first notification to the parents, we highly recommend using this letter to establish the initial communication.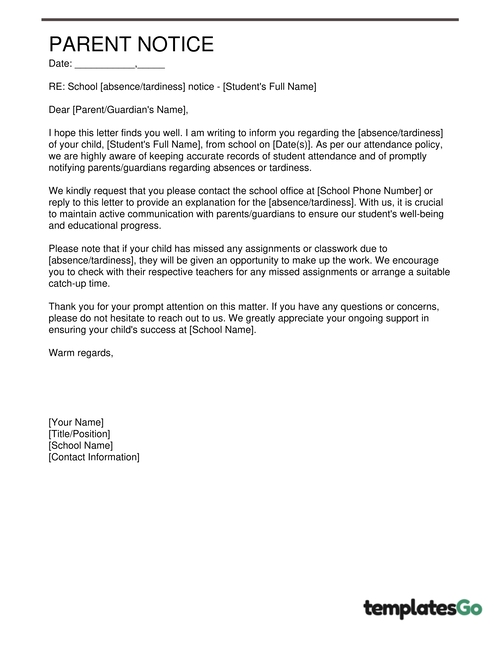 Attendance Warning Letter To Students
A warning letter for students absent or arriving late at school regularly. This letter serves as an official warning with consequences if the student continues to fail to meet the school's attendance policy.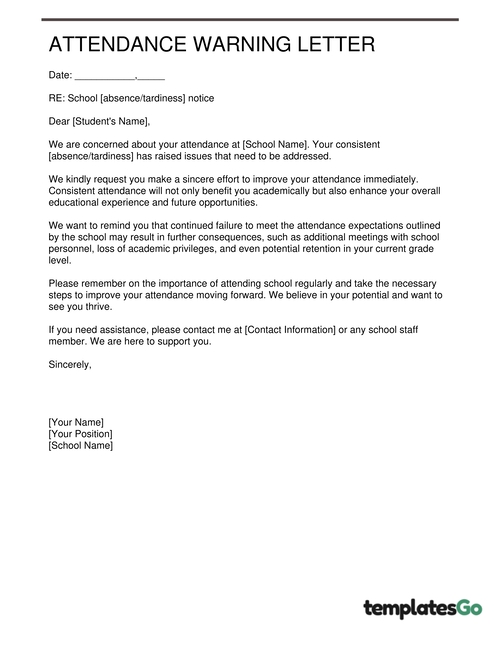 Absence Notice For School Student
As you may know, absence notices also serve as documentation of a student's attendance history. They become part of the student's educational record, providing a comprehensive overview of their attendance throughout their academic journey.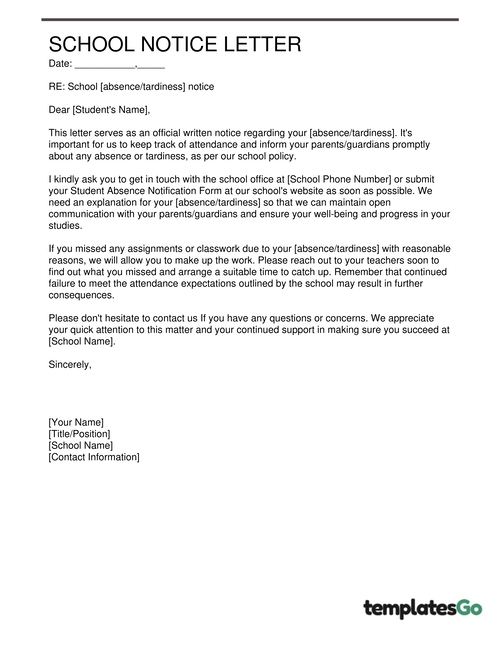 Student Absence Notice Form
We create a notice form for teachers' quick use to send to the parents. With this template, you can click on the Button "Send The Form" and send this link to the parents for filling out and returning the slip.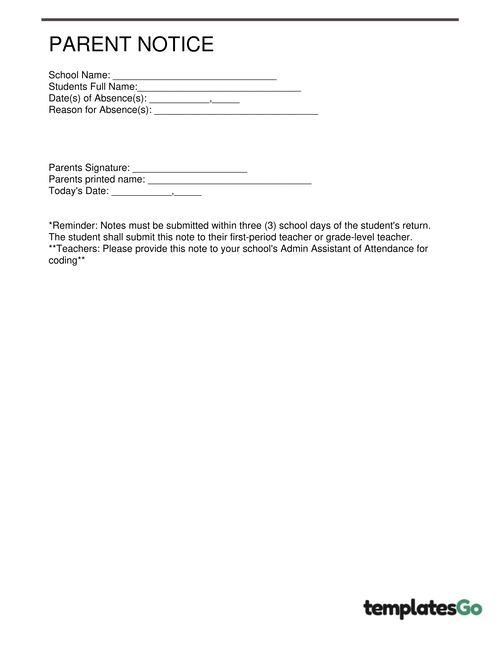 💡 Quick reminder

By promptly sending absence notices, schools can identify any potential issues or risks and take appropriate actions to ensure the safety of their students.
Why it is Important to send a student absence notice
Sending this notice holds significant importance for several reasons. While many school websites may have a Student Absence Notification Form Request, actually sending the absence notices is a critical step in the process.
Firstly, there are legal obligations in place in certain jurisdictions, e.g., New York, Texas, or California, that require schools to maintain accurate attendance records and notify parents about their child's absences. By sending absence notices, schools fulfill these legal requirements and ensure compliance with applicable regulations.
Furthermore, student absence notices play a vital role in keeping parents and students informed about missed lessons, assignments, and 🔗student progress reports.
By sending absence notices, schools establish a culture of accountability and responsibility. It encourages students and parents to take attendance seriously, emphasizing the importance of regular school attendance for academic success and overall educational development.
Conclusion
Overall, effective communication is the cornerstone of a successful educational community. We believe these customizable templates can help schools deliver clear, consistent, personalized absence notices that promote parental engagement and support student success.
Furthermore, teachers can easily customize our templates of absence notices, 🔗minor travel consent forms, or 🔗teacher introduction letters through our website, aligning them with school policy and communication requirements in just a few clicks.