How does a Minor Travel Consent Form work?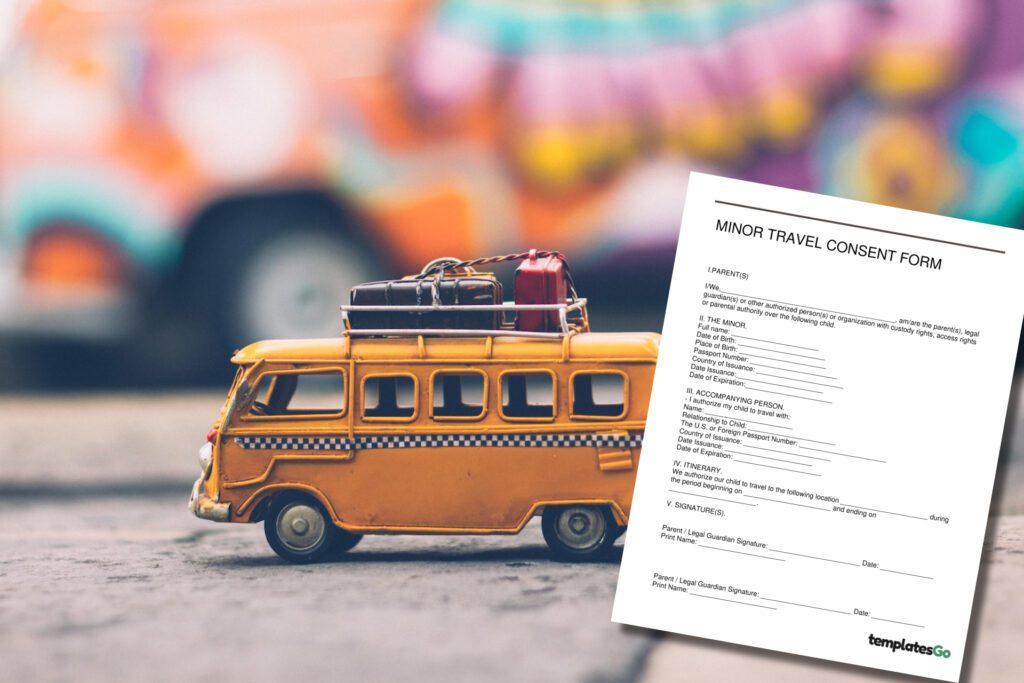 When to use
There are three typical types of consent forms when a little child is traveling:
Alone;
With an organization or group. (Ex, School, Scouts, etc.)
With another relative or friend;
For types of travel (2)
Domestic Travel: A child who travels alone by plane may be asked by the TSA. Generally, this is not demanded as children are allowed to fly alone. However, once the children get questioned at the airport, they must present identification and a consent letter. It may cause delays or prevent the child from traveling without this letter.
International Travel: A child who travels alone by plane, with a non-parent/guardian, or with one parent may have to show a parental consent form to leave the country and be accepted by immigration authorities. The parents are also recommended to have the consent form notarized. Doing so can prevent issues verifying the credibility and authority of the document.
What age does the child have to be to travel alone?
The child must be five(5) years old at least to travel without a parent(s) or guardian(s). The flight must be direct or without connections/transits.
Children from eight (8) years old may fly with connections/transits and be accompanied by airline personnel to their gate. All minors under eighteen (18) years old are recommended to carry a minor consent form to travel.
Additionally, many countries have strict requirements regarding proof of guardianship to prevent international child abduction. We suggest checking for 🔗 official travel advisories and entry requirements before sending your children on an international trip.
Therefore, immigration authorities may require a notarized Travel Consent Form For Minor for proof of authenticity. To do so, you can contact the notary public that offers an online notary to validate the identity and signatures of the people named in a document, such as LawDepot.
Editable Minor Travel Consent Forms
To save you time in creating this form from scratch, we provide child travel consent form templates so you can edit and customize them on your own in only three steps.
Select a template you need.
Fill out our questionnaire with your information. Our tool will generate a customized form for you.
You can review or edit the text as needed before downloading a high-quality PDF file to send to the school.
Minor Consent Form To Travel Abroad With Accompany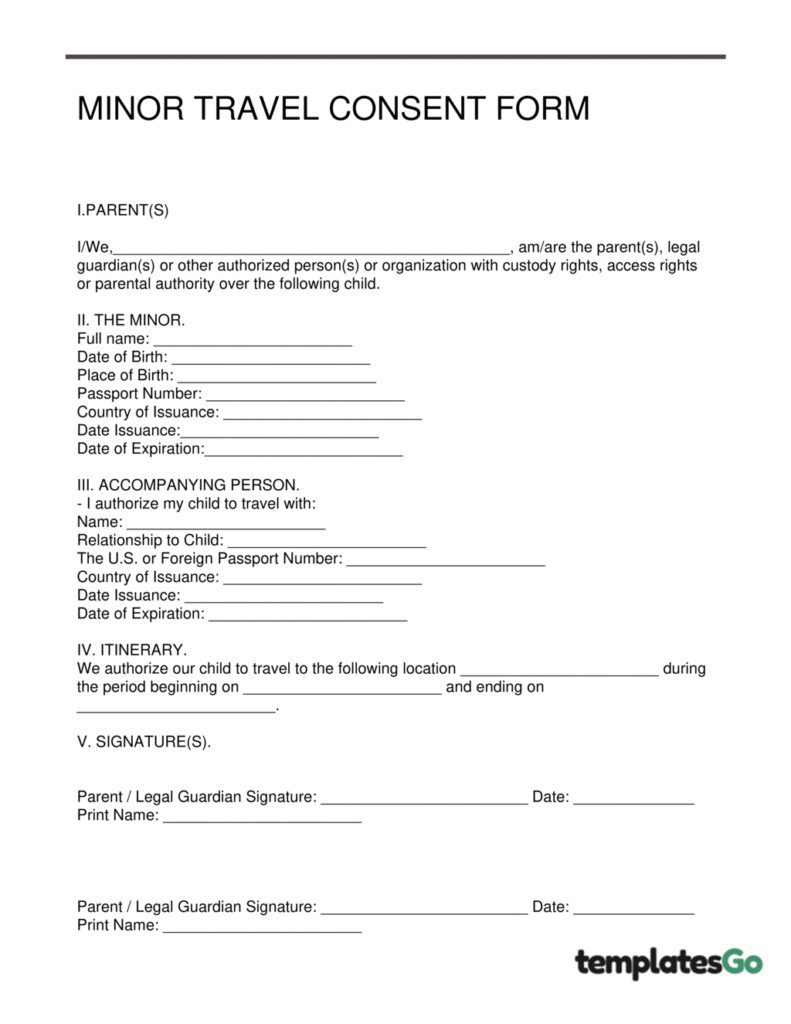 Minor Consent Form To Travel Alone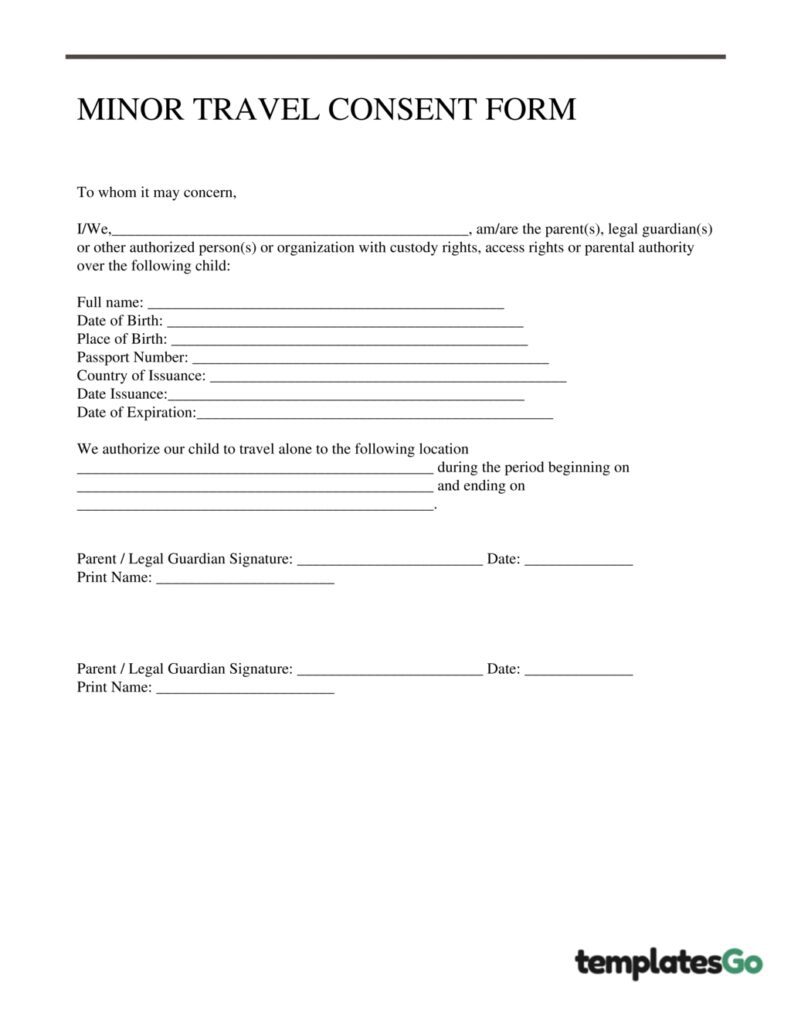 Parental Consent Letter Template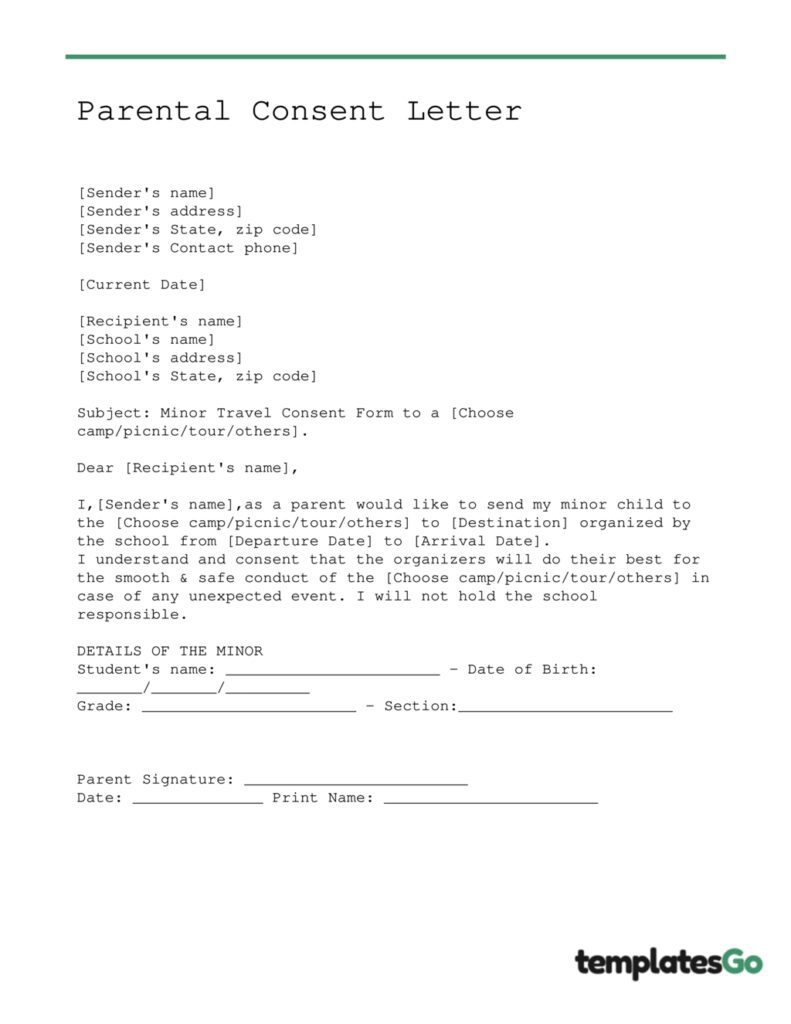 Simple travel consent form for minor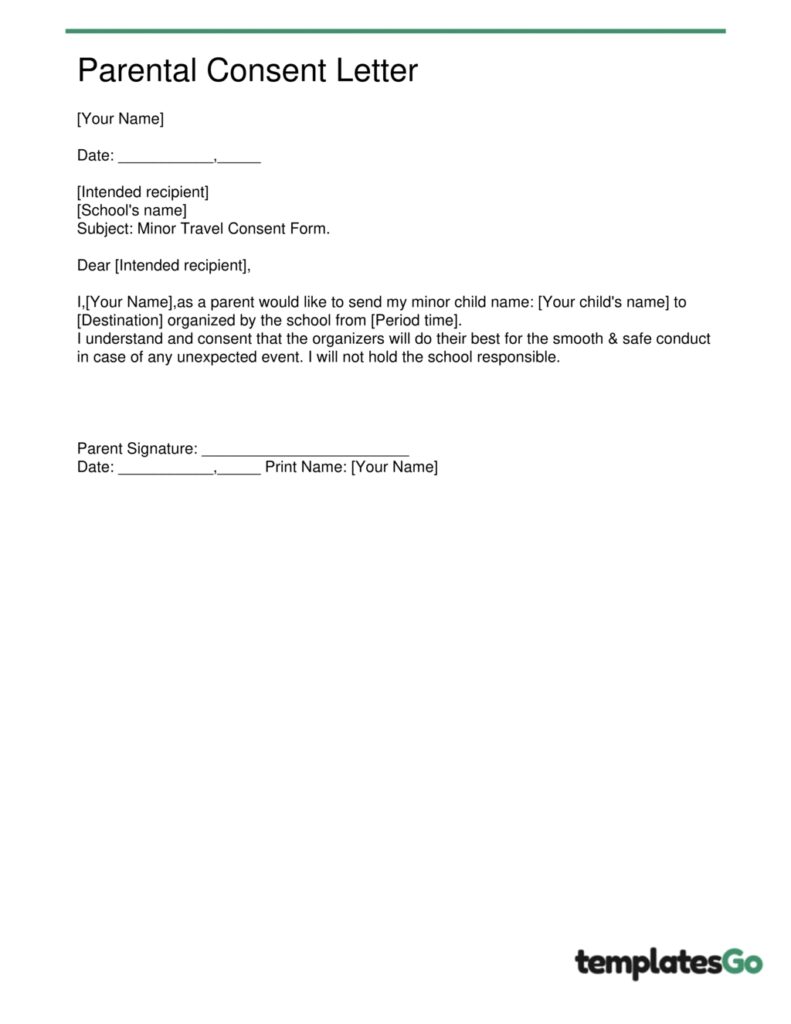 Related Post

If your child needs to take a day off from school for any reason, you can use our editable🔗 school excuse letter templates for easy document creation.
What information must be included in a Minor Travel Consent Form?
The Heading: this legal document should start with one of a heading, such as "Child Travel Consent Form," "Minor Travel Consent Form", "Parental Consent Letter", "Travel Consent Form For Minor", etc.
The Date: also called print date, to understand that the content of this legal document is current and valid.
Information About the Parents or Legal Guardians:
You will need to assign the full name of each (or both) parent or legal guardian who is giving consent for their children to travel alone without them.
If the minor child has consent from the parents or legal guardians to travel with an accompanying person, you must include their information. The personal information of the accompanying person will require their full name and relationship to the child. You must show the Passport number of that authorized person, the Date of issue and expiration, and the issuing authority of the passport in the consent letter.
Information About the Child:
For domestic travel: it is a must to add the minor child's full name, Date, and place of birth. If it is a school trip, you may add school details also.
For international travel: besides the above information, you must also add their passport number, Date of issue and expiration, and issuing authority of the passport.
Travel Details: in this section, you need to mention where is the location/destination with the departure date and arrival date.
Signatures: This legal form requires the signature of the parents or legal guardians who consent for the kids to travel alone. It is for verifying their identity and the content of the document.