Do you need an excuse letter for school sample? Writing an excuse letter can be a hassle, whether due to illness, a family emergency, or any other reason. That's why we've created free school excuse letter customizable templates that simplify the process. Now you do not need to spend a lot of time learning how to write an excuse letter for school. With our generator tool, you can create a well-formatted excuse letter in just a few minutes with 3 simple steps:
Select one of our templates for your need.
Answer a few quick questions to automatically generated the text.
Review and download your letter to use.
Our easy-to-use templates are designed to help you create a customized letter that meets your school's requirements and ensures that your child's absence is excused.
What to include in an excuse letter for school?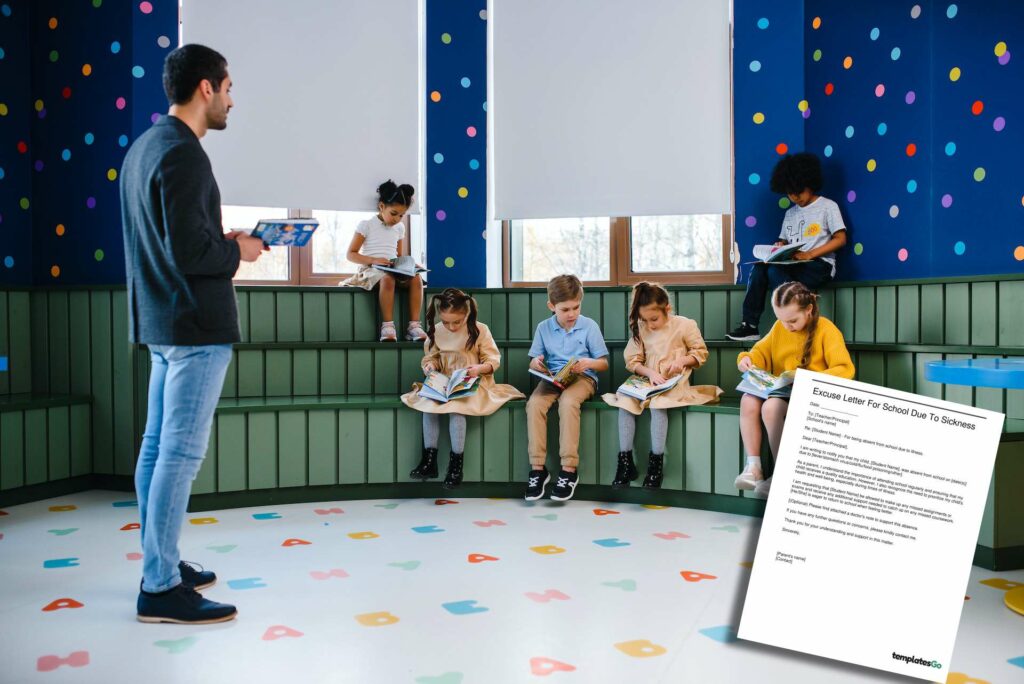 Attendance is an important requirement for students in every school, and submitting a school excuse letter is often necessary when a student is unable to attend class. The letter should include:
The name and designation of the teacher or principal.
The reason for the absence.
The specific dates of the absence.
The student's full name and parent's signature.
These details are important for the teacher and principal to clearly understand the situation and ensure proper documentation of the absence.
Customizable templates excuse letter For School
This formal letter aims to give the school and teacher particular reasons for being excused. The parent may request additional time to complete the missed assignments if necessary, helping the student stay on track with their academic responsibilities.
Excuse Letter For School Missing Assignments
An excuse letter for being absent in school is a formal letter that parents or guardians write to explain why their child was unable to complete school assignments. The letter may cite reasons such as illness, family emergency, unforeseen circumstances, school-sponsored activities, or religious observance as the cause of the student's absence and request that the student be allowed to make up any missed assignments.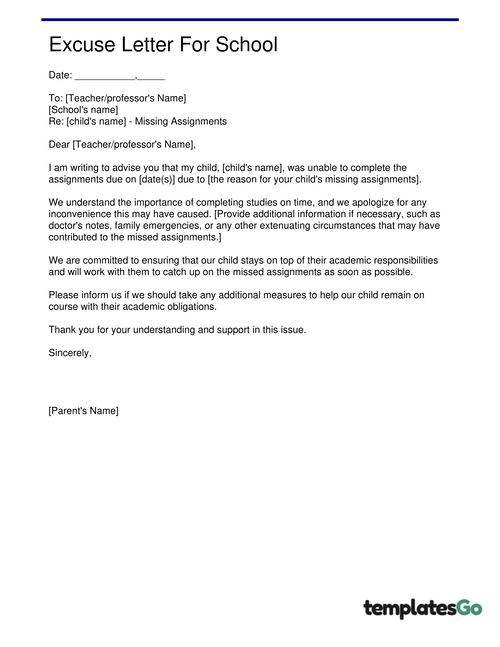 School Excuse Letter with own reasons
This template can be customized to explain a student's absence from school for their own reasons, such as illness, family emergencies, etc. By using a template, parents or guardians can easily create an excuse note that is clear and concise and provides all the necessary information for the school to document the absence and make arrangements for any missed coursework.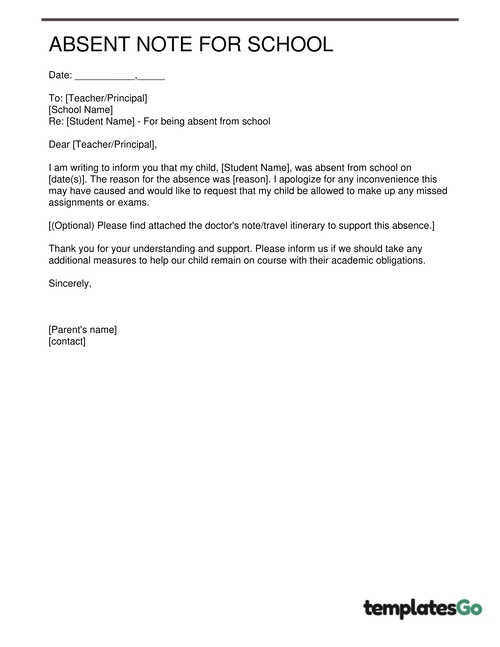 excuse letter for being absent from school due to family matters
Family matters can sometimes require a student to miss school. An excuse letter can help explain the absence and ensure that the student's education is not negatively impacted. Some common reasons are death in the family, family emergency, family obligation, family illness or medical emergency, custody hearing, immigration appointment, court appearance related to the student or their family, etc.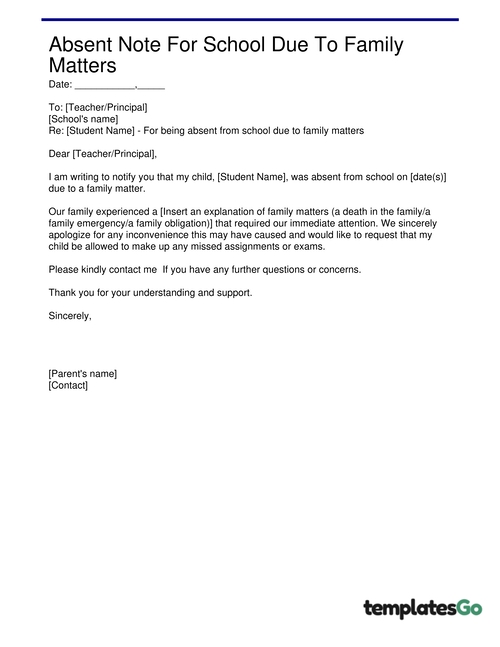 School Excuse Letter For Vacation Sample
A School Excuse Letter For Vacation is a formal letter that parents or guardians write to explain their child's absence from school due to a family vacation. Such letters are important to ensure that the absence is documented and to make arrangements for missed coursework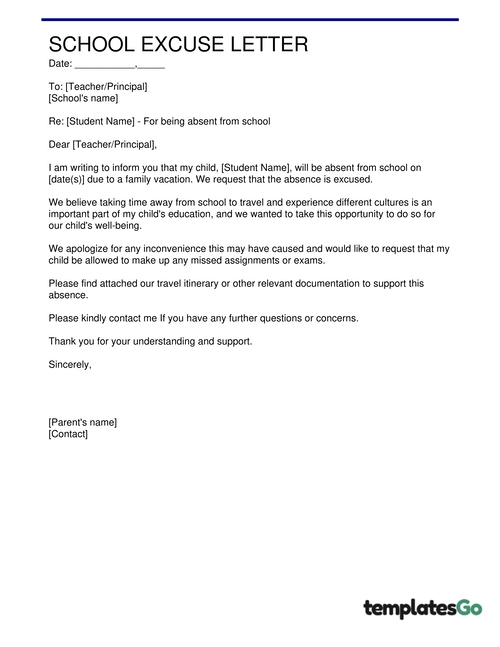 Excuse letter for school due to doctor's appointment
This is a formal letter written by a parent or guardian to inform the school that their child was absent due to a medical appointment. The letter typically includes the date of absence, the reason, and any supporting documentation from the doctor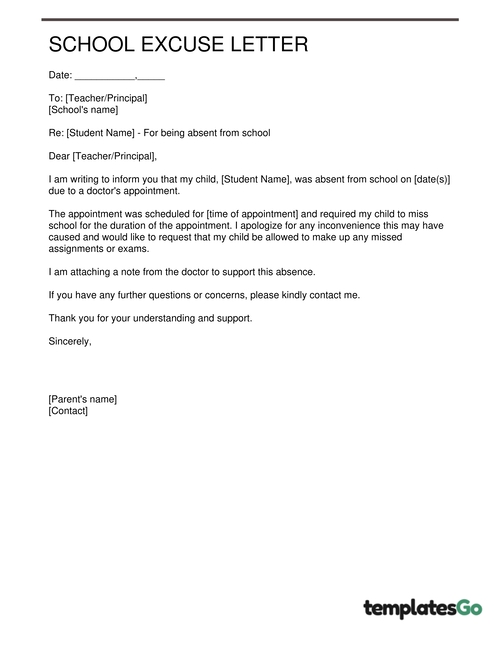 excuse letter for school due to sickness
A sick excuse for school absence letter is a formal letter written by a parent or guardian to inform the school that their child was absent due to an illness. Common reasons for illness include fever, stomach virus, cold, flu, food poisoning, etc.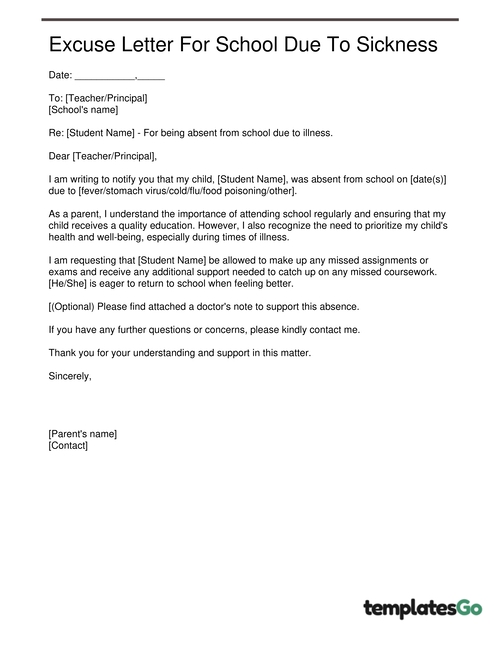 Excuse Letter For School Due To Religious Event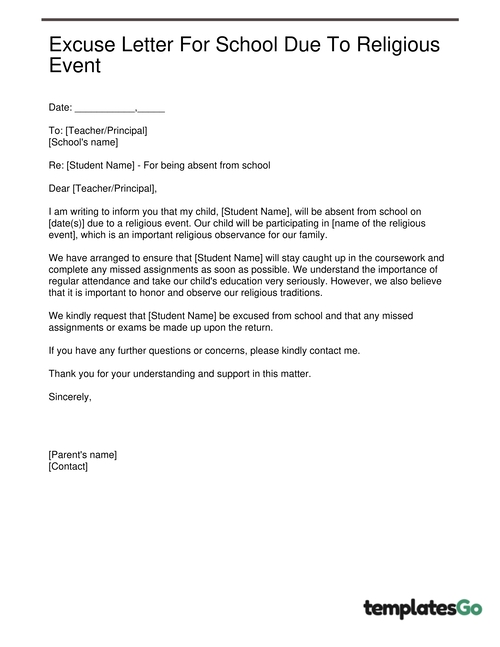 excuse letter for college absence
Templates for students! If you were absent from college or university, use this template to write a polite letter and excuse the professor as soon as possible.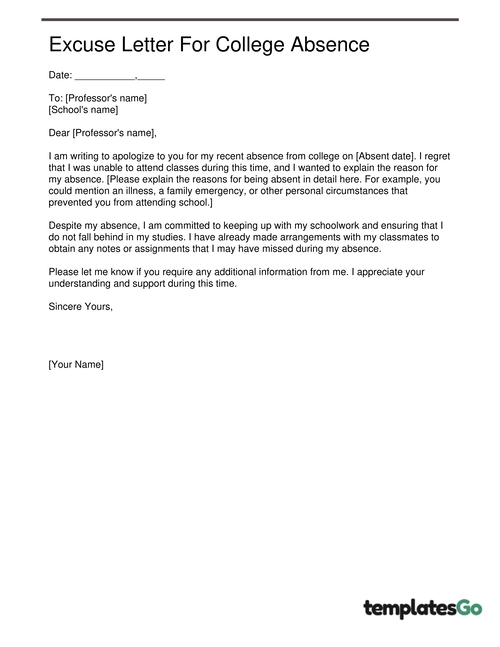 Excuse Letter For Late Submission Of Assignments
We also have customizable templates for students to create an excuse letter for different reasons. You can edit this template freely to meet your requirements and send it to your professors to excuse politely.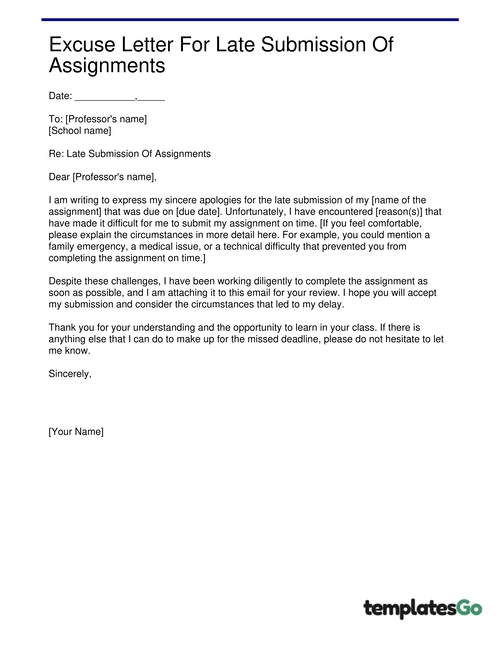 👋 Hey students! We have special templates to help you request a recommendation from your professor succesfully. Start preparing for your next academic steps from now.
Conclusion
In conclusion, using our customizable templates can help you, as parents, guardians, or students, create a formal letter explaining the absence from school quickly and easily. By answering all the necessary information, you will have a draft of the letter to review in just a few clicks with the help of our document generation tool. Now, you can quickly create a customized letter to provide to the school.
In case, you need to create a minor consent letter for the school's outdoor activities. Here we have 🔗different forms you can edit in just a minute withTemplatesgo tool.