A free employment contract simple template designed by the templatesgo team. We will help you quickly create a standard agreement that covers all necessary terms in just three simple steps.
As we know, hiring new talents to develop business is one of the important strategies for growing an enterprise. To set an objective for each position from the beginning, it is essential to create a contract that outlines all responsibilities and duties of the Employer and Employee to work together efficiently. Here is a free employment contract template you can customize freely in just a few easy steps.
Click our free employment contract template and fill in your information.
Review the generated contract and edit the text if necessary.
Download your document for any use.
Simple Employment Contract Template Free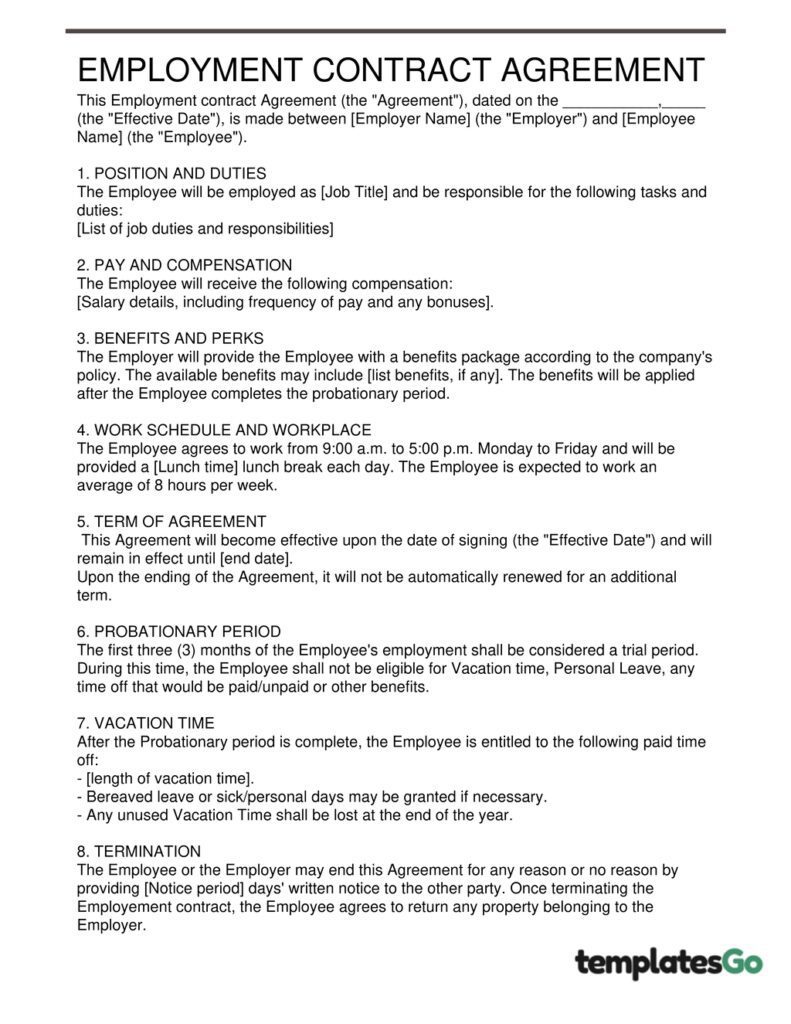 What To Include in An employment contract?
Most of the traditional employment contract templates on the internet are lengthy and filled with confusing legal jargon. Furthermore, you will not have the choice to customize the contract on your way but select the fixed option.
Here we will show you basic terms to communicate the expectations from the Employee and the Employer that a basic employment contract template should contain for the position.
Job Title and Description
An employment contract is an agreement in which you should describe the work scope and responsibilities for each role. The more description detail, the better for the employee's understanding. For example, if you are hiring a digital marketer, they would be responsible for:
Knowing how to use G4 and SEO tools such as Ahref, Sixtrix, or Semrush.
Monitoring website traffic and user behavior to identify optimization opportunities and SEO improvement.
Analyzing and reporting KPIs on campaign performance weekly.
Using data to make strategic suggestions for future campaigns.
Tips

When you use our free employment contract template, you can copy-paste the text in the question area and break down each duty to improve readability in this section.
A good business is one that knows how to allocate employees' responsibilities between teams and departments to work efficiently and achieve the organization's goals. By creating a detailed contract of employment, you can help the employees understand their duties and stay focused on what you expect from each position. Therefore, we also recommend you regularly review this section if it needs to be updated for better organizational performance.
The term, working hours, and location
Define the amount of time agreed upon in the 🔗job offer letter for the particular position, whether indefinite or fixed-time contract. This is a crucial factor of the employment agreement, as it specifies the duration of the employment relationship and sets expectations for both the employer and the employee. Furthermore, you should also mention this term if you haven't advised the working hours and location on the job offer letter. In our contract of employment template, we create a fixed term in which you can select a specific end date for the agreement and employment. In addition, the contract will not be renewed automatically.
Compensation and Pay
Another crucial fact that the employee is very concerned about is salary. This section will reflect the conversation between both parties in the offer letter. So make sure you show the salary details accurately, including the amount of money paid, frequency of pay, bonus(es), or commission.
Benefits and Perks
Every organization has different benefits and perks, and that is what makes the job offer more competitive to attract new talents. For that reason, the Employer should write in detail precisely about vacation time, sick days, paid time off, health insurance, maternity leave, and any other benefits from the company mentioned before.
Probationary Period
A trial period is typically from 3 to 6 months. There is no particular rule to set this period, but having it longer than six months is unusual in most countries. In our free employment contract template, we set the three-month probationary period. However, you can always revise it and mention what benefits the Employee will not be eligible for during this time from your company's policy.
Confidentiality and Non-Disclosure
This term is essential in some industries, such as technology, healthcare, legal, Human Resources, or government. Depending on the company policy, you can modify the text in our free employment contract template to meet the requirement or create a new NDA to outline specific details with our customized template.
Non-Compete Agreement
Depending on the positions, your contract should outline the employee's obligation to refrain from working for a competitor for a specific period after terminating employment. For example, you can apply this term for a sales position not entering the same business for three years after terminating the employment contract to protect the company's business and clients.
Termination
Finally, the contract should notify how many prior days of notice are before terminating the employment contract for both parties. In some countries, for example, the Spanish government set the rule that the employee must provide 15 Days' Prior Written Notice before 🔗terminating the employment contract. In this case, the contract will not show the notice day. In our employment contract template, we will leave this section blank so that you can fill in the company's policy or state's law.
Related Post

You can always craft a warm 🔗 welcome letter for your new employees with our ready to use templates.