Are you looking for a Notice of Lease Violation Template? Do you want to obtain this letter in your version instantly? We have what you need and even better. You can create this letter immediately here with our document creator tool, an effecient solution for creating custom documents. Starting with only three simple steps:
Select the template you want.
Fill in your information in our questionnaire.
Review your draft and download it in PDF format.
Using our tool, you can save time of crafting this letter from scratch and let us do that work for you efficiently with our customs templates.
What is a lease violation notice?
Before you start creating this letter, let's review what is the meaning of its. When a tenant has violated the terms of their 🔗lease agreement, the landlord will send a written communication to notify the tenant. Then this written paper is called a notice of lease violation. It serves as a formal warning, outlining the tenant's specific violation(s) and requesting corrective action within a🔗specified timeframe.
Nevertheless, the notice typically emphasizes the consequences of non-compliance, such as potential penalties or eviction under applicable law.
Notice Of Lease Violation Templates
Here you can find different templates for most common reasons to violate the lease such as failure to pay rent, noise complaint and unauthorized occupant. However, If you can not find the template for your purpose, you can use our first template to write your own reasons.
General Lease Violation Notice Template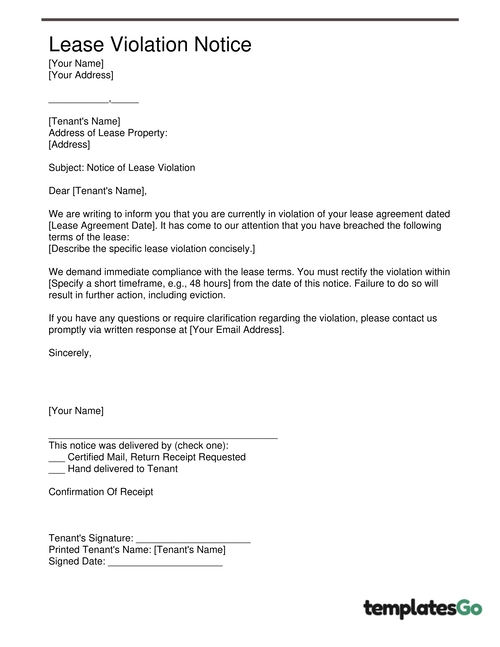 Lease violation notice template of failure to pay rent
If this is the first time your tenant did not pay the rent, you can consider to send them a 🔗 late rent notice. After this notice, if the tenant still not pays the rent, use a lease violation notice as one last warning before evicting.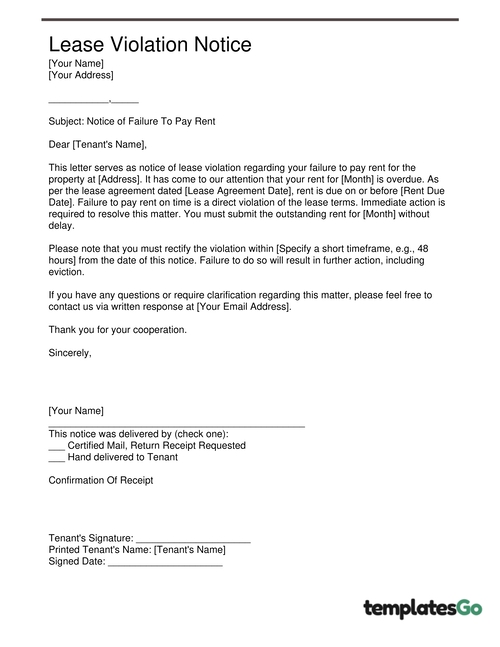 Notice Of Lease Violation For Unauthorized Occupant Template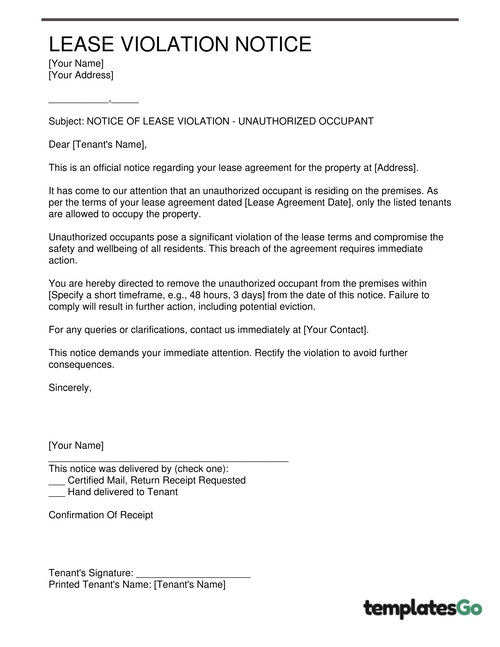 Lease Violation Notice For Noise Template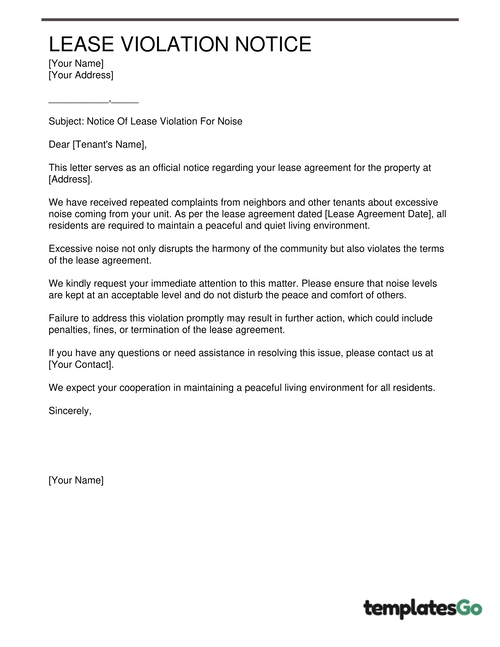 What are common reasons To Violate the Lease?
Understanding the circumstances that warrant a notice of lease violation is also essential for landlords and tenants. It helps to analyze the situation and to decide how to communicate regarding the issue. Usually, If the violation happens the first time you can send this letter and allow a cure time. On the contrary, some tenants committed severe violations that forced landlords to send an 🔗eviction notice immediately to stop them. Here we outline several common reasons that can lead to sending a lease violation notice. Some of these include:
Failure to pay rent on time or consistently.
Unauthorized pets or exceeding the allowed number of pets according to🔗 the pet agreement.
Excessive noise or disturbances disrupt the peace of other tenants or neighbors multiple times.
Subletting or unauthorized occupancy of the premises.
Violation of smoking policies or causing damage due to smoking.
Violation of rules related to maintenance and cleanliness of the property.
Illegal activities are conducted on the premises.
Failure to obtain landlord approval for alterations or renovations.
Violation of parking rules or unauthorized use of parking spaces.
Breach of regulations related to proper disposal of trash and waste.
How to serve notice of lease violation?
If it is your first time sending this letter, you must follow specific procedures to serve a lease violation notice right. It helps ensure the document is legally valid and adequately delivered to the tenant. Let's take a look at a general guide on how to serve a notice of lease violation:
Review the lease agreement
The first action is to check if the contract mentions the violation. You should carefully review the lease agreement to confirm the terms and conditions the tenant has violated.
Check local laws
Each State will have its local laws and regulations regarding the service of notices. For example, you will need to check the 🔗allowed timeline for the tenant to cure their violation or leave before filing for eviction.
Prepare the lease violation notice
For your overview, this letter needs the following details Date, information of Tenant, Description of violation, remedies or actions required, and consequences. Again, you can use our customizable templates, formatted standardly to make your notice faster and more professional.
Keep copies of evidence
As a thumb rule, always make copies of any legal documents for your records. It's advisable to keep evidence of the notice, such as delivery receipts or photos, to support your case if further action becomes necessary.
Choose Your delivery method
Although the landlord can send this letter by email or online apps, it is not recommended as the tenant may ignore it. For this reason, the best way to deliver is either hand delivery or certified mail to serve as a legal procedure.
Personal delivery: Hand-deliver the notice to the tenant in person and request their signature as proof of receipt. You can make two copies to save one as evidence for yourself. If they refuse to sign, you can consider having a witness present.
Certified mail: Send the notice via certified mail with the return receipt requested. This method provides a receipt and proof of delivery.