Are you searching for an invitation letter format? Our website is here to help. We know that writing a letter is never easy for people who are not good at writing. However, you may need to write an invitation letter for either your special events or company. Even though it seems like a simple letter but the fact is that it is time-consuming for us. Therefore, we offer an editable document tool to help you create this letter faster on our professional templates. The whole process only takes three steps:
Fill in your information on one of our templates by answering our simple questionnaire.
Review your letter and edit the letter freely by clicking on the text.
Download your letter in high-quality PDF file format.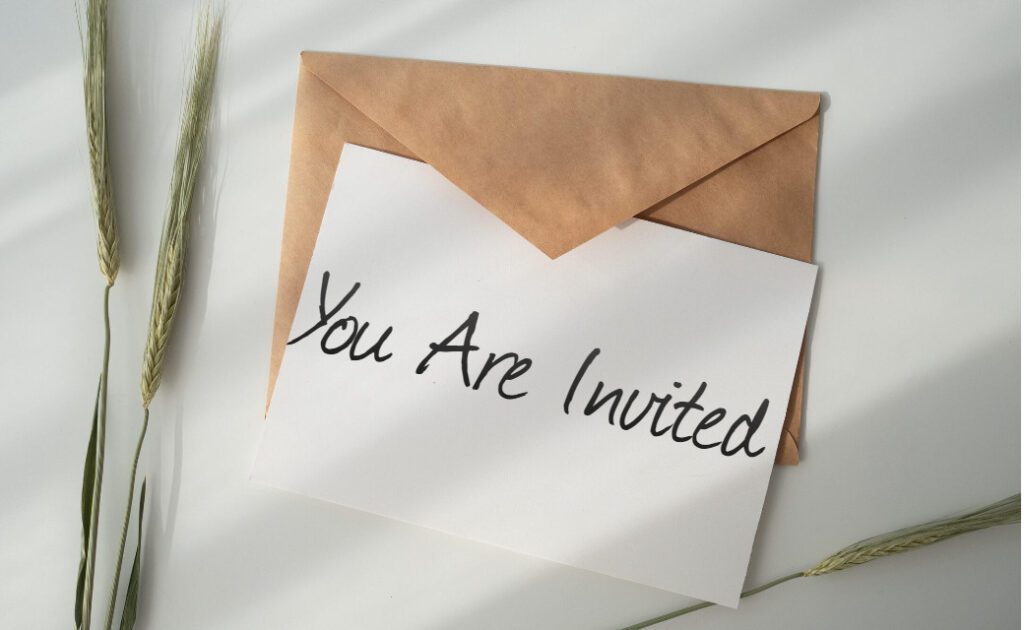 What Is The Meaning Of This Letter?
This letter is usually written to invite individuals to a particular event. This letter can be formal as well as informal and should be on one page only. Equally important, an individual or an organization can write a letter of invitation on the occasion of a visa for work or tourist purposes, wedding ceremonies, inauguration ceremonies, business events, and annual company functions.
All these types of invitation letters can be divided into three main categories.
The first category is for the legal purposes involving the government or notary. Here we will focus on the letter of invitation for visa:
Invitation Letter for Work Visa
For instance, a citizen from California wants to invite one friend from India to visit for tourism in the states. In this case, writing an invitation for that visitor could be helpful while the visitor is in the visa process. Therefore, the purpose of it is to have a guarantee from the host and gain more trust from the consular officer.
The second is a type of business invitation letter that is usually written in a formal way:
Invitation Letter to Attend an Exhibition
Letter of Invitation to Attend a Fundraising Event
Business Event Invitation Letter
And finally, a friendly invitation related to social events like:
Marriage invitation Letter to Friends
Informal Social Event Invitation Letter
Baby Shower Invitation Letter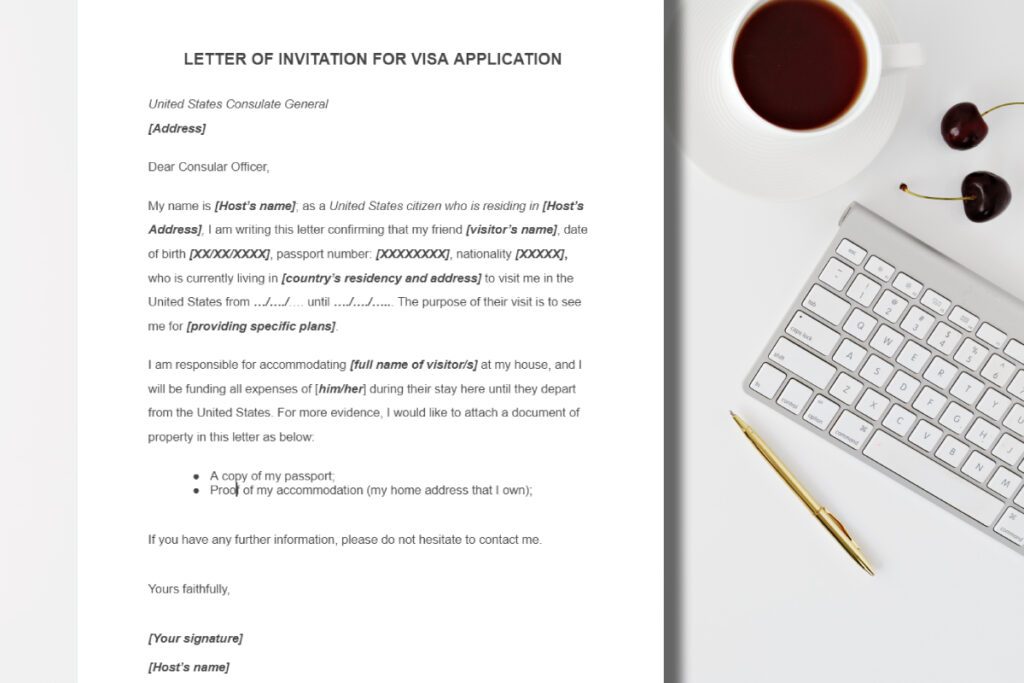 Steps & Format To Write A Good Letter
Here are the basic steps and format for writing a general letter:
Add your letterhead.
Mention the Sender's Address. ( Option: it can be written at the end if this letter is addressed to the official department)
Add the date of writing this letter.
Mention the Recipient's Address.
Include the Salutation
Write the Main Body of the Letter (Describe your intent in detail).
Include the closing and your signature.
Besides, depending on the purpose and type of letter you want to write, we conducted a few tips to remember as follows:
💡Tips to remember while writing an official invitation letter for a tourist visa
The letter must contain personal details of the Host: Full name, date of birth, address, telephone number, and job position.
Type of home (if Host owned/rented house/flat/room), or the hotel where this person will stay. The government will ask about your actual state ownership or hotel booking reservation.
Host's status in resident country (if the Host is living under visa of work or student, legal resident, or is a citizen or any other legal status)
On the other side, the letter also has to show personal information from the visitor:
Full name, birthday, and nationality should be written precisely on the passport and personal phone of the Guest.
Proof of Relationship between the host and the Guest. The purpose of the trip (friendly visit, holiday, wedding, birthday party, etc.).
Entry date and exit date, we recommend adding extra weeks in case the visa process may take a longer time to approve and close to the entry date.
💡crucial tips while writing a formal business letter
Do not forget to insert the company letterhead at the top.
A proper salutation is crucial to writing a business letter, and addressing your guests with respect and courtesy is essential.
Lastly, correct grammar and a polite tone are imperative.
💡Critical takeaways for writing an informal invitation letter
It must state the reason for the invitation.
You should describe the event or the occasion in brief.
This letter should have a cheerful and optimistic tone.
Despite the informal letter, always check grammar and correct typos before sending.
After all, it is not accessible if you are not good at writing. However, we hope that through this article, you can tailor an excellent letter to deliver your intention to your receivers.
In addition, if you still seek more ideas, we have selected the top of the website for the free template in word and PDF to download.
Free Invitation Letter Editable Templates
If you're looking to send a business invitation letter, it's essential to ensure that your letter is professional and personalized. One of the easiest ways to create a personalized business invitation letter is to use a professional template. Our templates are designed to make writing a business invitation letter as straightforward as possible. Simply answer our questionnaire to generate your information into the template, and then review and edit the text as needed.
Once you've finished editing your letter, remember to attach it to your email as a formal part of the business process. This will ensure that your invitation is received and understood in the way that you intended.
By using a professional template and taking the time to personalize your letter, you can create a business invitation that is sure to be well-received and effective in achieving your goals. So, get started today!
Invitation Letter For Business Meeting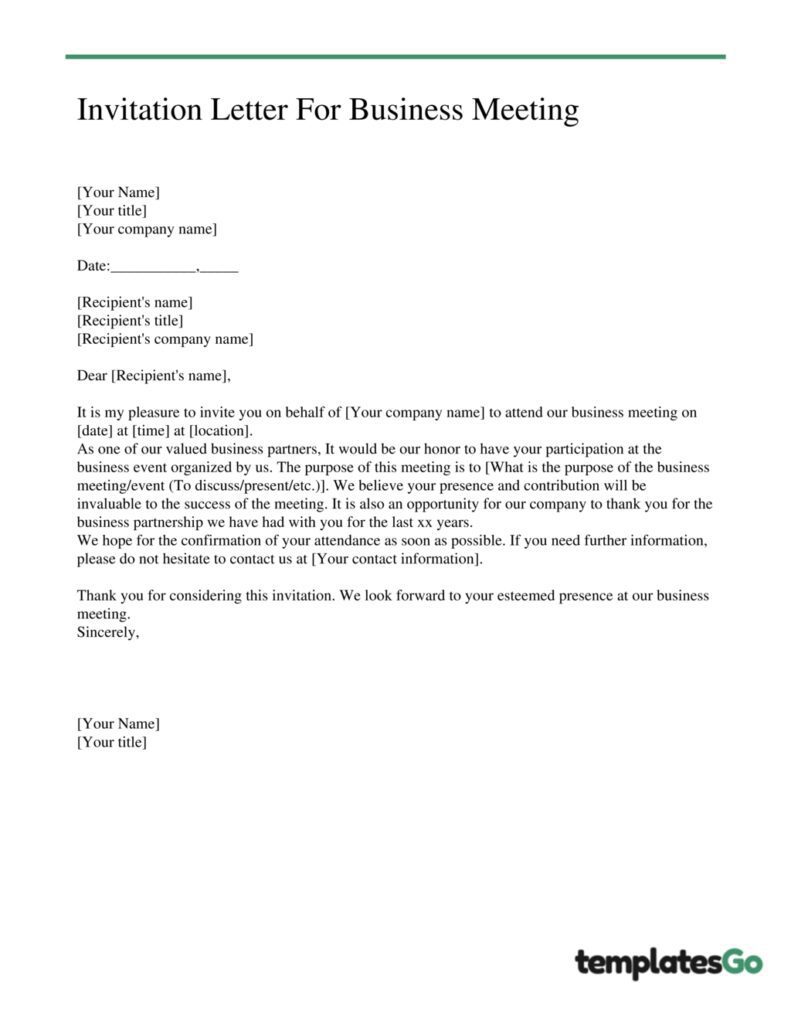 Formal Wedding Invitation Letter