What is an invitation letter?
A letter of invitation is a written document intending to invite individuals (s) or organizations (s) to a particular event. A letter of invitation can be written formally as well as informally and should be on one page only. Depending on the purpose, set the appropriate tone of voice for this letter. For example, you need to write a business invitation letter to your close clients on behalf of your enterprise, not for you. Then, the tone of this letter must be professional and courteous.
Moreover, this letter plays a significant role in visa purposes. If you are the one who is invited by your business partners or you travel to visit your family, you should request this letter from the inviter or family. It is always highly recommended to attach 🔗a well-written invitation letter for visa tourism or business trips to support the application case.
On the other hand, the use of invitation letters can be various, such as wedding ceremonies, inauguration ceremonies, business events, and annual company functions.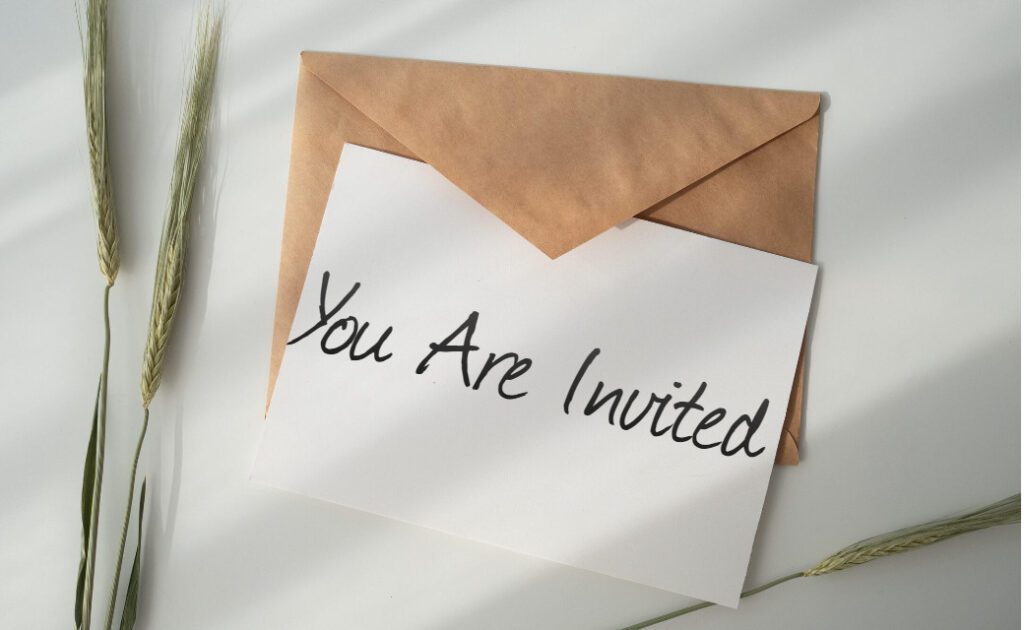 Free Invitation Letter Editable Templates
One of the easiest ways to create a personalized invitation letter is to use a well-formatted professional template. Therefore, we offer an editable document tool to help you create this letter faster on our professional templates. The whole process only takes three steps:
Fill in your information on one of our templates by answering our simple questionnaire.
Review your letter and edit the letter freely by clicking on the text.
Download your letter in high-quality PDF file format.
conference invitation letter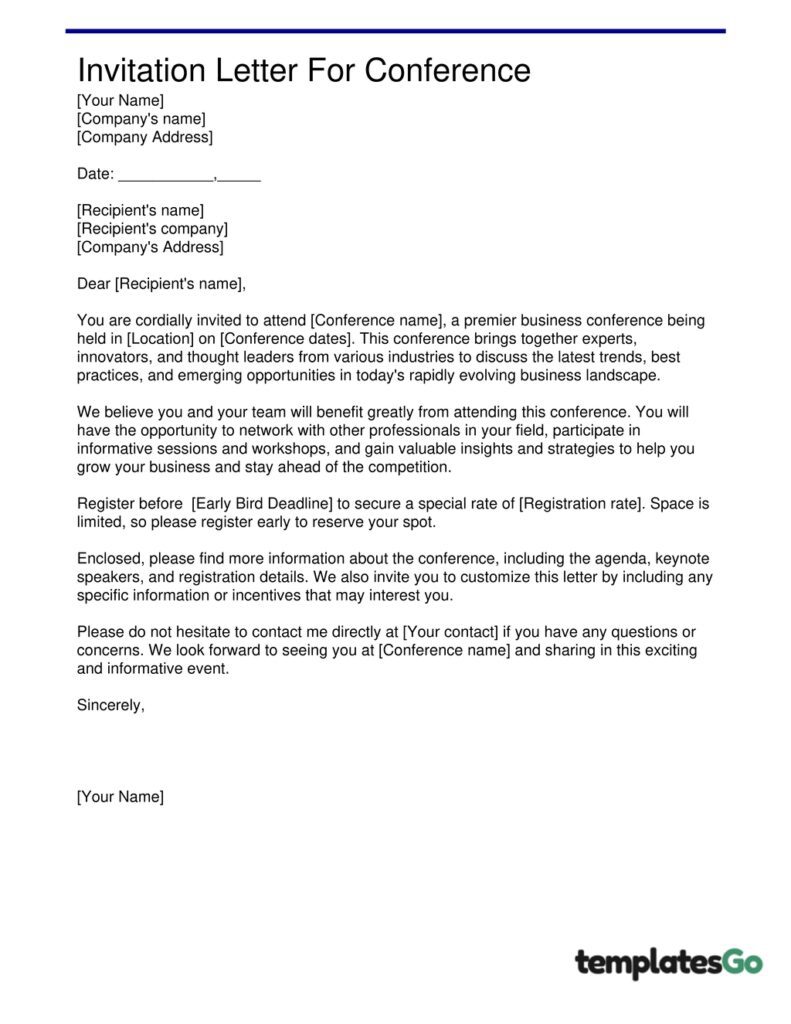 Invitation Letter For Business Meeting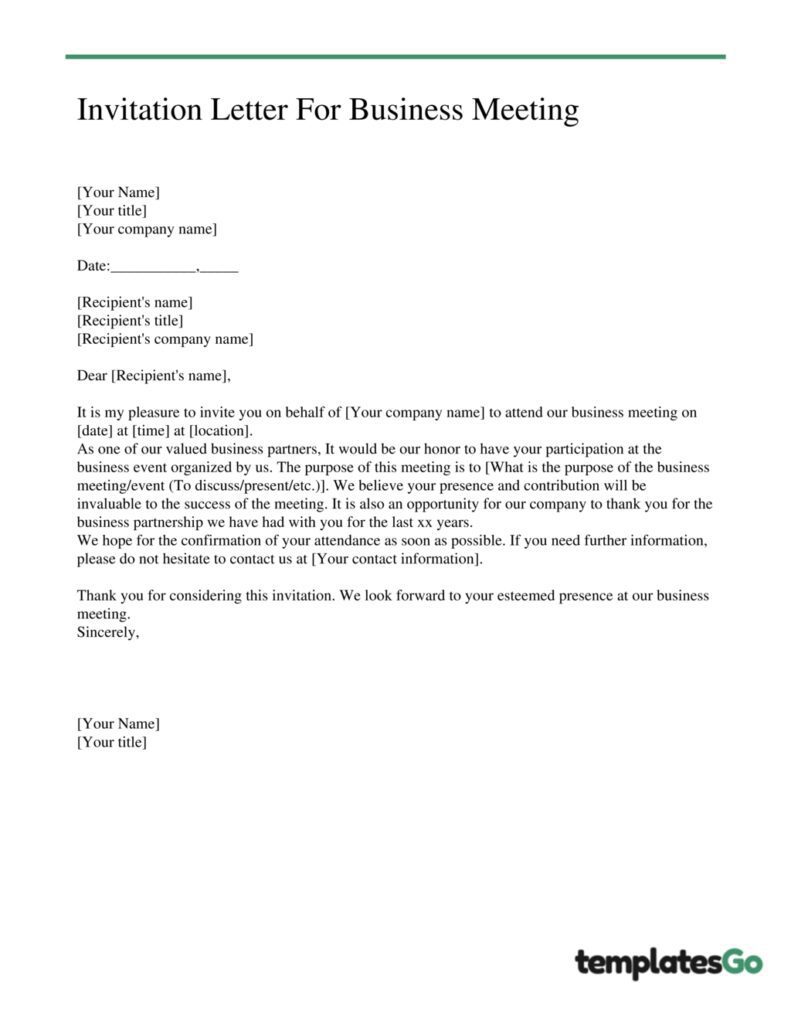 Formal Wedding Invitation Letter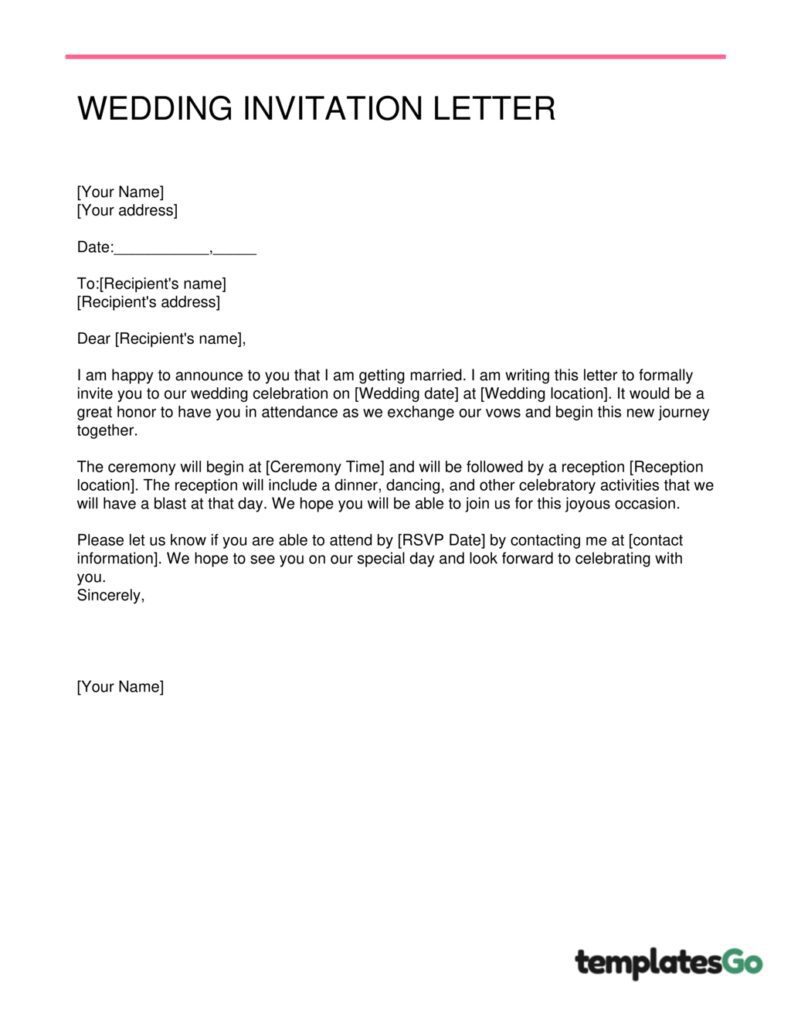 how to write an invitation letter?
Now, we will guide you step by step on how to prepare to write an invitation letter and compose a good format from scratch.
Steps To Prepare Before Writing
Organizing your information in a well-structured format is vital so the reader will readily understand the intent of your letter. To do so, you should follow the few steps below:
Gathering information
It sounds odd, but sure, you will not want to feel regret for missing any details after sending this formal letter. For that reason, you should make a list of your visitors' personal and details you want to inform your visitors. The information could be your potential visitor's name and address, the details of the party, such as time, place, and RSVP, or personal information of the visitor for visa tourism, etc.
Define the tone
Writing a letter to invite friends or members of your family, you can pick up a cheerful voice for the letter with casual language. Furthermore, it will not be a big deal to your close friend regarding the length of the letter, so you can extend the text if it is necessary.
For business events, if you are writing an invitation letter for a business meeting or a conference as a representative of your company, you need to select formal wording for it. Keep the letter short with enough details for professionalism to persuade the guests to attend the event. The same with writing an invitation letter for a visa to the embassy.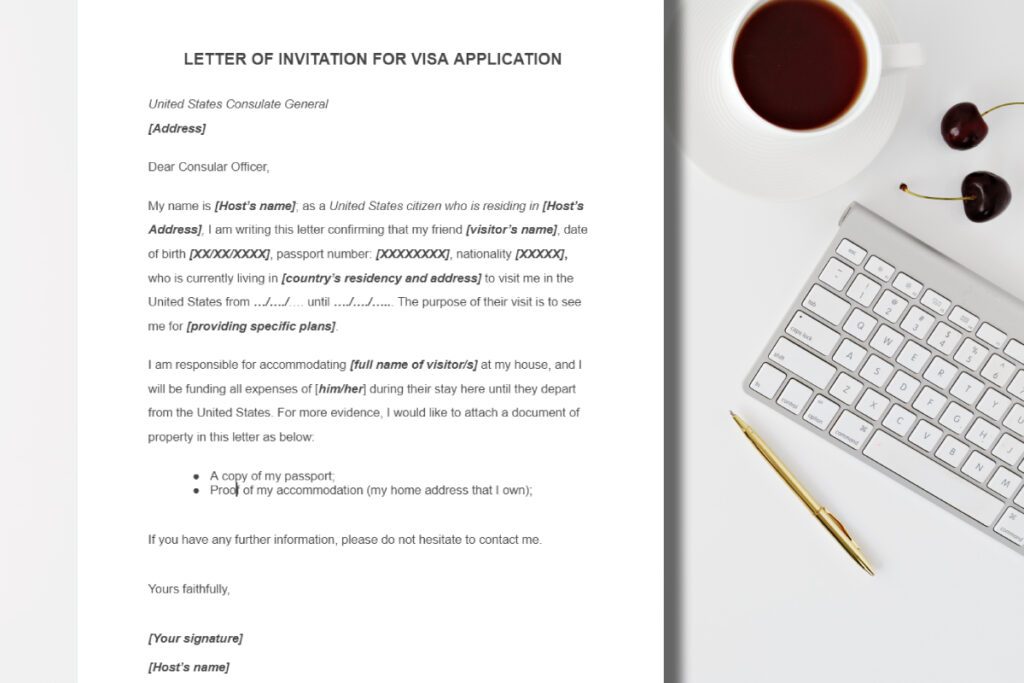 How To Write A Letter Of Invitation (Step-By-Steps)
Below we have compiled the most common steps in order to draft a good letter. Also, you can also use the customizable templates at templatesgo that we designed following the🔗 standard structure of letters. We will divine 4 parts to focus on with examples:
Letterhead
If you are writing a letter on behalf of an organization, use their letterhead, which contains company details. Otherwise, always add details of the sender and the receiver, such as full name and address.
Salutation
Start your letter with a salutation. If you know the person's name, write the first and last name: Dear Peter Smith or Dear Mr. Smith. If you don't know the name of the recipient, you can write: Dear Madam/Sir. However, always attempt to find out the person's name at first to personally address the letter. This way often works better than a generic letter. Then, finish the salutation with a comma and skip a line. Here are a few examples of starting phrases you can use:
We are delighted to invite you …
Our firm will be honored to have you as a guest …
It would be our pleasure to have you as a guest ...
I will be happy if you come to …
It is my pleasure to invite you on behalf of [name of company] ...
You are cordially invited to join us at the event that will be held...
You're invited to the most important day of our lives! Come to our wedding ceremony and share our joy...
Body Of The Letter
Ok, now we will get into the most important part, where you will need to attach all the necessary information you want to inform your guests, such as the reason for the events, where and when, special activities and RSVP, etc. By following the list of details you prepared or using our standard templates, you will not miss any important details.
Closing letter with signature
Show your gratitude toward your recipients for considering joining you or the events. Let them know that you are always happy to receive their response or answer any concerns, and leave your contact (email and phone no.) to be in touch.
Conclusion
Writing a formal letter is never easy, and it can be time-consuming if you are not used to writing it. However, by following our guide or using one of our professional templates can help you advance your work and maintain professionalism. Our designed templates allow you to personalize the text easily to meet your requirements, and in just a minute, you can download your letter.
If you are searching for a sample letter for immigration purposes, you can check our 🔗 letter for immigration with templates and examples to follow.