Visitor Visa Requirements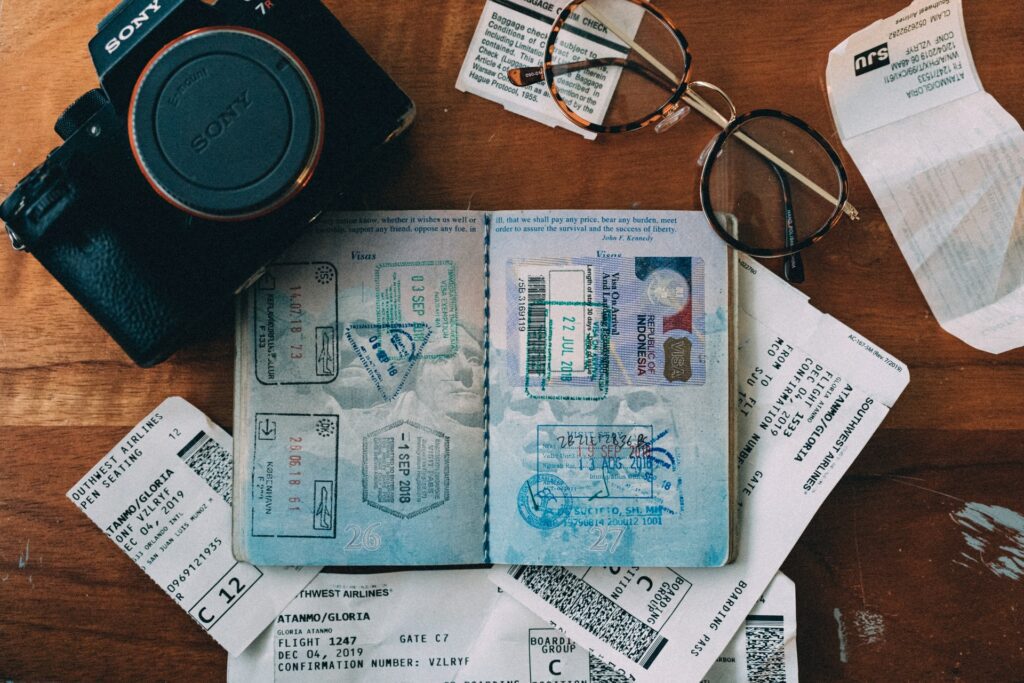 First, we will distinguish the type of visa for our purpose as below:
Visa category B-1 for business.
Visa category B-2 for tourism.
Or B-1/B-2 for a combination of both goals.
Second, U.S. immigration law will require all non-immigrant, non-U.S. citizen air travelers to the United States to qualify if they meet the entry requirements to enter the United. You can refer to the instructions on the 🔗 website of the U.S. Embassy or Consulate where your visitor will apply for a visa for details on the application process. It is possible that additional documents may be requested to determine your eligibility for the visitor's visa. Before writing this letter, here is the necessary information you should know from your guest:
evidence of the applicant's residence
You will need to demonstrate your visitor's residency address in the invitation letter, so ensure you get the complete address. Your visitor(s) must be legal residents in a foreign or home country and demonstrate their intention to return after their brief visit. As the host, you can provide support by producing a letter of invitation or any relevant documents to confirm your relationship with the applicant.
Their Trip Timeline During Staying
To assist the visa application process, the visitor's planned timeline in the United States must be indicated, including the exact dates of entry and departure. This information should be noted in both the visitor's visa application and the letter of invitation for US visa provided by you, the host.
The purpose of The trip
When applying for a B-2 tourist visa, it is crucial for the visitor to clearly communicate the purpose of their journey to the United States. This can be demonstrated by providing legitimate travel plans, such as booking a vacation, purchasing round-trip flights, visiting friends or family, securing travel insurance, etc. As the host, you can support the visa application by providing a detailed tourist itinerary in your invitation letter for US Visa and offering financial sponsorship, if applicable. This helps to establish the visitor's intentions and strengthens their application in the eyes of the consular officer.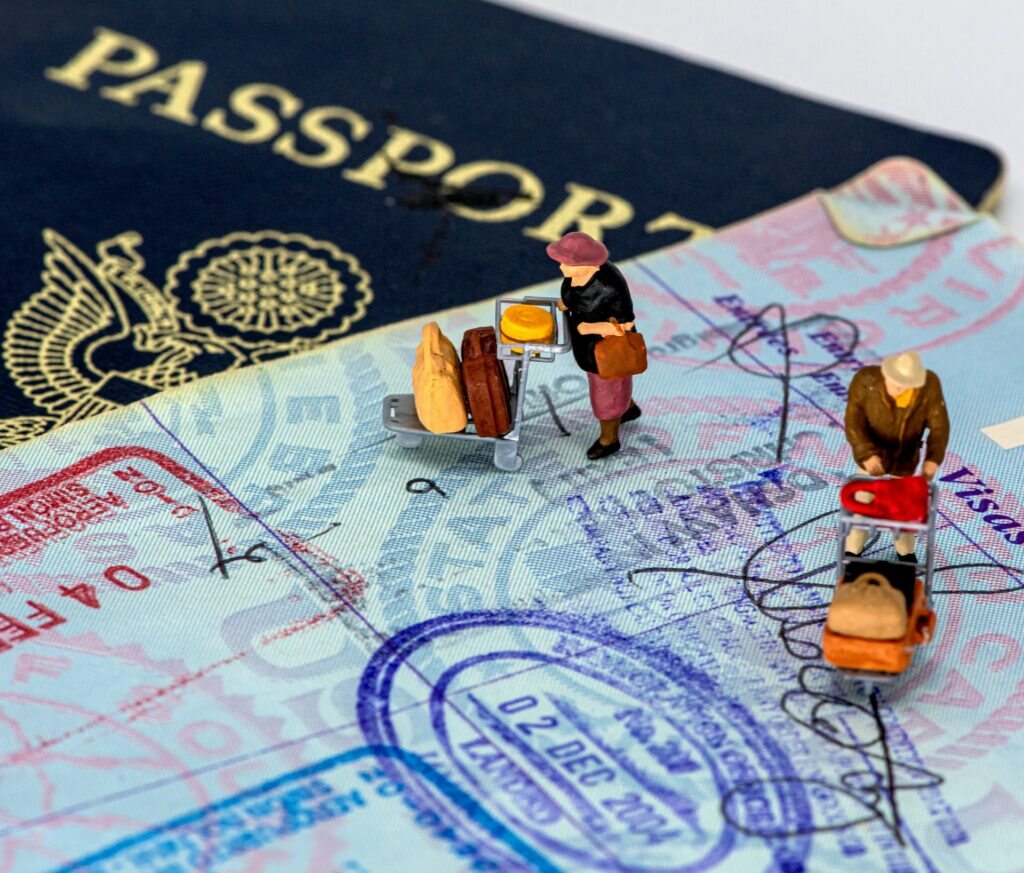 How To Write A Visa Invitation Letter
What information to include?
Writing a letter of invitation might seem uneasy for both the Host and the Guest. For that reason, You, as the Host, must include the below essential details while writing this letter. The applicant will attach this letter to the U.S. immigration department as a formal document.
Host's full name and address
Host's date of birth
Host's status in the US (citizen, resident, etc.) and I.D., passport, or green card number (attach photocopies of personal identity documents)
Host's Contact information (such as email address and phone number)
Then, The Host must contain the details of the visa visitor in the invitation letter as follow:
Applicant's Full name and address
Applicant's date of birth
The relation between the Applicant and the Host and the purpose of visiting
Specific dates and length of stay of the Applicant in the U.S.
Mention if you, as the Host, will be financially responsible for the visa applicant while staying in the U.S.
Other Required Documents From The Host
To validate your visa invitation letter, you'll need to include supporting documents with this letter. You can send a copy of the following documents and invitation letter for a US visa to your visitors to attach to their visa application:
Proof of residence or a rental contract to verify the address. Thus, your place has to have enough room to accommodate the visitor(s).
Proof of bank statements or another relevant financial sufficiency (if funded by the host in the U.S.)
A copy of the Host's I.D., green card, or American passport.
Proof of sufficient finance and initial plan if you sponsor the applicant's trip.
Here is a sample invitation letter for a friend as below:
LETTER OF INVITATION FOR US VISA
United States Consulate General
[Address]
Dear Consular Officer,
My name is [Host's name]; as a United States citizen who is residing in [Host's Address], I am writing this letter to confirm that my friend [visitor's name], date of birth [XX/XX/XXXX], passport number: [XXXXXXXX], nationality [XXXXX], who is currently living in [country's residency and address] to visit me in the United States from …/…./.... until …./…./...... The purpose of their visit is to see me for [providing specific plans].
I am responsible for accommodating [full name of visitor/s] at my house, and I will be funding all expenses of [him/her] during their stay here until they depart from the United States. For more evidence, I would like to attach a document of property in this letter as below:
Proof of my accommodation (my home address that I own);
If you have any further information, please do not hesitate to contact me.
Yours faithfully,
[Your signature]
[Host's name]
[Host's phone and email]
Letter Of Invitation For Visa Templates
Standard Invitation Letter For Visa Application
Use our documentation generator system to create your invitation letter faster with three easy steps:
Select a template from our editable docs tool.
Fill in your information by completing a quick questionnaire.
Review your doc and make any necessary edits before (also after) downloading.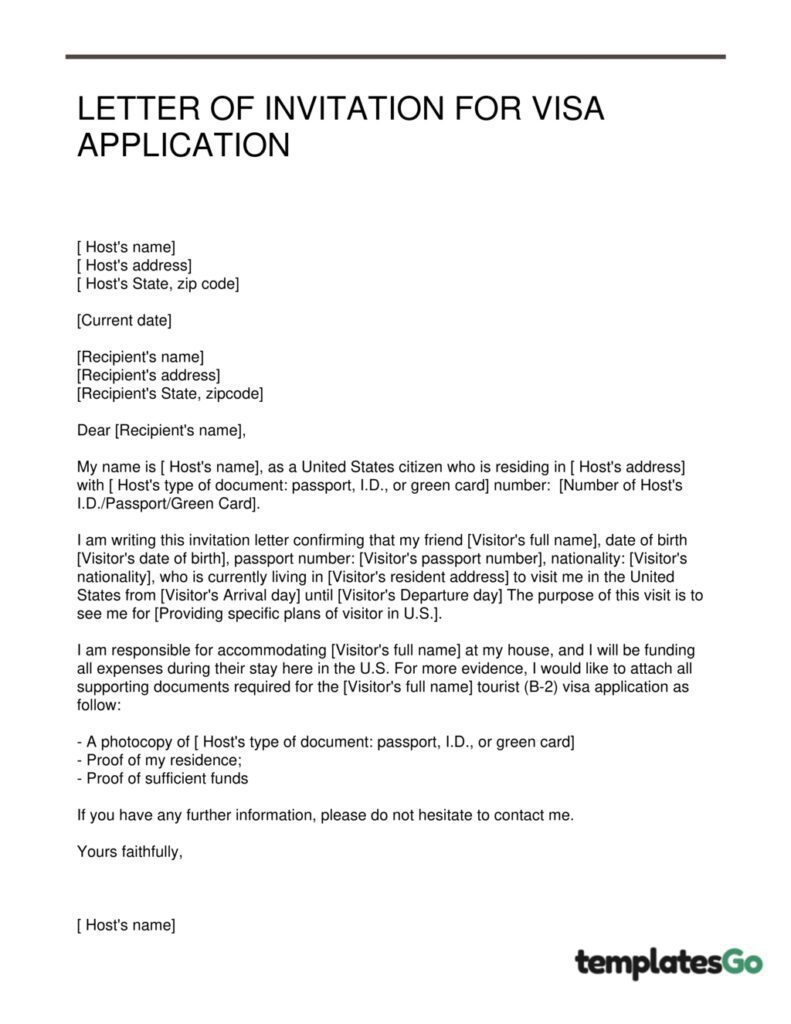 Invitation Letter For Parent Visa Template
If you need to create an invitation Letter for your parent, we created a ready template where you only need to fulfill your parent's info and yours. Remember to attach the support documents of the Host we mentioned above to your parent's visa application.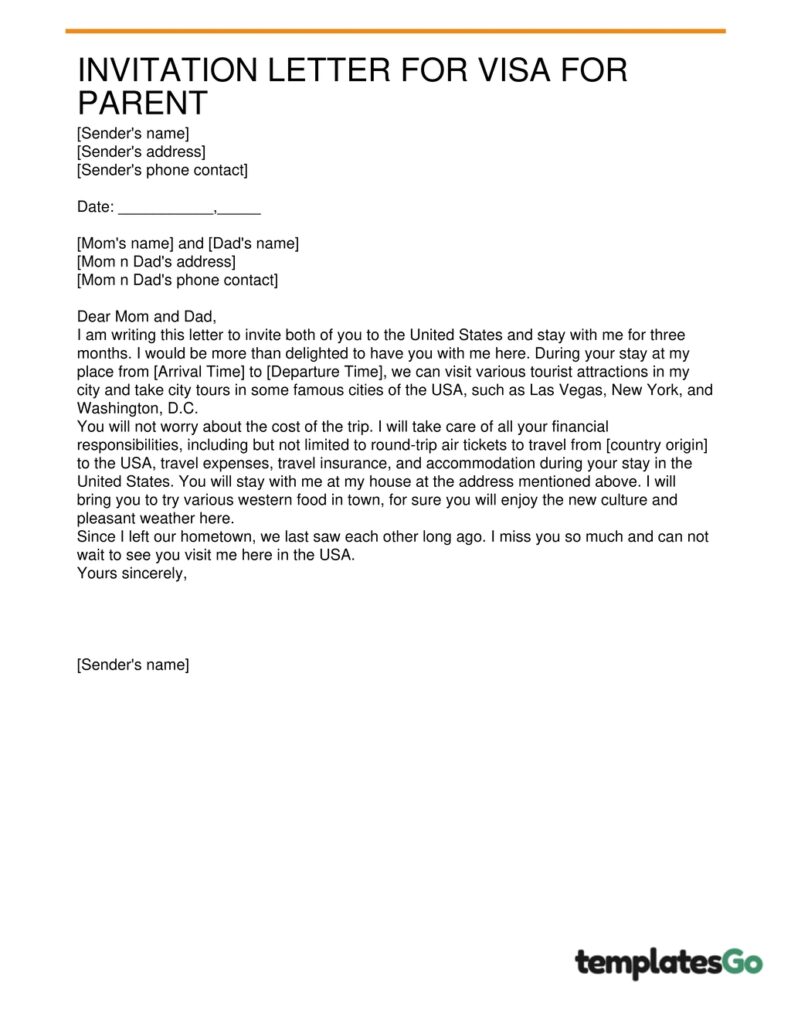 invitation letter for uS visa For Brother
If you want to invite your brother to come and visit you, this template is for you! All you have to do is complete the provided questionnaire to generate your personalized invitation. Remember that you can always review and edit the text before downloading the final version of the file.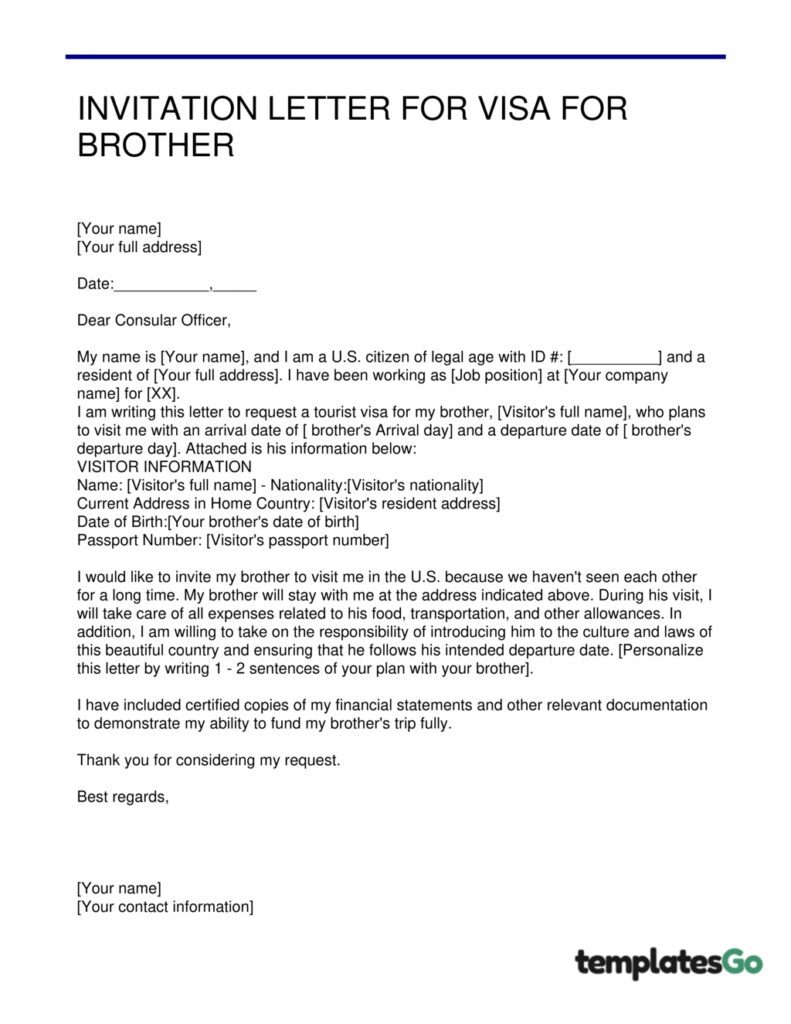 invitation letter for spouse visa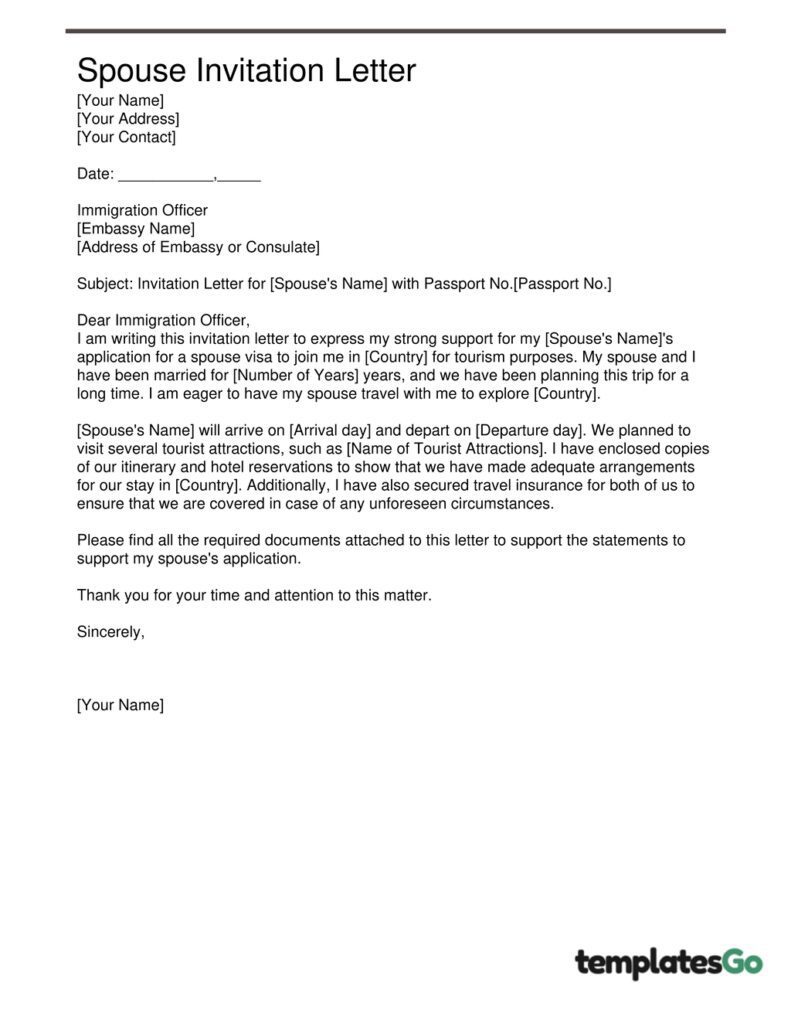 Business Invitation Letter For US Visa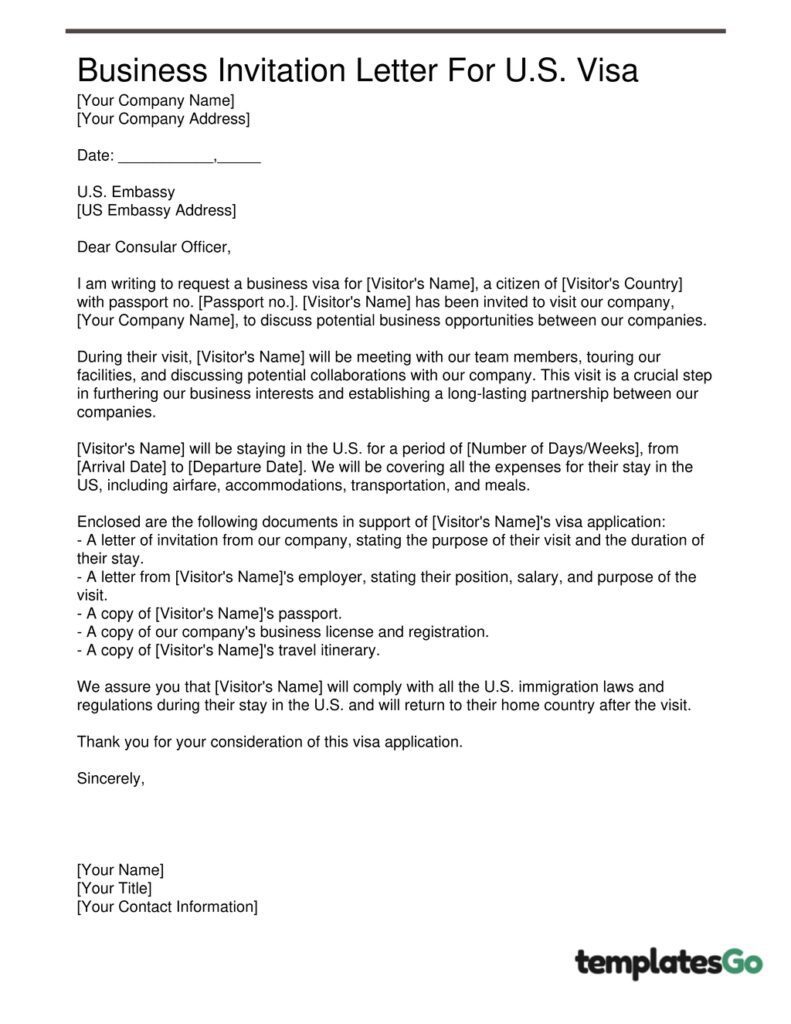 Graduation Invitation Letter For US Visa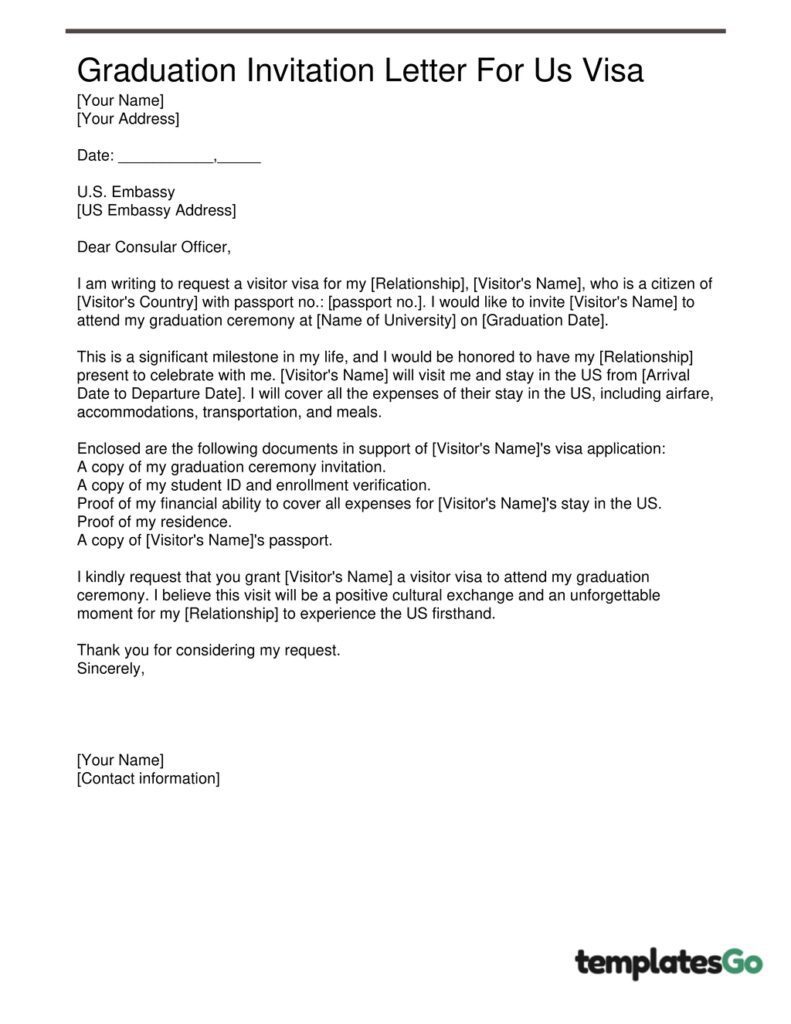 Conclusion
With our editable docs tool, we hope writing this visitor visa invitation letter is much easier for you. Last but not least, you can also check out 🔗 How to write a good invitation letter for Visa for further ideas. In this article, we will provide you not only the format of the letter but also some tips to keep in mind while creating a letter of invitation for US visa.
Regarding immigration purposes, you can visit our article 🔗 free templates immigration letter of support to learn how to write a good one or use our template to customize it on your own.