What is an immigration reference letter?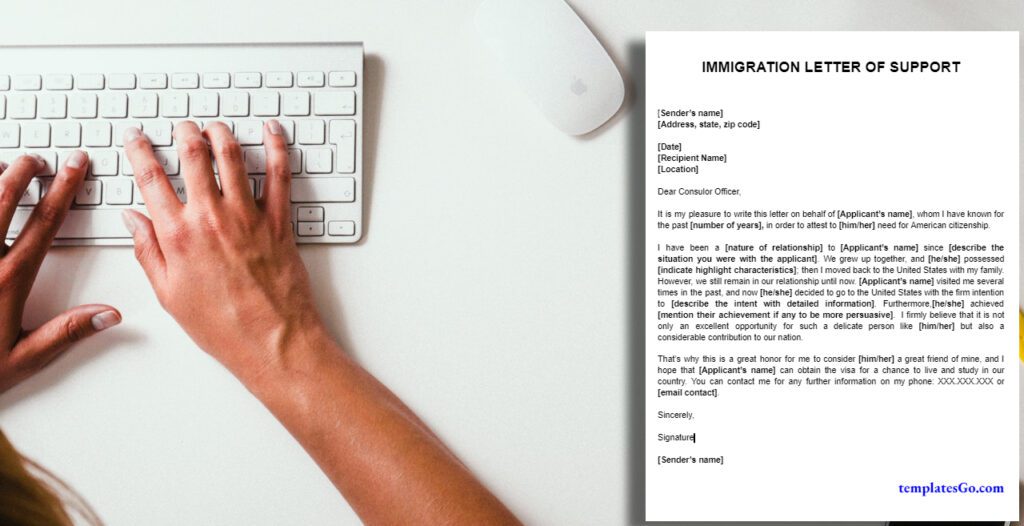 This formal letter is usually written and will be forwarded to the consular officer. It is also well known as a letter of recommendation for immigration.
Its writing letter aims to support a person's visa application or other proceedings by adding value to the immigrating person and outlining their good codes of conduct such as morality, work ethic, and integrity.
Immigrants typically look for people with a good reputation in their community to help them write this reference letter. The recommenders who write this letter can be:
An employer is a good option, whether a former or current one, because they will give creditability on the letter.
A close friend(s) who has been in your life for a long time.
A neighbor who knows the applicant well.
Relatives (it is less preferred unless you cannot find anyone outside of your immediate circle willing to write it)
Equally important, these individuals must be citizens or legal residents of the country the applicant wishes to migrate to.
Why does the applicant need An Immigration Letter Of Support?
An immigration letter of support is a valuable document that can significantly contribute to the success of a visa application. The process of immigrating to a new country can be complicated and requires various forms of documentation to be submitted. The consular officers carefully review these documents, including applicants' backgrounds and reasons for wanting to enter the country.
Having an immigration letter of support from a legal resident of the destination country, such as a friend, relative, or employer, can significantly increase the chances of a successful application. This letter serves to affirm the applicant's ties to the community and provides clarification of their intentions for staying in the country, making it an essential consideration in the immigration process.
Things you should know before writing this immigration letter
Remember that the legal citizen at the destination will be the person in charge of writing this letter, not the applicant. However, If you are an applicant who wishes to migrate to that country, you can help your sender prepare a detailed draft letter with your information. This way, it will be convenient for both sides to compose this immigration letter of support quickly.
On the other hand, you are the one who is asked to write this letter; then we recommend that the first step you should take is to gather all necessary information and the immigration intention of the applicant. For instance, you can ask your requestor to give you a must-include checklist of points highlighted for the letter. If they intend to apply for a work visa, you may require their resume and job description to customize your letter.
How to write a good reference immigration letter?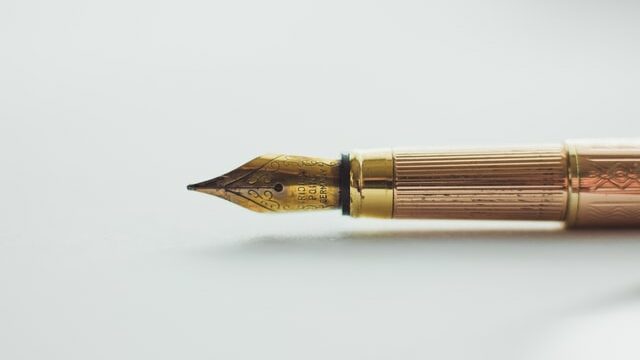 You can skip this part and use our editable templates instead to speed up the writing process, or we will guide you step by step to create a formal immigration letter of support as follows:
1. Start with the date and the salutation
The sender must add the date to validate the newly written letter. Following is a salutation to the consular officer in the 🔗 immigration officials or "To whom it may concern." if you do not know the name of the recipient. The employer should add a logo or company header if this letter is sent from an organization.
2. Give a brief introduction
Introduce yourself, including your name, citizen status, and job title. It is crucial to demonstrate a brief background of your relationship with the applicant.
3. Provide a persuasive reason in the body letter
The body of the immigration letter of support is the most critical aspect, as it must effectively communicate the applicant's case for citizenship to the consular officer.
Firstly, you must prove your relationship with the applicant by providing evidence of your connection in this paragraph. For example: How do you both know each other?
Secondly, you must highlight the requester's moral character at work, social life, and optimistic character.
Lastly, indicating specific examples or any achievements, you also witness assists in proving your point. This will help to build trust and credibility with the consular officers.
4. Close strong
Provide your sincere recommendation by using these phrases such as: "I strongly believe," "I highly recommend," or "I have no doubt that". In this way, you will emphasize why this applicant deserves to obtain the relief he's requesting for.
5. Leave personal contact details
After reviewing this letter, the immigration officers may contact you for additional questions or requests for your identity document. It is essential to provide your contact detail, such as phone no. and email contact.
6. Your signature
In the last part, do not forget to add a closing greeting:" Sincerely"; your signature and full name will be the following. If you are the employer, you can also count on a company stamp for the authenticity of this letter.
Highlight

Once you complete your letter, you can send it to the applicant for reviewing and confirming information. After verification, the Applicant can now attach the notarized and signed letter with the visa application to submit.
Free templates of Recommendation letters for immigration
We created an example of immigration letter for a friend who is helping his friend obtain a U.S. visa for your reference. You can choose one of our templates to edit and customize freely with us in only three easy steps.
Select the template of the immigration letter of support.
Fill in the simple questionnaire and review your draft.
Download in PDF or Word. You can adjust the text again freely.
Immigration Letter Of Support Template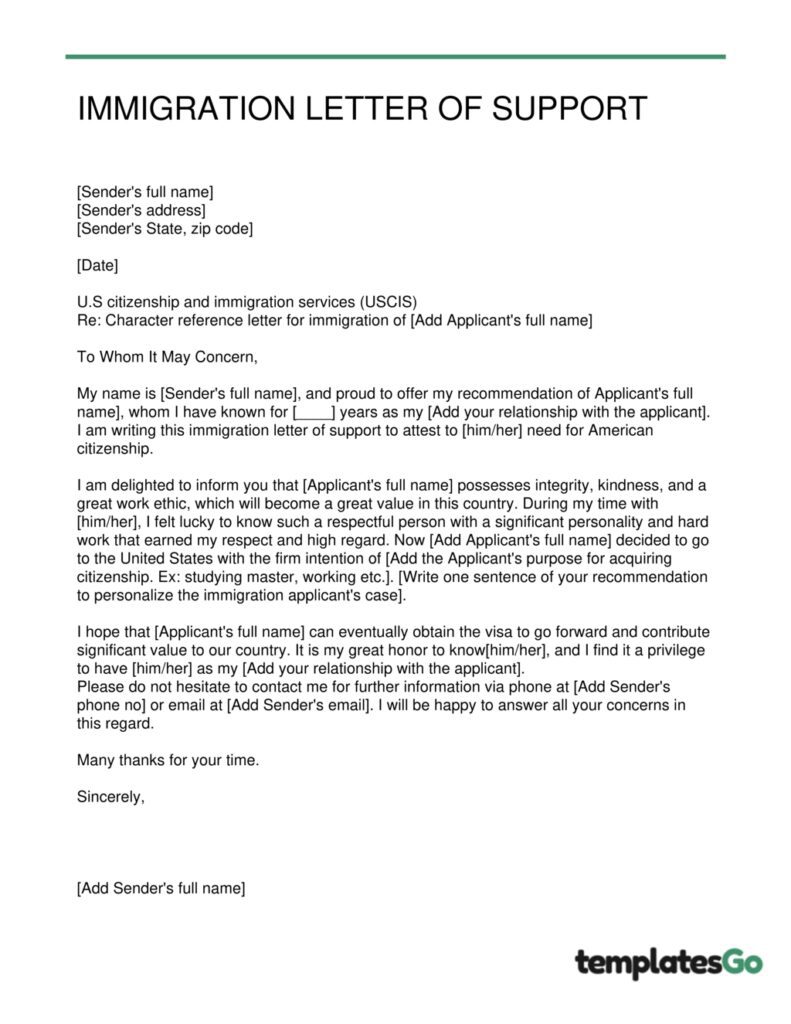 Sample of Immigration Letter Of Support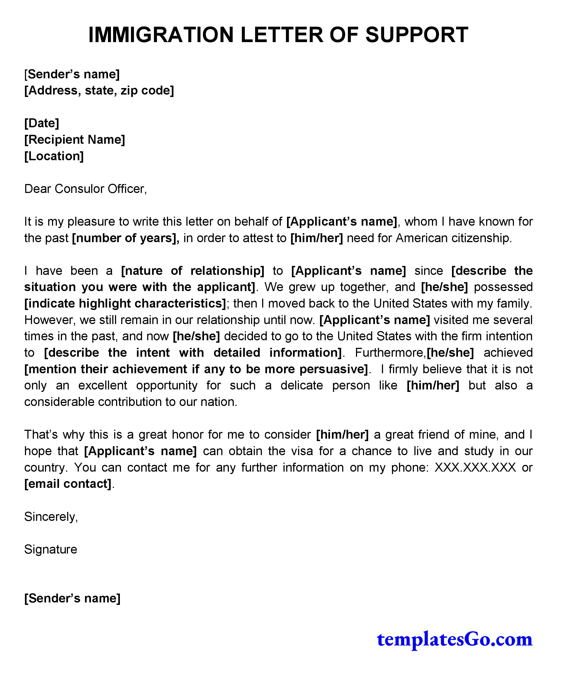 Immigration Reference Letter Template
Here we have another sample recommendation letter for immigration from an employer created by TemplatesGo.com.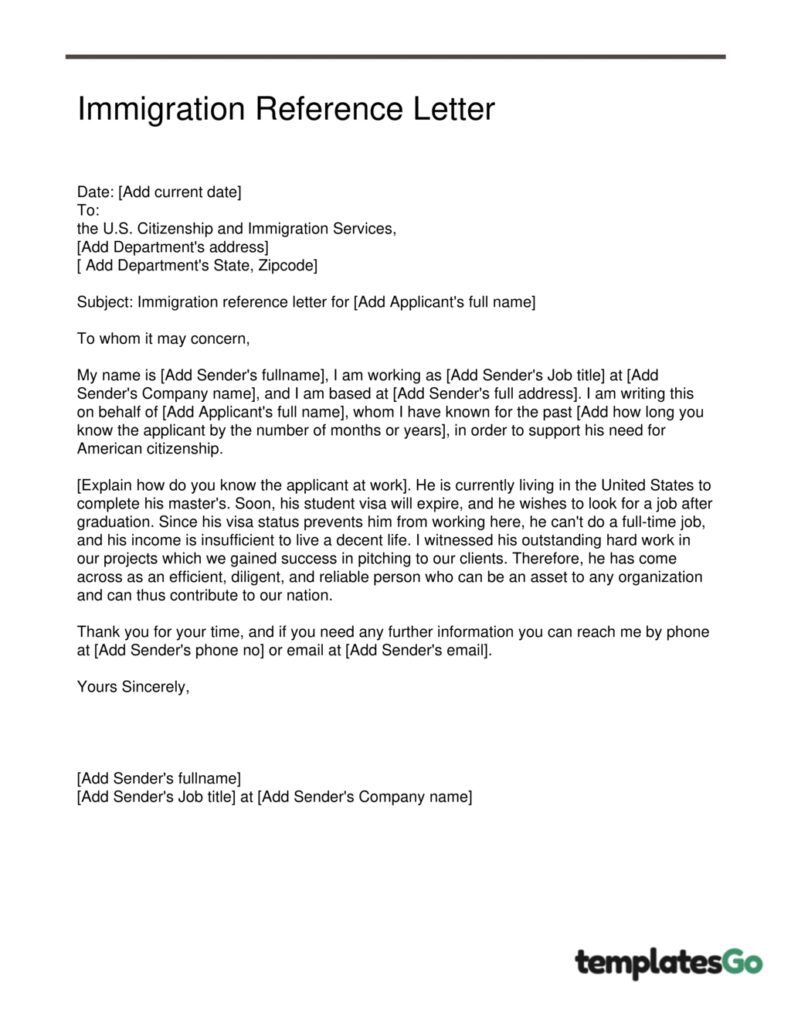 Sample Of Immigration Reference Letter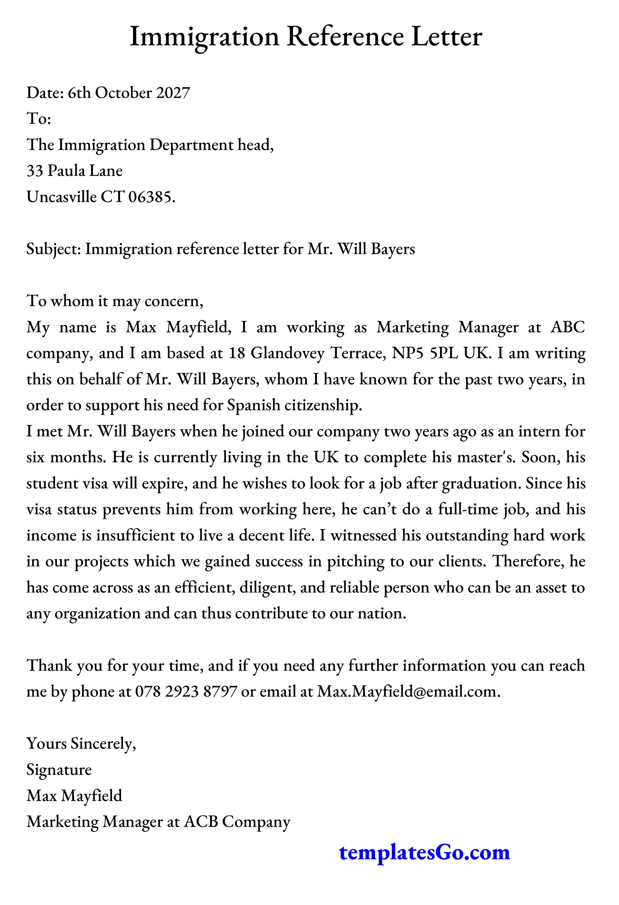 Character reference letter for immigration for a female friend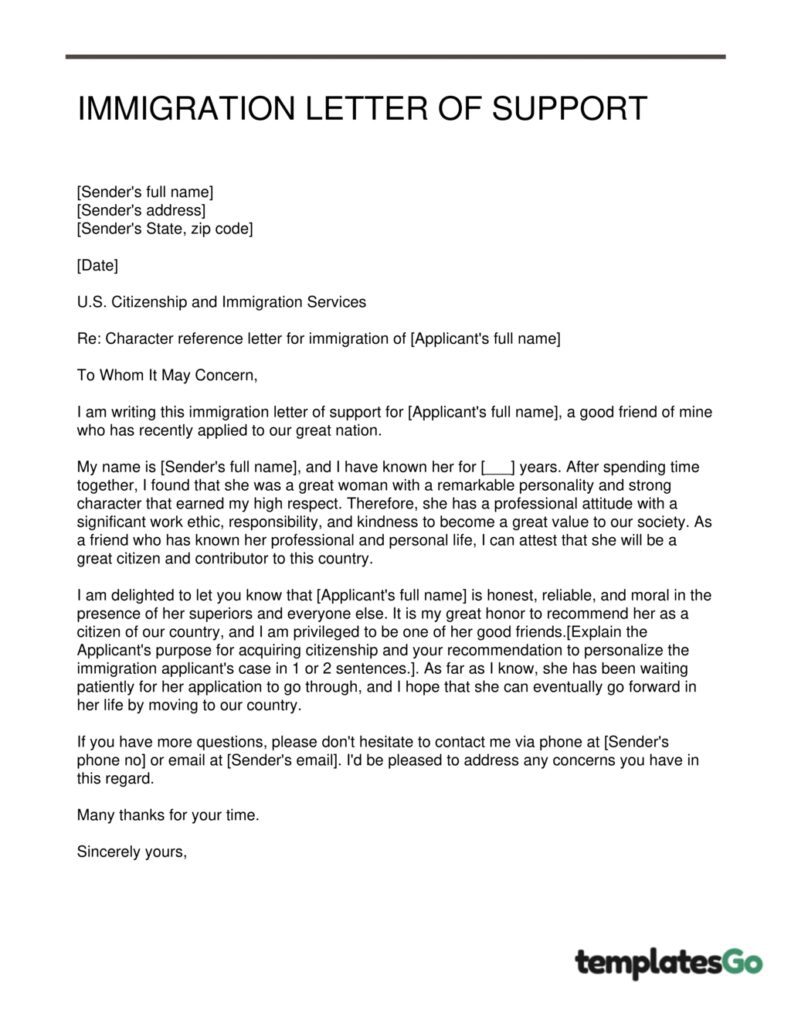 sample immigration letter of support for a male friend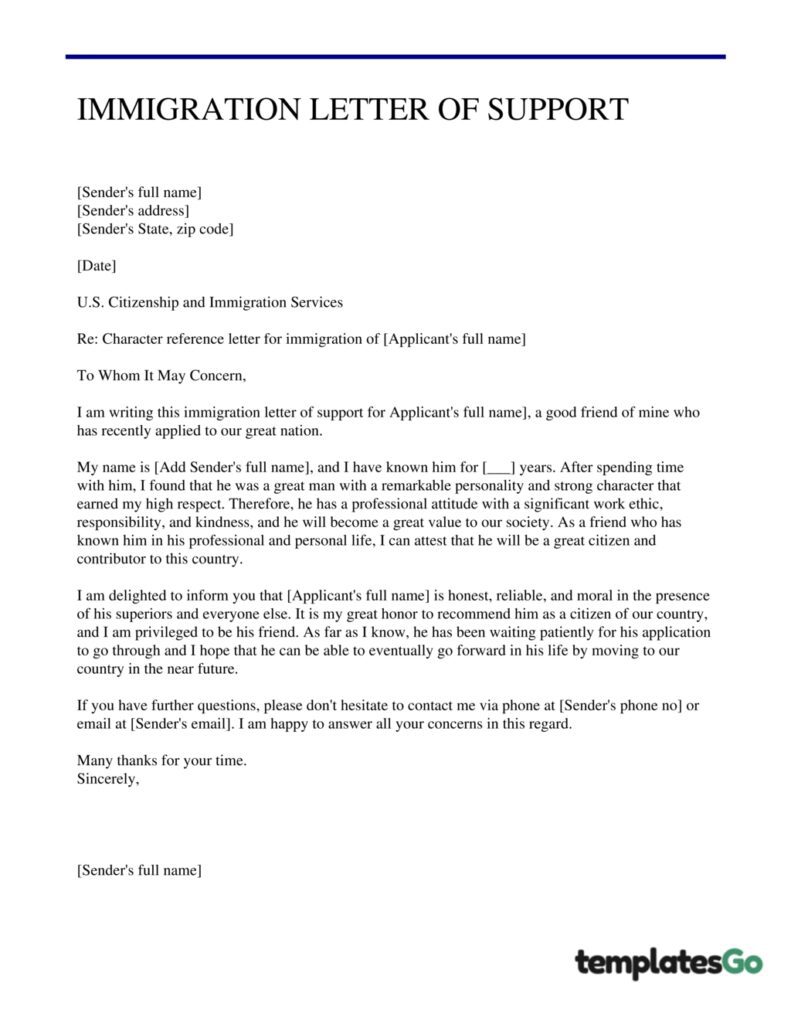 family member letter of support for immigration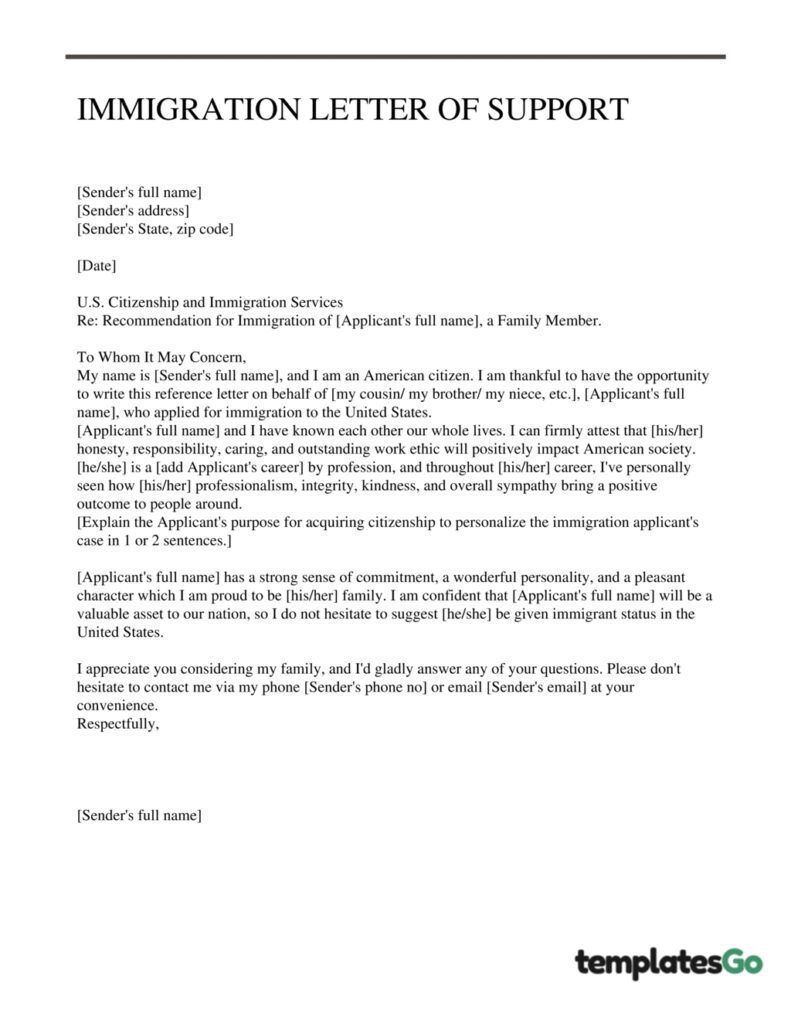 Reference Letter to Support Immigration Marriage From A Close Friend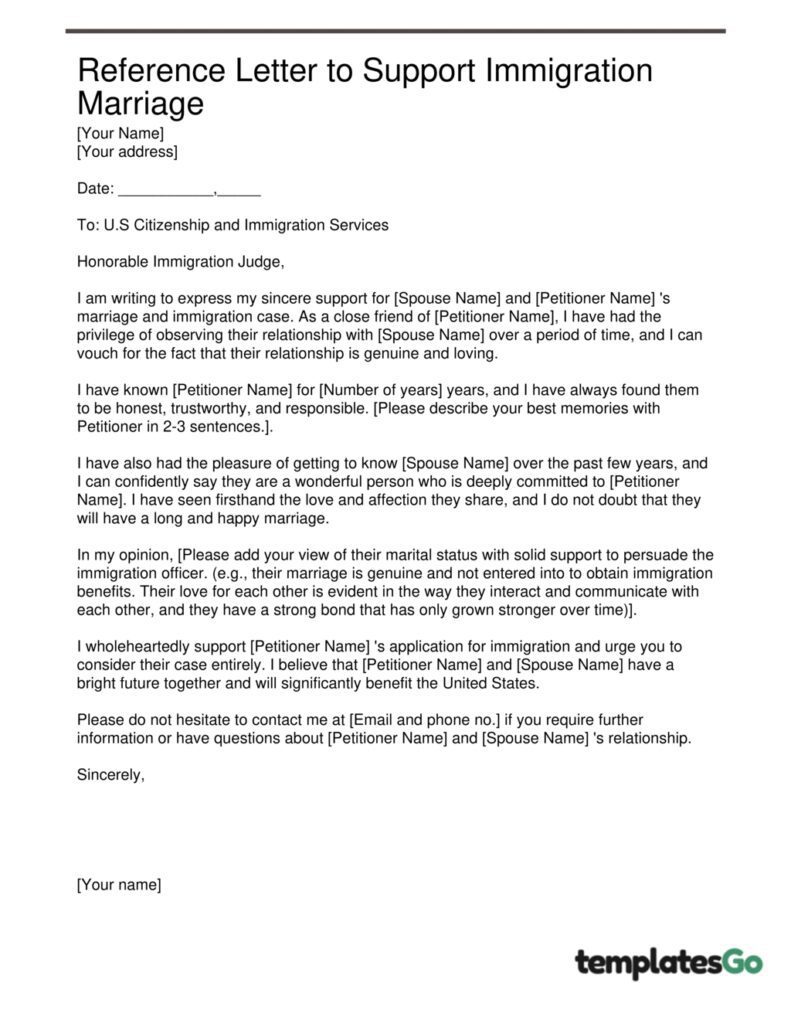 Related Post

Similarly, we provide a related post 🔗Invitation Letter For U.S. Visa Template for writing an invitation letter for U.S. tourist visa purposes. In this article, you will find out what requirements are from Embassy and free templates to use.