College Acceptance Letter Templates
Here, you will find the two standard college acceptance letter templates for the school that you can customize easily. We also offer two additional templates for students to respond to or decline their college offers.
Simple College Acceptance Letter
The College Acceptance Letter is a formal letter that colleges and universities use to notify prospective students of their acceptance to the institution. This letter usually includes basic information such as the student's name, the name of the institution, and the academic year to which they have been accepted. In general, receiving this letter may take up to 4-6 weeks.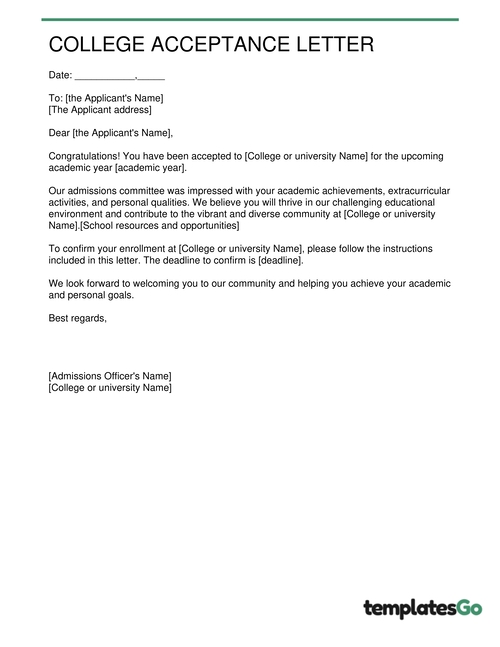 College Admission Acceptance Letter
As a school admissions offer, you are probably busy and prefer sending a generic acceptance letter to the students. Hence, we created this special template covering all the required college admission acceptance letter information. Now, you can quickly fill in the school information and send it out.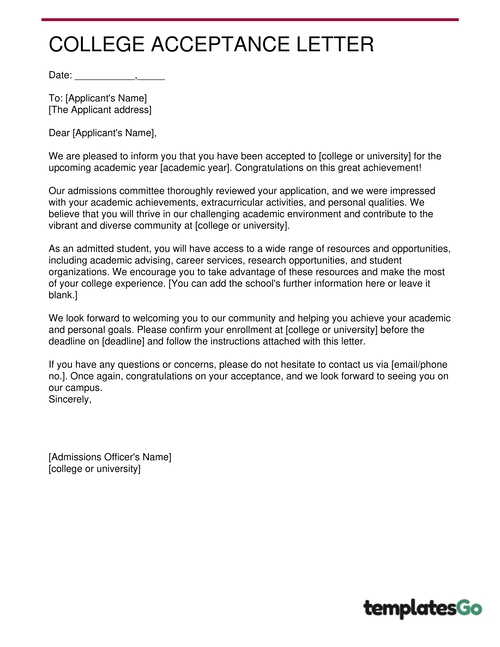 College Acceptance Response Letter
If you receive an acceptance letter from college, congratulations! Now, you will need to respond to the letter, which is a crucial step to take. It allows you to confirm your intention to enroll in the institution's course and demonstrates your gratitude towards the school. Also, It helps you re-confirm when to submit the deposit to hold the spot.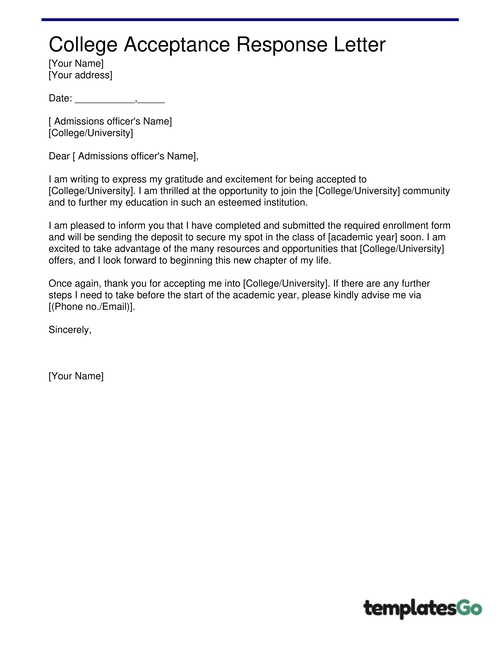 sample letter declining college acceptance
If you decide to enroll in another college and decline the offer, sending this letter as soon as possible is important. Doing so allows the school to offer the place to another student who may be on the waiting list.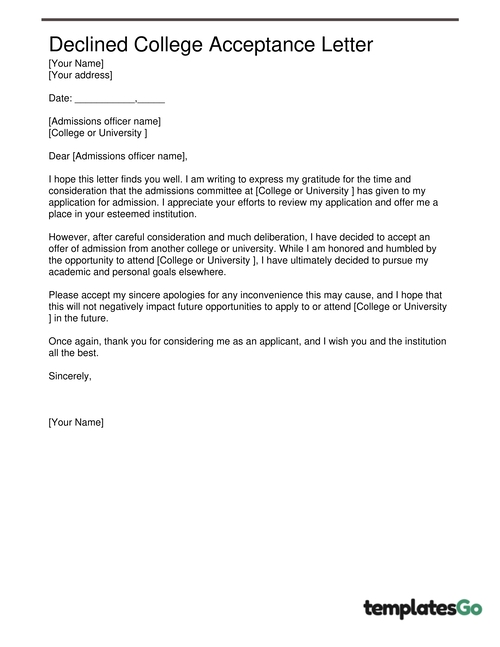 Related Post

👋 Hi students! We have special templates to🔗 request professor a recommendation letter politely and effectively with tips. Also, you may encounter some unforseen circumstances to miss a class or late submit the assignment during your college time. No worries, we got your back! We have specific templates that you can create 🔗a polite excuse letter to professor with your personal touch at templatesgo. Search it now!
how to Write or Respond to college acceptance letter
Before responding to this letter, we found 🔗 a great piece of advice that you can look at and make a better decision on selecting your future university. Then, you can create a response for a college acceptance letter in just a few clicks at templatesgo. We will guide you step-by-step to help you maximize the use of our document generation tool. Let's get started!
1. Select Your Template
No matter you are an admission officer or a student, you can use one of our templates to create a letter with a personal touch. Also, we offer our AI tool so that you can create a unique version to meet your requirements. So no worries, just select a template you need and let us simplify your writing task.
2. Answer our easy questions
Once you click to edit this template, a questionnaire will appear where you can fill in your information, and our tool will generate the text into the template automatically.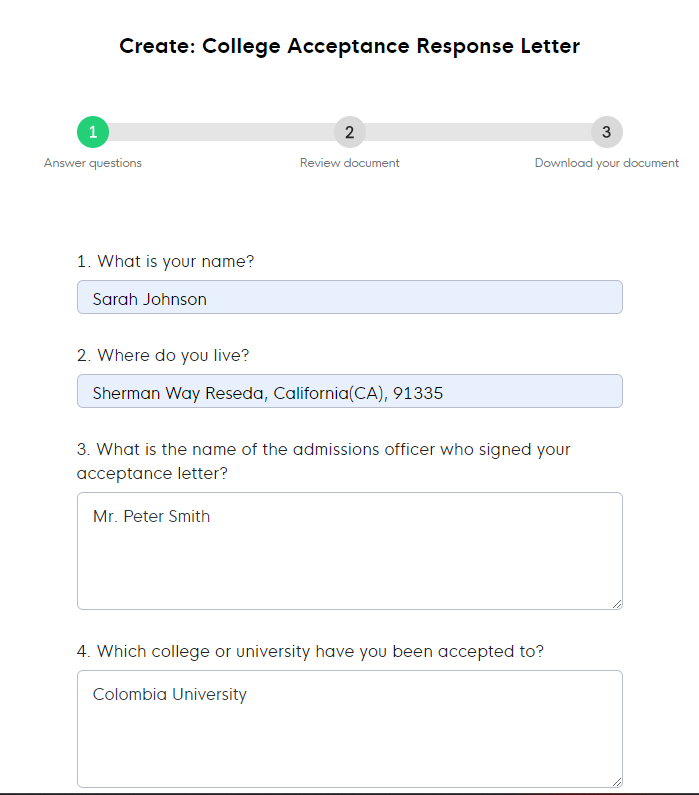 3. Review Your Letter
Now, you can review your letter and modify the text freely by clicking and editing the text box.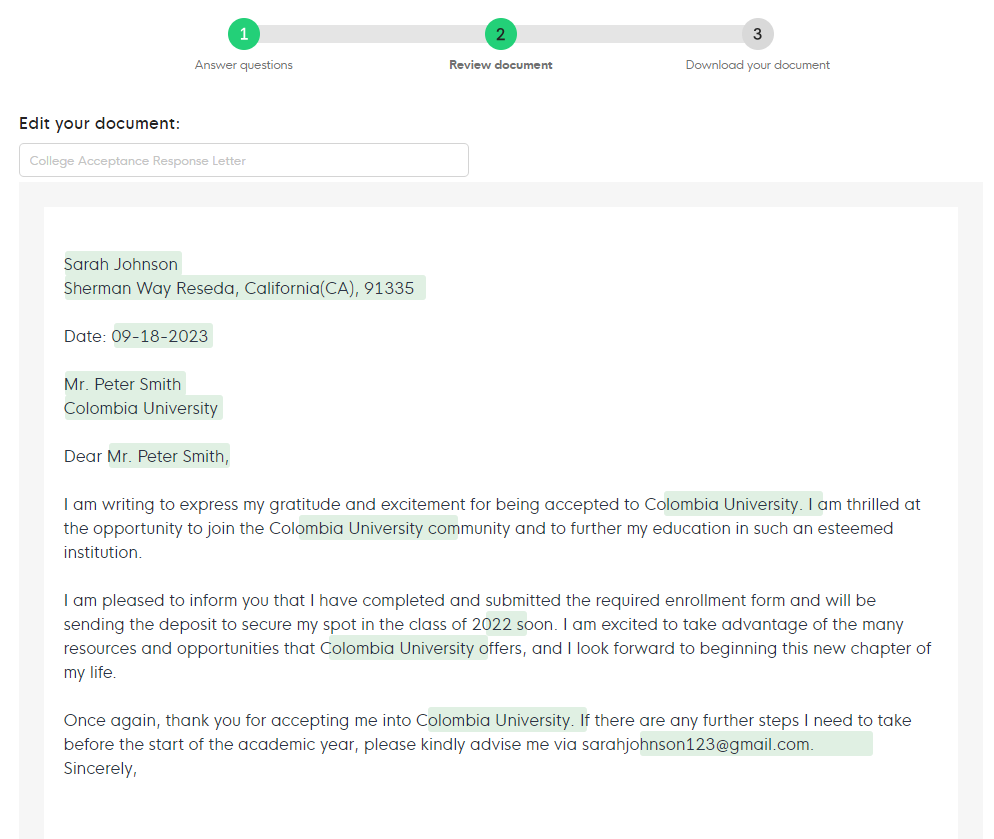 4. Finish and Download Your Personalized Letter
Once you click to finish, your letter will be created in PDF and ready to download it. We format the letter following business standards so that you can sign and use it.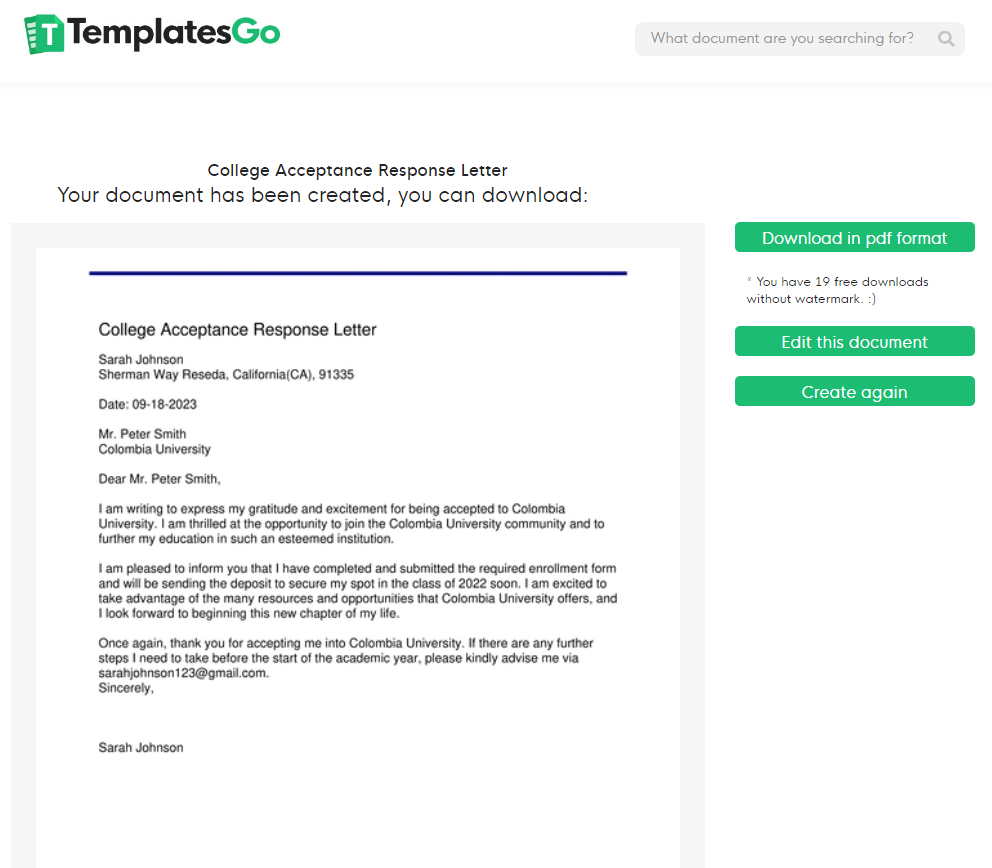 In summary, you only take a few minutes with our document generator to customize our templates. Additionally, you can review your draft and make any necessary adjustments, both in your answer and the text templates, without limitation. You will spend less time thinking of ideas and create your letter from scratch. From now on, you can focus on other matters and let our tool make your letter with only a few clicks:
Choose your template to start.
Provide your details by answering quick questions.
Review your draft.
Complete and download it in PDF format, ready to use.
Conclusion
Creating a formal letter to respond to or write a college admission acceptance letter politely can be challenging. However, now you have the alternatives to create your letter quickly and easily with us. So, let's enjoy our tool and follow us for newly updated business and school letters :).