Why spend hours drafting a teacher contract from scratch if you can customize and craft the contract in a smarter way? You can use our teacher contract template designed by professionals for public and private schools. Simply follow these steps to complete a contract:
Fill in your information.
Review the agreement, and you can modify it if necessary.
Download it in a PDF file for immediate use.
Teacher Contract Template(s)
Easy-To-Use Teaching contract
This is a standard contract where we designed typical benefits and duties for the new teacher. You only need to fill in the information about your school and the hiring teacher data. Once you complete the questionnaire, the draft doc will be generated for review. This teaching contract template can be used for private or public schools. Also, you can edit it freely as a full-time or part-time teaching contract.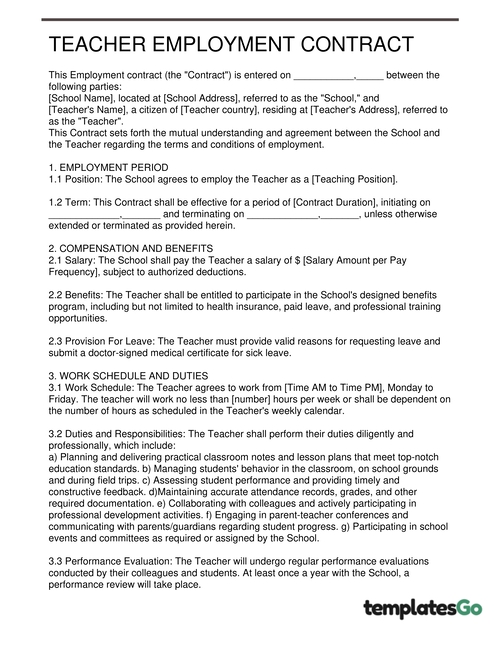 Teacher Contract for specific customs
If you want to write specific terms and conditions of benefits or position duties from your school, this template is for you. Differentiate from the easy-to-use teaching contract template, this template allows you to write on your own the scope of the teacher's responsibilities and benefits from your school's policies. Likewise, you can copy-paste the job description of the role as well as your school's benefits policy into our questionnaire. All the information will be generated, and create your draft in just a few seconds.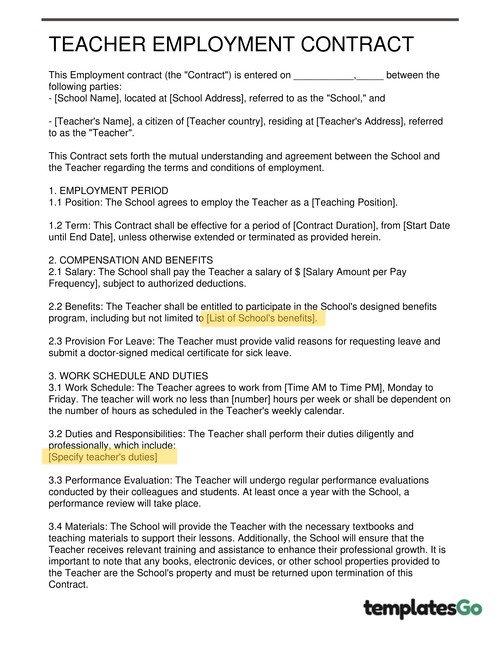 How To Write A Teacher Contract?
In case you want to know what to include in a teacher employment contract, you can not skip this part. We will give you a brief guide about what essential elements this contract should have:
Involved both parties' information
The contract will only be valid if it shows clear information, such as the name and address of the school, the teacher's name, address, and the citizen's country. All these pieces of information must stay at the beginning of the contract and should be separated.
Stating the Work Duration
Like most employment contracts, the teaching contract must state the start date and end date. These dates indicate when the contract comes into effect and when it terminates. They play a vital role in setting the timeline for the teacher's obligations and determining the contract's validity. Therefore, it is essential to remember that unforeseen circumstances may occur, provoking the teacher to leave the school before the contract's expiration. Such situations can significantly impact the school's workforce and create challenges in maintaining the educational environment.
To address this concern, including a bond agreement for teachers in the contract can be beneficial. If the teacher decides to leave before completing the contract, the bond agreement stipulates that they must pay a predetermined amount to the school.
Salary and Benefits
Whether you create this contract for a part-time position, private school employment, preschool teaching, or any other scenario, it is vital to provide complete information about salary and benefits. A newly-hired teacher deserves the reassurance of receiving a fair and competitive salary, along with appropriate benefits from the school's payroll. The contract serves as the instrument to deliver that assurance. According to Indeed, a teacher's base salary typically ranges from $8.96 to $34.85 per hour, with an average of $17.67. You can 🔗visit Indeed to learn more about base salaries in different States or Subjects.
Highlight Duties and Responsibilities
A fundamental aspect of a teacher contract is to highlight the specific duties and responsibilities that the teacher will undertake within the school. When crafting this section, you can refer to existing teaching job descriptions to ensure accuracy and coherence.
Mention Terms for Immediate Termination
It is essential to include terms in the contract that allow for immediate termination in cases where a teacher engages in actions considered unacceptable. Additionally, it is important to specify the number of notice days that the teacher must provide in the🔗 written notice if they wish to terminate the contract voluntarily.
The Benefits of Our Teaching Contract Template
Only using our templates, you can benefit from the following:
Time-Saving Solution: Our template eliminates the writing process, saving you valuable time and effort. It provides a ready-to-use teaching contract that you can customize to meet your school's specific requirements.
Legal Compliance: Staying up-to-date with employment laws and regulations is crucial. Our contract draws all the standard terms and conditions needed to establish a healthy relationship between School and Teacher.
Customizable Flexibility: Every private or public school is unique, and we recognize that. You can easily customize our teacher contract templates to reflect your school's values, policies, and specific terms, ensuring that it aligns perfectly with your institution's culture.
After the newly hired teacher signs this contract, you can use our templates of the 🔗welcome letter and spend just a few clicks crafting and downloading it.