How To Write a Donation Request Letter
Writing a compelling letter can make all the difference when seeking support for your cause. Whether you're raising funds for vital projects or seeking donations individually, writing a thoughtful letter can spread the word and inspire individuals or companies to contribute generously. Here are the main points you can focus on to develop a thoughtful message for your readers.
Address the Recipient Personally
Whenever possible, address the recipient by name. A personal touch makes the letter feel more sincere and less like a generic request. Furthermore, if you send this letter to your regular donors, you can create an immediate connection by expressing your gratitude for their past support.
Start with a Compelling Story
Begin your letter with powerful, personal, or incorporated storytelling that illustrates the impact of your mission. However, the long story can be abundant. You should make it easy for your audience to understand how your nonprofit or campaign makes a real difference in the community.
Clearly State Your Purpose
Be transparent about the reason for your request. Every donor wants to know where their donation goes and contribute for what. Therefore, you should explain where the funds will go and how they will be used. Donors appreciate knowing how their contributions will make a difference.
Highlight the impact of donations
When reaching out to potential donors, make them feel like essential participants in your nonprofit's mission. You can empower them for any volunteer donations or specify how their contributions will further your mission. For example, suppose your nonprofit seeks support for the "Vulnerable Populations Relief Fund.". In that case, you can illustrate that a $70 donation can provide a warm bed and essentials for a homeless individual, while a generous $100 can feed a family of four for a month.
Include a Call to Action
Once you've emphasized the importance of donations, inspire recipients to take immediate steps. Provide a link to your donation page or, if you're sending a physical request for a donation letter, include a QR code and a pre-addressed return envelope to make contributing even more convenient.
Your Free Donation Request Letter Templates
Now that we've covered some essential tips for writing an inspired letter, it's time to write your request. You can use one of our editable templates to create your document faster in just a few minutes with only three steps.
Select one of our donation request letter templates for your needs.
Fill in your information and review the draft.
Your letter is ready to download in a professional format.
Standard Request For Donation Letter
Generally, some companies or organizations use this template to inform when and where their campaign for donations takes place. The contributions can be various, such as equipment, food supplies, clothes, or checks. However, this letter is suitable for calling donors to attend the events with their gifts. During the event, the organizer will provide more information about where the donations go or how they can be used.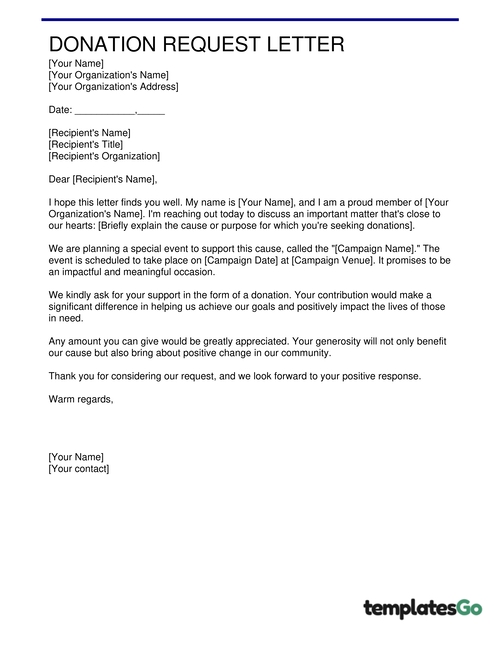 Simple Non Profit Donation Request Letter
This request for donation letter is explicitly designed for nonprofit organizations. This template provides a call to action that your donors can contribute online or through the website. You can fill this template with your organization's mission and how the contribution will be used. If you want to state the bank or Paypal account, you can always edit your draft letter before downloading it.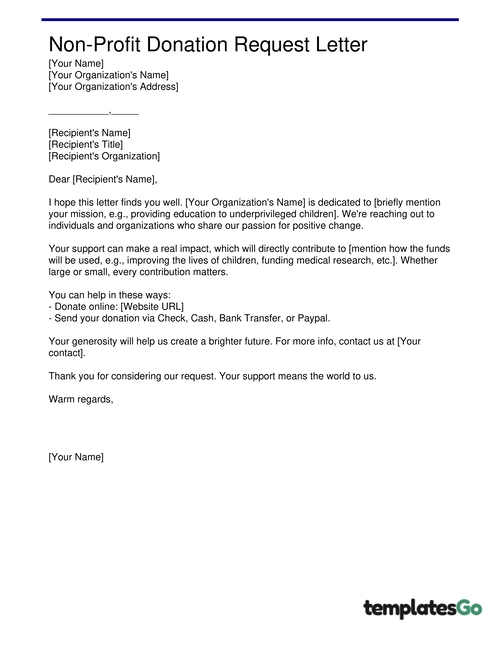 Other Free Donation Request Letter Templates
With our standard templates, customizing a letter to fit your needs is just a few clicks away. To provide you with the best value, we've also created some convenient templates specifically for expediting the creation of a Donation Request Letter in the most common scenarios. Explore them 🔗here and select the one that suits you best.
Fundraiser Donation Request Letter
Make an inspired letter and transparent messages with our ready-to-use donation request letter template. Fill out the questionnaire and customize your letter without limits.
Church Donation Request Letter
Churchs use this letter particularly to sustain their religious activities, support their communities, fund special projects, and maintain financial stability.
Food Donation Request Letter
Regardless of whether your organization is a charitable nonprofit or a local elementary school, there are often times when you'll find yourself in need of tangible donations, like food, rather than just money. You can use our sample donation request letter for food to individual supporters or local businesses, depending on the specific assistance you require.
Related Post

Don't forget to send a heartfelt 🔗 thank you letter with our templates to your donors! It is always great to express your sincere appreciation for their support and maintain a good relationship with them.
Conclusion
In this article, we focus on guiding you through crafting a thoughtful request for a donation letter, ensuring a successful outreach for support. While there are various methods to seek donations, such as emails, messages, or 🔗in-person requests, sending emails and messages might be mistaken for spam. For that reason, a carefully crafted letter will add more value, professionalism, and reflect the effort you put into your request. After all, we hope you enjoy our article and craft such an inspiring letter.