At templatesgo.com, we offer customizable simple, standard tutoring contracts and online tutoring agreement templates that can be used for either tutors or parents who wish to create this contract.
As you may know, tutoring has become a vital part of the learning journey for many students in the world of education. Especially many students want to learn new skills during summer, such as guitar, a new language, coding, etc., with higher demand for tutoring services. To ensure a quality education and effective tutoring experience, it is essential to establish clear responsibilities between the tutor, student, and parent. And this is where a tutoring contract becomes important.
How To Create A Tutor Contract?
With our document creator, you can create a tutoring contract in just a few easy steps:
Select a contract template you need here.
Answer our simple questions to generate the draft contract.
Review your final draft and download it in PDF, ready to use.
Related post: At templatesgo.com, we also provide 🔗student absence notice forms you may need in the future.
Professional Tutoring Contract Template (2 pages)
This standard contract contains two pages. It covers important aspects such as the duration, lesson schedule, location, fees, cancellation policy, responsibilities of the tutor and student, termination clauses, and more. It can use for home tutoring services, center tutoring services or online tutoring sessions.
Simple Tutoring Agreement
We provide a one-page contract for parents or tutors who are looking for a simple agreement.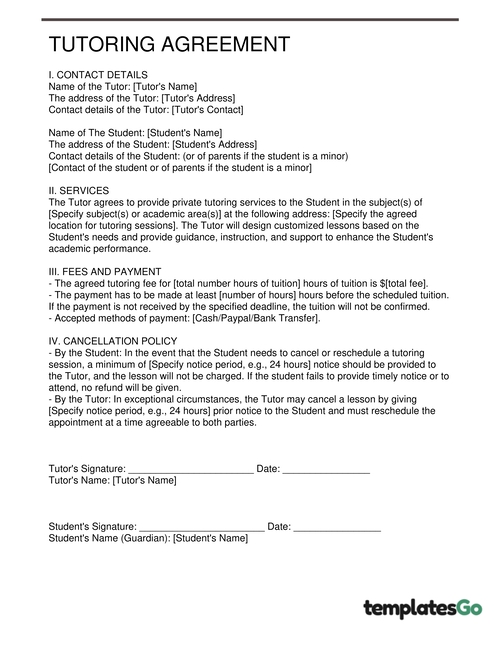 Online Tutoring Agreement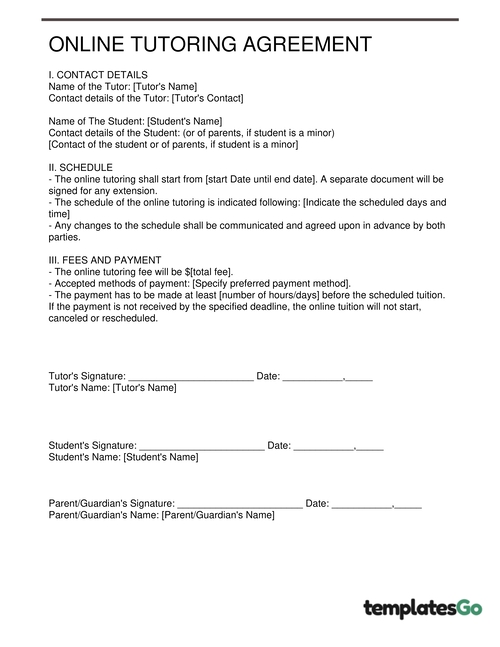 What is a Tutoring Contract?
A tutoring contract is a legal service document between the tutor, student, and parent or guardian that outlines the rights and obligations of each party. It serves as a roadmap for the tutoring sessions, covering important aspects such as the scope of services, lessons schedule, location, fees, cancellation policy, responsibilities of the tutor and student, termination clauses, and more. By having this contract in place, all parties can clearly understand their roles and duties, which enables a positive and productive learning environment.
Why Tutor In The Summer?
If you are good at some academic subjects, such as math, guitar, coding, technology, etc, tutoring can be a good job option in the summer. Since Here are several reasons we want to share with you:
Increased demand
Many students and parents look for tutoring services during summer to learn new skills, prepare for upcoming exams or engage in hobby activities. For that reason, the high demand creates great opportunities for tutors to find students and secure consistent work. If you are planning to make some extra cash, you can find a tutor job at 🔗Care.com. Furthermore, if you are a parent seeking tutoring services, child care, Senior Care, Pet care, or housekeeping, you can also find all options at 🔗Care.com.
Flexible Schedule
Summer break often allows you to have more flexibility in your schedule as a tutor. With fewer academic obligations and commitments, you can adjust your availability to meet students' needs and preferences, making it easier to find a suitable work-life balance.
Increased Earnings Potential
With the higher demand for tutoring services in the summer, tutors often have the opportunity to earn competitive hourly rates or negotiate favorable compensation packages. It means that you can maximize your earnings potential during the summer months.
Diverse Subjects and Programs
Summer tutoring is not limited to academic subjects only. Many tutoring programs and centers offer specialized courses, such as test preparation, language learning, coding, or arts. If you are a certified teacher, you can also apply for a summer job here. The benefit is that it can attract a wider range of students and provide tutors with diverse teaching opportunities.
Personal and Professional Growth
Last but not least, tutoring during the summer allows you to maintain your teaching skills, gain valuable experience working with different types of learners, and develop your resume. It can serve as a platform for personal and professional growth and open doors to future career opportunities in education or related fields.
Once you are sure that you will take a tutor job, yes or yes, time to use one of our tutor contract templates and start creating your own contract in just a few minutes.
Conclusion
After all, we can see a tutoring contract is an essential tool between tutors, students, and parents/guardians to guarantee the tutoring journey. It establishes a foundation of trust, outlines expectations, and ensures a productive and successful learning experience.
With our customizable tutoring contract templates, you can streamline your tutoring arrangements, saving time, and presenting yourself as a professional educator. Take advantage of our document maker tool and create your tutoring contract or 🔗Teacher employment contract in just minutes.