A letter to the landlord for repairs is a formal document to inform that things break or your rental property is in bad condition that needs repairs or maintenance. As a tenant, you have certain rights to ensure your home is safe, habitable, and maintained properly. And landlords are required 🔗 by law to maintain rental properties to meet basic home standards. However, houses break down over time and wear out from regular use or neglect. Then, tenants must notify their landlords of any issues to solve promptly.
You can use our editable docs tool and pick the best suitable template for your case to create this letter quickly. Only a few simple steps to get this letter done:
Select your template.
Answer our quick questions to fill in the information.
Review and download this letter in a professional format.
Why should you write a Letter To Landlord For Repairs?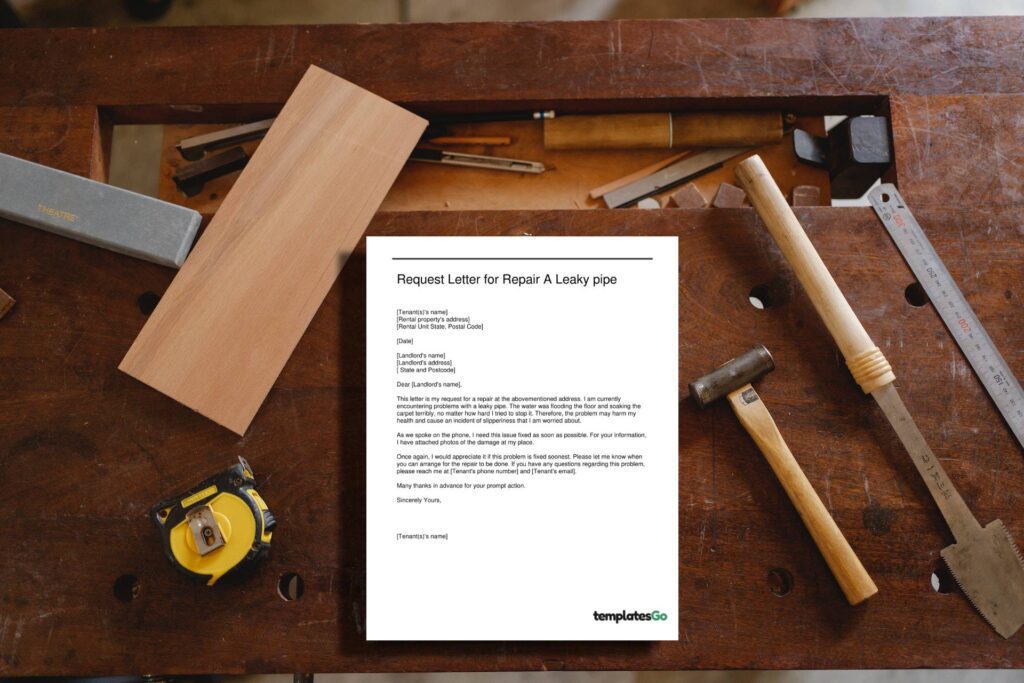 You must communicate with your landlord and avoid rental property deterioration as a tenant. When your rental unit's condition is worsening or 🔗 having normal tear and wear that needs repairs, the first step is to inform your landlord. You can call or leave a message but remember that the information may slip away from them. To formally request it, tenants must send a letter to the landlord for repairs. Because through the letter, you can briefly describe the problem with evidence (photos, videos) organized in email. Therefore, It can ensure that your landlord is well-informed in detail to take action. If the landlord does not take prompt action and the damage worsens, you will have proof that you did your part to notify the landlord of the issue on time. 
What are Common Reasons to write this letter?
As mentioned above, the owner is required by law to be responsible legally for providing access to electricity and heat, clean water, and keeping the premises secure and safe as a basic need. If they fail to comply with these common living standards, it is time to fill out a maintenance request. 
Other cases when you may write a letter to the landlord for repairs when you can not fix it on your own or would require a professional to repair it include:
A leaky pipe
A broken lock in the main entrance
A broken appliance
A broken faucet
A broken sliding door
A clogged toilet
Not all issues require a maintenance request, and tenants can take care of some minor problems that do not need a maintenance specialist to fix them. For example, burned-out light bulbs, clogged drains or putting a new battery in the smoke detector.
how do I write a letter to the landlord for repairs
1. Address the person who receives such requests
Review your lease to obtain the name, address, phone number, and email of the person who receives such requests. For example, "Property Manager" or "Building Manager".
2. Use a formal letter format to write
After obtaining contact information from your 🔗 lease agreement, write down their contact information from the beginning of the letter. Following is a salutation to the receiver and a proper introduction of yourself. Nevertheless, landlords or property managers tend to have more than one tenant. So, make sure you mention your rental unit's address in the letter to the landlord for repairs to know where the problem is.
3. Provide a brief description of what repair is needed and where it is located on the property
It's time to ask for necessary repairs at your rental property. You need to specify what needs to be repaired in the property and include a brief description of the problem. This step is vital to help your landlord be fully informed and come up with a solution faster.
For example:
"The entrance lock needs to be replaced due to not closing properly." or "The electricity cable in the living room has burnt out that needs repair." If possible, include a photo of the problem.
4. Provide an action date
Depending on how the damage affects your living activities, requesting a deadline that you would like the repairs completed in the letter is recommended. You can also give the landlord a date to respond to you and speed up resolving the matter.
5. Mention the landlord's responsibility
The lease contract usually mentions who is responsible for property repairs. If it is your landlord's responsibility, you can also state it in the letter request for repair.
How to obtain your letter to Landlord for repairs faster?
To save time in writing, you create this letter faster in a well-written format with our editable tool. What you need to do is:
Choose a sample letter to the landlord for a repair request for your need.
Click on to "Edit This Template" button to start filling in your information. By answering our question, our system will create your letter automatically.
Review your letter before finishing it in a PDF file. In addition, you can edit your text if necessary in this step to complete your letter.
Finally, download your letter in a high-quality file to print out or send them by email.
Now your letter to send to the landlord for repairs will be created in just minutes!!
request letter for repair and maintenance templates
demand letter to landlord for repairs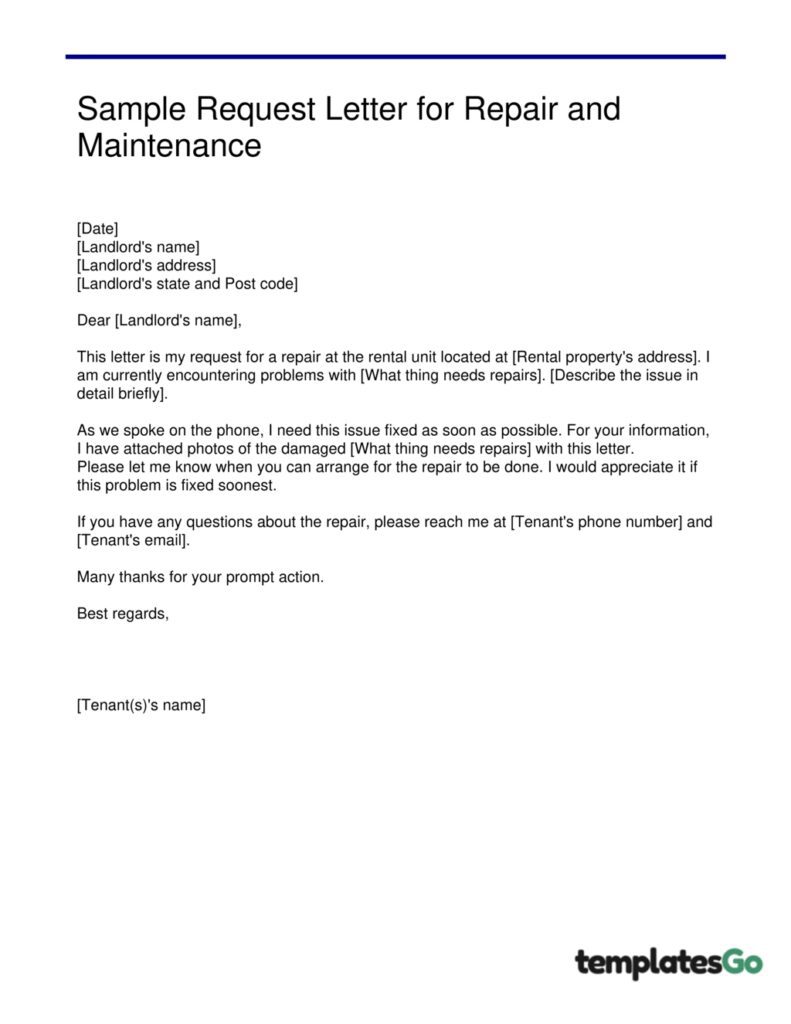 Sample letter to landlord for Repair request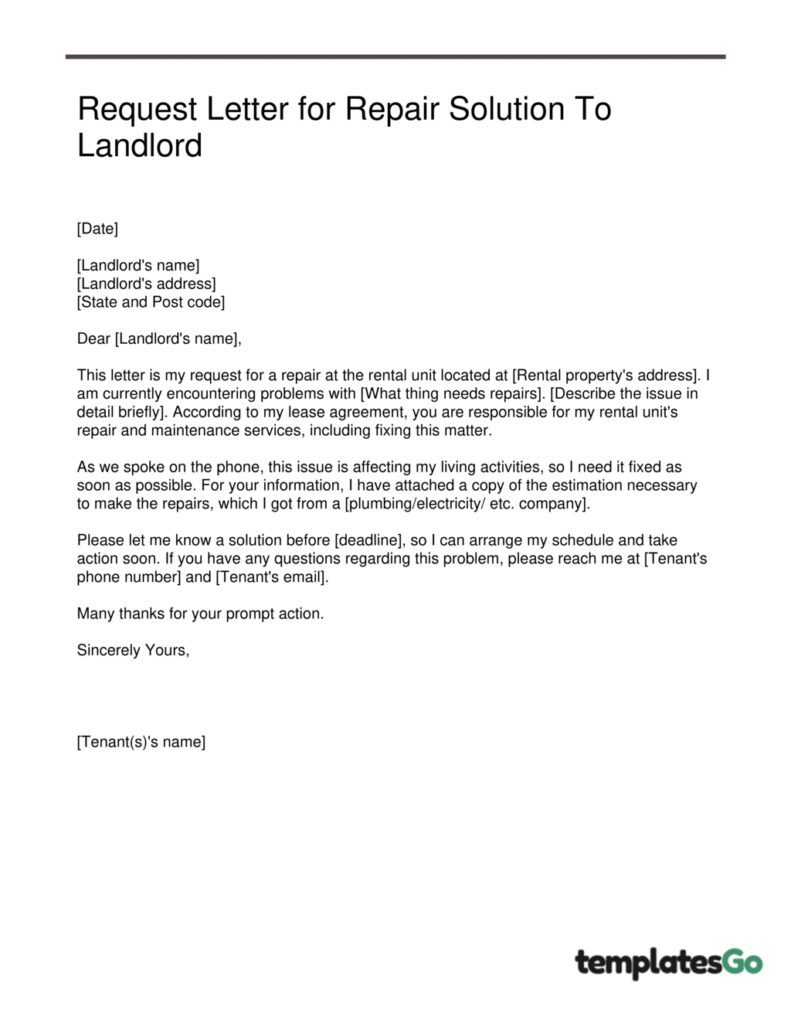 letter to Landlord for repairs Of Lock In Entrance Door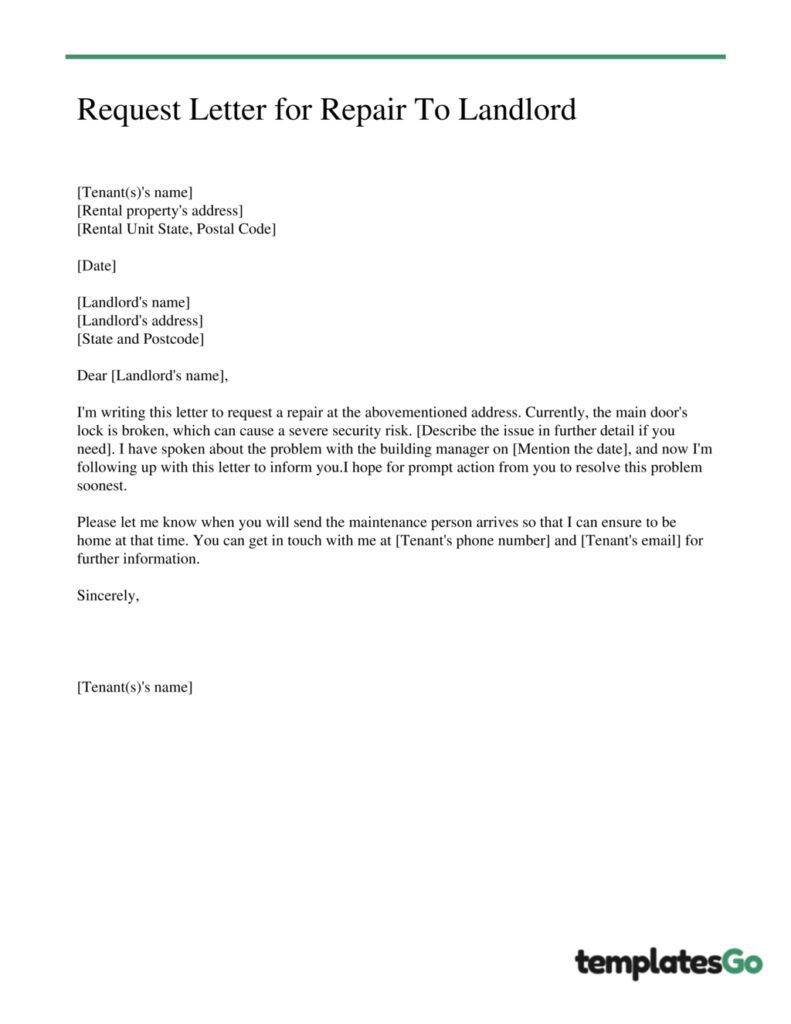 letter to Landlord for repairs Of Leaky Pipe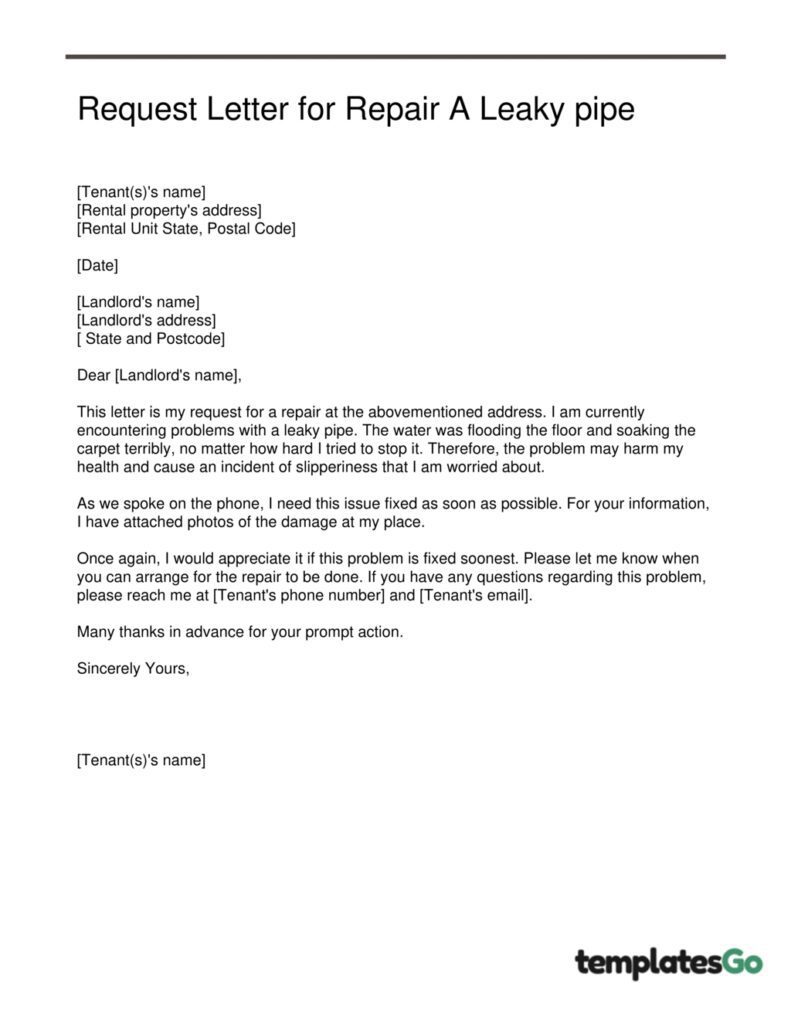 Maintenance Request From Tenant To Landlord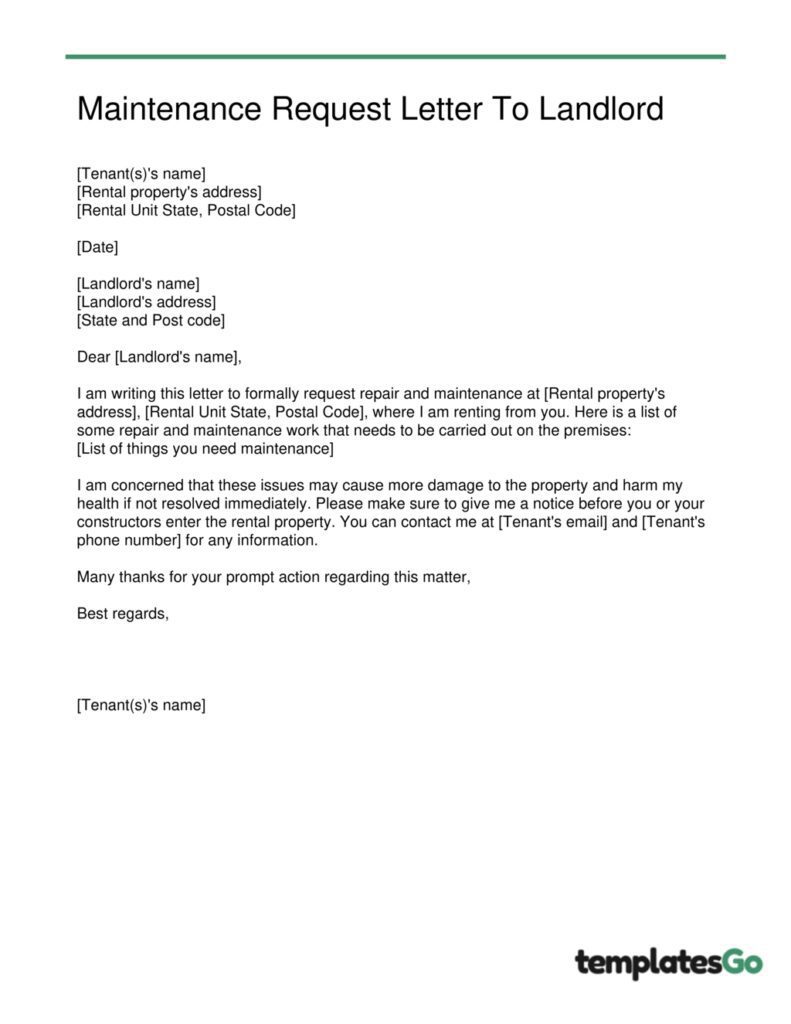 Conclusion
In conclusion, we hope our information has helped you better understand how to write a professional letter to a landlord for repair work. It's essential to include all relevant information in your letter so that the recipient understands precisely what you need from them.
Before sending off any letters, take some time to ensure everything is written concisely and accurately. Remember that they should be grammatically correct and free of spelling mistakes!